From May 1-31, NWHL teams can re-sign players from their 2016-17 roster and their draft picks during the restricted free agency period, and beginning on June 1 any unsigned players left will be free to sign with any team.
The third season of the NWHL will begin in October as the Buffalo Beauts defend their Isobel Cup championship, and with up to 12 players unable to participate in the league this season due to their selection for Team USA's 2018 Olympic team, this will be the most competitive season yet.
My colleague Dan Rice will keep THW readers up-to-date on New York and Connecticut's signings throughout the summer, while I post updates on Buffalo and Boston.
Beauts Sign Offensive Force Jess Jones
Pride Add Princeton Grad Corey Stearns
Rookie Litchfield Becomes Pride's 3rd Netminder
Forward Heather Schwarz graduated from Syracuse University back in May. Now in the first year of not having to return to school at SU, she will begin her professional hockey career in her own stomping grounds. Word was released by the NWHL on Sept. 5 that Schwarz had signed with the Boston Pride. THW takes a look at how the dependable forward's signing with the team fits in with its current roster.
Schwarz Another Product of NAHA & Syracuse
Schwarz is yet another NWHLer who played her high school years at the North American Hockey Academy (NAHA). The school in Vermont is well-renowned for producing elite level talent for hockey. Other NAHA products under NWHL contracts include fellow Pride teammates Paige Savage, Kaliya Johnson, and Meagan Mangene. Other NAHA alumni throughout the league include Buffalo Beauts Kelsey Neumann, Kayla Parsons, Colleen Murphy and Kathy Donohue. The school is seemingly a fountain well of NWHL talent.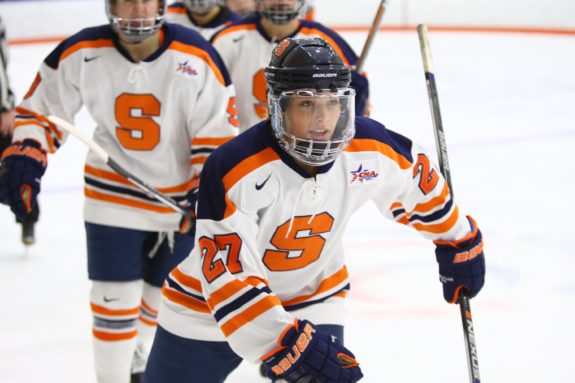 What is also interesting to take note of is the growing talent of players in the league from Syracuse University. Buffalo Beauts Jacquie Greco and Jessica Sibley also had successful collegiate careers at SU.
Speaking of his former player, SU head coach Paul Flanagan shared via NWHL press release:
"Heather worked extremely hard both on and off the ice, and her game improved each and every year during her tenure here," he said. "We wish her the best as she moves on to the NWHL."
Schwarz's Success & Stats at SU
During her four years at Syracuse, Schwarz demonstrated that she was a solid two-way forward. While she was capable of point-producing, she was also quite solid in terms of her timeliness and play in her own end.
In her 141 games at Syracuse, Schwarz totaled 22 goals and 29 assists for 51 points. Her finest outpouring statistically came during her senior year. In that 2016-17 season, she posted career highs in all three categories with 11 goals, 10 assists, and 21 points.
Speaking to her timeliness, Schwarz blocked seven shots during her final season. She also had three game-winners (a career high) and two empty-netters. Schwarz typified that old adage of hard work creating both luck and opportunity. Six of 22 career goals were game winners, and three of them were empty-net goals.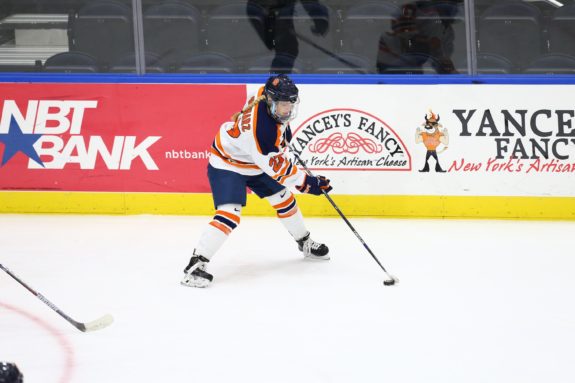 Recapping her time at Syracuse, Schwarz shared in a press release:
"Playing at Syracuse was an extraordinary experience. Paul and [assistant coaches] Ali Domenico and Brendon Knight developed us as a team and as individuals to become successful on and off the ice."
How Schwarz Helps Shape Pride's Roster
Like any rookie, Schwarz is excited to get her professional career underway. The Boston Pride actually have a very nice blend of skaters who are "shoot first and ask questions later" types, and those who are more defensive-minded, among their signed forwards. The team is capable of playing forcefully at both ends of the ice—they do not really have any weak points. Schwarz is another player who fits that mold.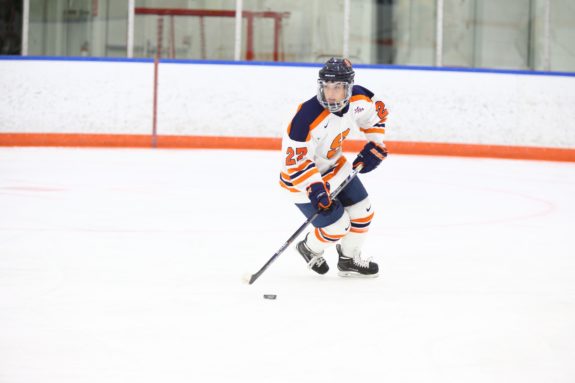 What might be especially interesting is Boston's line combinations. Specifically, they could easily assemble the best checking line in the NWHL out of the players they presently have. Schwarz could be a part of that. Imagine Schwarz playing on a line with Dana Trivigno and Jordan Smelker. They could be dangerous in more ways than one and capable of generating numerous turnovers.
Excited to Begin Her Professional Career
Schwarz shared the following through the same press release, expressing her thoughts on playing for Boston:
"Not only do I get to continue playing hockey as a professional, but being in a city like Boston is very exciting," she said. "I've played with and against some of the women on the Pride throughout my hockey career. I'm proud to be part of their team. I'm excited for the opportunity to play in Boston again and to have my parents and loved ones watch me play professional hockey. Signing with the Pride is a dream come true."
"Hockey means confidence, passion, teamwork, hard work and never ever giving up on your dreams" -Heather Schwarz#ThisIsHockey pic.twitter.com/RrLGS4gp43

— NWHL (@NWHL) September 7, 2017
Here is the Pride roster as of Sept. 10:
Goalie: Brittany Ott, Brianna Laing, Madison Litchfield
Defense: Lexi Bender, Meagan Mangene (defender-forward), Alyssa Gagliardi, Marissa Gedman, Paige Harrington, Kaliya Johnson, Elizabeth Parker
Forward: Paige Savage, Sydney Daniels, Mary Parker, Emily Field, Jillian Dempsey, Michaela Levine, Jordan Smelker, Dana Trivigno, Janine Weber, Kathryn Tomaselli, Corey Stearns, Heather Schwarz
General Manager of the Buffalo Beauts (NWHL). Hockey history writer "The Hockey Writers". Credentialed media for the NHL Combine and 2018 IIHF World Junior Championships in Buffalo, NY, USA. Born and raised in Buffalo, NY. Lifelong hockey fan for over 40 years. Proponent of the women's game.