With the New Jersey Devils' preseason at its end, now is as good a time as any to predict the team's opening night lineup. Some young players burst onto the scenes with highly impressive showings and others looked like they could use some seasoning in juniors, college or the AHL. With that said, here is my take for the Devils' starting 20 come October 7.
Forwards
Projected Group:
Joseph Blandisi, Taylor Hall, Jimmy Hayes, Adam Henrique, Nico Hischier, Marcus Johansson, Stefan Noesen, Kyle Palmieri, John Quenneville, Drew Stafford Miles Wood, Pavel Zacha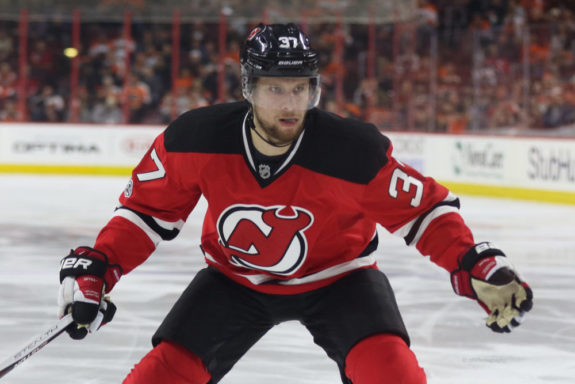 The Devils' offense underwent a massive facelift this past summer and with that comes a new look forward corps. Gone are veterans like Michael Cammalleri, Devante Smith-Pelly, P.A. Parenteau and Jacob Josefson. Now entering are Nico Hischier, Marcus Johansson and Drew Stafford, among others.
Incidentally, the Devils at one point looked to be too center-heavy, but given Travis Zajac's torn pectoral muscle and Brian Boyle's CML diagnosis, that no longer seems to be the case. That could push a player like Blake Coleman into the lineup. Here is my prediction for the Devils' starting forward corps:
Taylor Hall – Pavel Zacha – Kyle Palmieri
Marcus Johansson – Adam Henrique – Drew Stafford
Joseph Blandisi – Nico Hischier – Jimmy Hayes
Miles Wood – John Quenneville – Stefan Noesen
Extras: Blake Coleman, Blake Pietila
First Line
On the first line, Palmieri and Hall can continue to build a relationship that led to a career year for the former and a solid debut season from the latter in 2016-17. At center, Zacha steps in as the new go-to guy on the top line with Zajac out of commission. Those are big skates to fill given Zajac's Swiss-army knife capabilities, but Zacha, one of the Devils' penalty killers last season, looks ready to give it a shot. He certainly showed brief glimpses of potential in his rookie season.
The three of them make an interesting combination of speed and creativity, physicality and finishing ability. They could be the type of line that could bring nightmares to opposing forwards.
Second Line
The second line is more predicated on two-way ability with less flash but impressive results. While it is safe to say that Henrique is capable of 25+ goals and Johansson is in the classic playmaker's mold, Stafford's job will be to pick up where he left off in Boston towards the end of the season and continue to move play up-ice.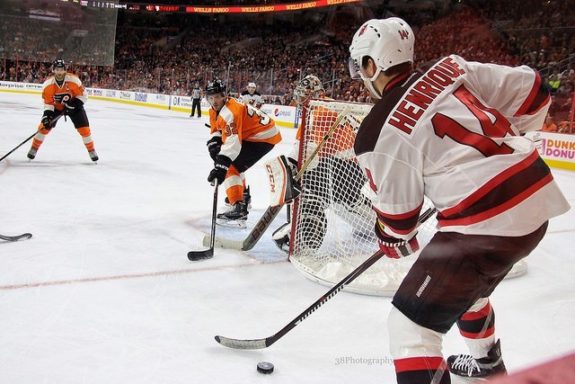 Third Line
Moving into the bottom-six is where the lineup really begins to show its youth and potential. The oldest player in this half of the forward corps is Hayes at just 28-years old. He has turned a strong preseason into an opportunity in the top-nine, assuming Ray Shero extends a contract to the large and physical winger.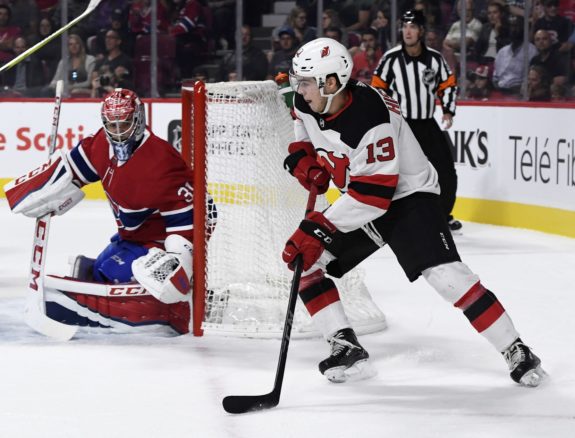 Joseph Blandisi is another Devil with significant ability who could thrive in a protected role as the third-line left wing. Finally, as the Devils' first overall pick, Hischier can learn the ropes of the NHL from a bottom-six role, which still gives him opportunity to produce at center without demanding him to be on-ice against top competition.
Fourth Line
Finally, the bottom line looks to be the Devils' sandpaper line, tiring out opponents through cycling and forechecking. Those efforts will be led by the line's most skilled fourth-liner in Quennevillle, who has already shown plenty in the AHL and is deserving of an extended role in New Jersey this season.
Wood is still scratching the surface of his total potential but is frankly too much of a liability on defense to contain opposing scoring lines. Finally, there's Noesen — one of Shero's 2016-17 acquisitions to solve issues on the right wing. Quenneville's composure in the defensive zone will help counterbalance Wood's recklessness up-ice, whereas Noesen will be around to pot a handful of goals from a prime shooting role.
Where is Jesper Bratt?
There is certainly an argument to be made that 2016 sixth round pick Jesper Bratt is deserving of an extended look in the lineup at the beginning of the season. After all, Bratt had five points in four preseason games and looked very much the part of a top-nine left wing.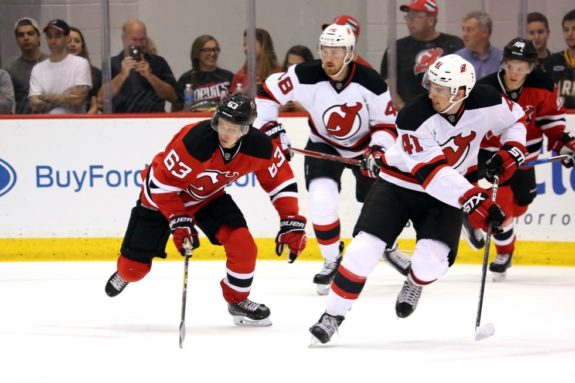 The obstacles for Bratt in carving out a constant role in the lineup are his current CHL eligibility status – he has one year left of eligibility with the London Knights – and ice-time competitors. The Devils have several left wingers who do not have the same playing options should Bratt play over them — they would need to clear waivers or be healthy scratches. Hall, Johansson and Blandisi undoubtedly have earned spots in the lineup, and Wood's NHL production in 2016-17 is promising enough that he should not be given up on.
Should the Devils choose to give Bratt a nine-game sample (which would avoid burning a year off his entry-level contract), Wood would have to be scratched or sent to the AHL. That would be a tough loss for a Devils' team in desperate need of sandpaper and grit in the bottom-six, a skillset that Bratt does not have.
Defense
Projected Group:
Will Butcher, Andy Greene, Ben Lovejoy, John Moore, Mirco Mueller, Damon Severson, Steven Santini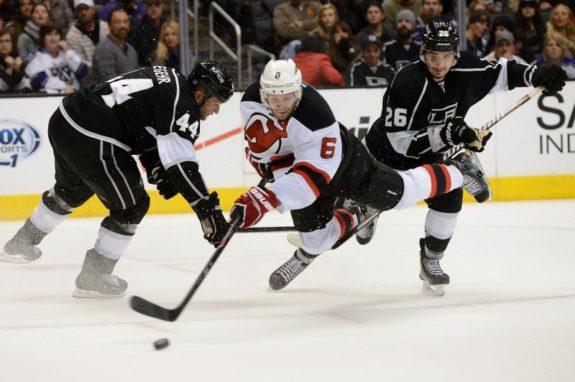 There is some trickiness in projecting these pairings. Surely, it would be nice to see the new additions – Mirco Mueller and Will Butcher – take the lineup, but would John Hynes ever scratch Ben Lovejoy in exchange for a youth influx on the blue-line? Here is a look at my Devils' defensive pairings:
Andy Greene – Damon Severson
John Moore – Steven Santini
Will Butcher – Ben Lovejoy
Extra: Mirco Mueller
First Pairing
Despite John Moore's renaissance 2017 performance, he should not be sniffing the first pairing, meaning that Andy Greene will once again stake his claim as the Devils' left-shooting representative on the top pairing. Damon Severson has proven that he is capable of tougher responsibilities and increased time-on-ice. He should be on the top pairing in 2017-18.
Second Pairing
Creating this pairing is a more difficult task for the Devils but this duo features the Devils' two best defensive skaters in Moore and Santini. Moore, as mentioned, is developing into an impressive second- or third-pairing puck-moving defender, whereas Santini has potential of being a Niklas Hjalmarsson type of defender that can chip in some nice plays on offense but whose hallmark will always be two-way steadiness.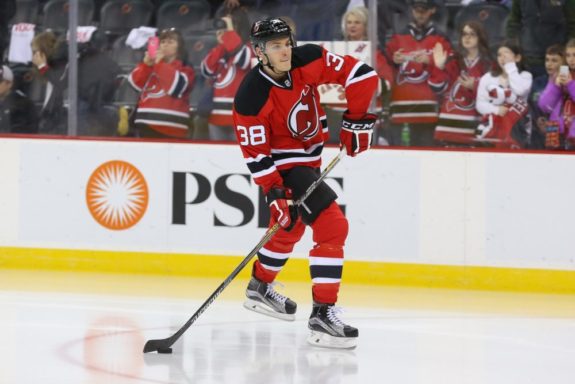 There is an interesting argument to be made for pitting Mueller and Santini together to have a superb defensive pairing that can protect Cory Schneider from an inundation of shots. However, Mueller has not yet played his way into the lineup, so that pairing is nothing more than a pipe dream right now.
Third Pairing
Like the second pairing, the left side features a puck-moving defenseman known for scoring flair while the right side features a solid presence in the defensive zone. This time, it's rookie Will Butcher on the left and veteran Ben Lovejoy on the right. The two of them are polar opposites in skillsets and playing styles, but that could be good for the Devils, a team that rarely sees scoring from the blue-line.
Perhaps the Devils could look to create a pairing with two-left handed defensemen, Moore and Butcher, when trailing late in a game. Conversely, Santini and Lovejoy could be good tag partners to nurse a late lead.
Should this system not work, Butcher could be scratched in favor of Mueller, who is currently slated to be a healthy scratch. However, Butcher has just been too good this preseason to sit out and he may have surpassed the Swiss defender in the depth chart.
Goalies
Cory Schneider, Keith Kinkaid
Not much needs to be said about the goalie situation, in that Scott Wedgewood missed most of last season with an injury and he is still a liability to be a backup goalie in the NHL. One or two more good performances could make Kinkaid untouchable.
The starting job is obviously Schneider's, but don't be surprised if Kinkaid earns the Devils a few undeserved wins and, in turn, steals a couple starts from Schneider. Even if the Devils' franchise goalie returns to his previous success, Kinkaid has proven beyond a reasonable doubt that he can handle a 15-20 game workload in the NHL.