Going into New York Rangers training camp, most eyes were on the young Swede Lias Andersson. Taken 7th overall in the 2017 NHL draft, Andersson was in competition for an opening night roster spot. However, fellow first-round pick Filip Chytil beat him out while Andersson was returned to the Swedish Hockey League.
It was no secret heading into camp that the Rangers had a need at center. Veteran Derek Stepan was shipped to the Arizona Coyotes in the offseason, which meant the Rangers had a hole to fill. Both Andersson and Chytil are centers, but they are also only 18 years old. That is a tough position to play at that age. However, both youngsters showed great potential in the preseason.
Filip Chytil
Chytil turned 18 earlier this month and was the 21st overall pick in the draft. He dazzled in the preseason with his offensive skill set and impressed coaches with how quickly he adapted to the NHL style of play. He showed an ability to work with his linemates and displayed his quick release. His game-winning goal in overtime against the New Jersey Devils was a great example of his offensive potency.
#ChytilMania invades The Garden! #NYR pic.twitter.com/uZyL1HtQu5

— New York Rangers (@NYRangers) September 21, 2017
Going into this season, it looks as though Chytil will start off as the team's second line center alongside Rick Nash and Mats Zuccarello. Chytil has nine games before his entry-level contract kicks in, so the Rangers have until then to determine what sort of impact he is going to have this season.
"He's earned the right to start with us this season. He has played well," head coach Alain Vigneault said about Chytil. "Can he handle it moving forward? Well, his play will tell us that."
Rangers general manager Jeff Gorton echoed those sentiments saying that he wants to see him, "have a positive effect on our game, on his game and on his wingers." Gorton added that the team will evaluate him day-to-day, but he will remain with the team "as long as he's playing well."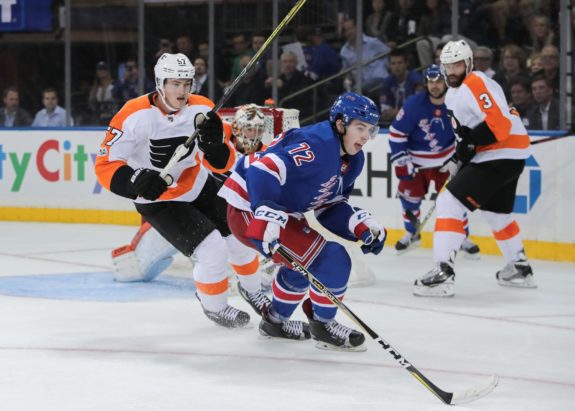 Playing alongside seasoned veterans like Nash and Zuccarello should help Chytil's overall development. Chytil and Zuccarello developed some nice chemistry in the preseason – like the sweet pass from Zuccarello for Chytil's overtime game-winner – and keeping up that chemistry will be something to look out for. Early on in camp, Zuccarello praised the young Czech for his playmaking ability.
If there is one weak point to Chytil's game, it is his defensive awareness. However, the defensive side of the game can be taught, whereas goal-scoring, for the most part, cannot. Zuccarello and Nash have been great two-way players in New York and can lead by example. If Chytil can continue to improve defensively, then he should be on the team for longer than those initial nine games.
Lias Andersson
Ultimately, the Rangers felt it was important for Andersson to play more minutes this season and in more situations. Something they did not see happening right now in New York.
#NYR GM Jeff Gorton on Andersson: "He needs to go play and play in a top-six [role] on his club team."

— New York Rangers (@NYRangers) September 28, 2017
The team decided to loan Andersson back to Sweden to play for Frolunda. There he can log more minutes and develop his all-around game. Andersson demonstrated his good two-way ability in preseason games, which is something he can build on in Sweden.
"I think it's a decision we made as we looked at the roster and where he fit in on the roster right now, he needs to go play," Gorton said about Andersson. "Go back to Frolunda and play the power play, play the penalty kill and right now we just didn't see that happening here. For an 18-year-old player, we want them playing."
It seems as though both Chytil and Andersson were both competing for the Rangers' second line center position. And clearly, the Rangers would prefer to develop Andersson's skill set rather than potentially stunt his growth with diminished minutes on the third line. One note though, if anything does happen, it is easier to bring Andersson over from Sweden than a minor league affiliate.
All in all, Ranger fans should be excited about the future of both first round picks. There is no shame in not being able to play at the NHL level at 18 years old. Not many players have that ability. It is promising for their future that they have these two young centers who have the potential to blossom into solid NHL players.