With the kick-off to 2017-18 NHL campaign just around the corner, hockey fans of all ages can hardly contain their excitement for the coming season. With a buzz in the air and the holiday season just around the corner, Sleeping Bear Press has picked the perfect time to release what is a must-have for any parent with little hockey fans running around their home…S is for Stanley Cup: A Hockey Championship Alphabet.
Hockey, History and Family
Every kid who has ever picked up a stick and fallen in love with the game of hockey has wanted to do one thing more than anything else. Sure, being the one who scores that winning goal or makes that big save is all well and good but when it comes down to it, the dream scenario always revolves around hoisting that big silver mug up over our heads.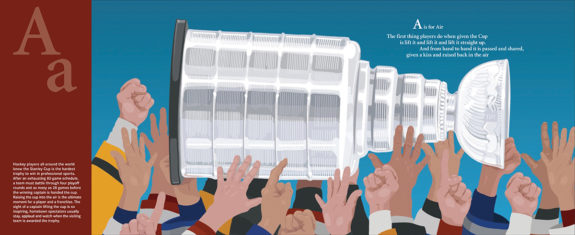 Mike Ulmer and Chris Lyons combined to pay homage to the most recognizable and oldest trophy in North American team sport on its 125th anniversary. To their credit, the duo managed to produce something young fans will not only enjoy flipping through but also give them a tool in which learning about this great games storied history.
Like every other alphabet book, S is for Stanley Cup is formatted in the manner one would expect. With that said, the A to Z rundown is not done in the traditional manner. Instead of solely focusing on the players and teams who have helped build the legacy that surrounds Lord Stanley's mug, Ulmer delivers a mixture of unforgettable moments with neat little tidbits about the cup that some may have forgotten and certainly many others had never known.
Celebrating Lord Stanley's Mug
For instance, readers are given the chance to familiarize themselves with the legendary Montreal Canadiens' teams of the past and get a glimpse at just how dominant Wayne Gretzky was with the Edmonton Oilers come playoff time. However, they also learn about the process and care that goes into etching names onto the cup and how fans of the Toronto Wellingtons went about finding out how their team fared during the 1902 final…when there no radios or televisions to help them along.
Add to that, the vibrant and yet simple illustrations of Lyons and you suddenly have a children's book that jumps off the page and grabs the attention of young readers. Not an easy thing to do and yet S is for Stanley Cup pulls it off with ease, while doing a splendid job of balancing memories of yesteryear with the present day and the two-time defending champion Pittsburgh Penguins. A fitting tribute to what is unquestionably hockey's holy grail and in my mind, something little hockey fans would absolutely love to learn more about it.
Also available from Rob Soria: 
Connor McDavid: Hockey's Next Great One
Rob Soria is the Author of Connor McDavid: Hockey's Next Great One. He has chronicled the Orange and Blue since creating his Oil Drop blog in 2011 and has also had his writings featured over at HometownHockey.ca and Vavel USA, where he has covered the NHL, MLB and ATP Tour. Rob was born, raised and still resides in Edmonton, Alberta and can be reached via twitter @Oil_Drop.