Anyone who has found a love for the Buffalo Beauts just received the greatest Christmas gift that they could possibly have hoped for. The announcement came out the late morning of Dec. 21 that Terry and Kim Pegula had acquired the Beauts. This is not a partnership either – the Pegulas own the team outright. This is the first time that one of the four NWHL teams has been owned by a private owner instead of the league itself. This is a huge move for the game of women's hockey, and a huge move for the city of Buffalo. Most importantly, the Beauts and the NWHL's presence in Western New York has finally received the support and community commitment that it rightfully deserves.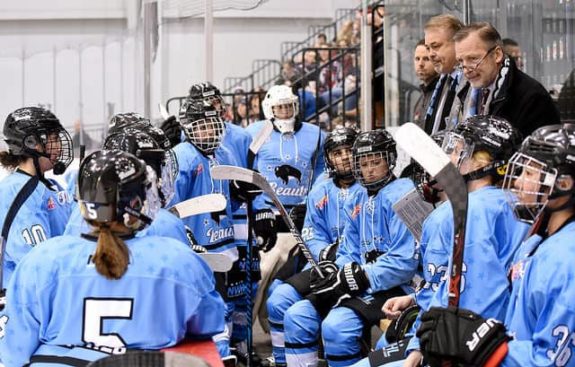 And they are getting it from the best of the best in terms of a financially able, all-inclusive ownership. The "One Buffalo" initiative was developed by Kim Pegula with the goal of uniting Western New York sports teams as one "family" and spreading them deeply within community involvement.
Hockey Community Support From the Pegulas
The Pegulas have owned the Buffalo Sabres since 2011. Then, in 2014, they opened HarborCenter which has been the home rink for Beauts since day one. Pegula Sports and Entertainment has promoted the growth of the game of hockey at the high school, college and junior levels as well. Now they are doing their very best to grow the women's game. Acquiring a women's professional team right in their own building pays major dividends. That's from girls youth up through the pro ranks.
Chief Executive Officer Kim Pegula shared the following via NWHL press release:
"We want to contribute to the growth of women's hockey," she said. "HarborCenter has allowed us to make a positive impact on the game at the amateur, high school, and collegiate levels, and we believe this is the perfect time to expand our reach to include women's professional hockey through the NWHL. This sport provides outstanding opportunities, and we are committed to helping extend those opportunities to females of all ages."
NWHL Commissioner Rylan Continues to Better the League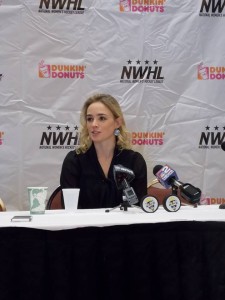 Hindsight is always 20-20. Looking back on the course of the season, it is not surprising now that NWHL Commissioner Dani Rylan was routinely in attendance at games in Buffalo. In fact, she was present for at least two of the last three homes games. Rylan was also in attendance at the neutral site home game in Rochester on Nov. 4th.
This is a major win for Rylan and the league that she founded in March of 2015. Not surprisingly, she is ecstatic over this move coming to fruition. Right before the New Year, no less.
Rylan shared through the same press release:
"This extraordinary commitment from Kim and Terry Pegula – a complete acquisition of one of our Founding Four teams by NHL owners – is a landmark moment for the NWHL, our players and fans, and women's hockey," Rylan shared. "We thank Kim and Terry for believing in the Beauts and in the mission of our league to fuel the continued growth of our sport around the world. Supporters of women's hockey should take enormous pride in this significant step for our game."
And they do. With great certainty, the Buffalo community profusely thanks Rylan. Her role in getting this done was just as integral as the Pegulas. It all is coming together now, especially for those who have supported this team in Buffalo since it all began. Many of whom are colleagues of THW.
Beauts Players Reactions to the News
The Beauts players themselves have garnered a special place in the hearts of the Buffalo community. The way that they are impacted by this transaction is more unique than anyone else involved. The Sabres and Buffalo Bills have some sisters now in their family. With the way that the women's game is growing and developing, one could expect that having such support will only further solidify this team. Additionally and more importantly, it will draw the right attention to players. Maybe make them become more household names, at least here in Buffalo.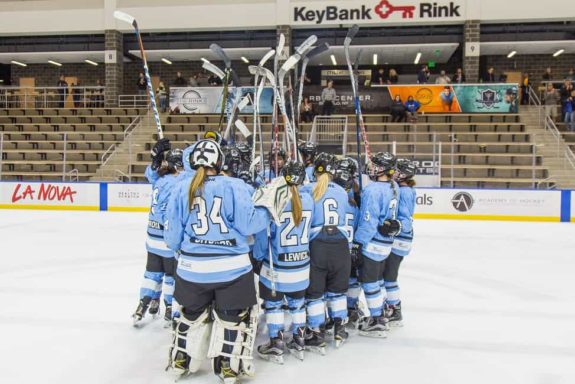 THW was able to get reactions from some of the players:
Hayley Scamurra, forward and 2017 Isobel Cup Champion: "I'm honestly ecstatic hearing the news! It was a total shock. I figured it would happen eventually, but not this year. I'm really looking forward to what the partnership will bring."
Colleen Murphy, rookie defender: "Buffalo is my second home, and I could not be more proud and honored to be a part of Pegula Sports and Entertainment. This is an amazing step for women's and girl's hockey, and the support of the game will only continue to grow. Thank you to the Pegulas, NWHL, and Beauts for turning this dream into a reality."
Sarah Shureb, rookie forward: "I was so excited when I heard this news. It's such a huge step in growing women's hockey and our organization! Just seeing the Sabres, Bills, and all those accounts tweet, welcoming us to the family is huge for us in itself because it's getting the NWHL out there, and I know that's just the beginning of this tremendous deal. So I'm excited to see what the future holds for women's hockey and the Buffalo Beauts. Thank you Pegula Sports and Entertainment!
Kelsey Neumann, goaltender and 2017 Isobel Cup Champion: "When I checked my phone at lunch, I didn't realize that I would learn we had been bought by the Pegulas. This is such a huge step for the future of women's hockey. I am extremely honored to be apart of the PSE family and look forward to what the future brings. Thank you to the Pegulas, NWHL and Beauts for giving myself, my teammates, and the next generation something to dream for."
Kaylyn Schroka, rookie forward: "When I read the news, I had to read it twice to make sure I was reading it correctly. It is such a great feeling to be a part of this movement for women's hockey and to be a part of such a great step towards bettering this organization. Thank you to Pegula Sports and Entertainment. We are excited to see what the future holds for not only us, but the many seasons to come!"
A Time for New Beginnings
2018 is just days away. This is a very busy time in Buffalo. The World Junior Championships will be here next week. The Bills' playoff hopes are still alive. And then the biggest news of all – the Pegulas buy the Buffalo Beauts.
NEWS: We are proud to announce that we are joining the Pegula Sports and Entertainment family! Thank you, Terry and Kim, for believing in us and the @nwhl! #OneBuffalo

Article: https://t.co/01pxQYA5UC pic.twitter.com/2gGCxOryhY

— Buffalo Beauts (@BuffaloBeauts) December 21, 2017
No matter what, these are exciting times. For those who cover the Beauts, such as this THW writer, it is a sense of validation in a way. Validation for the league, for the players, for this team in particular, and most importantly, for women's hockey. You have done right, Mr. and Mrs. Pegula. You have done right Ms. Rylan. Jointly you have made the biggest stride in women's professional hockey that has been achieved thus far.
Thank you to all who have believed in this league since day one, and continue to do so. Thank you for being steadfast while suffering any pains, and doing so for the greater good. This is more than just "One Buffalo". This is one league, one community, one hockey. A legitimate giant stride with oomph has been made to validate girls and women's hockey. Well done, everyone.
General Manager of the Buffalo Beauts (NWHL). Hockey history writer "The Hockey Writers". Credentialed media for the NHL Combine and 2018 IIHF World Junior Championships in Buffalo, NY, USA. Born and raised in Buffalo, NY. Lifelong hockey fan for over 40 years. Proponent of the women's game.