The Buffalo Beauts found themselves in the midst of a penalty-filled affair with the Metropolitan Riveters on Nov. 4th at the Bill Gray's Regional Iceplex in Rochester. The game itself turned highly physical as the two teams squared off, and culminated in major infractions and minor calls throughout much of the third period. With a large-sized crowd in attendance for the neutral site Beauts' home game, the play seemed to get out of control with much of the onus falling upon sub-par officiating and a failure to keep the play in check.
The official statistics when all was said and done saw the Beauts penalized on 18 different infractions, as opposed to the Riveters' nine.  Most of the fans in attendance were young girls in town for their own hockey tournaments. Depending on one's perspective, the fans may have gotten more than was bargained for. With NWHL Commissioner Dani Rylan in attendance for the game, it would seem that a further look into how the game progressed would be beneficial to the powers that be.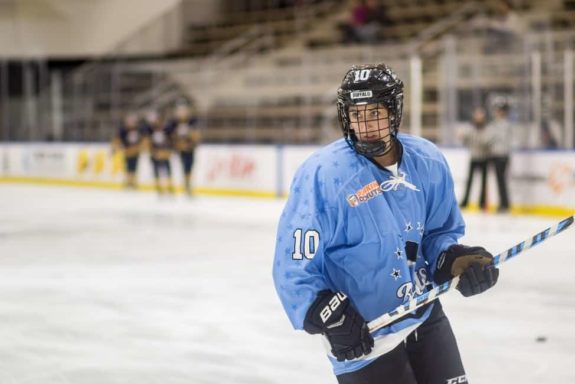 That being said, it certainly was not all gloom and doom either. Sifting through the muck, there were indeed some positives that the Beauts can take away from this particular less-than-glamorous battle. Hindsight is a wonderful tool to have, and, as the week moves along to the Beauts' banner raising ceremony on Nov. 11th, they will be able to further see the lessons from this unforgettable showdown.
Penalties Came Fast & Often, Especially Against Buffalo
With Buffalo receiving twice the amount of penalties as Metropolitan, a sense of injustice was felt both by the Beauts' coaches and players. It started early on and continued all night until things became really heated. In the first period alone, Buffalo received four minors while the Rivs had one. In the second, the Beauts got pegged for six minor infractions to the Riveters two. Given the disparity between how the referee was dishing out sentences in the first two periods, the flames were already fueled for a third-period inferno to take shape.
It started when Beauts' defender Lisa Chesson got called for hooking at 12:46 of the third. She would be given a 10-minute unsportsmanlike conduct call as well, presumably for something she uttered to the officials. The Buffalo bench became further incensed and was thus given their own unsportsmanlike minor putting three Beauts' skaters in the box.
Misconducts for Buffalo & Disbelief From Coaches
From there, the Beauts' players themselves took matters into their own hands to come to the aid of their teammates and themselves. Buffalo's elite defender Sarah Casorso took a 5-minute major and game misconduct for charging after a rough play in the corner at 14:37 of the third. The Riveters' Kiira Dosdall laid a hit on in the corner which sparked the skirmish that also involved Buffalo's Taylor Accursi and the Riveters' Ashley Johnston and Harrison Browne. Dosdall went two minutes for body checking, while Johnston was assessed two minutes for roughing. Browne, on the other hand, received no penalty for getting involved in the fracas.
Later on, Buffalo sniper Jess Jones got belted towards center ice by Metro's Jenny Ryan. Jones, who'd had enough by that point, grabbed Ryan by the cage of her helmet and issued a "face wash" of sorts, which in the process dislodged Ryan's helmet clean off. Jones was given a five-minute major for grabbing the facemask in addition to a game misconduct. Ryan would go two for roughing.
Riveters Reign on the Road in Rochester Rumble
🔗: https://t.co/NnudVClcim
📷: @mhphoto22 pic.twitter.com/RCNH30AHQj

— NWHL (@NWHL) November 5, 2017
Co-coach Craig Muni had a lot to say to the media following the game:
"I'm not very speechless very often, but after that display, it's hard to pull out any positives for either our play or the refereeing. You can't even judge how New York played because there were so many penalties, I don't even know what the final tally was between both teams. The real losers of the whole night is unfortunately the little girls out there who are playing here in a tournament, and had a chance to see professional women's hockey for probably the first time."
Frustration From the Beauts Players as Well
The Beauts players themselves expressed a similar sense of frustration after the game. Their feelings encompassed a range of thoughts and emotions. For one, while policing by players has always been a part of hockey, the main responsibility of how a game is patrolled must fall on the shoulders of the officials. That was obviously lacking in this game.
Secondly, there is an entire cerebral aspect to the game as well, particularly for hockey teams early in their season. Many of the players on the Beauts' squad are new to the professional game. They are still learning the level of play, let alone their teammates and the ins and outs of each other's styles. All the more reason that strong officiating needs to be intact. Officials can represent a stabilizing hand in the natural course of a game. Done correctly, they can be prevailing calm for players and coaches alike. That did not happen in this instance.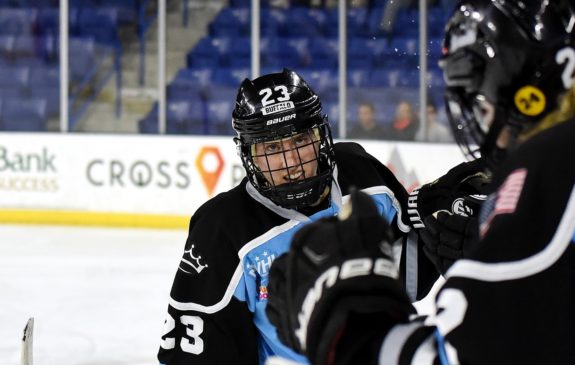 Beauts team captain Corrine Buie echoed similar sentiments as Muni's after the game:
"I think it really did got out of hand there. Some things we can control. Obviously it just got out of hand, and you can't really prepare for that. It's not the hockey we want to play or show the fans."
Buie picked up her first goal of the season, a power play tally in the opening period that knotted the game at one goal a piece. Buie is also the only NWHL player to have won the Isobel Cup trophy in each of the NWHL's first two seasons. As team captain and a polished veteran since the league's inception, if she is sensing a concern, then there is one.
The Unnecessary Mental Burden of Too Many Calls
Once again, 18 different infractions were called during the game. Not only were these calls halting to the players, but it sapped energy from the crowd as it happened with such regularity. During the Casorso game misconduct, there was a long stretch where fans were standing mostly in silence and confusion waiting to learn where everything stood as the officials debated. It even left the players scratching their heads as to where all the chips lay.
One of the Beauts most reliable defenders and a newcomer, Sarah Edney, shared her thoughts after the game:
"It's definitely hard to keep up the pace and focus with so many penalties. It takes a little bit of time to realize with frustration that there are things you can't control. Half of it was a mental battle tonight, I feel like. That's hard to deal with and take in. Then you're trying to focus still on what we've been working. It's our second game of the season, so we're still trying to get to know each other while all of this other stuff is going on. That's a battle inside our own heads and on the ice."
Let's Talk Some Positives
Okay, so here is where we can bring some positives into the game. Edney is certainly one of them. She and defender Colleen Murphy were utilized in seemingly every situation on the ice. Power plays, 3-on-3s, and perhaps mostly notably killing off 5-on-3s together as the blueliners with forward Kourtney Kunichika up front. As a penalty-killing unit assembled from attrition, Edney and Murphy may very well be a duo that co-coaches Muni and Ric Seiling will call upon for future situations.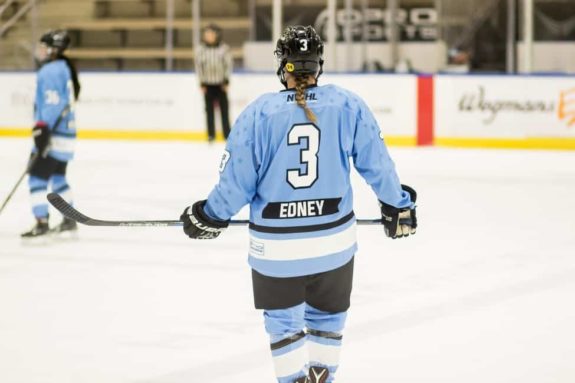 Throughout the evening, Edney led all Beauts' defenders with shots on goal by firing two of them on the Riveters net. Murphy stood up in a big way and led the entire Buffalo roster in blocked shots. Three times Murphy put herself in front of the vulcanized rubber and stopped it before it got to the Beauts' net.
Asked about the pairing of Edney and Murphy, Muni shared the following:
"It was one of those games where you're trying different things. Trying to see whose going to do what. We've got a lot of new players, so we have to feel our way around. Find out who can do what and what their strengths are. Put them in a situation to succeed. With those girls that you mentioned, they are good, skilled players and we depend on them every game."
Edney added: "You're not really worried about who you're playing with. It's going well so far and we can only get better from here."
Coaches Liked What They Saw in Leveille
Facing a 6-2 loss, Buffalo's goaltender Amanda Leveille turned aside 31 of Metropolitan's 37 shots.
"Lev played really well," Muni said. "She had a lot of traffic in front of her. She had a lot of players driving to the net and a lot of incidental (contact), or contact, either way, but she played pretty well. It wasn't her fault. It wasn't any individual's fault. I think that they had three power play goals and a shorthanded goal. You take away those four specialty goals, it could be a different game. All we ask for is a fair chance to play and compete."
Beauts rookie goaltender Julia DiTondo served as Leveille's backup during the evening. Once the score went 6-2 and with the way the game was going, it would not have been outrageous to think DiTondo might see a little action. But Leveille finished out the night and stuck to her guns. While the action slowed down with so many calls being made by the ref, Leveille was regularly having to skate around in her crease to stay loose and warmed up.
The Top Line of Buie, Jones and Vint
Yet another positive was the exactitude and the force to be reckoned with in Buffalo's top line of Buie, Jones and Rebecca Vint. The three of them accounted for two points and eight shots. They also had 13 of Buffalo's 46 penalty minutes. Despite everything that took place, that is also just the nature of the beast.
All three forwards are big and physical. They do not hold back in their styles of play. With a sniper like Jones combined with Buie's playmaking abilities, they make a powerful one-two punch. Vint is an inspirational player to behold, plain and simple. She is rugged and determined, and seems to accentuate the scoring strengths of Jones and Buie better than any other player could. With her own scoring touch too, Vint is the glue of that line. Part of it stems from her previous chemistry with Jones when the two played with the CWHL's Markham (formerly Brampton) Thunder.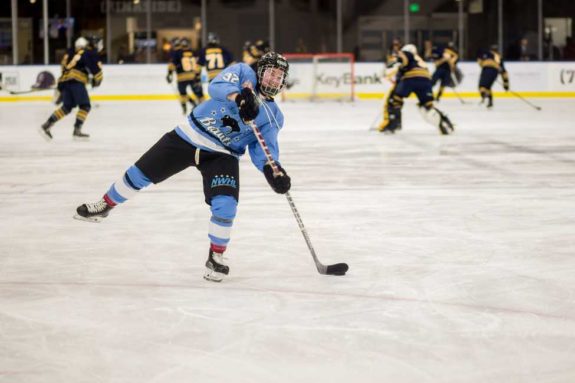 Asked about the chemistry between her two linemates, Buie shared:
"For sure. They know each other's habits. They know each other well on and off the ice. I can sense that they know where they're going to be and it's nice to play with two girls that have played with each other."
The Physicality of the Beauts
Make no mistake—there is nothing wrong with the fact that the Buffalo Beauts play such physical game. Rather, it is one of their best attributes. Something that was not necessarily noticed to be one of their strengths until the team started playing together. No one was disappointed or troubled by Buffalo's style of play against the Riveters. Truth be told, they were fun to watch.
Perhaps no Beaut embodies that robust style more than rookie forward Maddie Elia. If Pat Verbeek was the NHL's "Little Ball of Hate", then Elia is the NWHL's version. Mind you, she is bigger than Verbeek. Elia plays the game with a calculated rambunctiousness. She is in your face but has the skill to back it up. Elia is a difference maker too. If there is anything to be said about energizing your teammates and intimidating opponents in the same shot, she does so better than anyone.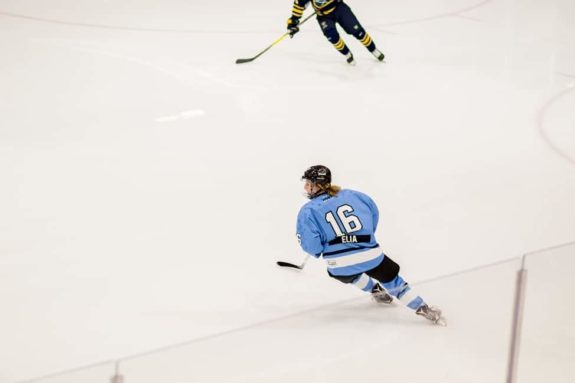 Muni added specific thoughts on the physical play of the team and the game:
"We've got a big team, we've got a physical team. We can play either way, but make it fair for everybody."
"I don't mind the physical play at all," Muni went on to say. "But if it's going to be physical, call it both ways. Our goalie got run at least three, maybe four times, and no penalties on them. If we so much as got too close to their goalie we got a penalty. There were some incidental bumps and contact, and all the penalties went our way."
The Bottom Line of How to Move Forward
When all is said and done, the NWHL needs to take a serious look at how this game played out. Seiling was at times livid on the bench, and rightfully so. There were multiple instances of Beauts being bodied or impeded, and no call was made. These missed infractions did not go unnoticed either. With Commissioner Rylan in the crowd, further discussion on how to make improvements from here will have to happen.
Muni further shared, "We hope that the league takes a look at the whole game, and judge not only how we played or didn't play, or what we did, but judge what they did. Judge was the referees did. Correct it. Make it so it is a good league and a fun league, and a skilled league."
@BuffaloBeauts Thank you so much for making Lucy feel so special! She had a great time! I can't believe you actually wore her out!! pic.twitter.com/gHUYJzQYC3

— Chris Sykes (@CSykes_82) November 5, 2017
When the night had ended, fisticuffs and rhubarbs mattered no more. Even earlier than that, Commissioner Rylan helped get "The Wave" going with a lot of young girls in the crowd. Afterward, the line was literally out the door as youngsters and their families lined up to get autographs from every Beaut on the roster. There was raucous laughter and the sincerest of smiles from the kids as they met the players. That is what mattered most. For essentially a neutral site game, the turnout among fans was awesome.
Buffalo's Hayley Scamurra said it best:
"I thought the rink was great. The atmosphere was good. All of the girls tapping you. They brought a lot of energy and it put a smile to our face during that game."
With all those positives, let us hope that the NWHL gets the officiating onto the same page.