Earlier this week, the Arizona Coyotes announced that they'd be staying at Gila River Arena for at least one more season beyond the current 2017-18 campaign. While this is good news for both the franchise and its fans, who have been dragged through the mud for the better part of the last decade, staying in Glendale does nothing to solve the long-term problem of the team not being economically viable in the West Valley of the Phoenix metropolitan area.
The Coyotes will remain in Glendale through at least the 2018-19 season: https://t.co/tytadomQ3g pic.twitter.com/Fx3y7Tm5lS

— ABC15 Sports (@abc15sports) December 20, 2017
Numerous solutions for the Coyotes' arena problem have been presented over the years, but the one that's made the most sense so far is a shared arena with Arizona State University (ASU) in Tempe, AZ. However, there's one problem with this arena plan – ASU already backed out of a potential partnership with the Coyotes back in February. Although the Tempe arena deal is, as of this writing, dead in the water, the Coyotes and Sun Devils need to once again consider partnering to build an arena in the East Valley, as it would be hugely beneficial for both parties.
A Mutually Beneficial Partnership
Like the Coyotes, ASU is also in need of a new arena, not just for the school's hockey program, but also for their emerging basketball program, which, as of this writing, sits at No. 3 in the Associated Press top-25 rankings. The basketball team currently plays at the 10,754-seat Wells Fargo Arena, located on campus in Tempe. The arena, which opened in 1974, has been the home of ASU athletics for more than 40 years and has hosted a variety of other events as well, including commencement ceremonies and concerts by bands such as Led Zeppelin, U2, and Bruce Springsteen.
While the arena has been a great home for the Sun Devils for many years, the facility is starting to show its age. Sure, a few concession stands and new scoreboards have been added over the years in an attempt to keep things fresh, but no amount of renovations can change the fact that Wells Fargo Arena is a boring, old venue that pales in comparison to modern venues, which offer high-end amenities such as club seats and luxury suites. Most significantly, the arena is incapable of hosting hockey, meaning that the 'Ice Devils' are forced to play their home games at Oceanside Ice Arena, which has a capacity of fewer than 900 spectators.
#ASU hockey vs Princeton at Oceanside Ice Arena pic.twitter.com/36COjYcbyx

— jeffmetcalfe (@jeffmetcalfe) December 10, 2017
Obviously, Oceanside isn't a long-term solution for the Sun Devil hockey program. Indeed, ASU has taken steps to increase their attendance and local following by playing some of their bigger games at the Coyotes' Gila River Arena. Sure, Oceanside was fine when ASU played at the ACHA level, but the Sun Devils need to play in an actual arena, not at a local beer league and youth hockey rink, if they wish to increase their hockey-related revenue and be competitive on and off the ice against NCAA competition.
ASU has similar issues with other facilities on campus, but the school has already addressed their aging football venue – they've spent more than $300 million on renovations for Sun Devil Stadium. With the reconstruction of that venue scheduled to be completed by Sept. 2018, it's time for the university to take care of its basketball and hockey programs. A shared multipurpose arena with the Coyotes seems like the ideal way to go.
Coyotes on the Wrong Side of Town
The main issue with the Coyotes' current home is the location – it's situated in Glendale, a suburb on the far West side of the Phoenix Metropolitan Area. Glendale itself has a fairly large population – nearly 246,000 according to a quick Google search – as do the surrounding suburbs of Peoria (164,000), Surprise (133,000), and Avondale (83,000). However, the East Valley suburbs of Mesa (485,000), Chandler (248,000), Scottsdale (247,000), and Gilbert (237,00) are much more heavily populated, and previous ownership has determined that these cities on the East side are home to the majority of the Coyotes' clientele.
"Over the past year, we have been exhaustive in our research regarding the most optimal location for our new home in the Valley," said Anthony LeBlanc, who, at the time of the Tempe arena announcement, was the team's President and CEO. "While we have tremendous fans all across the greater Phoenix metro area, not to mention the entire state, it became clear that the East Valley is home to a majority of our fans and corporate partners."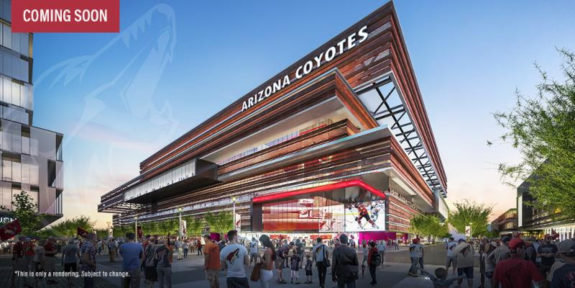 "What happens right now is that we have a tremendous commute issue for weekday games," LeBlanc said last November. "It was a deterrent for a number of people."
He's right. As a lifelong Phoenix resident, I can tell you that commuting from one side of the Valley to the other during rush hour isn't an enticing proposition for most people. On a normal workday, it can take up to two hours to travel from Mesa, Chandler, or Gilbert to Gila River Arena in Glendale. If you're like most people, you're getting out of work at around 5:00 P.M. You're probably burnt out from another long day at the office, but you're also a hockey fan, so you decide to go and see the 'Yotes play. If you live anywhere east of downtown Phoenix, you'll have to fight rush hour traffic in order to do so.
After sitting in your car for well over an hour, you finally arrive at Gila River Arena, and, with any luck, you've made it in time for the 7:00 P.M. puck drop. You enjoy the game, which ends at around 9:45 P.M., but now you have another problem on your hands – the drive home. It can take up to 15 minutes to exit the arena parking lots, and then you have a 30-to-45-minute drive back across town. By the time you pull into your driveway, it's probably close to 11:00 P.M.
By the time you shower, unwind, and get ready for bed, it's likely close to midnight, and you lay down with the knowledge that you have to be up for work in a few short hours. Sound like a fun time? No? Welcome to the problem that Coyotes fans in the East Valley deal with on a consistent basis. It's too much for some people, and many simply stay home and watch on TV, or attend only weekend games.
Bad Location = Bad News
The issue of an arena being in a bad location isn't exclusive to the Coyotes – the Ottawa Senators are also dealing with this problem, and, like the Coyotes, have also been pushing for a new arena in a better location.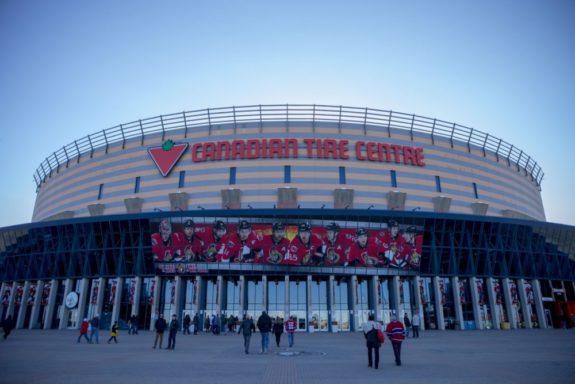 "A new downtown arena is vitally important to the long-term future, stability, and competitiveness of the Senators," NHL commissioner Gary Bettman said back in November.
That sounds familiar, doesn't it? If you're a Coyotes fan, it should.
"The Arizona Coyotes must have a new arena location to succeed. The Coyotes cannot and will not remain in Glendale," Bettman stated in an open letter to the Arizona State Legislature on Mar. 7.
There are a lot of similarities here, and the root cause of the problems in both cities are the locations of the two arenas. The Canadian Tire Centre is located in the suburb of Kanata, ON, and is about a 17-mile drive from downtown Ottawa. Gila River Arena in Glendale, AZ, is just under 19 miles from downtown Phoenix. The arenas aren't exactly in ideal locations, nor would they ever be called 'centrally located'.
You didn't see the Detroit Red Wings pushing to build Little Caesars Arena out in Sterling Heights, did you? No, they stayed in downtown Detroit and moved just over a mile to the north. This is because centrally located arenas are the only way to go in this day and age.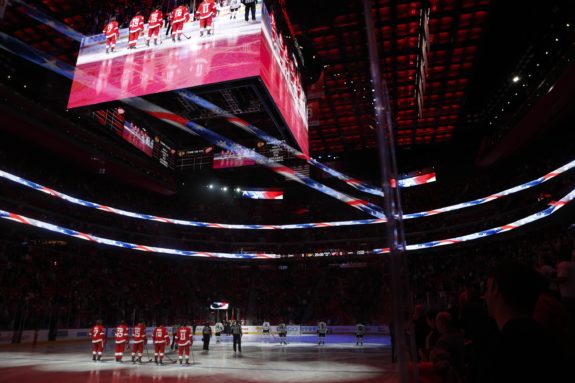 I'm sure if the Coyotes could do it all over again, they wouldn't have chosen Glendale as the site of their new arena. However, what's done is done, and now the Coyotes need to find a new long-term home in the East Valley of the Phoenix area. A partnership with Arizona State University seems like the most logical choice for both parties, but will one (or both) sides be willing to come back to the negotiating table after the previous arena agreement fell apart in February?
A lifelong Phoenix resident, Louis has been following hockey since 2010, has covered the Arizona Coyotes since 2015, and has been playing hockey since 2020. So far, Louis has visited eight NHL cities, and one of his personal goals is to eventually make it to all 31 NHL arenas. For any questions or concerns, contact the writer via Twitter @LouisPannone.