When the Beauts' Sarah Shureb scored her first goal of the NWHL season you could see her reading the play as she came off the bench. She put herself in the right place at the right time. The move was calculated. Hopping off the bench for a Beauts' line change, Shureb paused just ahead of the blue line. The Connecticut Whale could not get the puck in deep, and Beauts' defender Sarah Casorso spotted Shureb immediately. That is all she would need to capitalize.
Once Shureb received the pass, she darted into the Whale's zone at full speed. Less than a half-step behind her was Kaylyn Schroka—Shureb's college linemate, now Beauts linemate, and her bosom buddy. It could not have been scripted any better for a first career goal. Shureb and Schroka came in on a 2-0 break. They dished back and forth for a beautiful give-and-go until Shureb beat Connecticut goalie Sydney Rossman.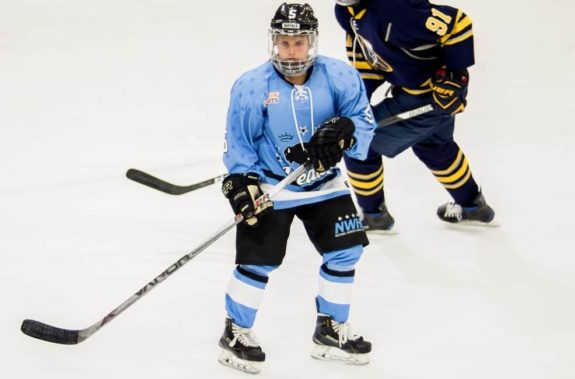 Attribute it to a keen hockey sense if you will, but there will be more heads-up plays coming from Shureb this season. So what more can we learn about one of the newest Beauts? THW caught up with her and found out.
Hockey Is the Best Decision Shureb Ever Made
Not only is Shureb an NWHL rookie, but she is also one of the younger players on the team. Born in June of 1995, Shureb is just 22 years old and fresh out of college. Of the 23 players listed on Buffalo's team roster, there are six total, including Shureb, who were born that same year. To have a player as young as she is with such a keen vision is truly remarkable.
According to Shureb, her affinity for hockey developed at young age. It has also been the most rewarding undertaking of her life.
The first of many 🚨 for @S_Shureb5 & @Accursi6! #DefendTheCrown pic.twitter.com/U7Ea5KbiIB

— Buffalo Beauts (@BuffaloBeauts) October 28, 2017
"I was 9 years old when I started playing hockey," she said. "I got interested in playing because my older brother played and I always went to the rink for his practices and games. Never missed one. I just loved watching it and eventually told my parents I wanted to try it out, and it is the best decision I ever made."
Shureb is certainly making the most of her opportunities. Of the Beauts' four regular-season games through November 2017, she has appeared in two of them. In the process, she scored that first goal in Buffalo's 3-2 win over Connecticut at Terry Conners Rink. Having no hesitation in shooting the puck, she has rifled five shots in those two games. Shureb is also one of only four Buffalo skaters to be a plus player.
One-Third Of "The Adrian Line"
The Beauts made major headlines in women's hockey this past July by signing not one player, but an entire collegiate forward line. The announcement came from the NWHL that Buffalo had signed Shureb, Schroka, and Kristin Lewicki who had played together as a unit for the Adrian College Bulldogs. Buffalo got to see firsthand what these players could do on the ice together at the team's June 2017 free agent camp. Around town and at the rink, this troika is simply known as "The Adrian Line".
An NWHL career was not something Shureb necessarily foresaw.
"I never thought I would be playing professional hockey after college," Shureb explained. "About halfway through my senior season, it was starting to hit me how my last competitive games were coming to an end and I wasn't ready to be done. I started looking in Europe to play at first, however, that didn't work out. So I started thinking to myself 'Wow, I am really going to be done after this'. I never really thought about the NWHL though because I never thought it would be a possibility for me. But then my coach (Chad Davis) told Schroka, Lewicki, and I about the Beauts' open tryout and we decided to go there and received an offer. It was a no-brainer to say yes."
Shureb's doubts about her ability to play professionally seem unfounded. As a line during their senior year, the trio combined for 86 goals and 101 assists for 187 points. Shureb herself accounted for 25 goals and 34 assists in just 31 games. It doesn't matter who you are—that is some dangerous firepower. Now it is being carried over into the NWHL.
Attributes and Instincts Galore
Shureb is a crafty player; cerebral, sneaky even. But difference-makers on the ice generally are. She creates opportunities and in the process, she further enables opportunity to find her. A fun comparison for Shureb and her "Adrian Line" teammates might be when Mark Messier and Glenn Anderson skated together with the Edmonton Oilers, and then again with the New York Rangers. They simply had been together long enough, played together long enough, that you always knew they would be right on each other's tails. If Messier had the puck, Anderson would never be far behind, and vice versa. Ask Beauts co-coach Craig Muni—he had a front row seat for a number of years.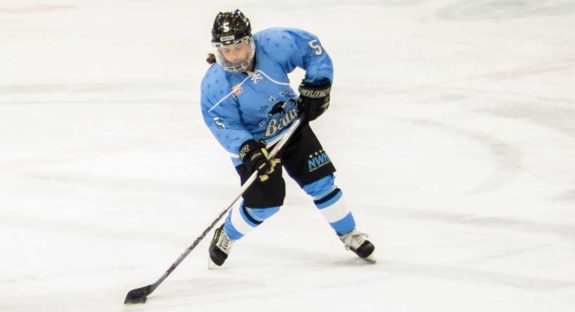 Shureb and her linemates anticipate each other's actions so darn well. How they feed off of each other is uncanny; one right behind the other and there's three of them. Shureb exudes both a wide vision and a deep intuition.
"I feel like my best attribute is being smart with the puck and playing heads-up hockey so I can feed my teammates," she shared. "I feel like my senior season I just exploded though, because I started playing with confidence and started shooting the puck more from anywhere and everywhere. Just being sneaky and finding the open spaces in front of the net."
She is still doing that now at the professional level.
With Hard Work, Opportunity Follows Close Behind
It is important to note that the Beauts won both games Shureb suited up for this season. The two games in which she did not dress, they lost. It's not a coincidence. Schroka suited up for the same two that Shureb did. Only Lewicki has played in one game more.
Muni and fellow co-coach Ric Seiling have the unique problem of a logjam of talented players. In this instance, the math is relatively simple. Shureb and her "Adrian Line" counterparts ought to be called upon more often. You cannot teach chemistry. You would bottle it if you could, but having Shureb, Schroka and Lewicki is the next best thing.
Furthermore, the trio is excited to be in "The City of Good Neighbors". Shureb and Schroka hail from Michigan, while Lewicki is from West Virginia. They feel welcome in Buffalo and are prepared to do whatever they can to chalk up wins for the Beauts. Shureb recognizes too the significance of playing for the defending Isobel Cup champs.
"We actually missed the open tryouts for the NWHL that were held in Boston. Thankfully, Buffalo had theirs at a later date and that's when our coach told us about going to the tryout. I was excited when I found out it was Buffalo though because they were just coming off from an Isobel Cup win, and I also like how Buffalo is still semi-close to home in Michigan where my family can still come see me and the team play. Buffalo has treated us so well though, I am happy this is where hockey led us!"
Sarah, Buffalo is happy to have you and your linemates here too.
"The Adrian Line" Welcomed as Buffalonians
Right now, Shureb and her linemates are becoming enamored with the city and their new teammates. Right or wrong, there is a stereotype that when a collection of talented players is assembled on one team, the locker room is generally not big enough to accommodate all of the personalities. To the contrary, Shureb finds that being on a squad with so many high caliber players is enticing and exciting.
Asked what she enjoys most about playing for the Beauts and playing in Buffalo, she shared:
"There have been a few enjoyable things so far. It has been so enjoyable to play with all these players because everyone is so talented and it is fun to watch and play against them," said Shureb. "We also have really good chemistry on our team and it makes going to the rink that much more fun. I love getting to play with my college linemates (Schroka and Lewicki) on the same line for the Beauts. Lastly, it is so enjoyable to be a part of growing the women's game. After seeing all the young girls at the game in Rochester and how they look up to this league, that's what it is all about!"
#TBT to blue Cooper pants, slicked back hair, and starting the best sport in the world 🏒 #WGIHW @BuffaloBeauts @NWHL pic.twitter.com/1xdIjIMDr1

— Sarah Shureb (@S_Shureb5) October 5, 2017
Shureb could not be more right. It is important to see how the NWHL is reaching throughout North America. New England is well represented in the league. Western New York is a close second. Ontario, Alberta, Pittsburgh, North Carolina, and other markets have representation. Now with Shureb, Michigan is getting its fair share too. Young girls like Shureb can see that a woman from their hometown or home state/province plays pro hockey—and they can too.
Small in Stature but the Biggest Heart
At 5'2″, Shureb is the shortest player on the Beauts alongside Lewicki who is the same height. Saying that, she plays the game with a "big heart and a big bag of knuckles" to quote Mystery, Alaska a bit. Shureb seems fearless on the ice and readily takes on much larger opponents in front of the net or along the boards as she jockeys for position. They have not slowed her down yet. She readily finds the nooks and crannies and slips through and exploits openings that other players just do not see.
Off the ice is where Shureb's big heart comes into play. She is fun-loving and generous to loved ones. Separately, she has a singing voice too.
"I am an unreal karaoke singer—at least I like to think—and you can usually find me with a microphone in my hand if it's not a hockey stick in hand," she laughed. Some of Shureb's favorites to perform include "Ironic" by Alanis Morrisette and "Hit Me with Your Best Shot" by Pat Benatar.
Part & Parcel of Beauts Success
It is not surprising that Shureb, Schroka and Lewicki have come to a professional team together. It is also not surprising that Shureb's family make the trek from Michigan to see her play. This is all part of the positivity she exudes by being herself.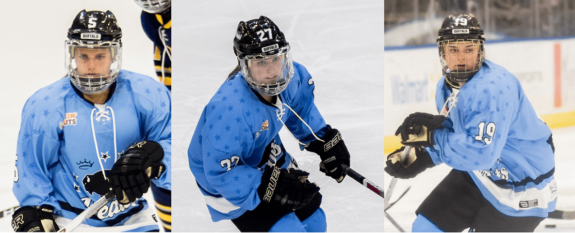 Shureb gave this answer particularly when asked what she would want fans to know about her personally:
"I am a huge family person," She explained. "I love my family and friends and all the support—that means the world to me."
Sarah Shureb's vision as a hockey player and as a person are part and parcel of the success of the Beauts. Furthermore, she is everything you would want in a hockey player, and then some. Utilizing Shureb and "The Adrian Line" as a whole is bound to generate more wins for Buffalo.
General Manager of the Buffalo Beauts (NWHL). Hockey history writer "The Hockey Writers". Credentialed media for the NHL Combine and 2018 IIHF World Junior Championships in Buffalo, NY, USA. Born and raised in Buffalo, NY. Lifelong hockey fan for over 40 years. Proponent of the women's game.