When we are gathered at the table for dinner on Thursday, scarfing down delicious turkey or that last slice of pie—do we ever pause? Watching football in the family room with a beverage in hand—do we quiet ourselves to think? With the rush of "Black Friday" and all the hustle and bustle—do we spare any time for what this holiday weekend is truly all about? Ponder that for a moment if you will.
Unfortunately, these days—more than ever—the answer to each of those questions is oftentimes "No". We do not do it intentionally. The days and the hours just seem to escape us. Our time with family and friends is fleeting and before we know it Monday has arrived again. Our time to gather with one another has passed. Did we take any moments to appreciate what we had? Or did it all go by in whirlwind?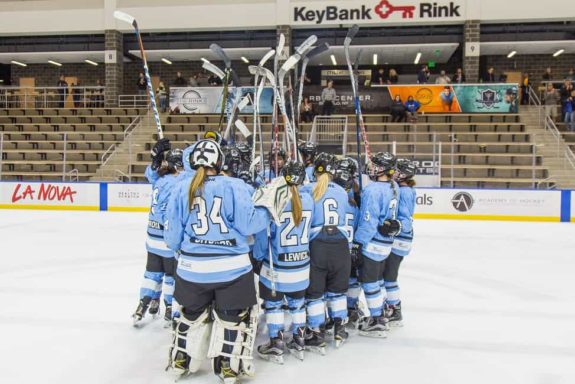 THW had a chance to catch up with some of the Buffalo Beauts. We posed this simple question to them: "For this Thanksgiving, what are you most thankful for?". Here are their responses and a little bit about the players themselves:
Hayley Scamurra
Beauts' forward Hayley Scamurra has thus far kept last year's streak intact of averaging at least a point per game. She has appeared in all four Beauts regular season games this season, tallying a goal and three assists. She is the only Beauts player to have played the four games and also be a plus player at the same time. The 2017-18 season will bring about enjoyment for fans and her teammates alike, as a full season with Scamurra on the ice is bound to bring exciting moments and high flying offense.
🚨🚨🚨 RIGHT BACK AT YA! @HScamurra rips one top shelf and we're tied at 3! #METvsBUF pic.twitter.com/BnquN91qrX

— Buffalo Beauts (@BuffaloBeauts) November 19, 2017
Asked for her thoughts on what she is thankful for, Scamurra shared: "I am thankful for my family and friends, my Beauts teammates, and the ability to continue playing the game I love."
Scamurra plays the game so very well. A powerful forward, she is on her way to being established as one of the best all around players in the league. That is if she isn't in that category already.
Colleen Murphy
Colleen Murphy is in her rookie season for Buffalo, and already she is proving to be one of their more reliable defenders. Regularly commuting from North Carolina to Buffalo to play in games, Murphy has made two appearances thus far this regular season. Even though she has only had those two, she is still tied for second place on the team with blocked shots. She also leads all Beauts defenders in that category too.
Murphy is known for her versatility. She has played in nearly every imaginable situation this season, including killing 5-on-3s and getting point work on the power play. She is a fearless defender and plays with a great deal of tenacity.
Murphy gave the following answer to what she'll be thankful for this year: "I am most thankful for the unconditional love and support from family and friends. They are the ones that push me to be the best that I can, everyday."
She has had family and friends make the long distance journey to see she and the Beauts play in Buffalo.
Kayla Parsons
In many instances, Murphy has found herself paired alongside second year Beauts defender Kayla Parsons. Number-22 on the Beauts is originally from Fairbanks, Alaska. Parsons was all smiles as she received her Isobel Cup championship ring at the on ice ceremony in Buffalo two games back. She embodies the hard work and ruggedness that has defined this Beauts team at times. Parsons is a very rugged defender, but with the warmest of personalities.
Much like Murphy, she does not hesitate to throw her body in front of the puck either. With her two regular season games thus far, she has blocked two shots of her own. There will be more to come, as Parsons is an anchor on defense and never shies from physical play.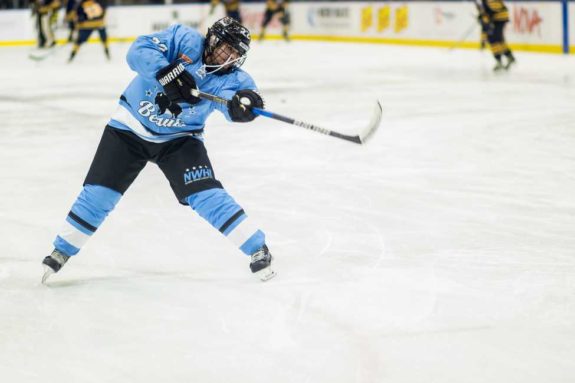 Parsons' thankfulness not only ties into her career as a hockey player, but also a most worthy cause off the ice too: "I am thankful for my family, teammates and friends but most of all I am grateful for being a nurse," she shared. "It has given me the opportunity to work with some of the most incredible people. My patients and their families have blessed me more than I could have possibly blessed them. One of my patients once said ' if you have nothing to be grateful for, just check your pulse'."
How many of us afford ourselves enough time to check our pulses? All kidding aside, there is a lot of wisdom in that patient's words.
Kristin Lewicki
Beauts rookie forward Kristin Lewicki is one of the most quick-footed players in the NWHL. She possesses a remarkable ability to accelerate and dip through the opposition. Truly an enjoyable player to watch, and ever so crafty. Lewicki seemingly never slows down, and within her three games for Buffalo this year she has picked up two assists and rifled seven shots on goal.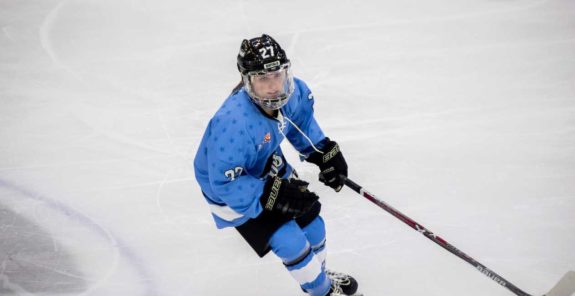 Co-coaches Ric Seiling and Craig Muni rely on Lewicki quite often in the face-off circle. She has taken the third most draws on the team with 25. Only two other Beauts have taken more face-offs and each of them has played in all four games as compared to Lewicki's three. One third of the famed "Adrian Line", she has been getting utilized lately with other line combinations.
Lewicki shared, "This thanksgiving I'm most thankful for having the opportunity to continue playing the game I love, and that my family is able to come to Buffalo to watch me play still. Family and friends mean everything."
Jordan Ott
One of the more satisfying additions to the Beauts' roster has been Jordan Ott. Her ability to be interchangeable between offense and defense has paid immediate dividends for Buffalo. Ott is a luxury for Seiling and Muni—dependability whereever she plays. In recent games though she has found a niche on the blueline.
Ott presently leads all Buffalo skaters in plus/minus with a plus two. Considering that only three other players are presently above zero, they may wish to insert her into the lineup more regularly.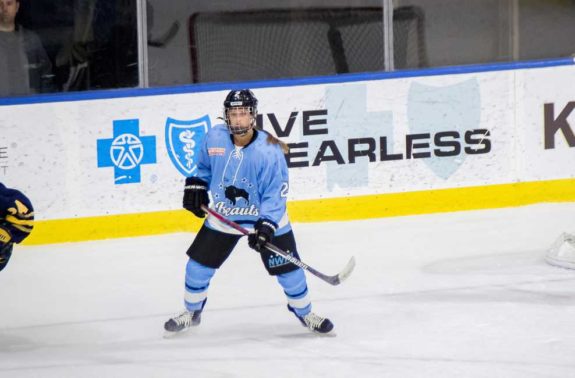 Here is what Ott said she is most thankful for:
"This Thanksgiving I am most thankful for my family and friends. I am thankful for the love and support they provide me so that I can pursue my dreams. Throughout high school, college, and now professionally my family has encouraged me pursuing my athletic goals. My family is the most loving support system I could ever hope for."
Kelsey Neumann
The Buffalo faithful is anxiously awaiting its chance to see Kelsey Neumann play in regular season action. This is now her second season in Buffalo. One of the most colorful and adored players on the team. All she needs is a shot. Neumann is a fixture at every Beauts practice. She is also one of the team's player representative for the NWHLPA. She has paid her dues and deserves an opportunity to see game action.
👀 on the prize. Game day vs. @CTWhale_NWHL. #DefendtheCrown #season3startsnow #beauts #nwhl pic.twitter.com/EP2T20GOG4

— Kelsey Neumann (@lilneumy) October 28, 2017
Neumann offered many heartfelt sentiments for this year:
"This year I am thankful to be able to spend the holiday with my family in California," she said. "I haven't had the chance to spend a lot of time with them since before moving to Buffalo. I am thankful that my brother and his wife were able to make the trip to Cali, so that we can all celebrate the announcement of their first baby! I️ am beyond grateful to have the parents that I have. The sacrifices they have made to get me where I am today is something I will never be able to repay."
Togetherness and finding time as a family are integral to this holiday. Neumann would also share on the professional positives in her life:
"Besides family, I'm grateful to be part of the NWHL and Beauts organization. I am also grateful to work with not only the Buffalo Bison Hockey organization, but also the other hockey families I️ have met on my journey the last two years."
Take the Time to Be Thankful
Let the Thanksgiving wishes of these young ladies sink in for a moment. Compare them to the wishes within your heart of hearts. Slow yourself down these next few days and think about the positives in your life. If football isn't your preference then flick on the tube, find a hockey game and relax with loved ones. No matter how you choose to spend the holiday weekend please take a moment or two to count your blessings. These Beauts did. You may very well find that you have much to be thankful for in your life.
Happy Thanksgiving everyone!
General Manager of the Buffalo Beauts (NWHL). Hockey history writer "The Hockey Writers". Credentialed media for the NHL Combine and 2018 IIHF World Junior Championships in Buffalo, NY, USA. Born and raised in Buffalo, NY. Lifelong hockey fan for over 40 years. Proponent of the women's game.