Victor Rask "rode the pine" during Sunday evening's contest between the Carolina Hurricanes and the New York Islanders. In other words, he was a healthy scratch. And, head coach Bill Peters also gave him a seat in the press box Friday night versus the New York Rangers. What in the world is going on with Rask? He was steady during his first two years with the Hurricanes, but starting with last season, something hasn't been quite right.
Not hard to tell Victor Rask has absolutely no confidence. Shoots the puck from areas with virtually no chance to score, right into the goalies chest every time. Can barely control the puck at this point. What to do….

— Alex Ohári 🇭🇺🔴⚪️ (@FutureCanes) November 17, 2017
Luke DeCock of the Raleigh News and Observer wrote this about Rask being benched:
What's more disturbing than Rask's lack of production is his apparent lack of interest. His first two seasons in the league, he displayed a wicked shot and incisive vision on the rush. He wasn't the passive perimeter player he was at times last year, and all of this year.
"Lack of interest" is a disturbing characterization and yet that is the impression Rask is giving to some.
Rask a Flash?
I've been very high on Rask since he grabbed a spot with the Hurricanes in 2014. He played in the prospect tournament in Traverse City that year, caught the eye of Peters and never looked back. Until now. Actually, his challenges began last season and even though his overall production (45 points) was close to the 48 points he garnered in 2015-16, there was a noticeable difference in his play.
I talked with Rask before the season and asked him how things were different with him last year. He assured me that he had a good offseason and was physically and mentally ready for this season. Frankly, I was excited. As I said, I have always been high on Rask, and believe that he has yet to reach his full potential in the NHL. Surely, he is more than just a flash in the pan, a one-hit wonder, so to speak.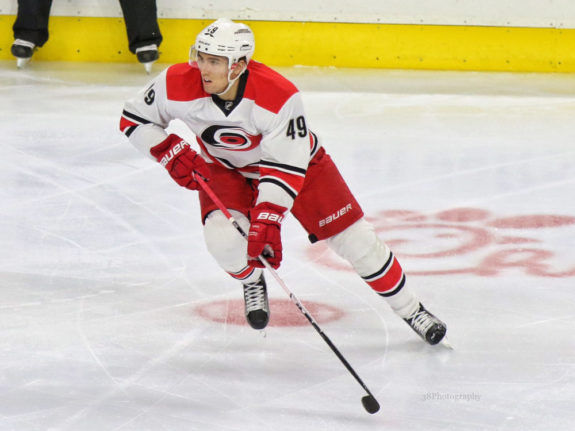 Hockey is a fierce sport. Just when a player is getting into a rhythm, he has to get off the ice. Building momentum and getting into a groove comes in spurts that typically last less than a minute. According to sportingcharts.com, last season, the players that spent the most time on the ice per shift topped out at :57 seconds. Hurricanes defenseman, Jaccob Slavin was among the "ice hogs" at :54 seconds per shift. That's less than a minute to get going, try to make a play or foil the other team's attempts at making a play, and exit the ice. In Rask's case, he had an average of :45.7 seconds per shift.
Where other sports give a player much more time to get their game on, hockey players must build momentum a shift at a time. For Rask, there has been no momentum-building for over a year. His play is flat and without the gritty steel and determination, he exhibited previously.
Helping Rask and Shades of Semin
Some are beginning to question whether Rask is really interested in getting his game back, a thought that I find presumptuous. But, everyone agrees that something is off, and Peters is hoping some spectator-time will shake him into realizing the situation at hand. Namely, that the Hurricanes need a healthy, focused Rask.
How i feel lookin at Victor Rask in the press box #Canes #Redvolution pic.twitter.com/4r2rV2q7c3

— jack of all canes (@NonProfitCaniac) November 21, 2017
My most vivid recollection of Peters inviting a player to "have a seat" was with Alexander Semin. Semin seemed uninterested at times and I wrote about his benching at the time. Peters' perspective was in that article:
Coach Peters agrees as mentioned in Friday's Raleigh News & Observer, "I made the decision that I think is best for the individual and for the team. We want (Semin) to be a part of it and we want (Semin) to be a big part of it. We want him to play the game hard and play the game properly and play the game with pace and live up to his ability and his potential. In order to do that, you've got to put the work in and you've got to be mentally and physically engaged in what you're doing.
It sounded like Peters was genuinely hoping that Semin would get his act together and respond positively to a little "pine-time." But, it didn't happen and the Hurricanes eventually got rid of him. Fast-forward and Peters talking about Rask after Sunday's game against the Islanders sounds familiar:
We've got to help Victor right now. We need Victor. We need to get him back to where he was, and not only that, even higher. He's still a young guy with a big upside. So, we've got to find a way to make it work.
Peters sounded genuine about wanting to help Rask, and believing that he has great potential. However, in a subsequent question and answer with the media on Tuesday, Peters was asked about communication and Peters said,
We talk all the time, but at some point, it's about playing, too. So, let's talk less and have more action. We're in the action phase right now.
Frankly, compared to Sunday's press conference, that response did not seem as positive about the Rask situation. I can't help but wonder if there is more to the situation than meets the eye. Of course, speculation about possible trades has cranked up to even further that notion.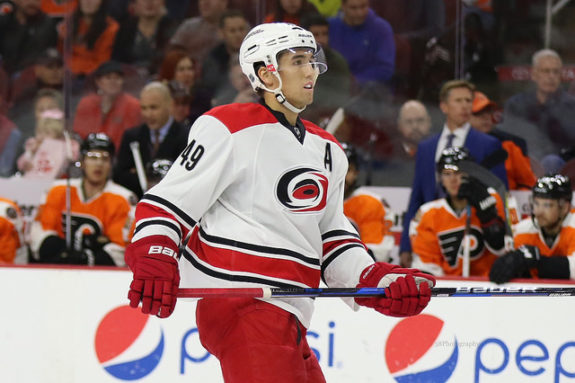 Rask Speculation Begins
In light of Rask's benching, the NHL universe quickly served up rumors and speculation. One outlet argued that Rask should be on the Pittsburgh Penguins' radar. Hooks Orpik at pensburgh.com wrote on Wednesday an article entitled, "With Rask in Carolina's Doghouse, Could He Be of Penguins Interest?" Orpik wrote:
Obviously, there's no guarantee that Carolina has any interest at all in trading Rask just because he's in the dog house this week for playing time. But then again, 24-year old players with 260 career NHL games aren't often scratched multiple times in a row when a team sees them as key cogs in the future, either. Victor Rask probably ought to be on the Pens radar for a big trade addition, if at all possible.
Orpiks notes that the Penguins GM is familiar with Rask, and drafted him in 2011. Also, that Risk might be a good fit to replace the departed Nick Bonino and Matt Cullen. But, Rask has a large contract with the Hurricanes that any team would have to deal with. So, what would Hurricanes GM Ron Francis want in return?
Speculation can be intriguing, and in this case, an argument can be made that perhaps Francis should look at moving Rask. But, I'm hoping that a little time on the bench will shake something up inside him and that he will be able to once again be a positive force for the Hurricanes.