Victor Rask of the Carolina Hurricanes is slumping hard. His play of late has not been horrid, just not up to his usual standard of performance. The normally reliable center for this youthful band of playoff aspirants usually plays with dependable efficiency and leadership for those around him. Without this play, a slump for Rask is hard. Hard to imagine and hard on the team.
Rask Came Determined to Stay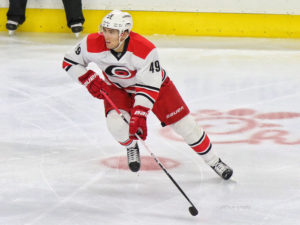 I have written extensively about Rask. He started with the Hurricanes the same time head coach Bill Peters did three years ago. He has played with a determination that is essential for getting to and staying at the NHL level of professional hockey. Last August in Prospect Tournament Fuels Canes' Hopes, I wrote that the tournament was where it all began for Rask. In 2014 in the annual Traverse City, Michigan tournament, he went from being just another prospect to grabbing Peters' attention and a spot on the ice. He has not looked back.
Rask had four goals in the tournament as a 'Canes prospect, which was outstanding. But, what I remember that what was talked about a lot at that time in 2014 was Rask's positive face-off ability. In fact, the argument can be made that it was his prowess in the circle that helped him stay in the NHL and not have to go to the Charlotte Checkers and hone his craft like so many others have had required of them. For example, Hurricanes teammate Brock McGinn was good at that same 2014 Prospect Tournament, but he is still scratching and clawing to attain full-time NHL legitimacy.
Rask Slumping…
At PuckBase.com, this season Rask is currently ranked 69 overall in the NHL for face-off percentage at 48.6. By contrast, teammate Jordan Staal is at No. 3 with a face-off percentage of 59. Rask was ranked 47th overall for the 2015-16 season with a percentage of 51.2, and 44th overall his rookie season, 2014-15, with a face-off win percentage of 51.
Heaping salt onto an already open wound, Rask turned the puck over near the end of overtime, which lead to  Mikko Rantanen's game-winning score. It was a somewhat fitting end to the Hurricanes' dismal performance against the Colorado Avalanche Friday night, losing 2-1 in overtime. Peters talked about Rask possibly pressing a bit to get out of the slump after the game:
Not starting with the puck very much, that line, whatever line he's centering right now. He's getting dominated on faceoffs a little bit. So, when that happens that means you're defending. So, when you're defending it's tough. There are things he can do better. We'll look at it, but I would recommend starting with the puck, it makes the game a little easier.
Peters did not pull any punches in his analysis of where Rask is currently. But, he is obviously correct. What was once a stronger part of Rask's game needs to improve, which should lead to other parts improving, also. Namely offensive production.
…Hard
A look at the Hurricanes' player stats for this season shows Rask tied for second overall on the team with Sebastian Aho. But, this is due to a convergence of Aho getting hot and Rask slumping hard offensively. He has zero goals and zero assists in the last five games and beyond.
https://twitter.com/JustinGill919/status/831324771589689345
While he's never been viewed as the next NHL scoring leader, he has been solid and steady.
Most great/good players endure down times during a season. Rask's teammate, Elias Lindholm, went through a lengthy slump this season, but Peters never lost confidence in him and he has turned his play around significantly. Rask deserves the same patience and room to get himself right. He's a huge part of the Hurricanes' foundation, and likely will be a big key to any future success they enjoy.
Mark lives in the Raleigh, NC area and covers the Carolina Hurricanes.