The sample size is awfully tiny but it appears as though Jesse Puljujarvi has "improved" his game enough to ensure he remains with the Edmonton Oilers from here on out. Though the argument could be made his game wasn't in need of further rehabilitation but rather an opportunity. Either way, the opportunity he was after has been granted and it looks as though the youngster plans on making the most of it.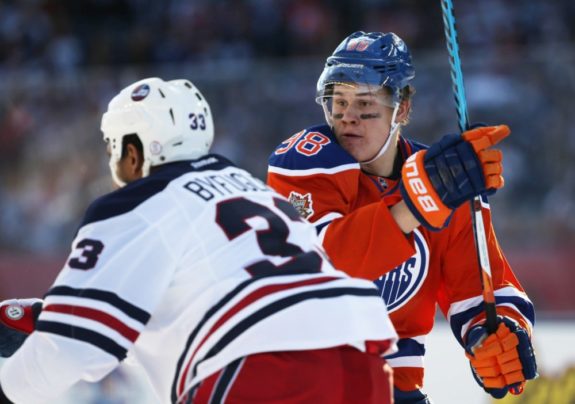 Since being recalled from the AHL 13 days ago, Puljuajrvi has already managed to double his goal-scoring output from a season ago but more importantly, he's been among the Oilers better forwards. Be it a lack of confidence, opportunity or combination of the two, the fourth overall pick in the 2017 NHL Entry Draft looks to be a far more polished product than the one who made his way to Bakersfield back in early January.
Puljujarvi is Ready for Prime Time
His size and speed have been a welcome addition to what is quite possibly the slowest team in the league. Hard to imagine on a team that has Connor McDavid and yet here we are. For the first time since pulling on an Oilers jersey, we got a glimpse of the quick release and heavy shot he displayed with regularity for Team Finland during his MVP performance in the 2016 World Junior Championship.
Same goes for his two-way game, which apparently went AWOL during his brief stint in the NHL in 2016-17 but seems to be "back on track" this time around. In my mind, what we saw from Puljujarvi during his rookie season was a kid who was trying to adjusting to a new way of life and in desperate need of some puck luck. On the surface, that may sound like nothing more than an excuse but on occasion, things are actually as they seem.
#Oilers' Jesse Puljujärvi led Finland to 2016 World Junior gold with 17 points, named tournament MVP. #NHLDraft pic.twitter.com/HKe30YA2l7

— Edmonton Oilers (@EdmontonOilers) June 25, 2016
We tend to ignore just how big of an impact coming to a new country and being unable to speak its native tongue has on a young player…especially at 18-years of age. Add to that not being given a role which he could succeed in at the NHL level and just like that confidence becomes an issue. Not surprisingly, Puljujarvi went scoreless over his final 27 games with the Oilers before leaving town and was probably wondering what was going on.
Needed Time to Adjust
Fast forward to the present day and after a rather underwhelming opening month to his AHL campaign, Puljujarvi appears re-energized upon returning to the NHL. After scoring in his first game back against the New York Rangers and a three and a half game stint with Milan Lucic and Ryan Nugent-Hopkins, the talented Finn has been shifted to another line thanks to three consecutive poor showings from the club.
Though the subsequent line juggling knocked the kid down the depth chart, for the time being, it was not due to his play. In fact, Todd McLellan has gone out of his way to praise Puljujarvi for the improvements in his overall game. To his credit, his play away from the puck is greatly improved and has resulted in him being in a far better position to support his linemates when necessary. A simple adjustment to be sure but it was one that had to be made.
Jesse 💣 #LetsGoOilers pic.twitter.com/9PdJF1Kyrg

— Edmonton Oilers (@EdmontonOilers) November 23, 2017
It has not gone unnoticed by his head coach and unlike last season, confidence does not appear to be an issue for the player. He is looking for spots where he can be a difference maker and use his shot to his advantage. Though his linemates had yet to find him with any kind of regularity to unleash it, we got a glimpse of it late in last night's 6-2 beat down of the Detroit Red Wings and it was a thing of beauty.
Puljujarvi Has the Tools
Yes, it was a nothing goal in a game the Oilers had well in hand but I honestly can't remember the last time we saw a forward on this team one-time a puck with that kind of velocity and bury it from that distance. It certainly was a sight for sore eyes and one that only confirms his potential placement as Connor McDavid's eventual triggerman. However, it is rather obvious McLellan wants him to develop into role gradually and grab it when he is ready.
In placing Puljujarvi on a line with Ryan Strome and Jujhar Khaira, the head coach is trying to shelter the youngster while his club continues to struggle and who could blame him? With that said, if this kid can consistently make an impact in the role he is being asked to play, it won't take long before we see him back inside the top six and a regular fixture on one of the Oilers power play units.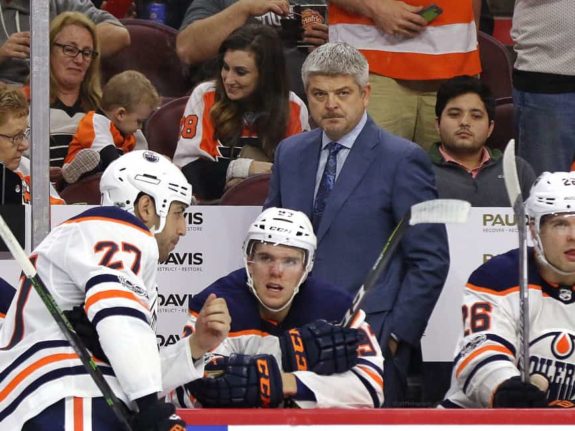 Again, his 2017-18 campaign did not get off to start most had envisioned but Jesse Puljujarvi is now a full-fledged member of the Edmonton Oilers. He has held up his end of the bargain and worked on the aspects of his game that were asked of him and now it is up to the organization to return the favour.
Also available from Rob Soria: