Though his first year playing in North America didn't go the way Jesse Puljujarvi had hoped, being forced to take the extra time to adjust to his new surroundings will likely serve both he and the Edmonton Oilers well in the not too distant future. You can bet on more growing pains during the 2017-18 campaign but the future for the fourth overall pick of the 2016 Entry Draft still appears quite bright.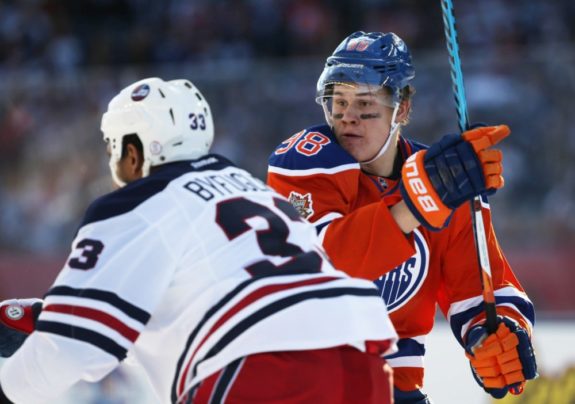 Nothing about one goal in 28 games at the NHL level and 12 in 39 appearances with the Bakersfield Condors jump off the proverbial page but everything Puljujarvi did or did not do in 2016-17 should be taken with a grain of salt. Much of his time with the Oilers was spent playing in a bottom six role and with linemates who brought little to the table when it came to helping the talented Finn create chances in the offensive zone.
At 18-years of age, Puljujarvi was the youngest player in the NHL during his brief stint in the league and it showed. Expecting him to produce with inferior linemates, in a foreign country, and at his age was never going to happen. To their credit, the organization seemed to recognize this early on and though some thought his demotion to the minors could have happened much sooner, there was no need to rush it.
Not Ready for Prime Time
By having him hang around the club as long as they did, the Oilers were able to accomplish a few things. Puljujarvi got a first-hand look at what the expectations would be for him moving forward, both on and off the ice. The commitment to play in all three zones is a non-negotiable, as is ensuring he is in the best physical condition possible. Chances are both the workout regime and diet restraints were a real eye-opener.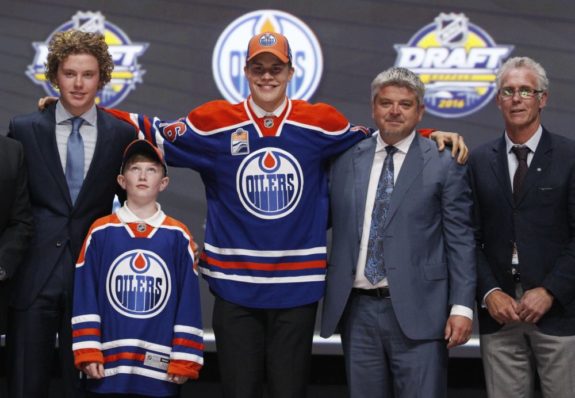 The fact the organization took a hands-on approach to help acclimatize him with the day-to-day existence of being an NHLer and learning a new language, the decision to have Puljujarvi's stay in Edmonton extended was not a surprise. The other positive, which should not be overlooked, was having the opportunity to meet and play with many of the guys he will call teammates for years to come. Also, there will be no need to do it again this time around.
Now, would it have been nice to see the kid produce more in the AHL? Sure but that clearly wasn't priority one for the club. If the sole purpose was to have Puljujarvi put up "X" amount of points, he would have spent the entire campaign in Bakersfield. Obviously, that first-hand viewing of the speed of the NHL game and the aforementioned scenarios were of greater importance to the club.
Steep Learning Curve
Let's not forget, this kid went where he did in the draft for a reason. Safe to say, Puljujarvi is a tier below Auston Matthews and Patrick Laine but we are talking about an individual who was the runaway MVP at the 2016 World Juniors…a tournament which all three played in. Again, we are talking about different players but the Oilers need for a right-winger with his size and skill-set is inarguable.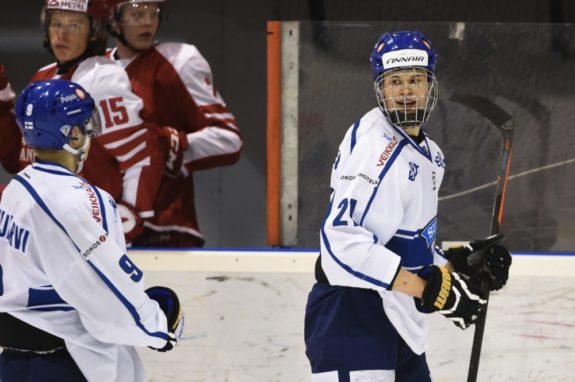 Inserting a 6'4" and 200 plus pound guy who can skate, shoot the puck and shown the wherewithal to play at both ends of the rink from a young age, is exact kind of player this lineup is missing. In my mind, Puljujarvi's lack of success last year has made some forget what he is supposed to be. In case you are one in need of a refresher, here you go:
'Well-rounded game and can play and contribute in all areas. He is less flash and all substance, with skill and will to make a difference in the game. He's an engine that drives play.' – TSN Director of Scouting Craig Button
Call me crazy but that sounds like a dream addition to any roster. Never mind one that already includes Connor McDavid and the likes of Leon Draisaitl playing "second-fiddle".  Add the Oilers lack of depth on the right side into the equation and the need for a little patience is in order. The organization has done a good job of keeping expectations in check and actually did him a big favour in the off-season.
The Jokinen Effect
Though he was brought on board to help Edmonton improve their lineup, the signing of Jussi Jokinen can only help Puljujarvi with his overall development. The veteran winger is not only familiar with his fellow countryman, as the youngster played for Karpat in SM-Liiga from 2014-16 (a club which the 34-year old is a part owner), he knows all too well the challenges that lie ahead for the 19-year old.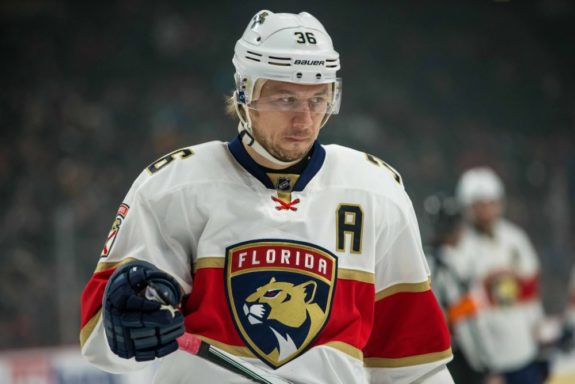 Jokinen has mentioned on several occasions the role Jere Lehtinen played early on his career in helping him adjust to life in the NHL with the Dallas Stars and has not hidden the fact he looks forward to doing the same for Puljujarvi over the coming season. Not too shabby a deal for the club, as they could very well be killing two birds with one stone. Bring along one of their top prospects, while improving the roster at the same time.
From the standpoint of a player trying to find his way in the league, one could do far worse than to start a season in a top-nine role with Jokinen and Ryan Nugent-Hopkins as his linemates. With that kind of flexibility at his disposal, Todd McLellan can easily shelter Puljujarvi and still have him in a spot to help create a legitimate third scoring line, should the trio click. A nice option to be sure but one that need not be written in anything put pencil.
RNH w/Jokinen & Puljujarvi, Draisaitl between Lucic & Caggiula.

— Jack Michaels (@EdmontonJack) September 15, 2017
No matter how things play out during the 2017-18 campaign, the long-term projection for Jesse Puljujarvi won't really change. In a perfect world, he progresses over the coming season and eventually becomes the trigger man for No. 97. If not, he will be solid top-six forward who adds depth up front and asked to be a jack-of-all-trades. Regardless of which it is, the Edmonton Oilers will be a much better off…which is all that really matters.
Also available from Rob Soria: 
Connor McDavid: Hockey's Next Great One
Rob Soria is the Author of Connor McDavid: Hockey's Next Great One. He has chronicled the Orange and Blue since creating his Oil Drop blog in 2011 and has also had his writings featured over at HometownHockey.ca and Vavel USA, where he has covered the NHL, MLB and ATP Tour. Rob was born, raised and still resides in Edmonton, Alberta and can be reached via twitter @Oil_Drop.