If the Oilers have an area of weakness where there was at one time a strength, it's at the right wing position. Jordan Eberle's exit to the New York Islanders meant moving the only bonafide top-six right-winger in the organization. Coming in is a winger who isn't always a winger (he also plays center) and at this point in his career, could have the goods but it isn't a sure thing.
Before you say Ryan Strome has the makings of a top-line flank, let me say you might be right. You might also be wrong. Before suggesting the Oilers intend to play Leon Draisitl in the first-line right wing role, let me again say, you might be right. You might also have to concede this is not the plan the Oilers would like to roll with. Maybe you'll say the Oilers will play Ryan Nugent Hopkins in that spot. My response would be, ok, maybe.
All of the aforementioned scenarios the options, as are a number of others, but the question is, are they enough?
Ryan Strome
Strome could be a home run. Far less expensive than Eberle, he'll add a functional dimension to the lineup that Eberle refused or simply couldn't bring. Strome plays a grittier more 200 ft style and he should be good to for 15 goals but his 15 won't replace Eberle's offensive contribution nor will he bring near the scoring touch Eberle did. Remember, Eberle had a down year if you ask most people. Strome's best was around 50 points in 2014-15.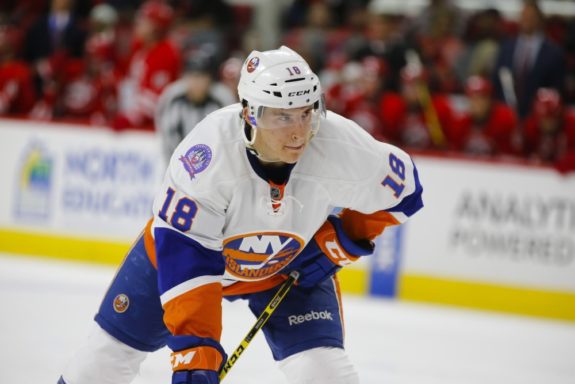 Still, this will be a fresh start for Strome who didn't seem like a great fit with the Islanders. He understands the pressure he'll be under to perform well in Edmonton and he's looking forward to the challenge. When he spoke with Jason Gregor of TSN 1260 and Oilersnation.com, he said,
"I think just to get the confidence going early and ride the wave will be important. With so many ups and downs in my career I think I've learned how to deal with adversity pretty well. I've had a lot thrown at me and gone through some stuff. I think knowing the league is a big factor too. I don't feel like a rookie any more. It is funny how time flies and a new opportunity with people who are excited to have you…it is nothing but optimism for me."
Is this enough to move Strome from a traditionally 30-point guy to a 55-point guy? If he's going to be seen as an Eberle replacement, that's what's going to need to happen if he's to keep a spot as a top-six right-winger.
Leon Draisaitl
Right now the defacto choice on the top line is Draisaitl. He filled the role last year and played magnificently with Connor McDavid, but long term, the organization sees him as their second center (more like McDavid is 1 and Draisaitl 1A).
In stop-gap situations or to switch things up on any given night and give the Oilers a more versatile attack, using Draisaitl makes sense. He can work the top until power play, he can provide a spark to a line to get it going or he can double shift if a player is struggling. At the end of the day, if Draisaitl is your top-line right-winger when you want him to be a center, it means you have depth issues within your organization. Where you want him is as your second-line center making two lines for the Oilers extremely dangerous.
Ryan Nugent-Hopkins
There has been speculation the two-way center might get a look on the top line alongside McDavid. If this is the gameplan, I'm not a huge fan, but supportive of seeing how it plays out. Should Draisaitl play top-line right wing, this isn't an issue as Nugent-Hopkins plugs into your second-line center role nicely. That said, if the Oilers are stacked at center (a good problem to have), Nugent-Hopkins' skills as a defensive specialist could be utilized playing on the wing.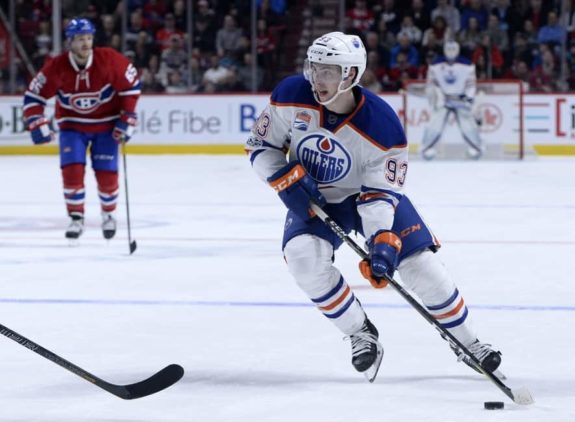 I'll concede, the pluses here are many. Nugent-Hopkins' offense should jump considerably playing in a first-line role with McDavid. And, make no mistake, his offense could use a little bit of a kick in the rear end. If the Oilers intend to trade the player, padding his stats will increase his value around the league. Should Edmonton want to keep him, they'll need to justify his $6 million salary and that could mean finding a new home for him versus his eventual slotting as a third-line center should the course not change.
The fact that Nugent-Hopkins is strong away from the puck would give that first line a new dimension. He can score when given the opportunity, but he'll also provide a solid defensive option for McDavid and his left-winger to go harder on offense knowing "the Nuge" has their back.
Essentially what putting Nugent-Hopkins on the top line does is it swaps he and Strome in the third-line center spot.
Jesse Puljujarvi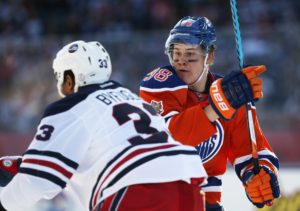 He didn't impress enough to stick in the NHL last season, but the Oilers have high hopes for Puljujarvi on that right wing and it's possible he gets a look at the top line at some point this season. In 2016-17, it was a slippery slope for the rookie. The minute he lost some of his confidence, he struggled to get it back. He then spent most of the season in the AHL with the Bakersfield Condors. Still, he's now a year older and if a slump does come, he may be better prepared to handle it.
The expectation for Puljujarvi shouldn't be more than 15 goals. Anything beyond that would be a bonus. Is that enough to replace a player like Eberle? It doesn't look like it.
Someone Else
Internally, the Oilers also have Drake Caggiula, Anton Slepyshev, Zack Kassian and Jussi Jokinen. If we're picking long shots, maybe even a player like the recently drafted Kailer Yamamoto gets some consideration. There are reasons to try all of these players in small bursts, but none should be seen as an effective replacement for a minimum 20-goal winger.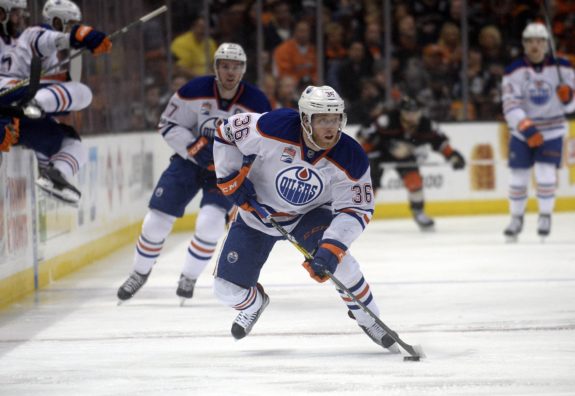 That means if the Oilers are hoping to effectively replace Eberle's offensive production, they have two choices internally.  Either ride with a combination of Draisaitl and Nugent-Hopkins, moving the two as required or replace Eberle by committee. Since none of the players in-house appear to have the offensive upside a player like Eberle did, Edmonton needs 20-30 goals between the above-mentioned names.
The Right Wing Resolution
This problem is potentially not a difficult one to solve. Because you have Nugent-Hopkins and Draisaitl at your disposal, a stop-gap winger with a proven track record of goal scoring is all the team needs. Fortunately, there are plenty of those on the NHL market and looking for a home.
The idea of Jaromir Jagr has been beaten to death in Edmonton and that's likely not an option. But a professional tryout (PTO) for a handful of names is definitely in the cards. A quick invite to a player like Jiri Hudler or P.A. Parenteau costs the Oilers next to nothing. Both are more one-dimensional players like Eberle was, but both have proven they can do the job.
As it stands, the Oilers right wing depth is sufficient, but also a little suspect. If the team intends to go deep into the playoffs this season, the team has some potential homework to do during the season.