There is no question that the Edmonton Oilers were the big losers at this year's NHL Draft Lottery. The hope going in was to either win the lottery outright or hold onto their No. 2 position —  to be perfectly honest, sliding down a slot would have even been an acceptable outcome for Peter Chiarelli. After all, this year's NHL Entry Draft was always supposed to be about three players; Auston Matthews, Patrick Laine, and Jesse Puljujarvi. As long as one of them found their way to Edmonton, there would be no problems.
#Oilers' Jesse Puljujärvi led Finland to 2016 World Junior gold with 17 points, named tournament MVP. #NHLDraft pic.twitter.com/HKe30YA2l7

— Edmonton Oilers (@EdmontonOilers) June 25, 2016
[Related Article: Jesse Puljujarvi – Next Ones:2016 NHL Drat Prospect Profile]
Unfortunately for them, they dropped back two spots and found themselves with the fourth overall selection in the draft. With that said, it is not as if they were not still going to get a highly skilled player at No. 4.
However, the mindset needed to shift from focusing on one of the so-called "Big Three" to the quartet of Pierre-Luc Dubois, Olli Juolevi, Mikhail Sergachev and Matthew Tkachuk to find out who they felt fit best. Seemed fairly straightforward until the Columbus Blue Jackets decided to throw everyone a curveball.
Blue Jackets Surprise Everyone
The moment Columbus head scout Ville Siren stepped to the podium and made Dubois the third-overall pick, everything changed for the Oilers. Heading into the draft, it appeared as though Edmonton was leaning towards selecting Tkachuk, but according to TSN's Ryan Rishaug that wasn't necessarily the case. Apparently, they were planning on picking a defenceman, most likely Sergachev. When Puljujarvi was still available Chiarelli had little choice but to change his course of action, and was likely tickled pink about having to do so.
[Related Article: Patrik Laine, Jesse Puljujarvi, and the Edmonton Oilers]
From a Blue Jackets standpoint, grabbing Dubois made perfect sense. After dealing Ryan Johansen to the Nashville Predators in exchange for defenceman Seth Jones, the organization was in dire need of adding a top flight centre. While the Montreal native can play all three forwards positions, general manager Jarmo Kekalainen sees him as a centre, and all signs point to the youngster developing into a fantastic two-way pivot. Those don't exactly grow on trees and contrary to popular belief, it is not as if Columbus went "off the board" with the pick.
Unbeliviable stroke of luck for the Oilers..Jesse Puljujarvi falls onto their lap at #4…big kid steps in a plays right away on RW IMO

— Bob Stauffer (@Bob_Stauffer) June 24, 2016
With that said, it was still a shocker that Puljujarvi wasn't taken in the top three, and just like that Edmonton was essentially back to where they had hoped to be following the Draft Lottery. It is no secret the Oilers were a little light at right-wing, and adding a 6'4", 205-pound kid who has already shown the ability to play a 200-foot game certainly went a long way in helping fill that void. His size, skill, speed and ability to play in all situations put him on a different level than most players his age and he will only get better with time.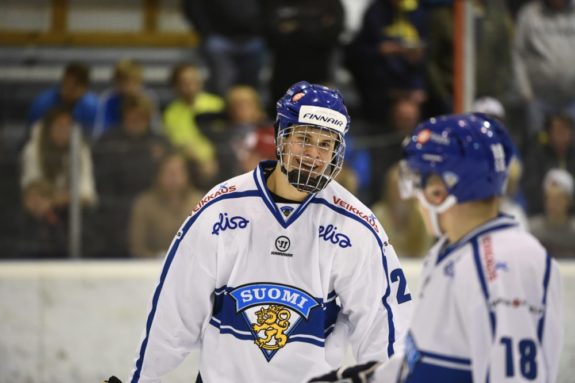 Puljujarvi Was Too Good to Pass On
Let's not forget, Puljujarvi took home MVP honours in the 2016 World Junior Championship and was by far and away the best player in the tournament. In fact, for a better part of the past year, he was essentially in a dead heat with Laine on most scouting lists but his fellow countryman pulled away thanks in large part to his playoff performance in helping lead Tappara Tampere to the Finnish Elite League championship.  Give the kid credit but when it comes to who is the better all-around player… it's not even a discussion.
 "Well-rounded game and can play and contribute in all areas. He is less flash and all substance, with skill and will to make a difference in the game. He's an engine that drives play." – TSN Director of Scouting Craig Button
Prior to last night's festivities, Edmonton had two players who drove the proverbial bus in Taylor Hall and Connor McDavid. Adding a third who brings a completely different dimension to the table is something they probably felt they had no shot at doing, but things ultimately worked in their favour.
Believe me, the Oilers brass were well aware of their good fortune.  All anyone had to do was look at their table following the Jackets pick. To a man they were both stunned and giddy. It was yet another gift from the hockey gods and everyone was well aware of it.