So here we are again. On the eve of yet another NHL Draft Lottery and wondering out loud if the Edmonton Oilers can have lady luck on their side one more time. While they may not be the favourite to come away from tomorrow evening's extravaganza as a back-to-back winner, hello Connor McDavid, history tends to suggest the Orange and Blue won't be leaving Saturday's festivities empty-handed. Another first overall pick may not be cards but don't be surprised to see this organization walk away with another top-three pick in their back pocket.
.@rayferraroTSN: It's Matthews at number one and Laine and Puljujarvi won't catch him https://t.co/bxKr0KHa9s

— TSN Radio Vancouver (@TSN1040) April 28, 2016
[Related Article: Auston Matthews Is the Prize the Oilers Want]
Contrary to recent reports which suggest the so-called gap between Auston Matthews and Patrik Laine has been narrowed, the chances of the talented American not be taken with the No. 1 selection on June 24th in Buffalo are fairly slim. With that being the case, my guess is whatever franchise ends up having to "settle" on welcoming either Laine or Jesse Puljujarvi onto their club will be perfectly fine with their lot in life. After all, it is not an everyday occurrence that an organization is given the opportunity to add players who have been compared to the likes of Jari Kurri and Teemu Selanne.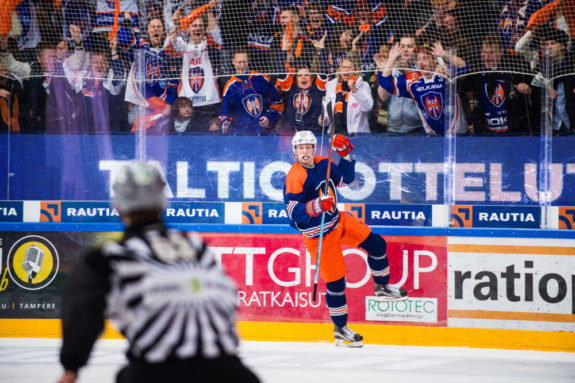 Laine Would Be Quite the Consolation Prize
Heading into the 2015-16 season it was Laine who was considered to be on the outside looking in on the push for No. 2 but the talented sniper took his game to another level in his first full season with Tappara Tampere in the Liiga, also known as the Finnish Elite League in this neck of the woods. After putting together a solid campaign, (46GP-17G-16A), playing against men at an extremely high level the youngster was even better in the post-season in leading Tappara to the league title and earning Playoff MVP honours for his efforts.
18 year old top 2016 #NHL draft prospect Patrik Laine becomes youngest player ever to win MVP of Finnish Liga playoffs. #NHLfi

— NHL EXPERT PICKS (@NHLexpertpicks) April 26, 2016
[Related Article: Oilers Trio Should Lead Team Canada In Russia]
Not too shabby for a kid who just celebrated his 18th birthday on April 19, 2016. His size, handedness and ability to one-time the puck with both power and accuracy has drawn many a comparison to Washington Capitals captain Alex Ovechkin and not surprisingly, it has left hockey fans everywhere licking their lips in anticipation at what type of player Laine could become. His skill set is undeniable and the thought of him flanking No. 97 for years to come has all of Oilers Nation a buzz and who could blame them.
Puljujarvi Is the Real Deal
As far as Puljujarvi goes, he has become the forgotten man of sorts within the top three. While his fellow countryman has stepped forward and opened eyes with his performance, the 17-year old continues to go about his business playing a far less flashy but better all-around game with Oulun Karpat in the Liiga (50GP-13G-15A). While both are similar in stature and body type, Puljujarvi is the better skater and was also the guy who stole the show in propelling Finland to the 2016 World Junior Championship in their own backyard.
I rate Jesse Puljujarvi higher than Patrik Laine, but I seem to be the only one, that's why I want third on Saturday.

— Alex Gutteridge (@iAlexGutteridge) April 27, 2016
[Related Article: Trade Partners – Oilers, Avalanche, and Tyson Barrie]
From the Oilers standpoint, they are arguably in a no-lose situation, If the lottery balls fall the right way, this franchise will end up with another pick inside the top three and add one of Auston Matthews, Patrik Laine or Jesse Puljujarvi into the fold and be a far better franchise in the here and now and in the future. However, should those little white balls not come out in their favour, Edmonton will have either the No. 4 or No. 5 selection of the 2016 NHL Entry Draft at their disposal to do with what they will.
Latest TSN draft rankings have Juolevi, Sergachev and Chychrun ranked 7-8-9 respectively. #NHLDraft2016

— NHL Watcher (@NHL_Watcher) April 27, 2016
[Related Article: Trade Target, Darnell Nurse for Travis Hamonic]
Be it adding another good young piece to the puzzle, perhaps one of Pierre-Luc Dubois, Mikhail Sergachev or Matthew Tkachuk, or use it as a potential trade chip for their general manager to improve this roster heading into the 2016-17 season. Regardless of how we look at it, the Edmonton Oilers will be in an extremely good situation come Saturday night and from that point forward, it will be up to Peter Chiarelli to decide what direction they will go in and ensure he doesn't make a costly mistake along the way.
Rob Soria is the Author of Connor McDavid: Hockey's Next Great One. He has chronicled the Orange and Blue since creating his Oil Drop blog in 2011 and has also had his writings featured over at HometownHockey.ca and Vavel USA, where he has covered the NHL, MLB and ATP Tour. Rob was born, raised and still resides in Edmonton, Alberta and can be reached via twitter @Oil_Drop.