This season is starting to sound like a broken record for the Edmonton Oilers. It has been one poor performance after another, with yesterday's 8-3 thrashing at the hands of St. Louis Blues being the new low point of the year. It hasn't been pretty and according to TSN's Craig Button, expecting this to simply fix itself would be nothing more than wishful thinking and it's hard to disagree with him.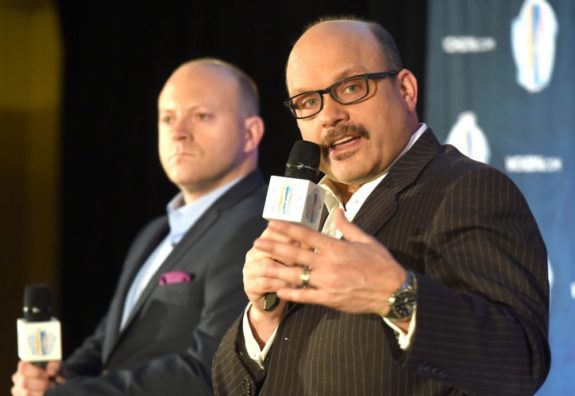 During last night's TSN 1260 Radio post-game show with host Dean Millard, the former NHL executive and scout did not hold back in his assessment of the Oilers current lot in life.
"To me, they have massive problems. When you are slow, you are always going to be chasing the puck…and they are slow. I know Peter Chiarelli has talked about we need to play fast…playing fast is the new buzz phrase in hockey. Well, they can only play at a certain speed and quite frankly, that speed is not up to the competition.

Until they address their speed problems, they are going to be chasing the puck all night long, giving up Grade A scoring chances. Outside of Connor McDavid, there is no other player on the Edmonton Oilers who threatens with speed. That leaves you with eleven forwards, and that includes Draisaitl. He is not a fast player, he has quickness and is a solid player, but when we talk about straight up speed…"
Now to shabby of an opening volley all of 60 seconds into the segment. Unlike those in the local media market, Button has no issue pointing out the Oilers flaws, instead of solely focusing on the players. Expecting guys to start doing things they are not capable of is both unrealistic and a recipe for disaster.  With the roster Chiarelli has put together, that has been the ask of this group and it is not working.
Oilers Have Plenty of Issues
The numbers speak for themselves and there is nothing overly exciting about a 7-12-2 record. Though some will argue there is still plenty of season to go, December is around the corner and the fact the Oilers still have six teams between them and a playoff spot is rather troubling. As is the notion they will simply take care of business against Pacific Division opponents and grab a spot that way. Make no mistake, their problems are quite real.
"I'll tell you what, when we are talking about the construction of a team, composition of a team, and flaws in a team, that relate back to the type of players you have…it doesn't fall on the equipment manager…it doesn't fall on the PR guy…it doesn't fall on the head coach…it falls on the general manager and the manager's office.  And that's as simple as it works."

"It is right there in the manager's office, the evidence is there for everyone to see. The manger can say we can play faster but if the level of speed in the league is at a 100km/h …the Oilers are playing at 95 and guess what? They can't play higher than that."
Remember, this is coming from a man who was once a general manager and knows exactly what the job entails and who is responsible for what. All of us can try to make excuses for whatever we would like but at the end of the day, Edmonton's struggles land at the feet of one individual. Again, it may not be a popular opinion to have in good ol' Oil Country but it doesn't make it any less accurate.
We bring in @CraigJButton to the post game show next after the #Oilers get blown out of St. Louis 8-3. What will Craig's solution to turning things around be? @TSN1260 https://t.co/AuRgK8AT9D

— Dean Millard 🎙🦆🎧 (@DuckMillard) November 22, 2017
Let's not forget, we have already started to see both fans and media types start to point the finger at the club's best players in McDavid and netminder Cam Talbot but is that what really ills this group? As far as No. 97 goes, the kid is on a similar pace that saw him win both the scoring race and MVP last season and has apparently been battling illness for almost two weeks, and this is who we point to?
This Isn't on Oilers Top Players
There is no question Talbot has struggled with his consistency to start the year and needs to be better but were the lofty expectations placed on him realistic? In my mind, it was a stretch to expect the 30-year old to repeat his season from a year ago as a Top Five goalie in the league but have always maintained him to be in the discussion as a Top Ten netminder…an opinion which is shared by others.
"Undeniable, that he hasn't been anywhere near the level he was last year. I like Cam Talbot and personally felt he was one of the three best goalies performance wise last year. But no one in this league considers Talbot a Top 5 goalie in the league. That's not a knock, he falls in that group of players right after that. He's having a performance this season that is not up to that level and while you come to expect it, it's not realistic."
Simply put, the general manager was banking on no real regression from any key contributors on the roster and was either unable or unwilling to recognize where the NHL game was headed. It has come back to bite the team and left Chiarelli scrambling for answers. Not exactly a spot one wants their general manager in and definitely not one with his trading track record.
Chiarelli Misread Landscape
To his credit, Millard came right out and asked if this roster could turn things around as is or if a change in personnel was needed and Button wasted little team in giving his two cents. Though the former Calgary Flames general manager may not be everyone's cup of tea, there is something to be said for his unwillingness to sugarcoat things and give his honest opinion…like any good analyst should.
"No, I don't see this roster turning it around. In fact, I don't see it in any way, shape or form turning it around. It has to come by player personnel…not one player, not two players…it's got to change, you have to get faster players in there. Quite frankly, they are going to start looking down the road here at some players they have on long-term contracts and consider what that means for their team as well."
In other words, the next five months could be rather difficult for Edmonton Oilers fans to stomach but they may have little choice in the matter. As great as 2016-17 was, as Button rightly pointed out during the segment, "you can hope and you can wish but this isn't last year anymore." In my mind, that sums up this club perfectly and it is a situation that simply cannot continue to be ignored by those covering the team on a daily basis.
Also available from Rob Soria: