From the moment news broke of the Edmonton Oilers and Connor McDavid negotiating an apparent eight-year/ $106 million deal, there have been those scratching their heads and wondering why. If the plan was to have this group try to emerge as the league's next great team, how could the league's MVP ask for such a deal if he really wanted to win? Perhaps the fact he is the best player in the game and all of 20 years of age might have something to do with it.
https://twitter.com/FriedgeHNIC/status/880055907513757696
And yet there are those who appear comfortable running on the narrative that McDavid should take a little less for the betterment of the team. Odd, as in my mind, if the Oilers are able to secure his name on a contract for the next eight years at anywhere near the rumoured number, the organization should be all smiles. On an extension of this length, anything less than $15 million a season should be viewed as a massive win for the club.
As things currently sit, no player can earn more than 20% of a team's cap and that number will be $75 million to start the 2017-18 campaign. The math is pretty simple and with the McDavid camp apparently seeking something in the neighbourhood of $13.25 million, the argument could easily be made that No. 97 is doing the club a huge favour.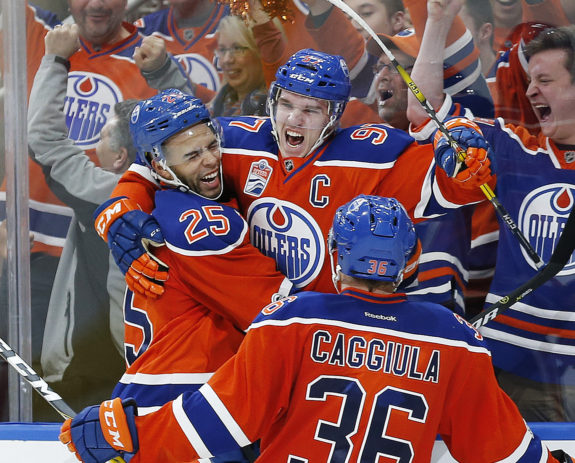 McDavid Worth Every Penny
With all due respect to Sidney Crosby or any other player who has signed a contract extension since the cap was put in place for the 2005-06 season, none of it matters when it comes to the Richmond Hill native. Though some still seem hesitant with tagging him as the best player who has come through the NHL over the past 30+ years, there has been no better since Mario Lemieux was drafted in 1984. Accept it or don't but through the first 127 games of his career, all indications are pointing to him being that guy.
With Edmonton asking him to eat multiple years of unrestricted free agency, they have little choice but to make it worth his while. To his credit, Peter Chiarelli isn't messing around and has made keeping No. 97 in Oilers silks his top priority. Yes, it is a big number and something we had yet to see for a player as young as McDavid but let's be realistic here.  He deserves every single dollar he gets and the club is going to make so much money off his presence, it will make his annual hit seem like chump change.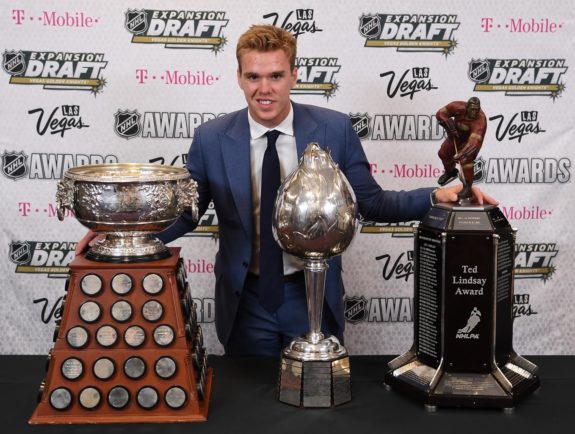 Oilers Recognize Importance of Situation
Contrary to popular belief, it is not the player's responsibility to help his club to get out from under bad deals or simply give them more flexibility to improve the roster. That is why you pay a general manager the salary you do. In the Oilers case, if the contracts of a Milan Lucic or Kris Russell come back to bite them, it'll be up to Chiarelli to fix the mess he created…not McDavid. After all, no matter how good a player is, they have a limited window to earn as much money as they can during their career.
Hence, why I chuckle at the "if he really wants to win" he would sign for a couple of million less to make the team stronger angle. Easy to say when it is not you leaving a "mere" $16 million on the table for the sake of being a good guy. Please, don't make me laugh. If you want to try to save money, there are plenty of opportunities to do just that on every NHL roster and Edmonton is no different.  Again, kudos to the Oilers for not over thinking things and recognizing the situation for what it is.
McDavid deal is 17.6% of cap if stays flat. Not prohibitive to winning IMO, but too much on 29 could be, so it's a delicate balance.

— Ryan Rishaug (@TSNRyanRishaug) June 28, 2017
So how about all you "capologist" wannabees do us a big favour? Be you a part of the mainstream media or a fan who simply wants his or her team to get back to the promise land, let's put this lazy narrative to rest once and for all. Rest assured, Connor McDavid will do his part to hold up his end of the bargain and if the front office can do the same, the Edmonton Oilers will turn into the perennial Stanley Cup favourite most seem to think they are destined to become. However, should that not come to fruition, it will have nothing to do with how much money No. 97 takes home and everything to do with management misreading what they could and could not get away with.