With one game remaining on the Edmonton Oilers 2016-17 schedule, Connor McDavid is on the verge of completing one of the finest sophomore campaigns season in recent memory. Should the talented youngster manage to pick up a couple of points in tonight's season finale against the Vancouver Canucks, he will not only officially win the first Art Ross Trophy of his career as the league's top scorer but do so in style.
Connor McDavid of the @EdmontonOilers posted an assist to extend his point streak to 13 games (7-16—23), the longest in the NHL this season. pic.twitter.com/1esRB00b2F

— NHL Public Relations (@PR_NHL) April 9, 2017
Two more points will get him to the 100-point plateau and have No. 97 end the year on a 14-game point streak. Over his last thirteen outings, the kid has picked up 23 points to run away with what potentially looked to be a photo finish for the scoring title with one or both of Sidney Crosby and Patrick Kane. Add to that, the Oilers eye-popping total of 101 points and suddenly what appeared to be a pick'em for voters in the Hart Trophy debate, has become nothing more than a foregone conclusion.
It's a One-Man Race
Chances are, there will be some who will incorrectly throw their support behind Crosby, who has enjoyed a tremendous season, but the race for MVP isn't particularly close. For a player to go out and earn the two most highly-sought after individual trophies in the game at 20-years of age and with all of 127 games of experience is frankly absurd. Especially on a team that despite their obvious improvements, still has issues with their roster but McDavid offsets those shortcomings.
He drives the bus at even strength, routinely taking on teams top defensive pairings while still holding his own in head-to-head showdowns against other top lines across the league. Despite the Richmond native being the central figure of Edmonton's power play, currently ranked sixth in the league at 22.9%, McDavid's 27 points on the man-advantage place him in a three-way tie with defencemen Erik Karlsson and Kevin Shattenkirk for eighth.
In comparison, Kane led the league with 37 power play points a season ago on route to his 106-point campaign and that tends to b the norm when it comes to those who push the century mark in points. In fact, the last player to lead the league in scoring with a minimum of 100 points and not finish top three in power play points was Henrik Sedin's 112-point campaign in 2009-10. Unless McDavid goes off against the Canucks in the season finale, that list is about double in size.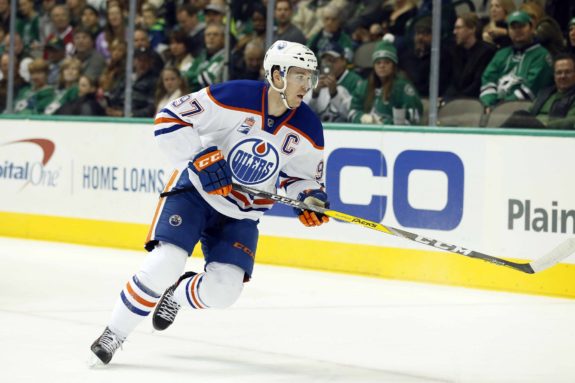 More Power Play Points to Come
Crosby finished third in 2013-14 with 38 points but was only one back of Alex Ovechkin and six behind his Washington Capitals linemate Nicklas Backstrom in power play production. Evgeni Malkin finished second in 2011-12 on his way to winning his second Art Ross and Daniel Sedin was tops in both categories in 2010-11. Again, pretty impressive for a kid still learning his way at the NHL level and only scratching the surface on the player he will ultimately become.
If the #Oilers Connor #McDavid wins the @NHL scoring title by 10 or more points the #HartTrophy must be a lock. Any vote otherwise is a joke

— Paul Almeida (@AzorcanGlobal) April 8, 2017
With all due respect to the guy who wears No. 87 in Pittsburgh, McDavid is the player NHL coaches dread having to go up against on a nightly basis. Unless the plan is to mug him all over the ice, a tactic we have seen many a team employee over the course of the season, he is almost impossible to stop and even unlikely to contain. In all honesty, if the youngster doesn't hit the scoresheet, it is usually on him or a lack of finish from a teammate. In short, he is the best player in the league and everyone knows it.
With Art Ross and Hart seemingly already in his back pocket, all that remains to complete the trifecta is winning the vote among his peers for the Ted Lindsay Award. While the players in this league hold Crosby in high-regard, the chances of the vast majority of the NHLPA not giving McDavid their vote seems unlikely. He may still just be a kid but the Edmonton Oilers young captain has already become the face of the league and should be rewarded as such…regardless of what his birth certificate says.