Following his two-point effort in last night's 4-3 Edmonton Oilers victory over the Detroit Red Wings, Connor McDavid saw his league-leading point total rise to 74. He currently sits four points in front of Patrick Kane, five clear of Sidney Crosby and has built a seven-point bulge between himself and the duo of Brent Burns and Brad Marchand. With five weeks left to go in the season, the scoring race is by no means a done deal but there is another pressing question that needs answering.
Not only did that McDavid goal pull me out of my seat, I felt obliged to stay standing to watch the replays. #wow

— Bruce McCurdy (@BruceMcCurdy) March 5, 2017
As of this moment, the Oilers have 17 games remaining on their schedule and while it may seem like a bit of a reach, McDavid has a relatively good shot of reaching the 100-point plateau in his first full season in the NHL. Through 65 games, the youngster has averaged roughly 1.14 PPG and in order to hit the century mark, he will need to hike that number to 1.53 from here on out. Essentially, we are talking about less than a half a point a game increase.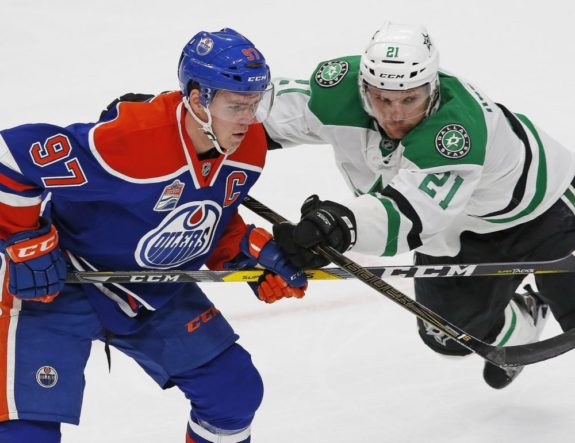 100-Point Mark Still Realistic
On the surface, it looks like a rather daunting task but when we consider who, what and when we are talking about this taking place, the ask doesn't seem nearly as outrageous. He may only be 20-years old but this arguably the most skilled player that has come through the NHL since Mario Lemieux. There is a reason McDavid was hyped as a "generational talent" and with that tag comes the ability to points on the board with a greater frequency than the vast majority of guys to have ever played the game.
In this day and age, the chances of seeing an individual put up two points a night and finish a year with 160 points, seems rather absurd. However, if you average out what McDavid needs to do over his remaining games and look at it over the course of an 82-game campaign, we are talking about 125 points. In my mind, that is roughly the kind of number I expect to see No. 97 post on an annual basis for much of his career.  With that said, is expecting it for a few weeks so farfetched?
#Oilers Connor McDavid has his NHL-leading 22nd multi-point game this season

— Sportsnet Stats (@SNstats) March 5, 2017
He already leads the league in most multi-point games this season with 22 and eight were of the three-point variety. Scoring in bunches isn't exactly a foreign concept to McDavid, be it at the junior or pro level. With the coaching staff having finally settled on regular linemates for the Richmond Hill native, in Leon Draisaitl and Patrick Maroon, and the second unit of Jordan Eberle, Milan Lucic and Ryan Nugent-Hopkins starting to contribute with greater frequency, Edmonton should be that much tougher to defend down the stretch.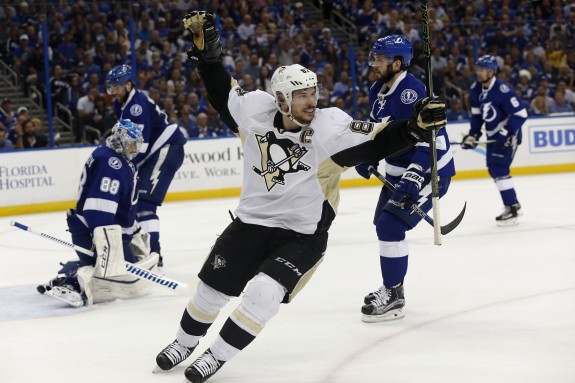 McDavid Targets Crosby
Yes, the Oilers are in the midst of trying to secure the highest seed possible in the Pacific Division and winning games remains priority one. However, unless you haven't noticed, this team doesn't win very often unless McDavid has "chipped in" on the scoresheet. The two go hand-and-hand so for anyone to suggest the club could lose sight of their goal in trying to get the kid a handful of extra points, you are grasping at straws. If anything, their place in the standings should benefit his push to the century mark.
The other part of this equation is the player himself. If you think for a minute that McDavid didn't come into 2016-17 with the intent getting the Oilers into the playoffs and winning the scoring title, you are not familiar with how elite athletes think. We hear it all the time…their sole individual focus is on wanting to be the best they can and helping their team win championships. The fact the century mark is sitting within his reach, will only further focus him to the task at hand and make even more determined to achieve it.
With 2 points tonight, Connor McDavid passed Paul Coffey for the 4th most pts by a player with the #Oilers before their 21st birthday (122)

— StatsCentre (@StatsCentre) March 5, 2017
Athletes like McDavid are wired differently. Those who were lucky enough to watch Wayne Gretzky during the Oilers glory years know all too well. The mindset of this is "why I can't do this" doesn't even enter into it. In fact, the tight timeline makes the chance of that "flare for the dramatic" moment all the more likely and certain guys thrive on that. Be it No.99, Lemieux, Crosby or guys like Michael Jordan and LeBron James in the NBA, they always seem to come through in those moments…and this kid is cut from the same cloth.
Oilers Schedule Will Help No. 97
The other distinct advantages he has are the Oilers schedule and the time of year. As has been previously discussed in this very spot, Edmonton plays 11 of 13 at home in March and have five road games left to play. Add to that, a home-and-home with the Colorado Avalanche, three tilts with the Vancouver Canucks and late season games not always being the most competitive, there are spots on the schedule where McDavid could have some big nights in the not too distant future.
Remember, the Blackhawks Artemi Panarin cemented his hold on the Calder Trophy in 2015-16 after picking up 13 points in three of Chicago's final four games. The opponents on the nights he collected those points were the Arizona Coyotes, Boston Bruins, and Columbus Blue Jackets…all of whom missed the playoffs last season. When the finish line is in sight and there are no playoffs to look forward to, it is not uncommon for teams to either check out and/or play a bunch of young players who frankly don't belong at the NHL level.
https://twitter.com/Alex_Thomas14/status/838225956238209024
Add all of that together and it looks as though Connor McDavid will not only win the 2016-17 scoring race but do so with the number 100 beside his name. Not too shabby for a sophomore campaign, an Art Ross Trophy and the possibility of taking home the Hart Trophy as well. The only thing that could make it even better would be a bit of post-season magic for the Edmonton Oilers, courtesy the first overall selection in the 2015 NHL Entry Draft.
Rob Soria is the Author of Connor McDavid: Hockey's Next Great One. He has chronicled the Orange and Blue since creating his Oil Drop blog in 2011 and has also had his writings featured over at HometownHockey.ca and Vavel USA, where he has covered the NHL, MLB and ATP Tour. Rob was born, raised and still resides in Edmonton, Alberta and can be reached via twitter @Oil_Drop.