As the gap between the Edmonton Oilers and the Western Conference playoff cut line continues to shrink, there are those who are starting to worry about what the immediate future might hold for their favourite hockey club. There is no question Todd McLellan's crew has been a model of inconsistency since the NHL All-Star break but the month of February was about survival and to their credit, this team has done just that.
Talbot stole one in Chicago. Tonight Oilers created lots, needed another bounce.
D-zone draws on PK a concern.
A win in STL evens trip

— Bob Stauffer (@Bob_Stauffer) February 27, 2017
In fact, despite losing a pair of one-goal games to the Nashville Predators and Washington Capitals over the course of the last three days, Edmonton is a win away from closing out the month with a .500 record. With nine of their twelve games on the road and the dreaded league wide five-day break coming just four days after the annual All-Star Game hiatus, February had potential disaster written all over it.
Luckily for them, that is not how things have played out and the Oilers are about to be rewarded for their perseverance. Edmonton's current six-game trek will come to close on Tuesday's evening when they take on a rejuvenated St. Louis Blues side. From that point on, this group will have 18 games left on their schedule and exactly five of those will be played outside of Rogers Place and only two in the month of March.
Pacific Race Heating Up
By no means is that to suggest the Oilers will simply cruise into the playoffs as a top three seed in the Pacific Division, as both the Anaheim Ducks and Calgary Flames have played similar schedules. As of this moment, Edmonton has already played 35 of their 41 road games while the other two sit at 34. The chances of anyone catching the San Jose Sharks seems remote but the race for second and third has now turned into a three-team race.
With the Flames currently playing some of their best hockey of the season, they have climbed to within four points of the Ducks and Oilers. In other words, be prepared for a dogfight from here on out. Hosting a first-round series is something this group would love to do but the goal heading into the year hasn't changed…get to the playoffs. A quick look at the standings tells us Edmonton is ten points clear of the ninth-placed Los Angeles Kings and in great shape.
Watch out Pacific division Flames are winning and NOW Johnny Gaudreau is scoring. #NHL

— Brendan Parker (@BParkerTV) February 26, 2017
In a sense, almost everything has gone according to plan this season. They took full advantage of a pillow-soft schedule in October (7-2-1) and bounced back from a rough November (5-8-2) with solid showings in both December (7-2-5) and January (9-4-1). Regardless of how things play out in St. Louis, the first five months of 2016-17 could not have gone much better. From a team standpoint, the lone black-eye has been their performance when short-handed.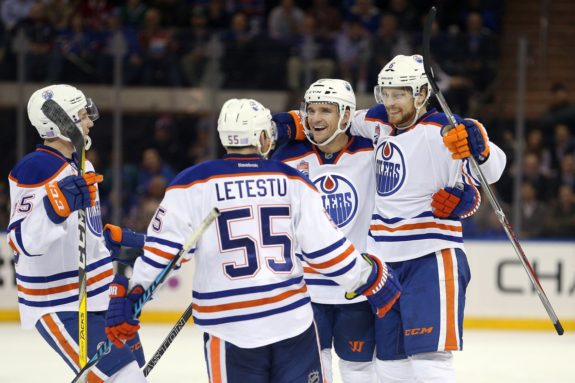 Oilers Have Had Little Go Wrong
What was once a top-three penalty kill 15 games into the season, thanks in large part to the play of one Cam Talbot, is now the 20th ranked unit and dropping at an alarming rate. After watching the Predators torch the Oilers for three power-play markers in yesterday's 5-4 loss, one would have to think this would be the perfect time for coach McLellan to go back to the drawing board. Outside of that, there isn't much to complain about.
They have cracked the top-ten in power play efficiency (21.2%) and goals against average (2.57). Despite a lack of consistent scoring throughout the lineup, Edmonton is knocking on the door of doing the same when comes to goals per game (2.81). Not surprisingly, the Oilers have seen their goal differential go from -42 in 2015-16 to +15 through 63 games. The numbers and results speak for themselves and in the end that is all that matters.
"On a night where we score two PPGs, we better be winning. Our penalty-killing units let us down tonight." Coach McLellan on #Oilers defeat

— Edmonton Oilers (@EdmontonOilers) February 27, 2017
With the toughest part of their schedule now in the rear view mirror, the Edmonton Oilers control their destiny from here on out. How the next month and a half unfolds is up to them but that would have never been a possibility without surveying the last four weeks. It may not have always been pretty to watch but at this stage it is about progression, learning to survive and to fight another day.
Rob Soria is the Author of Connor McDavid: Hockey's Next Great One. He has chronicled the Orange and Blue since creating his Oil Drop blog in 2011 and has also had his writings featured over at HometownHockey.ca and Vavel USA, where he has covered the NHL, MLB and ATP Tour. Rob was born, raised and still resides in Edmonton, Alberta and can be reached via twitter @Oil_Drop.