This time last year the Edmonton Oilers and general manager Peter Chiarelli were fairly busy at the 2016 NHL Trade Deadline. The Oilers moved out several players including; Teddy Purcell, Anders Nilsson, Philip Larsen and Justin Schultz. Chiarelli also made arguably his best player acquisition in Edmonton when he snagged Patrick Maroon from the Anaheim Ducks for practically nothing.
He also added a handful of draft picks that became Graham McPhee, Filip Berglund, and Matt Cairns. All three are long-term projects within the system, and Berglund likely has the highest upside.
It was a busy week leading up to the deadline, but the moves overall don't paint the whole picture. Trade by trade the Oilers are an improved club a year ago with the Maroon addition being the biggest.
So let's review the moves the Oilers made a year ago at the trade deadline:
The Maroon Deal
TO EDMONTON OILERS
TO ANAHEIM DUCKS

F Patrick Maroon

 

D Martin Gernat

2016 4th Round Pick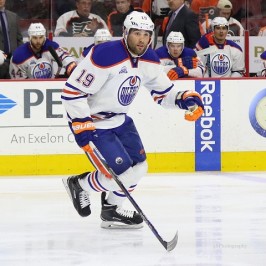 Analysis: Without a doubt, this has turned out to be the best trade the Oilers have made in years. A struggling power forward in Anaheim, the Ducks had given Maroon a three-year extension at $2 million per season.
But he wasn't living up to expectations and Maroon put up just 13 points in 58 games with the Ducks. This was a year after posting a career-high 34 points playing with Ryan Getzlaf and Corey Perry. The Ducks put Maroon on the block, and Edmonton paid a relatively low price for the pickup.
"I'm really excited. I had a good run in Anaheim, they gave me an opportunity to play in the NHL. I'm sad that I'm leaving a contending team, but I think going to a team that is rebuilding and have so many young stars, I think it will be good for me."

– Patrick Maroon (February 2016)
He went on exceed his 2015-16 point totals with the Ducks, averaging nearly a point-per-game with the Oilers (14 points in 16 games). Maroon hit the lottery, and he's been playing with Connor McDavid more often than not and already has 20 goals and 31 points in 63 games. He's been a huge addition to the Oilers and an instant fan favorite.
This deal was a landslide win for the Oilers who acquired a top-six power forward who was underutilized in Anaheim. Gernat isn't even playing for the Ducks this season, and the fourth round pick became forward Jack Kopacka who's put up 40 points in 55 games with the OHL Sault Ste. Marie Greyhounds.
Winner: Edmonton, Maroon's been superb.
---
The Nilsson Deal
TO EDMONTON OILERS
TO ST LOUIS BLUES

G Niklas Lundstrom

2016 5th Round Pick

G Anders Nilsson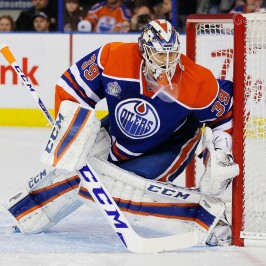 Analysis: Nilsson was inconsistent for the Oilers through much of 2015-16. Through 26 games in Edmonton, Nilsson had a 3.14 goals-against average (GAA), and a 0.901 save percentage (SV%). His struggles and the fact Laurent Brossoit was pushing for NHL duties made him expendable.
He was on a one-year deal and an expendable piece someone might take a flyer on come deadline time. That someone became the St. Louis Blues.
In Edmonton the departure of Nilsson changes the goaltending depth chart. Cam Talbot remains #1 with a bullet, while Brossoit appears set to be his back-up for the rest of the season.
The Blues lost Brian Elliott to injury and needed some backup insurance for  Jake Allen. Nilsson played three games for the Blues posting a 2.76  GAA and a 0.909 SV%. It was an improvement and enough to get the attention of the Buffalo Sabres in the summer when Nilsson became an unrestricted free agent (UFA). He's been great for Buffalo this year posting a 2.67 GAA and a 0.922 SV%, some of the better backup numbers around the league.
As far as Edmonton's return goes, Lundstrom did an uninspiring 3.90 GAA and a 0.872 SV% in four games with the Bakersfield Condors (AHL). The Oilers never signed him, and he's now floundering in Sweden. The Oilers used the acquired pick to draft forward Graham McPhee (son of Vegas Golden Knights GM George McPhee). He's currently at Boston College (NCAA), has eight points in 35 games and projects to be a depth forward with a power game.
Winner: Edmonton, they still have an asset.
---
The Purcell Deal
| | |
| --- | --- |
| TO EDMONTON OILERS | TO FLORIDA PANTHERS |
| 2016 3rd Round Pick | F Teddy Purcell |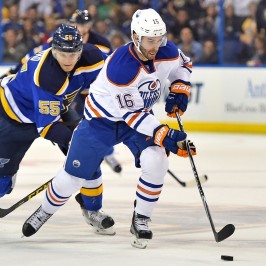 Analysis: Purcell was in the final year of his deal at $4.5 million, and the Oilers weren't likely to re-sign him in the summer. The Panthers went on a buying spree at the deadline bringing in rentals like Jiri Hudler and Jakub Kindl.
Purcell was another rental fit for the Panthers as they looked to make a playoff push.
He had 32 points in 62 games and was a welcomed addition to Florida's top nine. Purcell scored 11 points in the final 15 games of the season but fell off in the playoffs as the Panthers were eliminated in the first round.
Teddy's a smart player, he can play with skilled guys, get us some valuable points, and be on the power play. I also look back at his playoff history and that had a big impact on us making the trade. I liked what he did two years back when he was almost a point a game.
Purcell became a free agent and signed a one-year $1.6-million deal with the Los Angeles Kings. He played 12 games for the Kings and had spent the majority of the season with the Ontario Reign (AHL).  Remember, Purcell is the guy the Oilers got for Sam Gagner all those years ago.
Edmonton turned their draft pick into a rugged defense prospect, Matt Cairns. He's a long-term project but at 6'2″ 200-pounds, mixed with his skating ability and toughness, Cairns could develop into an NHL defenseman. In one way you could look at it as Gagner became Cairns, which is not a win for the Oilers.
Winner: Edmonton, Cairns has upside.
---
The Schultz Deal
| | |
| --- | --- |
| TO EDMONTON OILERS | TO PITTSBURGH PENGUINS |
| 2016 3rd Round Pick | D Justin Schultz |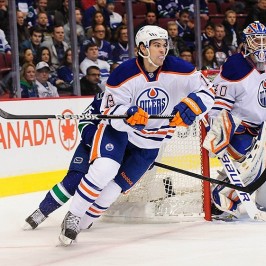 Analysis: Schultz was projected to be a top-pairing offensive defenseman, but it never happened in Edmonton. He became a defensive liability and had his zone starts protected.
A restricted free agent (RFA) in the summer, the Oilers decided to cut bait with Schultz who had fallen from a career-high 33 points to just ten points in 45 games in 2015-16. The Penguins were looking for some defensive depth and utilized Schultz as a third-pairing defender throughout their playoff run.
"There are some things he has to work on, but we think a change of scenery will be good for him. We'll see how it goes. That's a team (Edmonton) that's been building with a lot of young skilled players and it hasn't all come together for them. Sometimes when you have many young players it's difficult for everybody.
He manned a powerplay unit and put up eight points in 16 regular season games for the Penguins before seeing his minutes decrease as the playoffs went on. Rutherford signed Schultz to a one-year deal, and the former Oiler has knocked it out of the park with 39 points in 57 games. He's tied for seventh in league scoring among blueliners behind the likes of Brent Burns, Erik Karlsson, and Duncan Keith. He's also outscoring teammate Kris Letang. Schultz will cash in this summer.
Edmonton turned their pick into defenseman Filip Berglund. At 6'3″ 210-pounds, Berglund projects to be a two-way defender with some offensive upside. The 19-year-old is currently playing for Skelleftea AIK (Sweden) and has nine points in 42 games.
Winner: Pittsburgh, Schultz has blossomed into a offensive contributor.
---
The Larsen Deal
| | |
| --- | --- |
| TO EDMONTON OILERS | TO VANCOUVER CANUCKS |
| 2017 5th Round Pick | D Philip Larsen |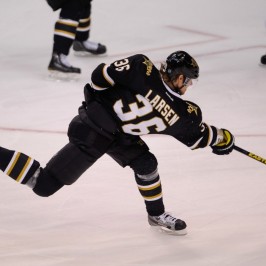 Analysis: There's always been hope that Larsen could develop into a solid puck moving defenseman at the NHL level, it just hasn't happened, however.
The Oilers got Larsen in the Shawn Horcoff trade a few years back, and he played one season (2013-14) in the organization before heading to the KHL for two years.
Larsen put up a respectable 12 points in 30 games but wasn't coming back to Edmonton anytime soon. He had encouraging numbers in the KHL with 61 points in 108 games.
It's a good trade for both sides. Getting anything for Larsen represents a win for the Oilers, while the player is more likely to pay off for the Canucks than the pick would have and will certainly pay off much more quickly.
The Canucks gave up very little for the possibility of Larsen hitting his upside. The probability of fifth-round picks panning out is in their favor and was of little risk to Vancouver. Larsen's a right shot blueliner who has shown an ability to help a powerplay. So far he's been relatively pedestrian with six points in 21 games.
As far as the Oilers are concerned, they'll be using their pick this summer, so we won't know what they got for Larsen until June.
Winner: Undetermined, deal hasn't fully unfolded
Edmonton Oilers regular contributor providing insight on all things Oilers including club history, prospect profiles, trade breakdowns, and everything else in between. Check back regularly for new and exciting content. Follow on Twitter @SanderTHW.