The Anaheim Ducks executed just two trades during the week leading up to the NHL trade deadline. Only one of the transactions will affect the Ducks' roster, that being the acquisition of Patrick Eaves from the Dallas Stars in exchange for a conditional second-round draft pick. General manager Bob Murray likely disappointed a few folks by remaining inactive at the deadline, as some have suggested he should be "swinging for the fences" this season. In my opinion, Murray is playing his hand perfectly.
Contenders or Pretenders?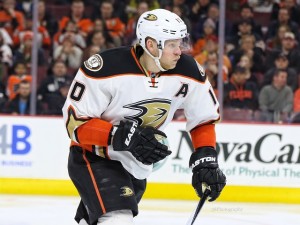 Let's be real, the Anaheim Ducks have been inconsistent all season. Their superstars have not played at the high-level we've all grown accustomed to. The Ducks have looked like a men's league team during three on three overtime and struggled to show up for all 60 minutes on several occasions this season. Truth be told, the team has been disappointing, which is great news.
Yes, great news.
The Ducks have been bad, yet they're still in a position to make the playoffs with only 19 games remaining in the regular season. You can't waltz with the Cup without a ticket to the dance, and Lord Stanley doesn't care how you earned your ticket.
I doubt that any team in the Western Conference would want to face the Anaheim Ducks in the first round. The Ducks have what is a seemingly endless supply of talented puck-moving defenseman. While they are a relatively young group of defenseman they are by no means inexperienced. There are few if any teams able to dress a roster with more depth down the middle. Abrasive players like Corey Perry thrive in the trenches of playoff hockey and imagine how pugnacious he would be after a less than stellar regular season.
All things considered, the Ducks can compete with top-level teams when they're playing well. There is just enough time left in the regular season to build some momentum for the playoffs. Surely this is the goal for Murray, who has said that regular season accomplishments aren't the focus of their franchise.
Passing the Offensive Torch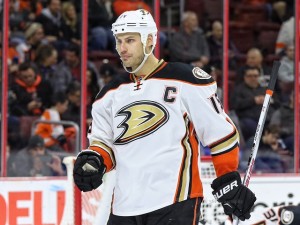 Ryan Getzlaf and Perry are approaching age 32, and Ryan Kesler will turn 33 during the upcoming offseason. According to a University of British Columbia study which analyzed statistics from 9,901 player years between 1997-98 and 2011-12, an NHL forward will reach about 90% of his full potential by age 24 and will be at or near his peak until age 32.
This suggests that these three players which represent the nucleus of the Anaheim Ducks will experience a steady decline in their playing ability going forward. There may some deviation from this projection, especially for Kesler. Unlike Getzlaf and Perry who were on the Ducks' 2007 championship team, Kesler has yet to hoist the Stanley Cup. I expect that he will likely work his tail off to extend his prime in the hopes of getting another opportunity after coming so close with the Vancouver Canucks in 2012.
While the old guard will start to become less effective over the next few years, the young guns are just getting started. Rickard Rakell's breakout season appears to validate the results of the study, as he will turn 24 in May and has played like an athlete who is approaching his peak. He scored twice including the game-winner in the Ducks' 5-2 victory over the Toronto Maple Leafs Friday night.
Jakub Silfverberg is 26 and has been the best winger on the Ducks all season. Nick Ritchie, Ondrej Kase, and many of the talented prospects playing for the Ducks' AHL affiliate in San Diego are still developing and should improve year over year for the next few seasons. In my opinion, the personnel group assembled by Murray should allow the Ducks to transition smoothly from one leadership group to the next with little drop-off.
Plethora of Talent on Defense
As for the team's stable of defenseman, the near future looks bright. At age 25, Cam Fowler is finally playing at the level the Ducks expected him to reach. His All-Star performance this season may have silenced the Fowler trade rumors for a while.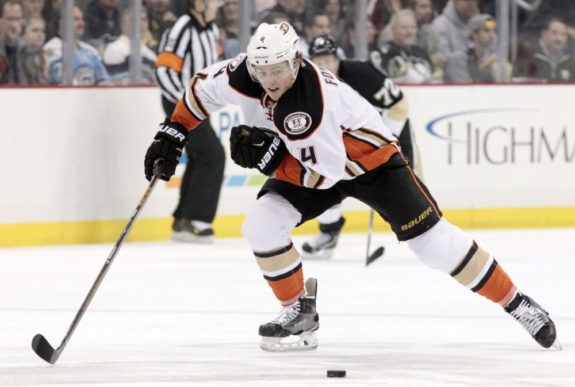 Josh Manson is also 25 and has quietly become a very dependable defender. Manson, who is the son of the infamous Dave "Charlie" Manson, adds toughness to a Ducks defense that is predominantly smooth skating, puck moving defensemen. Attend enough Ducks games and you'll learn that few players generate the same sound on impact as Manson does landing a body-check.
Hampus Lindholm is just 23 years old and has quietly developed into an excellent defender. He will likely continue to improve year over year as he has throughout his NHL career. Sami Vatanen looked more like himself in the Ducks' 5-2 win over the Toronto Maple Leafs on Friday night, blasting a Getzlaf one-timer home to extend the Ducks' lead. Assuming he has finally recovered from a nagging knee injury, he is capable of adding a bit of an offensive spark from the back-end. Shea Theodore and Brandon Montour are NHL-caliber players waiting for the regular roster spot they're already capable of filling.
The Ducks' defense may be young but they are far from inexperienced. The six Ducks defensemen age 25 or younger mentioned above have a combined 1265 games played. They've had the opportunity to learn from a few veteran defensemen along the way, such as former Ducks Francois Beauchemin and Lubomir Visnovsky to name a couple. Let's not forget that Fowler lived with Hall of Fame defenseman Scott Niedermayer during his rookie season.
The Ducks' current veteran defensemen are still competitive and will remain relevant as the guard changes hands. Kevin Bieksa is getting older and it can be seen occasionally in his play. However, like Kesler, Bieksa came painfully close to winning the Stanley Cup with the Vancouver Canucks in 2012, losing to the Boston Bruins in seven games. He will likely remain tenacious in pursuit of another chance to win the Cup. Clayton Stoner has resumed skating and will return soon. His return will bring some much-needed physicality to the Ducks lineup.
Truth be told, the Ducks will have a strong back-end for several years barring a colossal case of mismanagement.
The Mythical "Cup Window"
RETWEET to congratulate @Patrick_Eaves on his first Anaheim Ducks GOAL! pic.twitter.com/Ka9ApDeGfw

— #DucksFam93 (@DucksFam93) March 4, 2017
Murray has done his best to not mortgage the future for success now and in doing so he has widened the Ducks' Stanley Cup window if there is such a thing. Adding Patrick Eaves may seem insignificant, but Eaves is a perfect rental for the Ducks. He's having the best offensive year of his career and offense just happens to be what the Ducks could use help with. While Getzlaf, Perry, and Kesler may be getting older, these are elite players who will still have a significant impact for at least a couple more years. Once their careers begin to draw to a close there is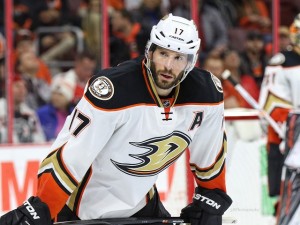 While Getzlaf, Perry, and Kesler may be getting older, these are elite players who will still have a significant impact for at least a couple more years. Once their careers begin to draw to a close, there is tons of talent within the franchise that will have to step up and play a bigger role. Every single NHL franchise must deal with this as the sport of hockey is physically demanding and the human body has its limits, which makes players like Jaromir Jagr, Chris Chelios and Gordie Howe all that more impressive.
Frankly, I don't care for the term "Stanley Cup window" at least not in the context that it's used. The path to the Stanley Cup doesn't even begin until a team reaches the playoffs. If the regular season ended today, the Ducks would indeed make the playoffs. Once the playoffs begin nothing is guaranteed, everything is earned, and those willing to sacrifice the most on the ice will be victorious. I can guarantee you that the Ducks' front office and their coaching staff believe that the Ducks can be that team, and they are hard at work getting their players to believe as well.