The 2017 NHL Trade Deadline came and went with the Edmonton Oilers not being a major player. While they did add veteran centre David Desharnais in a deal with the Montreal Canadiens which cost them defenceman Brandon Davidson, it was not a move that is likely to have the kind of impact some are hoping. Which means their chances at experiencing playoff success remain unchanged from 48 hours ago.
Oilers content with team heading into the stretch https://t.co/h3IfujV1cK

— Ryan Rishaug (@TSNRyanRishaug) March 2, 2017
With 18 games left on their schedule, it will still be up to Connor McDavid, Leon Draisaitl, Andrej Sekera, Oscar Klefbom and Cam Talbot to continue to carry this team across the finish line. As solid a season as the trio of Adam Larsson, Mark Letestu and Patrick Maroon have put together in 2016-17, be it on the scoresheet or defensive front, the aforementioned quintet has played the biggest part in helping the Oilers become a Pacific Division contender.
However, in order for this group to take that next step in their development, Todd McLellan is going to need as many hands on deck as possible once the NHL's second season officially gets under way. In the minds of some, such a step would include a deep run into the post-season but showing they can hold their own and possibly even winning a round should be all anyone expects from this group. Anything more would have to be considered a bonus.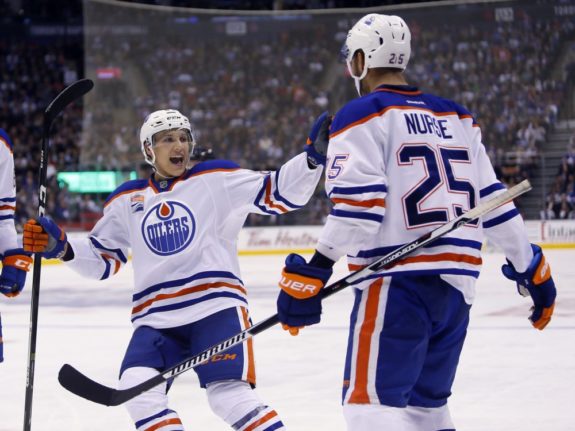 Settling on Six Regulars on Defence
So what has to happen in order for such a scenario to play out? It's actually quite simple. On the backend, the head coach needs to commit to using Matt Benning, Darnell Nurse and Kris Russell to fill out his defence and make Eric Gryba the full-time No. 7 from here on out. With Davidson no longer part of the equation, there is no reason to mess around any longer. Get the pairings in order and allow Nurse the opportunity to develop chemistry with whomever he is paired with.
It's all well and good that the guy behind the bench is fan of what Gryba brings to the table but if he were to become even a semi-regular inside the top-six, Edmonton is in deep trouble come playoff time. As appealing as a Sekera-Benning pairing might sound, the notion of Nurse-Russell tandem is a frightening proposition. Let the two kids grow accustomed to one another's tendencies over the final month and a half of the season and see how they do when it matters most.
The Steve Austin Line https://t.co/ySGDJwUkAD #Oilers #NHL

— Jason Gregor (@JasonGregor) March 1, 2017
As far as the forwards go, it all comes down to the even strength production they get from Jordan Eberle, Milan Lucic and Ryan Nugent-Hopkins, Whether they stay together as a unit or play with different linemates, all three are going to have to find a way to contribute with far greater frequency. As special a player as McDavid is, no team can have success in the playoffs with one line doing the bulk of the scoring. Expecting their bottom six forwards to do anything other than chip in a goal here and there would be both foolish and rather unrealistic.
Dressing the Best Team Possible
However, the collection of players who end up filling those roles are going to have to prove the moment won't be too much for them to handle. Be it kids like Drake Caggiula, Jujhar Khaira, Jesse Puljujarvi and Anton Slepyshev or veterans such as Desharnais, Matt Hendricks, Zack Kassian, Letestu, Iiro Pakarinen and Benoit Pouliot, the job remains the same. Just like the situation with Gryba, deployment of the six they decide to go with will be essential. Simply using the so-called "guy who's been there before" for the sake of doing so can't be the mindset.
Whoever has shown they deserve to be in or out of the lineup is where they need to be. As currently structured, this group isn't strong enough to carry any passengers. If the head coach can find the right mix, the second tier of players hold up their end of the bargain and the club continues to receive the kind of performance their best players have delivered all season long, the Edmonton Oilers could be a tough match up for any team in the Western Conference. It won't be easy but in Connor McDavid, they have a weapon no one else has at their disposal and he could be enough to help push them over the top.
Rob Soria is the Author of Connor McDavid: Hockey's Next Great One. He has chronicled the Orange and Blue since creating his Oil Drop blog in 2011 and has also had his writings featured over at HometownHockey.ca and Vavel USA, where he has covered the NHL, MLB and ATP Tour. Rob was born, raised and still resides in Edmonton, Alberta and can be reached via twitter @Oil_Drop.