Yesterday was an interesting day for the Edmonton Oilers. On the eve of the NHL Trade Deadline, they team went out and beat the St. Louis Blues 2-1 to close out a tough six-game road trip and move back into sole possession of second place in the Pacific Division.  A great result to be sure but also one that came with mixed emotions, as defenceman Brandon Davidson was traded to the Montreal Canadiens in exchange for veteran centre David Desharnais.
Canadiens Trade Desharnais to Oilers for Davidson https://t.co/HHDBbQJFt2 #THW

— The Hockey Writers (@TheHockeyWriter) March 1, 2017
The fact Edmonton moved the Alberta native should have surprised absolutely no one, as rumours of his pending departure had been making the rounds for months. With the upcoming Expansion Draft looming and the Oilers needing to still plug some holes on the current roster and view tradeable assets at their disposal, it was always a matter of when and not if Peter Chiarelli would pull the trigger on such a deal. What was surprising, was the player he acquired in the swap.
With all due respect to Desharnais, for anyone to even suggest Chiarelli came out on the winning end of this swap, they would have to be looking at it with Orange and Blue tinted glasses. It is true, the 30-year old does have a 60-point campaign on his resume but that was in 2011-12. In the here and now, we are talking about a player who has battled the injury bug and fallen out of favour as regular in Montreal. In other words, he had become nothing more than a spare part for Le Bleu-Blanc-Rouge.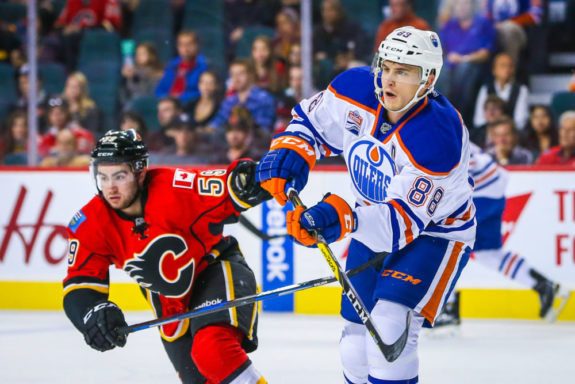 Davidson a Nice Addition for Canadiens
His $3.5 million salary, coupled with what has been a rather underwhelming performance in 2016-17 suggests the asking price for such a player would be minimal at best. And yet, the Oilers decided to not only give up a 25-year old blueliner who has shown capable of playing at this level but one who is also signed for another year at a team-friendly  $1.425 million cap hit. Confused? If not, you should be. Especially when we are talking about bringing in a player who doesn't check off many boxes on Edmonton's supposed wish-list.
I like Davidson+potential – showed real progress last yr, injury slowed him this yr.Desharnais? seems like the wheels are off #Habs #Oilers

— Ray Ferraro (@rayferrarotsn) March 1, 2017
Outside of playing centre and having a career faceoff winning percentage of 50.4%, there isn't much to like about this acquisition. At 5' 7" and 170 pounds Desharnais doesn't exactly fit the mould of a Chiarelli-type player and currently finds himself in the midst of the worst stretch of his NHL tenure .  The diminutive pivot has four goals in 31 games in 2016-17 and over is his last 84 contests he has found the back of the net eight times.
His faceoff percentage has been under 49% in each of the last two seasons, which means Mark Letestu remains the only centre on the roster with a mark better than 50%. He is by no means a penalty killing regular nor regarded as a solid defensive player. So tell me again what was the attractions in making this deal? If this were even three or four years ago, it would be a different story but nothing in Desharnais' recent history suggests he is on the verge of turning things around.
Oilers Still Need Third Line Centre
In my mind, the Oilers made a half-hearted effort in addressing an apparent need heading into the playoffs and created another one in the process. In moving Davidson and not replaced him in any way, shape or form, Edmonton has seen their depth weakened on the backend. While some will say he was the No. 8 defender on the depth chart, he is unquestionably a better defenceman than Eric Gryba and is arguably on par with Darnell Nurse, at least for the moment. However, the organization obviously viewed things differently.
Did Chiarelli just suggest that Oesterle and Reinhart can replace Davidson on the NHL roster? Nice try.

— Sunil Agnihotri (@sunilagni) March 1, 2017
With that said, any successful playoff team will tell you having depth on the backend is a necessity and by making this deal, the Oilers have gone in the opposite direction.  As of this moment, the club's backup plans are Mark Fayne, Jordan Oesterle and Griffin Reinhart. Neither one of Chiarelli or Todd McLellan have shown any confidence in the former New Jersey Devil since arriving in Edmonton and the other two have yet to prove capable of playing the kind of game Davidson showed during his brief tenure in the bigs…hence why both are currently in Bakersfield.
Make no mistake, the 2010 sixth-round pick has had an up and down campaign but he is an NHL defenceman…something which cannot be said of Oesterle or Reinhart. This notion that the Oilers suddenly have a plethora of depth on the backend end is not only a misconception, it is flat-out false. By making the trade he did, one could easily make the argument Chiarelli actually weakened his overall roster and has yet to address the need for a third line centre.
Oilers should trade 2017 1st pick to @GoldenKnights for #33 to keep Brandon Davidson out of expansion draft.

— NateInVegas (@NateInVegas) February 27, 2017
Also, spare me the angle of Edmonton was going to lose Davidson in the Expansion Draft so they might as well get something in return for him, instead of having him leave for nothing. First, if they wanted to keep him, sorting out a side deal with Las Vegas would not have been difficult and something we will certainly see other organizations do prior to draft day. Second, Desharnais is an unrestricted free agent at season's end and can't see any reason why the Oilers would even consider bringing him back in 2017-18.
In other words, the so-called "return" they get by moving Brandon Davidson now as opposed to potentially losing him to Las Vegas in the summer, is 18 regular season games, plus playoffs, from a guy who was having a tough time cracking the starting lineup for the Montreal Canadiens. Unless David Desharnais can come in and suddenly turn back the clock and find his old scoring touch, this deal has zero chance of benefiting the Edmonton Oilers in the short-term and could prove rather costly in the long-run.