With all of two days remaining in the 2016-17 NHL regular season, the Edmonton Oilers have all but clinched home-ice advantage in their first-round showdown with the San Jose Sharks. By this time tomorrow, there is a good chance this team will have eclipsed the 100-point mark and their star attraction will have or be on the verge of doing the same thing on an individual front. As great as this year has gone for Connor McDavid and company, expectations for this group still need to be kept in check.
If these two teams indeed collide in 1st round, keep in mind EDM 4-0-2 in its last six trips to SJ.

— Jack Michaels (@EdmontonJack) April 7, 2017
From a city standpoint, Edmonton is on the verge of boiling over with Oilers Fever and it has been long overdue. Once the puck is dropped on the 2017 NHL Playoffs, this place is going to explode and it will be an absolute blast for one and all. This fan base has been starving for the return of post-season hockey for eleven long years and it is about to be fed a five-star entrée to stop that hunger. As enticing as that sounds, where problems could arise is expecting the "dessert" to be the so-called "cherry on top".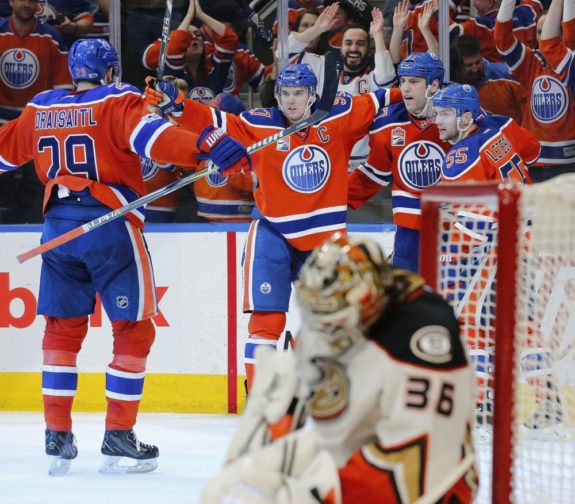 McDavid Is the Wild Card
Don't get wrong, this Oilers roster has a ton going for it and includes a special talent who has the ability to take over games on a nightly basis. Yes, the kid wearing No. 97 is that good and because of it, this team will be a tough out…no matter the opponent. Add to that their red-hot run over the past month, a Western Conference which has no "powerhouse" team and the door is certainly open for a "new kid on the block" to take a shot at trying to reach the Stanley Cup Final.
However, putting the cart ahead of the proverbial the horse would be a mistake. It is true the Sharks haven't played well in recent weeks and certainly look nothing like the team who sat atop the Pacific Division for large chunks of the season. Yet, let's not forget we are essentially talking about the same team who lost to the Pittsburgh Penguins in last year's Cup Final and at this time of year, that kind of experience matters. In comparison, Edmonton has little and it could prove problematic.
Outside of Milan Lucic, Patrick Maroon, and Benoit Pouliot, this roster doesn't have any meaningful post-season experience.  The playoffs are an entirely different animal and until a player goes through it, expecting them to simply hit the ground running during their first kick at the can isn't realistic. While far from impossible, there is a reason why teams who traditionally have only a handful of experienced and impactful veterans on their roster tend to need time to find their playoff game.
Oilers Slight Favourite?
By no means is that to suggest the Oilers could not knock off the Sharks. In fact, one could easily make the argument Todd McLellan's new team should be a slight favourite over his old one. Edmonton has owned their inter-division rivals this season and walked into San Jose and took two huge points earlier this week. Impressive to be sure but also done courtesy a third-period rally and against a team who were missing two of their top three forwards in Logan Couture and Joe Thornton.
Record vs West:
EDM 30-11-6 (23 wins combined previous 2 seasons)
SJ 24-21-3, (5-0 vs VAN)

— Bob Stauffer (@Bob_Stauffer) April 7, 2017
Again, the presence of McDavid changes the equation but the Sharks won't be a cakewalk and nor would the Anaheim Ducks as a potential second round opponent. And yet, the sense you get from many across Oil Country is just that. Expecting an early playoff exit would be selling this group short but asking for the moon could be a little much. Anything is possible but losing sight of this year being a free square on the dance card would be a mistake.
No matter how this post-season plays out, the word "disappointment" will not be one that can be used to describe any part of the Edmonton Oilers 2016-17 campaign. Being one of nine teams to hit the 100-point plateau was never supposed to be part of the equation but here we are. Unfortunately, it guarantees nothing when it comes to the playoffs but it certainly confirms something special is around the corner and that in itself is reason enough to celebrate.