As hard as it might be to fathom, we are here. With five games remaining on their schedule, the Edmonton Oilers have put themselves in a position where the out-of-town scoreboard no longer matters. If this group can go out and take care of business over the next ten days, they will finish the 2016-17 season as Pacific Division champions. In a year in which surprises have been the norm across the NHL, one would be hard-pressed to find a potential result being as shocking as what this group is on the verge of accomplishing.
Talbot stellar..38 saves
Oilers-7 straight wins @RogersPlace
8-1 last 9 GP out-scoring teams 37-17
Leon and Connor 9-game point streaks

— Bob Stauffer (@Bob_Stauffer) March 31, 2017
With yesterday's 3-2 win over the San Jose Sharks, the Oilers closed out the month of March on a four-game win streak and finished with a stellar 9-3-1 mark. For the second time this year, Edmonton took full advantage of some favourable scheduling and it has played a huge role in allowing them to be in the position they find themselves. Their red-hot start in October had them sitting atop the division by month's end and it propelled them to survive a far less favourable stretch over the coming months…most notably in November and February.
Oilers Have Dominated the West
After years of struggling to hold their own out west, the Oilers have matched the Chicago Blackhawks league-leading total of 64 points against Western Conference opponents and have owned their Pacific Division rivals all season long. To what degree you ask? Well, how does a ridiculous 16-5-3 sit with you? It's such a drastic turnaround that it seems almost too absurd to be true but the numbers are there for all to see. With each passing game, their confidence continues to grow and are now at the point where they believe they can play and beat anyone.
So is it as simple as Connor McDavid being that much of a difference maker or is there more to it? There is no question that many players have contributed to this team's climb back to respectability but the kid wearing No. 97 has changed everything. With two more points in last night's victory over the Sharks, the 20-year old has had a hand in 40% of Edmonton's 228 goals and that doesn't even take into consideration times he's been involved in plays which led to goals but didn't pick up a point.

His presence alone severely alters how opposing team game plan to take on the Oilers and the best outcome they can hope for is containment. With the way the game is called today, it is impossible for teams to "shut down" a player with McDavid's skill-set. Every single time he steps onto the ice, the kid is looking to make an impact. To this point in his career, it has become rather apparent that taking off a shift isn't even an option. He is relentless from start to finish and has elevated both his game and team to another level.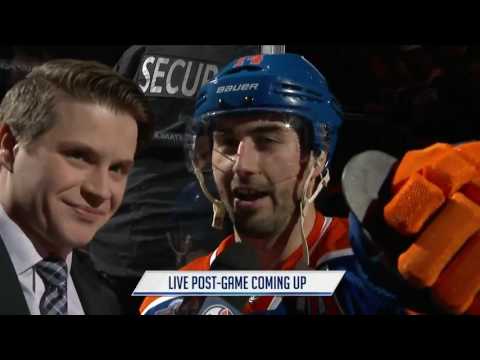 Confidence, Confidence, Confidence
When you couple his impact on the lineup with Edmonton's ability to win games in any way imaginable, we are talking about an altogether different animal. Again, the confidence and belief these players have in one other is obvious and continues to grow by the minute. Record aside, the Oilers have played some of their best hockey of the season when they absolutely had to and as the last couple of games have shown, closing out an opponent is no longer an issue for this group. Believe it or not, this team actually knows how to manage a game.
With seemingly everything clicking and games against the Anaheim Ducks, Los Angeles Kings, Sharks and Vancouver Canucks (x 2) remaining on their schedule, it seems hard to not like Edmonton's chances of finishing first in the Pacific Division. The Ducks are playing their best hockey of the season but will finish up their campaign against the Oilers, Calgary Flames (x 2), Blackhawks and Kings. Based on strength of opponent, Todd McLellan's crew certainly has the easier road to travel.
Reasons Oilers are in current spot:

– McDavid
– Talbot
– Healthy lineup
– Depth on D
– favourable Schedule

— NateInVegas (@NateInVegas) March 27, 2017
Despite slumping badly down the stretch, the Sharks could reclaim top spot in the division with games against the Flames (x 2), Canucks (x 2) and Edmonton but would have to turn things around in hurry and get a bit of help along the way. That is not the case for either the Ducks or Oilers and brings us back to where we started. Chances are the division will be determined with the result of tomorrow's head-to-head showdown at Rogers Place and as odd as it seems, the Oilers appear to be in the driver's seat of accomplishing the biggest surprise of the 2016-17 NHL season.