Though a Stanley Cup Championship in 2011 was probably worth it, Peter Chiarelli's tenure with the Boston Bruins is (for better or worse) largely tainted by miscalculations. Swings-and-misses in free agency and at the draft. Rash, compromising, franchise-altering trades. Egregious misappropriations of precious funds which served to dismember one of the league's elite franchises. You know the story well at this point.
For all of the headaches that marred the end of his tenure, Peter Chiarelli left the Bruins with one bright, shining jewel. One that continues to sparkle to this day. As the title would suggest, I speak, of course, of the 2014 Draft Class.
Despite making just five selections overall and having to watch the first 24 players fly from the draft board, Chiarelli (and Director of Amateur Scouting Keith Gretzky) managed to find tremendous value with every pick, especially as the draft made its way into the latter stages. The work done by Boston's front office is made even more impressive considering the prior season's President's Trophy, and how it both depleted the number of selections while also pushing the Bruins toward the back end of each round.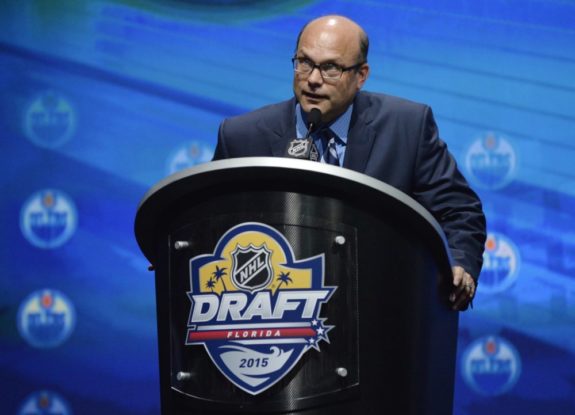 Not all of Chiarelli's drafts were winners. Frankly, there were far more missed opportunities accrued on his watch than diamonds in the rough. But with David Pastrnak, Ryan Donato, Danton Heinen and Anders Bjork  all selected in 2014 (as well as Emil Johansson) he very well could have injected four top six forwards into Boston's system in a span of 24 hours.
Note: Back in 2015, TSN's Scott Cullen poured over 20 drafts stretching from 1990 to 2010. He devised a formula for anticipating a player's value and expected career based on their draft spot. This will be noted prior to more detailed breakdowns of the players selected.
First Round, 25th Overall – 2014 NHL Draft
David Pastrnak
Projected Career: "NHL Regular, 350-plus NHL games, 9.5% chance of being a top six forward."
This one is already a no doubter. Considering that Jordan Caron was selected at the same spot five years prior this selection is a bona fide home run.
Despite tepid assessments of his readiness, David Pastrnak broke into the NHL at the tender age of 18. He dominated the AHL to the tune of 28 points in just 25 games, and a glaring lack of firepower on the parent club warranted a call-up.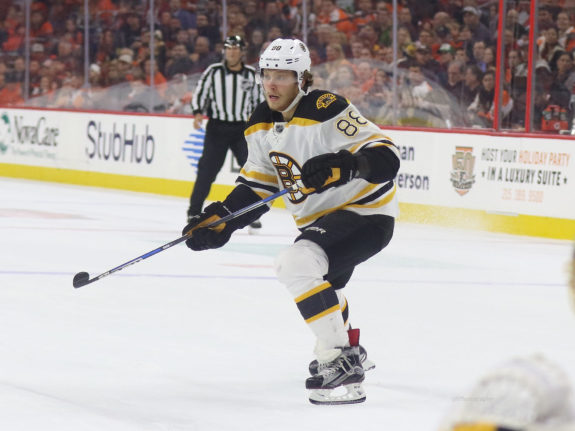 "Pasta" instantly showcased his game breaking ability, turning regular top six duties into 27 points over 46 NHL contests. After plateauing a bit during his sophomore campaign, the young Czech thrust himself into the conversation of most promising young players in the game with last season's 34-goal, 70-point effort. This season he has picked up right where he left off, with 10 goals and 17 points over 19 games — both figures pace the team.
To date, Leon Draisaitl is the only member of the Class of 2014 with more points than Pastrnak. Pastrnak, though, has a marginally-higher scoring rate than his German counterpart, not to mention 14 more goals in 16 fewer games.
Considering the only player comparable to him at this point was selected 22 spots earlier, this selection extends beyond outstanding value, and borders on larceny.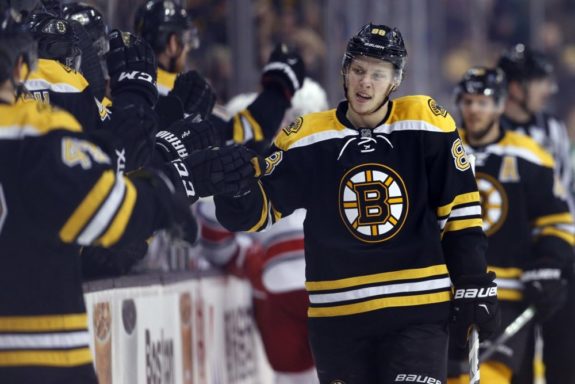 With Charlie McAvoy serving as the only possible exception, David Pastrnak is the most promising and exciting player at any level of the organization. The Boston Globe's Fluto Shinzawa even sees a few similarities to Washington Capitals star Alexander Ovechkin.
In short order, David Pastrnak has eased the sting of Peter Chiarelli's most infamous trade (some guy named Tyler). He has become the poster child of Boston's youth movement and philosophical shift. He is the future in Boston.
"NHL regular?" How about, "NHL All-Star?"
Second Round, 56th Overall  – 2014 NHL Draft
Ryan Donato
Projected Career: "Very good minor leaguer, 50-100 NHL games, 5.7% chance of being a top six forward."
Though the jury is technically still out on Ryan Donato given his current status as a collegiate player, the future appears to hold big things for the Scituate native.
Drafted 56th overall following a post-grad season at the Dexter School in Brookline, the young pivot has lit up the collegiate ranks over parts of three seasons. He has registered 70 points over 75 games, including 49 points over his last 43 contests. Last season, he helped lead the Crimson to their first Frozen Four appearance in 23 years and their first Beanpot Title in 24.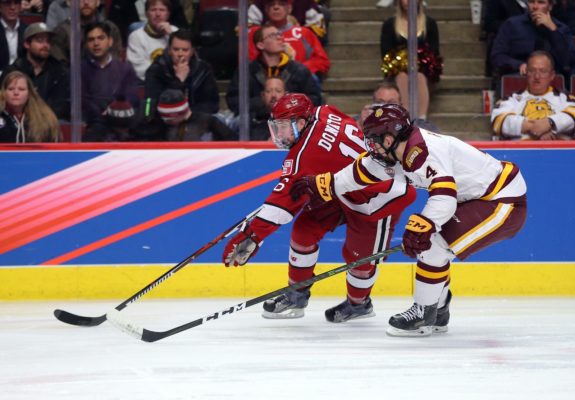 Possessing a tremendous Hockey IQ acquired through notable bloodlines, the 21-year-old Donato appears destined to crack the Boston lineup soon, perhaps as early as the end of this season.
But Donato's repetoire extends beyond genetics and the Harvard connection shared by his family and General Manager Don Sweeney. He has a skill set that screams "top six forward."
He's got elite hands and hockey sense, and his skating, while not in the class of his father's wheels when he played, is above average and has improved since his hometown team drafted him 56th overall.

He's bigger than Ted Donato, so his long, powerful stride gets him from point A to B fast enough. If you saw his highlight reel goal in the Beanpot Championship game against BU, you certainly understand he's got the agility and athletic ability to come out of corners, walk defenders and take goalies off of their spots.

-Kirk Luedeke (Scouting Post) May 16, 2017
The Coach's Son
Nearly as beneficial (in my humble opinion) to being the son of a former-NHLer is being the son of a coach. Donato has the benefit of both being true.
As the son of a coach myself, I can attest to the benefits of sharing a roof with the bench boss. Practices and games may end with the final whistle, but the instruction does not. Sometimes it doesn't even end when the car pulls into the driveway. That extra mentoring, in a one-on-one setting is hugely beneficial, and a luxury afforded to precious few youngsters.
It's no wonder Donato thinks the game at such an elite level. He's a presumptive Hobey Baker Finalist at season's end, and this looks to be just the beginning for Ted's boy. The jury may technically still be out, but he appears to be destined for better things than a few cups of coffee and bus rides to Syracuse.
Fourth Round, 116th Overall
Danton Heinen
Projected Career: "Minor Leaguer, under 50 NHL games, 94% chance of falling short of Top 9 forward."
The Bruins sent their third round pick in 2014 to Philadelphia to rent Andrej Meszaros — which is sort of like renting Garden State, in that it seemed like a good idea at the time but ultimately left you feeling underwhelmed and empty upon further reflection. In doing so, Boston had to sit-out for 60 selections. When they finally stepped back to the podium they once again connected.
Last season, Danton Heinen's play tapered off significantly once the games started to matter. What had been a torrid and eye-catching training camp and preseason gave way to eight games of play in which the then 21-year-old went pointless, looking overmatched and, frankly, not ready.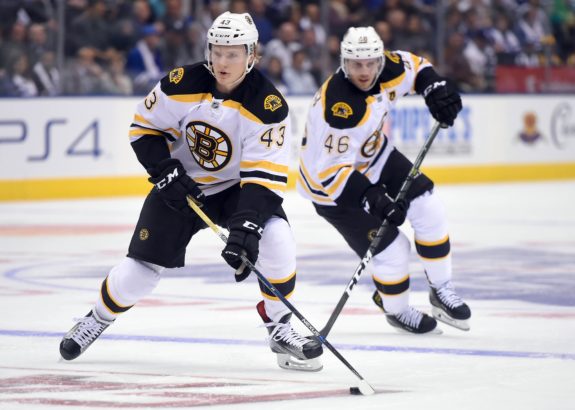 Though he rebounded exceptionally with nine goals and 18 points through 17 games during Providence's run to the AHL's Eastern Conference Final, he nonetheless entered the current campaign to significantly smaller fanfare. With a fresh batch of rookie forwards cracking Boston's opening night lineup at his expense, Heinen was beginning to look like last year's Christmas present.
Called up by Boston just two games into this season his impact was felt immediately, with three points in his first two games.
What has transpired since has proved to any and all that he has "arrived," and that he's here to stay.
The Nature of the Beast
With ten points through 15 contests, Heinen is currently tied with Charlie McAvoy for the team lead among rookies. The most encouraging part of his development to this point has been the nature of his play, and the versatility he has shown.
His talent made him a standout at the University of Denver, but proved to be not quite enough when the level of play around him rose. The things that plagued him during his brief stint in Boston last season — lack of strength/ability to win battles, a feel for the game at the NHL level, defensive acumen — have all been remedied.
He's winning battles along the boards. He's crashing the net and potting loose pucks and rebounds. He has been featured on both of Boston's special teams units, even notching a shorthanded goal. His goal versus Anaheim below showcased every possible trait one hopes to see from any, forward, let alone a rookie:
Yes, that's former Hart Trophy winner Corey Perry being out-battled by Heinen prior to his slick, patient, top-shelf finish (on his backhand, no less).
Need him to play on the fourth line? Done, with aplomb. His work with Tim Schaller and Sean Kuraly gave Boston a reliable, three-zone line when the bodies were just starting to pile up on IR.
Need him to play with Patrice Bergeron and David Pastrnak? Done. He did so most recently in San Jose, driving the final nail into the Sharks' coffin with a late-third period goal.
When talent meets preparedness, doggedness and a willingness to battle the results can be outstanding. Another mid-round pick (some guy named Marchand) can attest to that.
Heinen has bucked the trend, is already a top nine forward and will likely eclipse the 50-game threshold this season.
Fifth Round, 146th Overall
Anders Bjork
Projected Career: "Minor Leaguer, under 50 NHL games, 2.5% chance of being a top six forward."
After a stellar career at the University of Notre Dame, Anders Bjork put hearts and minds within Bruins Nation at ease by electing to forego his senior year (and a chance at unrestricted free agency) and signing with Boston.
Pegged early-on as a possible fit alongside all-world talents in Patrice Bergeron and Brad Marchand, Bjork filled-in admirably before injuries ravaged the Boston lineup (not to mention Bjork himself), throwing Boston's line combinations out of whack.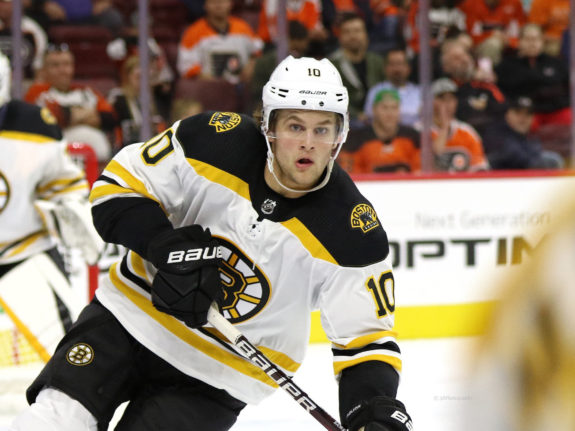 To date, just five other players from 2014 selected in Bjork's round or later have made their NHL debut. None have scored at a higher rate than the Wisconsin native. In fact, beyond those selected in the first round only Victor Arvidsson and Brayden Point have scored at a higher clip than Bjork.
Yes, 16 games is an admittedly small sample size. But in a brief period of time he has shown a readiness typically not seen in rookies, let alone those who were selected in the fifth round of the draft.
Think about that. The Bruins have a rookie whom they selected in the fifth round just three years ago who can play with Patrice Bergeron and Brad Marchand without looking out of place, scoring at a rate of 46 points per 82 games.
That's extremely impressive.
His nine points currently rank seventh on the team, despite missing three games with a concussion.
How many points did the first player on this list (Pastrnak) record in his first 16 games? Six. David Krejci? Three. Brad Marchand? One.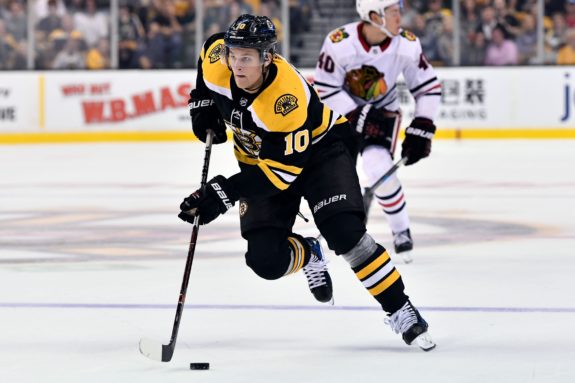 Anders Bjork might not turn into David Pastrnak or Brad Marchand, but he certainly has the look of a future top six forward. In fact, he probably already is one.
Stick that in your pipe, "2.5% chance."
Seventh Round, 206th Overall
Emil Johansson
Projected Career: "Minor Leaguer, 10 or fewer NHL games, 8.2% chance of playing 100 NHL games."
Emil Johansson is somewhat of the outlier on this list. Perhaps that's to be expected, being a seventh-round pick. Expectations have yet to be terribly high for the Swedish rearguard, but he projects to be a serviceable (if unspectacular) depth defenseman.
The good news? He handled himself well last season playing against grown men with Djurgardens of the Swedish Hockey League. His seven goals and 17 points through 49 games ranked first and second (respectively) amongst defenseman on the team. He's still just 21 years old. He moves the puck well and plays a steady, conservative game.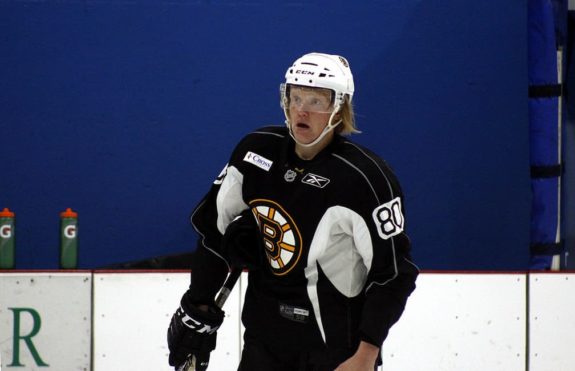 The bad news? He's neither big (five-foot-eleven, 190 pounds) nor particularly fast. He's not especially physical either. Typically, it's good for a defenseman to be one (if not more) of those things.
There's still plenty of time for Johansson to make a name for himself, as he has just 14 career AHL games under his belt as of this writing. He very well may develop into a steady rearguard one day (goodness knows the Bruins hit home runs with all the other picks in this draft), but the more likely scenario, in my mind, involves several seasons of AHL duty, maybe a cup of coffee here or there, followed by a return to his native Sweden.
At least they travel on nice trains there. Like, really nice.
Recap
The 2006 Draft is regarded as being one of the organization's strongest ever. In consectuive rounds the team selected Phil Kessel, Milan Lucic and Brad Marchand with their first three picks, helping to set the stage for Boston's resurgence and the 2011 Cup win.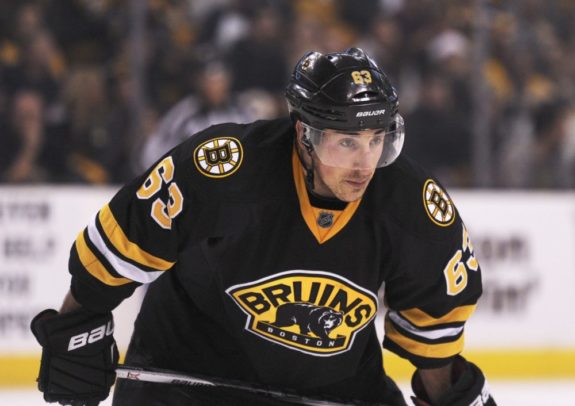 Given Kessel's brief tenure and the uncertain futures of the seemingly never-ending trail of magic beans acquired for him the Class of 2014 has a chance to be even stronger. The first three players selected in 2006 all developed into top six forwards. The 2014 edition of Bruins draft selections features four players with that potential. In fact, three have already had success in that role.
David Pastrnak has already exceeded projections based on his draft spot. Danton Heinen and Anders Bjork appear poised to do so as early as this season, as rookies. Ryan Donato is one of the most highly-touted players in the NCAA and, unlike most draft picks, has the privilege of being coached by a father with 800 games of NHL experience under his belt, 500-plus of which came with the same team currently owning his rights.
The Boston Bruins organization had fallen on some dark times leading up to the 2006 Draft, and the players acquired then and there helped forge the way back into relevance and, ultimately, to the top of the NHL mountain.
In examining the 2014 NHL draft crop, it's not difficult to envision history repeating itself.