David Pastrnak THW Close-Up:
Date of birth: 5/25/1996
Place of birth: Havirov, Czech Republic
Ht: 6'0″     Wt: 168 lbs
Shoots: Right
Position: RW
NHL Draft Eligibility: 2014
Twitter: @pastrnak96
THW The Next Ones Rankings (January 2014): 19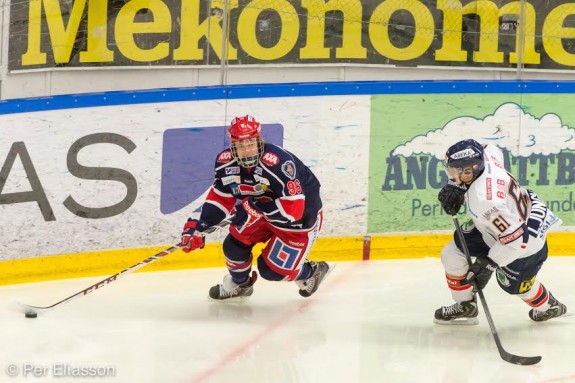 Other Rankings:
THW War Room Rankings (April): 19
Craig Button: 25
CS Final Rankings for European skaters: 5
***
David Pastrnak has been ascending draft rankings all season long. The mid-sized winger lacks size and strength, but ultimately possesses some of the flashiest offensive moves from any draft prospect. Having terrific speed and acceleration, Pastrnak blows by defenders with ease. He also has slick hands that can turn a defenseman inside out.
In the Allsvenskan, Pastrnak put his offensive capabilities at the forefront scoring 24 points in 36 games (a tough achievement for a 17/18 year old. Furthermore, he's an excellent passer and reads the game at a high speed.
The real issue in his game is his toughness and ability to play against stronger players. His offensive potential is through the roof, but speed and skill can only get you so far. Eventually a big player will put a body on Pastrnak and fans will have to see how he adjusts.
Where Will He End Up In June:
Pastrnak has more than enough skill to be a 1st round selection. I think he's more likely to be picked very early in the 2nd round.
Scout's Honor:
"Pastrnak is a flashy, electrifying offensive talent with gifted hands and shiftiness in his feet. He also has a bullet shot and is a very dangerous finisher. He uses quickness and good lateral elusiveness to avoid bigger opponents. (August 2013)"
Aaron Vickers – Future Considerations
"Smaller wing/centre who has great feet and hands and tons of dangle and nose for the net. Really good when he has the puck and handles it whether he has open space or under pressure. One-on-one he is a joy to watch, as he seems to have a holster full of moves that thwart defenders. Drives the lanes aggressively and is good in traffic. Displays a quick release and rocket shot that catches goalies by surprise. Not a burner North-South or great defensively yet, but he moves quickly laterally and turns and jukes and provides plenty of excitement for those in the seats. He was selected to the roster for the World Junior Under-18 Tournament in April, 2013."
Bill Placzek – Draftsite.com
"Pastrnak is an exciting offensive player hailing from the Czech Republic who has flair and loves to be dangerous. He thrives in situations where he can carry the puck and dish it off when he feels fit. Also tends to be strongest when incorporating an east-west game while on the attack. In the offensive zone, he does like to lug the puck and fake passes and shots while searching for just the right moment to make the killer play. Maintains good control of the puck and can use his body well in protecting it. Is very agile in making his twists and turns, especially when he has the puck, and isn't afraid to try a number of things as part of the attack. Very good hands and craftiness once he has the puck, he also likes to hound opposition players, especially defensemen, in forcing turnovers, ready to pounce on them in hopes of creating two-on-one or breakaway situations. In addition, his shot has improved in leaps and bounds since coming to Sweden and can be lethal from all over, particularly when using opponents as a screen.

Pastrnak hasn't always shown the intensity to be a player in big games. Can handle the rough stuff, but too much of it turns him into a bit of a perimeter player. His still undersized frame doesn't help that situation. Also tends to make poor decisions in trying to make the 'super' pass. Can also be physically slowed down in corners and held behind the play. Defensive zone coverage is clearly not a passion of his. He also has times where he seems more concentrated on deking out defenders than actually making a simple, effective play. Still has a ways to go before being a playmaker of sorts, even if he traditionally gathers more assists than goals."
Statistics:
Bio/Interview(s)/Links:
Profile from Last Word On Sports
International Tournaments:
Pastrnak has played for the Czech Republic a whopping 11 times. This year he won a U18 WJC silver medal.
ETA:
2-3 years
Risk/Reward Analysis:
Risk: 2.5/5   Reward: 4.5/5
NHL Potential:
1st line offensive dynamo
Strengths:
Smooth hands
Creativeness
Acceleration
Top speed
Hockey sense
Playmaker
Flaws/Aspects He Needs To Work On:
Needs to get stronger
Learning to play in the traffic areas more frequently instead of the perimeter
Fantasy Hockey Potential:
Offensive: 8/10    Defensive: 2/10
NHL Player Comparison:
– NHL comparison: Ales Hemsky
Video(s):
***
THW's The Next Ones prospect profile template design architect: Chris Ralph