After Barry Trotz joined the Washington Capitals as the club's next head coach, many imagined he'd be joined by a few assistants from the Nashville Predators. That possibility came to fruition officially on Tuesday, with the club announcing the hiring of Mitch Korn as the next Capitals goalie coach.
"I am very pleased to join the Washington Capitals and continue to work alongside Barry Trotz," said Korn in a press release. "I look forward to working with all of the talented goaltenders in the organization and helping them improve and succeed on the ice. I want to thank the Nashville Predators for a great 16 years and wish them the very best in the future."
Korn addressed Ollie Kolzig's status during a conference call and in the press release, as Kolzig won't be holding a full-time position in Washington. Korn has spent the previous 15 seasons with Trotz in Nashville, helping develop Pekka Rinne as an eventual finalist for the trophy for the best goalie in the league, the Vezina trophy.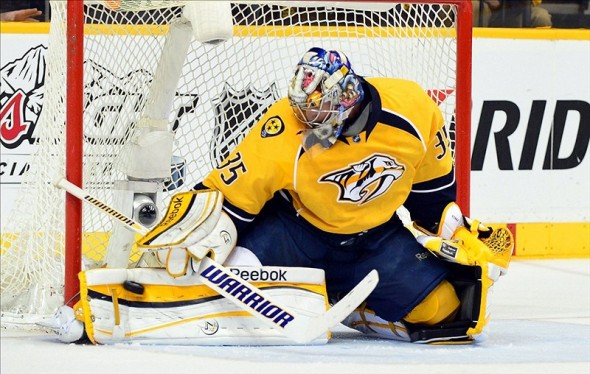 "I've talked to Ollie a number of times," Korn explained during his conference call with the media. "You've got to know Ollie and my relationship actually dates back to 1992. Ollie was loaned by the Washington Capitals to the Buffalo Sabres. I coached Ollie in Rochester, New York. I coached Ollie in Rochester that year and so we have been friendly ever since."
"We have a long relationship and we've been talking  about what he wants to do and what he can do. He's got a unique family situation, obviously he's traveled a ton being a pro goalie for a long time so we're working on trying to put together the best package for him to make it work from a combination of scouting to coaching. A variety of different things to make it work. Ollie will be part of what we do, decision has been made, everybody's on board. We're just trying to work it out and figure it out."
The Capitals have not yet named an associate goalie coach and the process is still ongoing. Scott Murray held that role this past season, focusing on the development level, mostly at the AHL level with the Hershey Bears. Washington has yet to land an ECHL affiliate, with the Philadelphia Flyers signing with the Reading Royals earlier this summer. Murray told The Hockey Writers on Tuesday he expects the decision to be made around early July.
The Capitals have four goalies under contract for next season including Braden Holtby, Philipp Grubauer, Brandon Anderson and Pheonix Copley. Newly hired General Manager Brian MacLellan will likely target a veteran net minder in free agency to backup Holtby.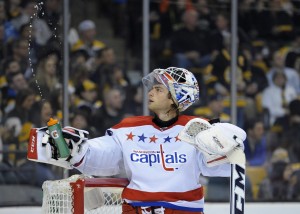 "My task is to make the goalies we have the best they can be," Korn said. "That's what I will continue to do, I will try to take what they do best, I'll try to figure them out. I want to develop relationships and try to make them the best they can be."
"I try to take what each guy does best, I do not to try to coach out of guys what they do well. We allow them to try to do their best stuff, try to make sure that we improve the areas that might not be their best, try to cover it up. Come up with a strategy to improve that and everybody's different."
Korn also worked with the Buffalo Sabres from 1991-1998 before joining the Predators, working with Hall-of-Famer Dominek Hasek. Korn also runs goalie and defensemen schools around the country during the offseason, according to the Capitals press release.
Braden Holtby has a huge year ahead of him as the almost guaranteed full-time starter, following the Michal Neuvirth trade to Buffalo. Korn spoke very highly of him and sees the potential in his game.
"He's very focused," Korn admitted. He's very cerebral, he's got a big body and he's very athletic. Those things are great in today's NHL game. You got to remember I am Braden's fourth goalie coach in the time that he's been in Washington. I hope that to be able to try to bring some continuity that hasn't necessarily been there and try to get him once again to use his great skills to be the best he can be."
"We've seen some great moments from him, the playoffs, where he has fantastic numbers, lot of notoriety, lots of attention and he seems to handle it every well. I got to get to know him, we've chatted on the phone. We hope we can make him an elite goalie in the NHL without putting too much pressure him by making that statement."
Korn's contract kicks in on July 1st, as the Capitals will come home from the NHL draft with a new group of young players as development camp nears.