Summer is supposed to be a time of relaxation. The Cup has been handed off for another year, all those pesky children are off at camp, and you and the mister or missus are free to join a summer league and cuss out the opposing players. What a time, eh?
Until, of course, the Blackhawks put Patrick Sharp on the trade block.
"The Blackhawks are looking to add a centre, and Patrick Sharp is out there," Sportsnet's Nick Kypreos said Tuesday afternoon. While it is possible this is just Kypreos speculating wildly, he may know something we don't know. Namely, that Sharp is up for grabs, should a team make a juicy enough offer for him.
But we all know trade rumors float around like crazy during the offseason. Is Sharp really available to the highest bidder? I'm not so sure that's the case.
Don't get me wrong; I'm not making a case for or against keeping Sharp. I simply think that the evidence goes against Chicago making a deal — any deal, unless it somehow involves black magic and bringing back Denis Savard at his peak — for the right winger.
(To be completely honest, I think Sharp is fantastic.)
He's won two Stanley Cup Finals with the Blackhawks and been to the Olympics once while on the team. He's known for his hard work, and it shows in his play.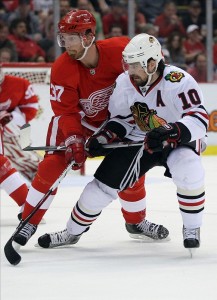 When he's producing, he's consistently top three for the Hawks, if not top two. In fact, Sharp garnered 78 points over this past season, the highest of the entire team. That's seven points higher than his previous all-time high, the 2010-11 season, giving him a brand new personal best.
However, his regular-season highs were eclipsed by his postseason lows. Sharp had a real scoring drought, tying Bryan Bickell at 10 points for the postseason. Sharp is normally a tremendous player in the weeks leading up to the Cup Finals but this year seemed unsure of how to get his go back.
However, when we examine the facts, it is clear that Patrick Sharp might have had a rough patch during the postseason, but nowhere near what it would take for the Blackhawks to trade the right winger.
His stats remain strong.
Sharp was harshly criticized for poor performance during the series against Minnesota and the Kings. He was seemingly average against the Blues, and as he's not a superstar of the Kane and Toews level, though he is certainly beloved by fans, the media let his performance slide until reporters just couldn't help it anymore. To be fair, neither could we.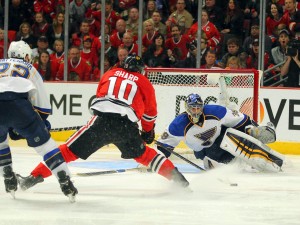 Despite our perception of Sharp's play, I will remind you that he tied Bickell in points, putting up more assists than Bicks but fewer goals. At the beginning of the postseason fans were calling the contract Bickell signed the year before a mistake for the Blackhawks since he was unable to produce during the regular season. His performance turned right around in the post, and papers and public opinion were once again on his side, calling him a postseason player and applauding the Blackhawks management for seeing what we had missed.
The question is: if 10 points in the post is good enough for Bickell, why would the Blackhawks get rid of Sharp, who tied Bickell in the post, more than quintupled his points in the regular season, and had a personal best season in points?
Sharp is 32, well beyond the age where forwards are supposed to have peaked, according to a study done by the University of British Columbia and has only improved his performance. It's pure speculation, but I cannot imagine that he will not continue to improve his game over the next year.
Contract talk
Sharp is in the final three years of a contract with the Blackhawks that contains a modified no-trade clause.
"We certainly know where his value is internally as well as externally," general manager Stan Bowman said in 2011, after signing Sharp for 5 years. "It's no secret teams would ask about Patrick all the time. They would say, 'What about Sharp? Would you trade him?' And the answer was always 'No,' so you know there is a lot of value there."
While it is possible that Sharp's no-trade clause is about to kick in and the Hawks might be looking around to see what they could get for him before the deadline, they would want serious quality in exchange for No. 10, and I'm not sure they could get someone comparable to him in so short a time.
If Sharp's value on-ice has only grown over the past 3 years (seriously, go look at his stats. They're insane) then why on earth would the Blackhawks want to get rid of him for a center they have no guarantee would work well with their team?
And why are we giving credence to random musings and speculations?