The Chicago Blackhawks are one of the NHL's "Original Six" teams. As such, Chicago has gone through many goalies in the history of the franchise — some memorable, and some not so memorable. For this list, the focus will be not just on the most memorable, but the absolute best. The cream of the crop.

When looking at the goalies of a team that is 91 years old, there are bound to be some disagreements. The Blackhawks have gone through 79 goalies in their history — while many have made their mark, three players stand above the pack. There are players who are legends in their own right for their play with other teams — players like Frank Brimsek and Dominik Hasek come to mind, among others. This list, however, will stick to players that made their mark with the Blackhawks.
You may also like:
An honorable mention goes to Ed Belfour, who played in Chicago for eight seasons and recorded a 2.65 goals-against average and a .903 save percentage.
#3 Corey Crawford
Corey Crawford may be one of the most controversial players that could have made this list. While many see him as the team's franchise goalie and one of the best in franchise history, there are also many vocal fans who have made their opinion of "Crow" known. With so many goalies to sift through in the history of the Blackhawks, Crawford made the list due to his strong resume over his career that includes the William M. Jennings trophy in 2012-13 and again in 2014-15, as well as two Stanley Cup victories in 2013 and 2015.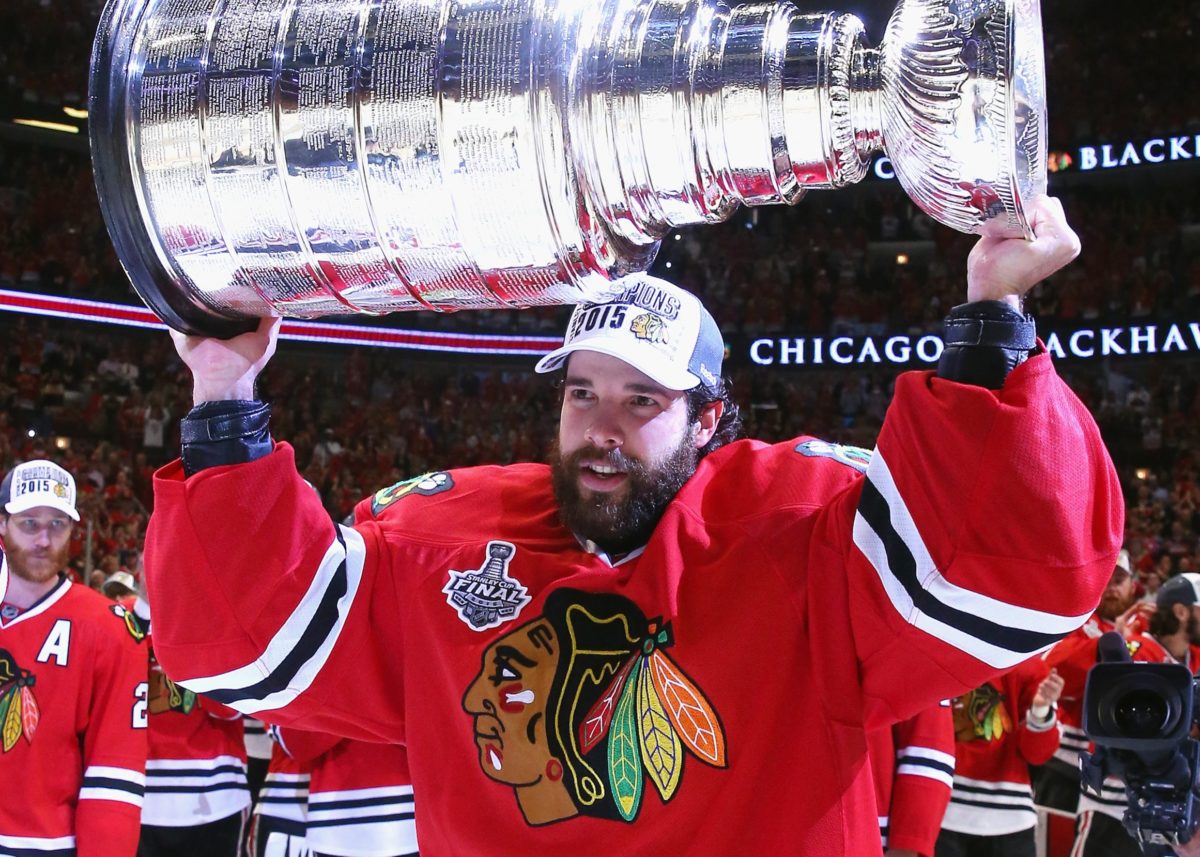 Crawford has solid numbers throughout his career. In 366 career games, the former second-round draft pick has compiled a record of 206-110-42 (at the time of writing). He's recorded a 2.37 goals-against average and a .918 save percentage — respectable totals given the tough competition year in and year out in the Central Division. In the end, it's Crawford's impressive playoff resume that has earned him a spot on this list. Winning in the NHL isn't easy. Winning in the playoffs is even harder. The hardest challenge for a team, however, comes during the Stanley Cup Final when all bets are off. Whatever happened during the preview 82 games and three playoff rounds ultimately means nothing at that point — and it's when Crawford has played some of his best hockey.
Related: Hockey Goalies: A Breed Apart
---
Latest News & Highlights
---
Crawford's best playoff performance came in 2012-13 when he played in a career-high 23 games, went 16-7 with only 46 goals against, and compiled a 1.84 goals-against average with a .932 save percentage. Overall, he's won gone 48-33 in the playoffs with a 2.26 goals-against average and a .920 save percentage. With two Stanley Cups under his belt, Crawford is one of the best Blackhawks goaltenders to ever lace up a pair of skates and man the crease.
#2 Tony Esposito
One of the most famous names in hockey history, Tony Esposito and his brother Phil will forever go down as two of the great players to ever play the game. From his very first season with Chicago, Esposito showed that he could be a star in the NHL, recording a 38-17-8 record with a 2.17 goals-against average. He also recorded a modern-day record 15 shutouts that season, giving the Blackhawks a glimpse of what was to come.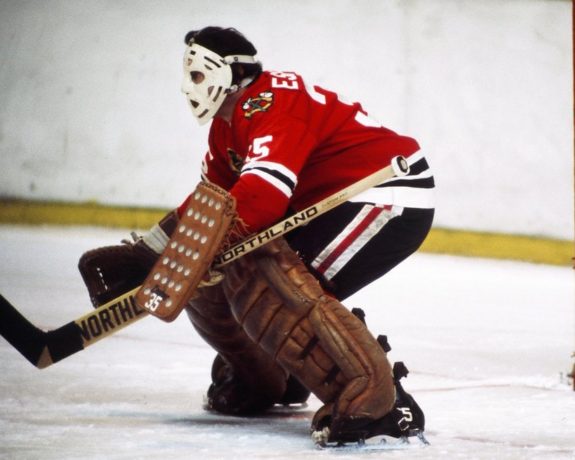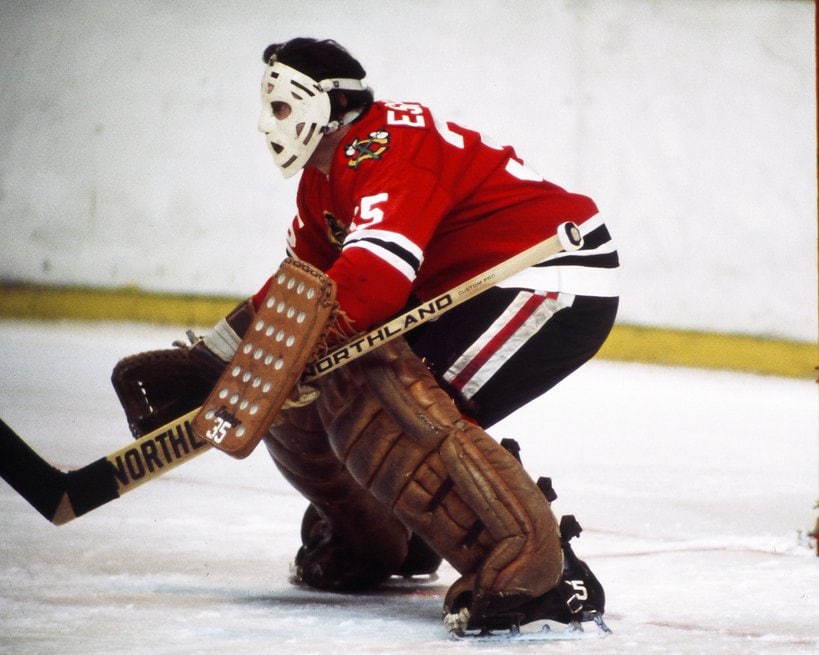 Esposito's efforts that season earned him the Calder Trophy, given annually to the NHL's best rookie — an award Esposito qualified for as he only played 13 games with the Montreal Canadiens the previous season, as well as the Vezina Trophy, given annually to the NHL's best goaltender. He became just the first rookie to win the Vezina Trophy since Frank Brimsek did so with the Boston Bruins in 1939. Esposito finished second in Hart Trophy voting that season, second only to Bobby Orr who scored 33 goals and 120 points with a plus-54 rating as a defenseman at just 21-years-old.
An Impressive Career With Multiple Accolades
Esposito went on to play for 15 seasons with the Blackhawks. He played in 873 games, compiling a 418-302-147 record with a 2.93 goals-against average. His best season came in 1971-72 when he played 48 games and compiled a record of 31-10-6 with a 1.77 goals-against average and nine shutouts. Esposito played in 99 games in the postseason with Chicago. His best playoff performance also came during the 1970-71 season when he went 11-7 with a 2.19 goals-against average and recorded two shutouts.
Esposito went on to finish in the top-10 of Hart Trophy voting eight times in his career (narrowly missing the cut in 1978-79 when he finished 11th in voting) and won the Vezina Trophy three times.
Despite never winning a Stanley Cup in a Blackhawk uniform, Esposito was the backstop for the team for over a decade and is one of the most recognizable names in history. He'll forever go down as one of the greatest Blackhawks ever — but there is still one goalie who will always be No. 1 in the hearts of Blackhawks fans.
#1 Glenn Hall
Glenn Hall. No Blackhawks goaltender list would be complete without Mr. Goalie himself. Hall played in 618 games with the Blackhawks over 10 seasons, recording a 275-229-106 record with a 2.60 goals-against average. One of the most impressive feats that Hall produced over his season was his string of seven consecutive seasons with at 70 games played from 1955 until 1962 (the first two of those seasons coming with the Detroit Red Wings). He also holds the record for most consecutive games started by a goaltender — setting the mark at a jaw-dropping 502 games and one that will likely never be broken. Hall also sits in fourth place all-time with an astounding 84 shutouts, behind only Martin Brodeur (125), Terry Sawchuk (103) and George Hainsworth (94).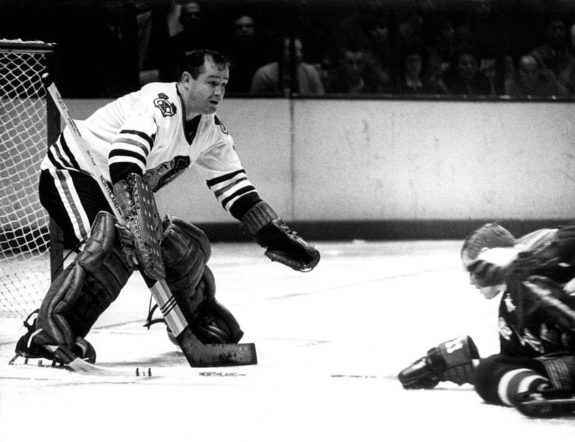 A three-time Stanley Cup champion — twice as a player (once with the Blackhawks) and once as a goaltenders coach with the Calgary Flames in 1989, Hall demonstrated the excellence that every franchise looks for in a player and in a goaltender. There are few players who were better than Hall during his playing time, regardless of position. This was evidenced by the fact that Hall finished in the top-10 of Hart Trophy voting eight times in his career, including seven times with the Blackhawks. Additionally, Hall was named to the All-Star game eight times in his 10 seasons in Chicago, five of which came on the First Team.
Conn Smythe Win the Perfect Summary of Mr. Goalie
Hall also won the Vezina Trophy three times in his career — twice with the Blackhawks, and once with the St. Louis Blues. Though this didn't come with the Blackhawks, it's still worth noting that Hall put on such a fantastic showing in the 1967-68 playoffs that he was named the Conn Smythe Trophy winner. This is impressive because the Conn Smythe is awarded annually to the best player in the playoffs — and it's almost never won by a player on the losing team of the Stanley Cup Final. Hall's Conn Smythe victory was the perfect testament to his career — an all-time great, regardless of wins or losses.
---
---