Many do not know it, but the city of Buffalo has its own first "royal family of hockey." No, they do not have the last name of Kane. Not the Folignos, nor the Marchants either. You would have to go even further back than that to see where its roots are laid. But to this day you can see the name emblazoned on a pro hockey jersey if you know where to look.
Before we go any further, we also must define what we mean by "royal" or "royalty" because it's not what you would think. This particular family is very much down to earth. They are warm and kindhearted, qualities not necessarily coinciding with the aristocracy.
They even took time before a Buffalo Beauts practice to be interviewed on a dark Friday night at a suburban hockey rink by the University at Buffalo. In this case, those quality human intangibles are exactly what make them royalty of a different sort. Being coachable, humble and appreciative are worth more than any kingly virtues.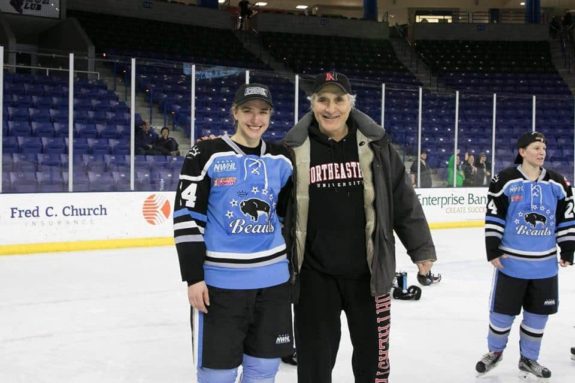 A retired professional hockey-playing father and a current professional hockey-playing daughter. The father wholeheartedly supporting his skillful daughter along her entire career.
Please be introduced to Peter Scamurra and his daughter Hayley Scamurra.
The First Boy From Buffalo in the NHL
Long before Patrick Kane, Ryan Miller, T.J. Oshie, or any other U.S.-born stars were around, very few Americans played in the NHL. In the 1970s there were roughly 20 at best, and that is still being generous.
Born in Buffalo in February of 1955, Peter Scamurra was a second-round draft pick of the Washington Capitals in the 1975 NHL draft. At 6 feet 3 inches, Scamurra was a strapping young defenseman when he played. He forged his hockey career playing junior in Ontario with the Peterborough Petes.
https://twitter.com/TravisScamurra/status/305374588957753344
While even longtime hockey historians may have forgotten Scamurra's name, he played with a slew of junior teammates in Peterborough who are well known: the pugnacious Stan Jonathan, hockey's "iron man" Doug Jarvis, and 14-year NHL goaltender Greg Millen. Scamurra and the Petes represented Canada at the 1974 World Junior Championships in Leningrad, Soviet Union and took home the bronze medal. He scored a goal during the five tournament games.
During the 1974-75 OHA season, Scamurra trailed only Doug Halward for Petes' scoring on defense. His 40 assists were seventh best on the team, and his 52 points in 62 games were top ten on the roster as well.
It is no wonder that the newly enfranchised Capitals selected Scamurra 19th overall in their second NHL draft.
A Four-Year NHL Career in Washington
Scamurra would play four years in the National Hockey League after being drafted and was the first Buffalo-born player to do so. He was asked what the significance of being the first means to him and what impact it may have had on the game. Scamurra shared these thoughts:
"Now, not so much. Because there's so many Americans playing, and it's so different. But back in '73 or '74 there weren't too many indoor rinks, let alone American hockey players in the National Hockey League. Growing up here (Buffalo), the thought of playing hockey in the National Hockey League wasn't really something that was going to happen. It wasn't a real dream that anybody had, I don't think. I suppose without being too braggadocious it probably had an effect on youth hockey in general. That they saw someone—an American, there were maybe 20 of us at that time in the NHL—could make it. I think it had some kind of effect."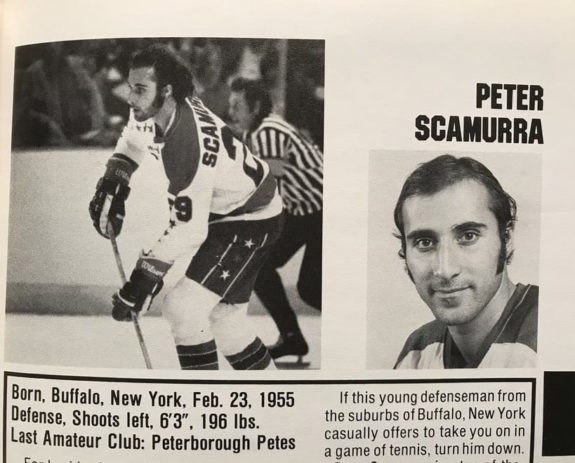 Scamurra played with the Capitals from the 1975-76 season through 1979-80. In that stretch he played in 132 games, scored eight goals and 25 assists for 33 career points. He would score his first NHL goal in only his second NHL game. In a 5-4 loss to the Philadelphia Flyers on Oct. 9, 1975, he beat Wayne Stephenson on the power play.
Hayley Scamurra Following in Her Father's Footsteps
Over 40 years later, daughter Hayley is now the professional hockey player. She's a darn good one too. The younger Scamurra is in the midst of her second season with the NWHL's Buffalo Beauts after a storied collegiate career at Northeastern University. She scored in her first major league game. Hayley played one regular season game for the Beauts during last year's championship run and beat Connecticut's Shenae Lundberg in the process. She would play in both of Buffalo's playoff games and had a goal and three assists in the process.
🚨🚨🚨 @HScamurra pots her 1st of the year and we're on top 3-0! #BUFvsCTW pic.twitter.com/nQqjYPpgJi

— Buffalo Beauts (@BuffaloBeauts) October 28, 2017
Asked what it means to him to have his daughter following his steps in the professional game, Peter shared the following:
"It means quite a bit really because she's put so much work and effort into it. Of course way back then she was playing with the boys. The thought of her playing even women's hockey was something that I wasn't even thinking about, or girls' youth hockey. Then when this (the NWHL) came along it was a total surprise to me. It's just a great situation for her because she still loves to play and she still works very hard. She enjoys playing and has fun doing it. And has a chance to continue using her skills and all those things she's developed over the years, and have fun doing it."
Daughter's Greatest Coach, Father's Greatest Pupil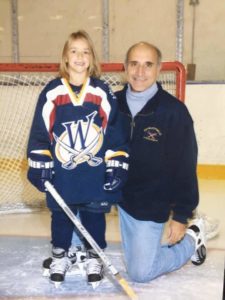 Peter Scamurra has been around the game of hockey a long time and he knows it better than most. During the Beauts summer free agent camp, Scamurra ran most of the drills on the ice with the newcomers and veterans alike. His knowledge and experience are further intangibles that make him a wealth of knowledge. Of all that he has tried to impart to his daughter, character comes first and foremost along with a key reminder.
"I've always stressed to her since she was five years old her first three steps," the elder Scamurra explained. "I'd say to Hayley, 'your first three steps have got to be the most important thing'. On the ice that's what we always talk about."
More importantly, he would go on to share, "I always stress to her to be a good teammate. To be positive, to have fun and to be very coachable. She is the most coachable kid I've ever coached and I've coached for 30 years. There were obviously more talented players, as I've coached kids that are now in the National Hockey League and so forth, but as far as being coachable, she's the most coachable. That's what I wanted her to be. I wanted her to have that enthusiasm to learn."
Hayley has certainly exuded those wishes, and you have done a tremendous job of teaching her, Mr. Scamurra.
"Hopefully it's helped her and I think she's having fun. Hopefully this league will keep going, and will get bigger and better, and help both youth hockey and women's hockey."
Immense Admiration for Her Father
Hayley Scamurra has a birthday coming up. She was born in December of 1994. Her father stopped playing the game after the 1980-81 season, which he had split between the AHL's Binghamton Whalers and SaiPa Lappeenranta of the Finnish SM-liiga. Peter's playing career was in a distant past by the time Hayley came around. So when did she realize that her dad had played in the National Hockey League?
"I realized it when he played in an alumni game," the younger Scamurra recalled. "I think I was nine or 10, and I thought it was really cool that he had been in the NHL at that point. I had my little wooden Koho stick and I had him sign it after the game, and I think it was the coolest thing ever. Still have that stick in the garage."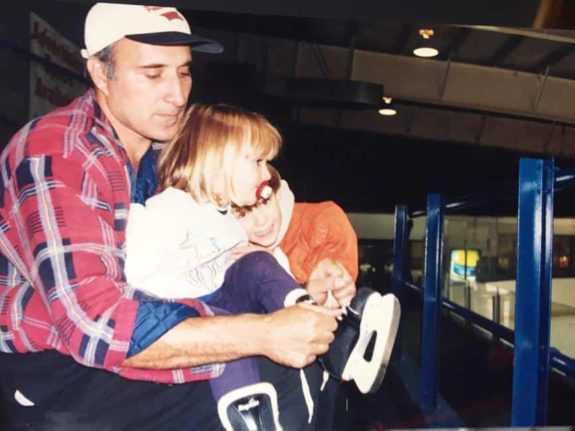 The young Scamurra was drafted by the Beauts in the 2016 NWHL draft. She was selected 10th overall, something she was quick to point out in a kidding manner with regards to her dad. There are not many daughters who are professional hockey players. There are even fewer—you can count them on one hand—whose fathers also played the pro game.
"It's really cool. It's an experience that I never thought we'd be able to share," Hayley stated. "I was drafted before him!" she further laughed, and her father confirmed with feigned chagrin, "She went higher than I did."
A Special Hockey Relationship That Has Blossomed in Adulthood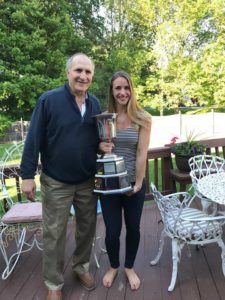 It is no stretch of the imagination to further add that Hayley Scamurra is one of the top athletes in women's professional hockey today. If you watch her on the ice, you will see that she is sleek and lithe but at the same time has an immense amount of strength. This is especially clear within both her stride and her positioning. Just a powerful, powerful player. Already she has a championship ring, and her role for the Beauts in the playoffs was paramount in bringing the Isobel Cup to Buffalo.
But in the backdrop, Peter Scamurra is always there. Oftentimes he proudly wears a Northeastern Huskies sweatshirt. He is always in the stands watching Hayley play. Whether it be a practice at a local rink or at the HarborCenter, Peter is always visible looking on with sincere admiration and love for his daughter. Something about beholding the image of him in the stands looking out onto the ice at her is simply perfect. The essence of hockey in a single image. A passing of the game from parent to child. In a way it invokes the motto of the Montreal Canadiens: "to you from failing hands we throw the torch, be yours to hold it high."
"All joking aside, it's really cool and we get to keep sharing the game we love together," Hayley said. "It's huge. He really helps me keep analyzing my game. Now we have more of a discussion about the games. It's not so much a one-way thing. Now I come in with my thoughts and we share it more. It's really nice."
One could not find a better family to bestow as Buffalo's first hockey family.
General Manager of the Buffalo Beauts (NWHL). Hockey history writer "The Hockey Writers". Credentialed media for the NHL Combine and 2018 IIHF World Junior Championships in Buffalo, NY, USA. Born and raised in Buffalo, NY. Lifelong hockey fan for over 40 years. Proponent of the women's game.