With the departure from the NWHL of the National Team players – who are training for the 2018 Winter Olympics – the opportunity has arisen for a handful of new players to make a name for themselves in season three and sprinkled throughout the Founding Four teams are plenty of rookies who have already had an impact over the first three games during the 2017-18 season.
One of those players is Emily Fluke from the Connecticut Whale, who starred at Middlebury College in Vermont from 2011-2015 (54 goals/115 points in 109 games). In the interim, Fluke stepped away from playing competitive hockey to focus on a career off the ice back home – but as many athletes will likely tell you, that competitive fire inside of you never dies.
For the 25-year-old Massachusetts-native, the game started to creep back into her life: she began playing in a women's rec league once a week, then coaching a U13 team, but at the end of the day she wanted more. She didn't want to be teaching the game, she wanted to be playing it at the highest level. And now she is, doing so back in Connecticut coincidently.
If you watched any of the first three Whale games this season you've surely noticed no. 11 on the ice. Whether it was assisting on a goal in the season opener, scoring the game-winning goal in her own backyard in Boston, or selflessly blocking a point shot after losing her stick during a penalty kill in week three – Fluke has found herself amidst of a lot of good things for her team which went through a major makeover this summer. She's seeing time on the top line, killing penalties, working on one of the power play units and you can see her game evolving as her confidence has grown.
With Connecticut at 1-2-0 through three games, there is room for improvement, but that's not to say they aren't doing a lot of things right. "The shots were 30-28. It doesn't look like a close game on the scoreboard (1-5) but we had a lot of chances and we just have to finish," said Fluke after losing to the Riveters on November 11. "Eliminate some of their odd-numbered rushes, pick up some of their sticks in front of the net. It's little things, not huge things that we have to make changes for; things we know we can work on."
Following her third game, The Hockey Writers spoke with Emily Fluke about how she found her way to the NWHL, what it was like to score her first pro goal in her hometown, and which Boston Bruins player is her favorite, among other topics.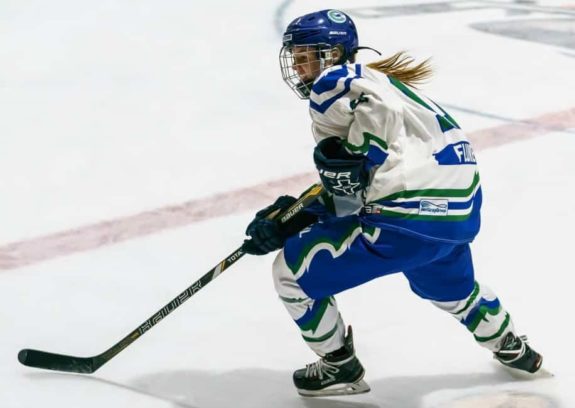 The Hockey Writers: How did all of this come about, did you attend one of the Free Agent Camps or did someone from the league or team reach out to you?
Emily Fluke: The first NWHL season Kelsie Fralick was one of the goalies for the Boston Pride, she played at Connecticut College and we played on the Polar Bears together. That's kind of how I found out about the league and I thought it was really cool! It sounded like something I'd like to do. At the time I was kind of just focusing on my career. I did go to the Free Agent Camp (in Massachusetts) this past offseason and things just kind of worked out.
*The Connecticut Polar Bears are a premier club hockey team, largely consisting of prep school hockey players at the older levels and the first all-girls ice hockey program in Connecticut.
THW: You live in Massachusetts so what's the commute been like for you with practices and games here in Connecticut?
EF: It's been a long commute, but fortunately my company has let me work out of our Greenwich (CT) office for half of the week; I work for First Republic Bank in the Wealth Management area. So I'll be in Boston on Monday and Tuesday, then I'll come down here for practice and stay with teammates for the rest of the week, which has been really nice. It's only really once a week that I'm going back and forth.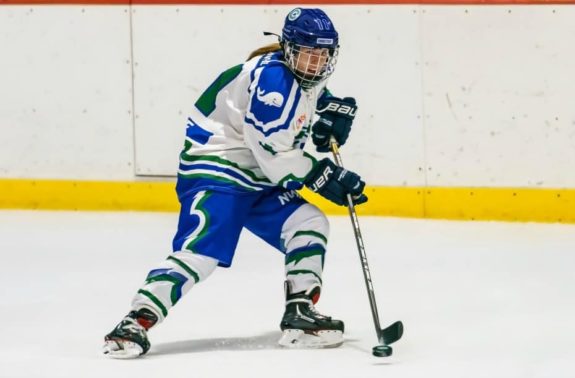 THW: Did you know any of the players on the Whale before you signed up?
EF: The only player I knew was Amanda Boulier, we (also) played Connecticut Polar Bears together growing up, so knew her coming into this. But that's it!
THW: You played at a D-III school, Middlebury College, have there been adjustments for you coming into this league like speed and things like that?
EF: Yeah the speed and physicality in general. It's just a different game – but it's fast-paced, fun; and I've really enjoyed it.
THW: Do you do any coaching on the side as well?
EF: I did. That's kind of how I got back into hockey. I was missing it, I played in a women's league on Sunday's and I just wanted a little bit more. So I got back to coaching and was doing U13 for the New England Pride. Even before I signed up for the camp I knew I wanted to play in the back of my head when I was out there coaching. I was like: I want to be on the ice, I don't want to be telling them what to do. I want to do it! That got me interested again and fortunately for me the guys I was coaching with worked out with me 3-4 days a week at the facility to get me into better shape.
📽️: After a close game last game agianst the Beauts, @FlukeEmily scores her first and the GWG. @TheBostonPride 1 @FreelanceWhales 2 pic.twitter.com/hU5qDfY6yn

— Women's Sports Highlights (@WSportHilites) November 7, 2017
THW: You scored your first NWHL goal in your second game — and it was the game-winner; what was that feeling like and do you have the puck?
EF: (laughs) I definitely have the puck and that is something I'm not going to lose! It was a really good feeling, obviously, we were able to get the win so that was even better – to be able to contribute to a win, that's always exciting. My family was there, all of my friends were there because I'm from Boston. They were all there freaking out, I was so excited. And to get the win, it was a great night. I still have the puck from my first college goal too.
THW: That has to be a great feeling waking up the next morning thinking about that game-winning goal and be like: yeah I got that GWG!
EF: Yeah, you look up on the dresser and there's that puck…I'm never gonna forget that one. Now it's just time to build on that, it was a super-high but we don't want to get too low after this loss (to the Riveters), and we don't want to get too high after a win. We have to move on to the next one, there are only 16 of these and every game matters.
That feeling when you score your first @NWHL goal (and it happens to be the game winner). Congrats, @FlukeEmily! pic.twitter.com/KbtmZ67pv7

— Connecticut Whale (@CTWhale_NWHL) November 5, 2017
THW: Is there any particular reason why you wear no. 11?
EF: Well I wore no. 11 in college, so when I saw that it was open here, I think I responded to coach Ryan Eqaule's email in like 15 seconds (laughs)! I was like: please let me have 11! I kept refreshing my email because I couldn't wait to see if it was confirmed! I was actually no. 12 in high school and that number was retired at Middlebury so I ended up with no. 11 and now this is my number.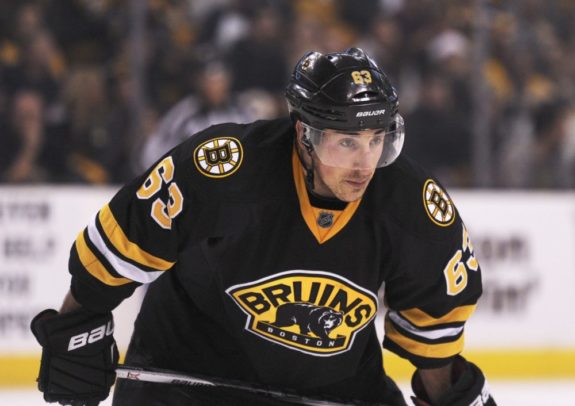 THW: Being from Boston we know you're a big Boston sports fan. So who are some of your favorite Bruins players?
EF: I'm a huge Bruins fan. I love Bobby Orr; I obviously never grew up watching him, but I've seen his games and highlights. He's from my town and I got to meet him one time, he's just the most humble guy I know. Ray Bourque is another one, I loved watching him play, he was a great offensive defenseman. Current players, I love Patrice Bergeron and Brad Marchand, I get compared to Marchand sometimes. Haha, I like the way he plays – scrappy, aggressive, that type of style of play.
Dan Rice is in his 9th year of reporting for THW & has covered NJ Devils home games for 15+ years at various websites. He began his journey working for legendary broadcaster/writer Stan Fischler from 2002-04 & completed an internship at the ECHL; he also has been writing features for the NWHL (nwhl.zone) website since 2016.