Finnish star and former Canadiens captain Saku Koivu was the centrepiece of the Montreal Canadiens for more than a decade. For many fans, he's the oldest captain they can remember.  On the surface, his stats seem average but no one can bear the weight of the captaincy in a market like this if you aren't a special player. Koivu's stay with the Habs will however mostly be remembered for what has happened off the ice rather than on it. The late 90's and early 2000's was arguably the darkest period in the Canadiens' 105-year history. Coaching change, GM change, ownership change, sub-par lineups, and poor drafting are the outlines of Saku Koivu's career in Montreal and that's to say nothing about his personal trials of injury and of course an illness that took everyone by surprise.
Saku Koivu in the Entry Draft
1993 – It all started on June 26th in Quebec City, the NHL was holding their annual entry draft. The Canadiens used their first round pick, 21st overall, and made Saku Koivu one of their own.  The announcement would be a sign of things to come.  "With their first pick, the Montreal Canadiens are proud to select Saku Q-vu." I don't know how that Q-vu guy did but Koivu finished 7th in his draft class for games played (1124) and 3rd in points (832).
 1995-96 – After playing 2 more years with TPS of the SM-Liiga, the 21-year-old jumped to the NHL. He played the full 82 games and finished with 20G and 25A for 45 points, 4th in rookie scoring. He would also see his first of many administration changes. GM Serge Savard and Coach Jacques Demers are shown the door after 5 games. Two former Habs who played for the 1970's dynasty would take over. Rejean Houle would assume GM duties and Mario Tremblay as Head Coach.  Their success as players would not translate.  The stubborn old-school coaching style of Tremblay would run Patrick Roy out of town.  The Habs would make it to the playoffs, losing in the first round in 5 games.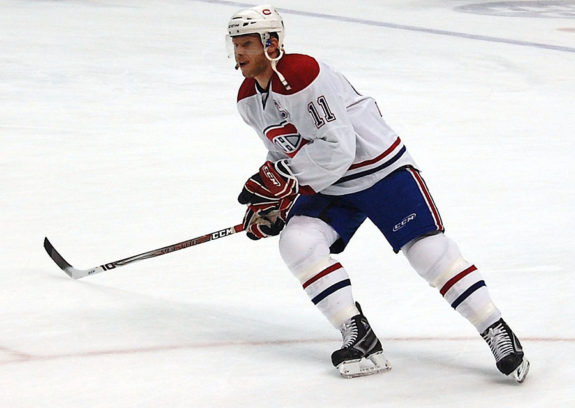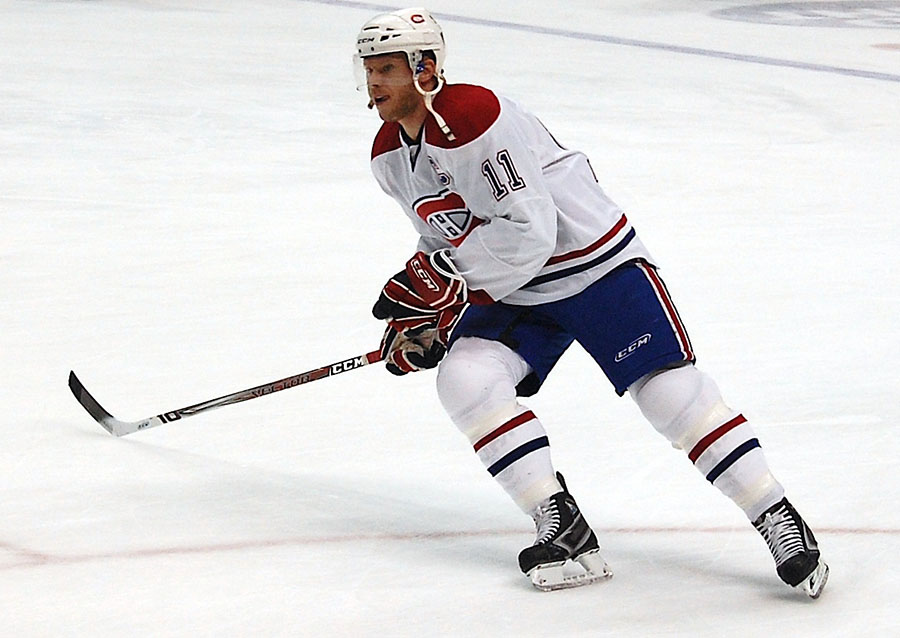 1996-97 – Koivu starts the season on fire and leads the league in scoring when he suffered his first major setback.  On December 7th 1996, a knee injury would put him on the sidelines for 32 games. He returned at the end of the season and participated in the Stanley Cup playoffs. The Habs would lose the first round in 6 games.
Saku Koivu Returns to the NHL
1997-98 – Saku would start the season under a new coach. Mario Tremblay was fired after 2 seasons and was replaced by Alain Vigneault.  Koivu's knees would still annoy him. He would end the season with 57 points in 69 games.  The Habs would make it to the second round for the first time in Koivu's career but again his knees would keep him from participating in every game.  But he made each game count with 5 points in 6 games.
1999-00 – On September 30th 1999, Saku Koivu was offered the captaincy and gladly accepted. He would become the 27th captain in Canadiens' history and the first ever European born player to wear the 'C'.  Being captain elevates you to legendary status in Montreal. A superhero among men but reality came crashing down on Saku. He suffered a dislocated shoulder early in his first season as captain. Almost immediately after returning from his shoulder injury, his left knee gave out again. He would only play 24 games that year scoring 21 points.  The Habs would miss the playoffs for the first time in Koivu's career.  Coaching staff would again change. Alain Vigneault was fired after the season and Michel Therrien took over as bench boss.
2000-01 – The lack of success was taking its toll on the organization and its fans.  Team President Ronald Corey was fired and replaced by Pierre Boivin.  GM Rejean Houle was replaced by Andre Savard.  Koivu's knees would still be a problem.  He opted to get arthroscopic surgery on his left knee. The 2000-01 season was another short one for Koivu who only played 54 games, scoring 47 points. The Habs would miss the playoffs for the second year in a row.
Habs' Financial Struggles
2001-02 – Poor performance of both the Canadiens and the Canadian dollar before the cap era put the Habs in a dire situation financially. The Molson company announced on January 31st 2001 that they would sell 80,1% of the shares of the club and 100% shares of the then Molson Centre to the Gillett family. But that was an afterthought for Koivu then. Tragedy had struck on a personal level. Saku Koivu was diagnosed with Burkitt's lymphoma, a cancer of the Lymphatic system. Right away support poured from fans. Thousands of letters and e-mails were sent wishing Koivu well. It was expected that his treatment would keep him out of the line up for the entire season. Above all expectations, Koivu cemented his reputation as a warrior. In game number 80 of the season, on April 9th 2002, Saku Koivu came back to play in what has now become one of the organization's most memorable moments.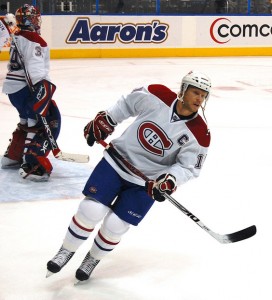 As if written for television, Koivu and his 8th seed team would face the arch-rival, and Conference-leading Boston Bruins in the playoffs that year. Koivu would score 7 points in 6 games to eliminate the Bruins and advance to the second round. The NHL would award him the Bill Masterton trophy at the end of the season.
2002-03 – Saku Koivu would finally play an entire 82-game season, his first since his rookie year. He would put up 71 points, 21G and 50A. Unfortunately this was a losing effort. The Canadiens missed the playoffs, finishing 10th in the Conference. Coach Michel Therrien would be fired and Claude Julien would now coach the Habs.
2003-04 –The season would start with yet another change in direction. Canadiens' GM Andre Savard was let go. Former captain and Habs legend Bob Gainey would seat in the GM's office. Knee problems are still bothering Saku, keeping him to 68 games. He would return to the playoffs that year scoring 11 points in 11 games.
Saku Koivu Post-Lockout
2005-06 – After playing for his father's team in Finland during the lock-out, Saku Koivu returned to the Canadiens for the 2005-06 season. Injuries would once again keep him from playing a full season.In 72 games, Koivu put up 62 points. Koivu would welcome his 6th coach in 10 years. Claude Julien was dismissed by GM Bob Gainey who would assume Interim Coach duties.On April 26, 2006, Koivu would again run into some bad luck, during a home playoff game against the Carolina Hurricanes, Forward Justin Williams attempted to lift Koivu's stick but instead struck him in the eye. Koivu immediately folded in half; both hands to his face and started to skate towards his bench. Of his own account, he thought he had gone blind right then and there. Koivu was rushed to the hospital and would miss the rest of the playoffs. Koivu underwent surgery to repair his detached retina during the off-season.
Koivu later stated to have lost some of his peripheral vision out of the injured eye which will likely never come back.
 2006-07 – In true Saku Koivu fashion, the Finnish captain came back to his team and this time would play 81 games. Under new coach, former Habs captain and shutdown centre Guy Carbonneau, he would also put up his career best 75 points that year. On January 9th 2007, Koivu would score his 500th point in front of a sold out Bell Centre crowd.
2007-08 – Played 77 games for the Habs scoring 56 points. He led the Canadiens to the playoffs for the 8th time in his 13 year career.  Scoring 9 points in 7 games.
The End of Saku Koivu's Habs Career
2008-09 – Saku scored his 600th point as a Habs in October 2008. However, the writing was on the wall for Saku Koivu. The Canadiens were in the middle of their centennial celebrations and bringing up the glorious past shed light on how mediocre the present was. Koivu was in his 9th season as captain, a feat only shared with Jean Beliveau. Many fans and observers were thinking that he shouldn't pass the great Beliveau on that list.  Koivu's contract was up at the end of the season. Management let him know that they wouldn't re-sign him. After 14 seasons with the Montreal Canadiens, playing 792 games, scoring 191 goals and 450 assists. Saku Koivu signed with the Anaheim Ducks, hoping to win a cup with his friend and fellow Finn, Teemu Selanne.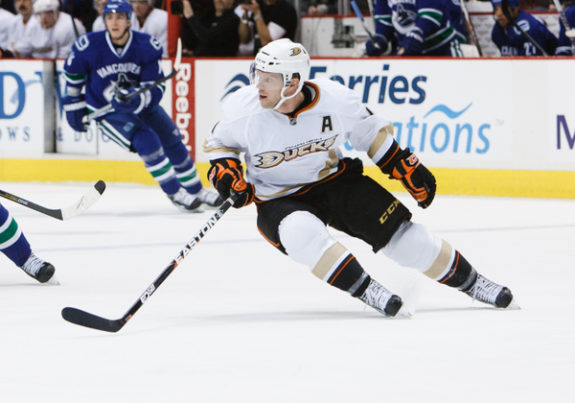 Looking Back at Saku Koivu
In a different era, Koivu would've known a lot more success as a Hab. He faced more adversity than any other captain in Canadiens history. From chronic mismanagement of the organization, to injuries, to cancer, to the frustrations of fans who wanted a winning team, he never stopped working. He always showed up to the best he could. He came to Montreal a pink-faced 21-year-old and left a 35-year-old, scarred, leather faced veteran. He gave so much of himself to the team, to the people of Montreal, to the sport of Hockey. He never got to put his name on the Stanley Cup as a player but most of all, everything he did for Montreal's General Hospital through the Saku Koivu foundation more than makes up for it.  He will never have his jersey in the rafters but he will never be forgotten by a whole generation of Habs fans.
Merci, Saku.
This article was originally published in December, 2014.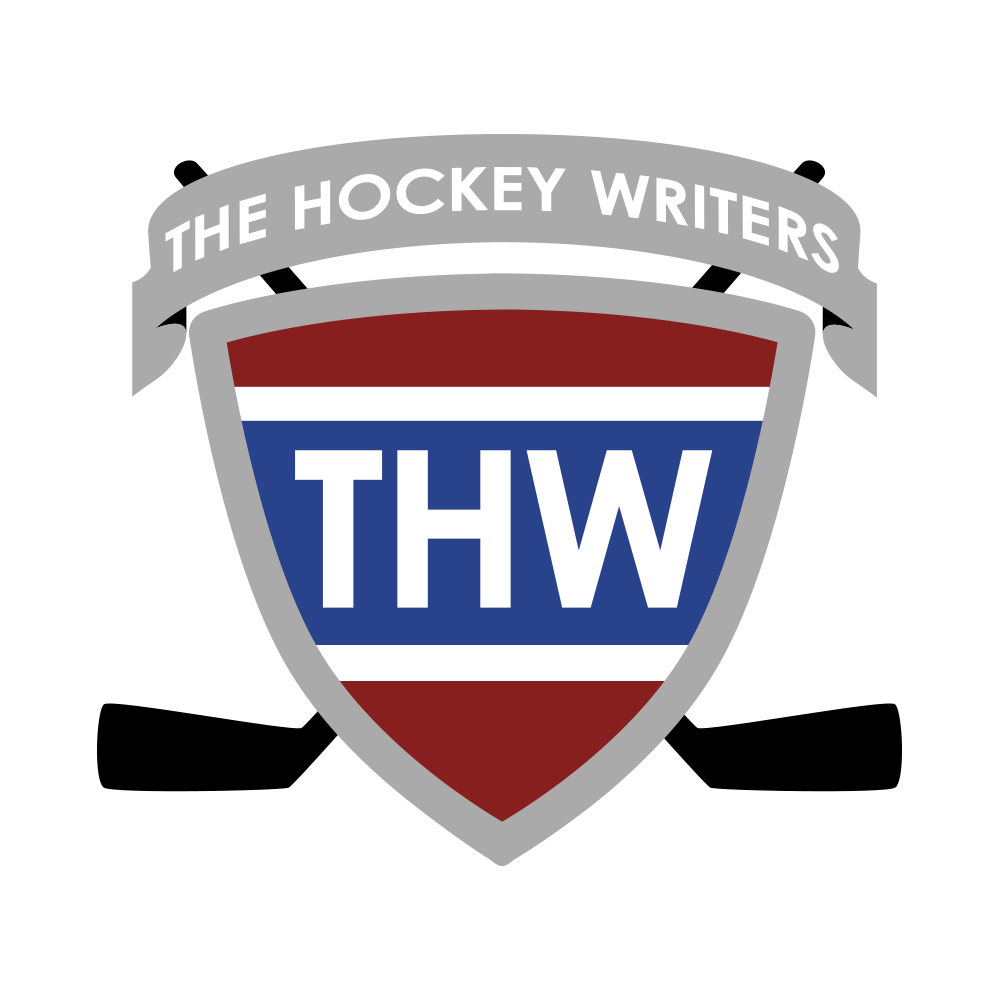 The Hockey Writers is:
1) A top-tier hockey media company delivering a top-notch, in-depth look at the NHL
2) A collective of some of the best hockey writers anywhere
3) A multimedia provider with daily podcasts and YouTube shows
4) Well-respected and widely-cited NHL prospect and draft resource