There are six Ivy League schools with Division 1 hockey programs – Brown, Cornell, Dartmouth, Harvard, Princeton, and Yale. Together, three of those schools have a combined four NCAA tournament championships with Cornell having won twice.
Unlike other Division 1 programs, Ivy Leagues do not allow athletic scholarships. Instead, athletes are forced to pay out of pocket or apply for financial aid just like non student-athletes have to do. That results in a weaker recruiting class putting them at a disadvantage compared to other programs.
Regardless of their inability to grant scholarships, many NHL players have been drawn to the prestige of playing collegiate hockey while receiving a world-class education.
Here is a list of players from the past and present who make up the list of the best Ivy League NHL players of all time.
Best Ivy League NHL Players #1: Matt Moulson (Cornell University), LW
Moulson played minor and junior hockey in Ontario before moving on to college hockey where he played for the Big Red program in Ithaca, New York.
After his first season with Cornell, he was selected 263rd overall in the 2003 NHL draft by the Pittsburgh Penguins. He graduated from Cornell in 2006 and signed with the Los Angeles Kings as a free agent just three months later.
Moulson didn't make his NHL debut until November 2nd, 2007 but scored his first NHL goal in the 5-2 victory over the San Jose Sharks.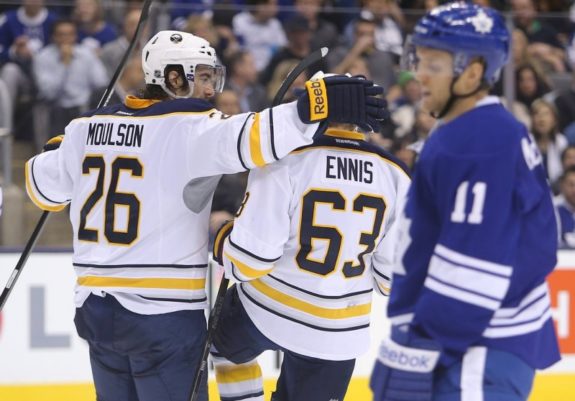 In 2009, he signed with the New York Islanders and found instant chemistry with John Tavares. He posted three consecutive 30-goal seasons before being traded to the Buffalo Sabres just 11 games into the 2013-14 season. A little over five months later, another trade would send him west to Minnesota where he spent the remainder of the season playing for the Wild.
Moulson returned to the Sabres this past summer as a free agent when he signed a five-year contract worth $25 million.
In 441 NHL games, Moulson has scored 148 goals and 147 assists for 295 points.
Best Ivy League NHL Players #2: Joe Nieuwendyk (Cornell University), C
Nieuwendyk won three Stanley Cups, an Olympic Gold medal in 2002, and was inducted into the Hockey Hall of Fame in 2011. He was also general manager of the Dallas Stars, whom he won a Stanley Cup with in 1999, from 2009 to 2013. He currently works with the Carolina Hurricanes as a scout.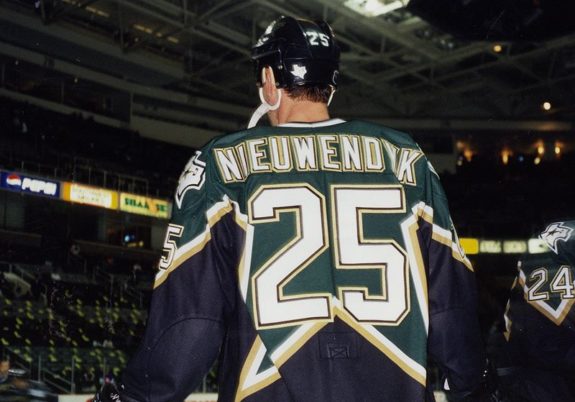 Hockey and lacrosse were Nieuwendyk's two passions growing up. Some say he was better at lacrosse than he was at hockey.
Undrafted out of junior B, Nieuwendyk enrolled at Cornell University to play hockey and lacrosse.
After being drafted by the Calgary Flames in the second round of the 1985 NHL draft, Nieuwendyk decided to quit lacrosse to focus full-time on hockey. The decision would pay off and he was a finalist for the 1987 Hobey Baker Award.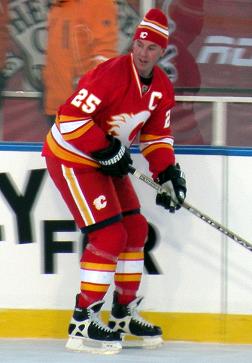 Nieuwendyk scored his first NHL goal in his professional debut on March 10th, 1987, against the Washington Capitals. He ended the season with five goals and six points in nine games. He added four more points in six playoff games. Nieuwendyk spent the next eight seasons playing for the Flames, winning his first Stanley Cup in 1989.
A contract dispute with the Flames would close the chapter on his time with the franchise and on December 19th, 1995, the Flames traded him to the Dallas Stars for Jarome Iginla and Corey Millen.
The Stars thought Nieuwendyk could help them win their first Stanley Cup and he delivered in 1999 with six playoff game winners and a Conn Smythe Trophy as the most valuable player of the playoffs. Injuries would limit his play for the next three seasons with the Stars and he was traded to the New Jersey Devils in 2002.
While with the Devils, Nieuwendyk scored his 500th career goal and 1,000th career point within one month of each other. Even though he was injured when the Devils won the Stanley Cup in 2003, Nieuwendyk captured his third career Cup win.
Over the next four years, he played 144 more NHL games in three seasons with the Toronto Maple Leafs and Florida Panthers before announcing his retirement on December 7th, 2006.
Nieuwendyk has 1,126 points in 1,257 games. The Flames retired his jersey number in 2014.
Best Ivy League NHL Players #3: Hobey Baker (Princeton University), RW
Baker was an early pioneer of the sport decades before players even dreamed of multimillion dollar contracts. His life was cut short but his name will forever echo through hockey's eternity. He was one of nine people inducted into the Hockey Hall of Fame's first class and an annual award named in his honor is given to the best NCAA hockey player every spring.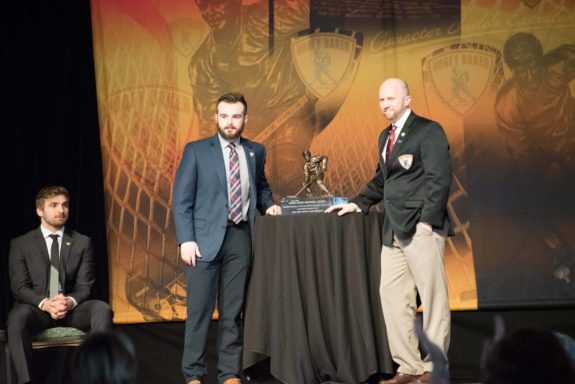 Even though he never played in the NHL, he was still considered one of the best American players and historians estimated he averaged three goals and three assists per game while at Princeton.
Baker was tragically killed in a plane crash in 1918. In 1921, Princeton named its new hockey arena after their famed hero.
Best Ivy League NHL Players #4: Douglas Murray (Cornell University), LD
No one knows the true story of why Murray was given the nickname of Crankshaft but he doesn't mind it. The name alludes to his physical style of play that helped him be successful in the world's top hockey league for nine seasons.
Before becoming an NHL player, Murray spent four years as part of the Big Red hockey program. He was twice named first-team All-American and was one of ten players nominated for the Hobey Baker Award in 2003.
In 2010, the Sporting News named him one of the smartest athletes.
In addition to playing for three NHL teams, he has represented Sweden in two international tournaments, the 2008 World Championship and the 2010 Olympics.
In 518 career NHL games, he has 64 points but it's his bone-crushing hits that Murray will always be remembered for.
Best Ivy League NHL Players #5: Ben Lovejoy (Dartmouth College), RD
Even though the Montreal Canadiens offered him a contract to play professional hockey in 2006, Lovejoy decided that it would be best for his future if he remained in college and graduate.
His college hockey career started off with Boston College but after one season he was looking for a fresh start and the Hanover native thought Dartmouth would be the best option for him.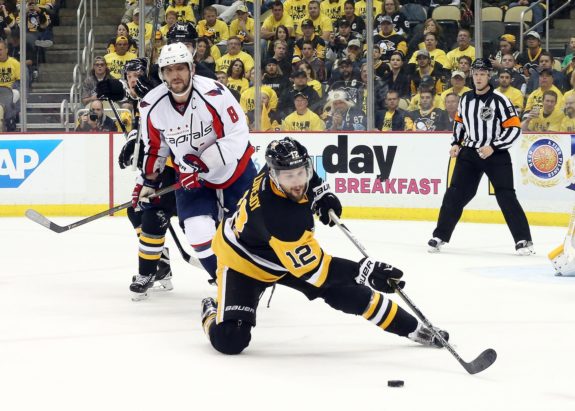 Per NCAA rules, he had to sit out one full season before he was allowed to play for Dartmouth. His transition from Hockey East to the ECAC proved to be the right call and in his first year at his new school he more than doubled his points total from the year before. His scoring would only increase as each year passed and in his final season he scored seven goals and 16 assists from the blue line.
Lovejoy made his professional debut for the Norfolk Admirals in 2007 and appeared in five games for the team.
He would spend another year in the AHL, this time with the Wilkes-Barre/Scranton Penguins, before signing with its parent club, the Pittsburgh Penguins in 2008. Exactly five months after signing his first NHL contract, Lovejoy was recalled to Pittsburgh to replace Hal Gill.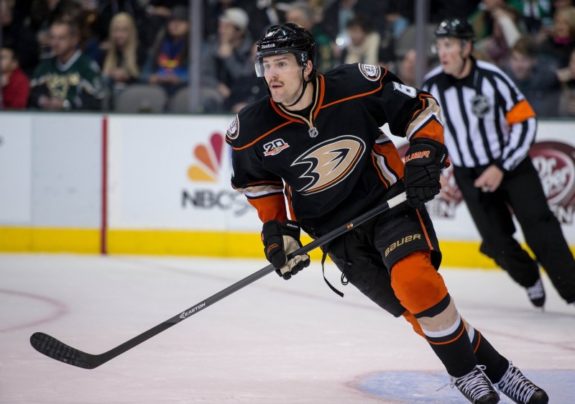 The Penguins' surplus of defenders meant Lovejoy was expendable and in 2013 he was traded to the Anaheim Ducks where he is currently playing.
Best Ivy League NHL Players #6: Ken Dryden (Cornell University), G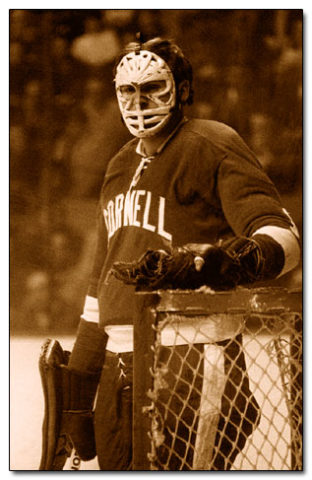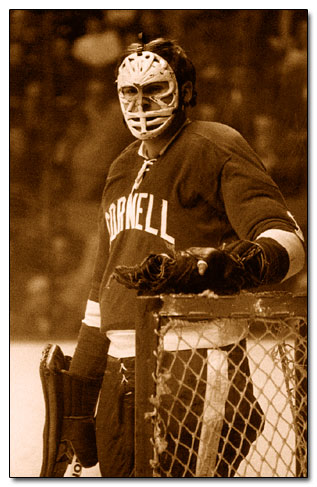 Dryden was drafted 14th overall in 1964 NHL draft by the Boston Bruins but traded, on the same day, to the Montreal Canadiens. Rather than playing professional hockey, Dryden decided to enroll in college and play hockey for the Big Red program where he helped lead the team to its first ever NCAA championship in 1967.
He joined the Canadiens as they were about to embark on their playoff run and after six regular season games Dryden earned the starting goalie position. The Canadiens made the right choice by going with their hot hand and Dryden led the team to its 1971 Stanley Cup victory as well as being named the most valuable player of the playoffs.
The next year, he won the Calder Trophy as the league's best rookie. His six regular season games from the year before meant that he was still technically a rookie even though he had a long and successful playoff run.
Over his seven-year career, he won the Vezina five times, the Stanley Cup six times, as well as his Conn Smythe from 1971 and Calder Trophy from 1972.
He was inducted into the Hall of Fame in 1983 and the Canadiens retired his jersey number in 2007.
This article was originally published in January, 2015.