It is difficult to score in the NHL. Not exactly breaking news. That's why only eight players —  Connor McDavid, Leon Draisaitl, Johnny Gaudreau, Jonathan Huberdeau, Kirill Kaprizov, Auston Matthews, Steven Stamkos, and Matthew Tkachuk reached the 100-point mark in 2021-22. That doesn't seem like many players, and it's not compared to the 1981-82 season when 13 reached the century mark, but it's still the most since 12 did so in 1995-96.
In general, those who score 100 points are in or near their peak years. A University of British Columbia study found that forwards peak at 28 but are within 90 percent of their peaks until age 32. Afterward, a significant decline occurs that continues as their careers progress.
---
---
In 2021-22, only Stamkos was beyond 32 years of age and hit the century mark. In 2009-10, three of four were younger than their peak ages with only 29-year-old Henrik Sedin beyond his peak. Yet he was still in his 20s. Finally, for the 1981-82 season, Marcel Dionne was the only player past his peak of the 13. This article is about players beyond their peaks who have scored 100-plus points in a season.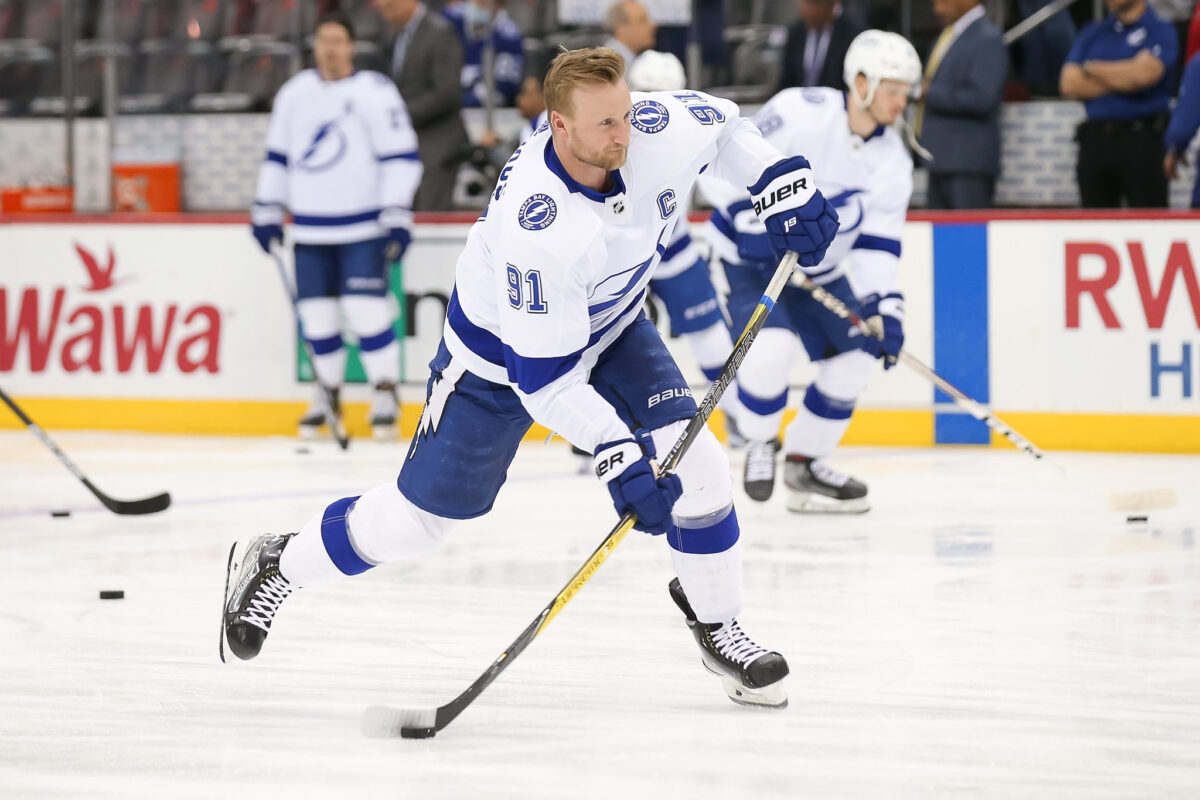 In NHL history, there have been 26 players with at least 100 points in their age-30 or older seasons. These are the 10 oldest players to achieve said feat and the facts that made their seasons monumental.
Notes: A player's age is based on how old he was on Feb. 1 of that season.
T-10. 1995-96 Ron Francis – 32 Years Old
Stats: 77 Games Played (GP), 27 Goals (G), 92 Assists (A), 119 Points (P), 1.19 Assists Per Game (A/G), 1.66 Points Per Game (P/G)
With a March 1 birthday, Ron Francis played part of the 1995-96 campaign as a 33-year-old but is listed as a 32-year-old. He finished the season with a second place Selke Trophy finish and tied fellow Pittsburgh Penguin Mario Lemieux for the league lead in assists with 92, also a career-high. His 92 assists tie him with Wayne Gretzky for the most in a season by a player 32 or older.
---
Latest News & Highlights
---
Furthermore, he had career highs with: 1.19 A/G, 1.55 P/G, 9.3 Offensive Point Shares (OPS), and 10.5 Overall Point Shares (PS). In addition to assists, Francis was top-five in assists per game and among the five, only he and Lemieux were 30 or older.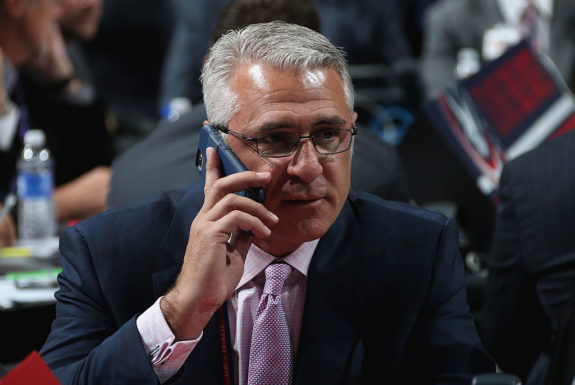 Francis had 58 games with a point, which tied for 10th-most in the league but only third on the Penguins as Jaromir Jagr and Lemieux both had more. It's a similar situation with multi-point games as Francis had 34 of them, fifth-most in the NHL, but still behind Jagr and Lemieux. Between March 3 and 30, he had a 12-game point streak during which he scored two goals and totaled 22 points. His streak coincided with Jagr having a six-game streak and Lemieux having six- and four-game streaks at the same time.
Francis never went more than three consecutive games without a point and waited until Feb. 3 for that streak to occur. In 11 playoff games, he added three goals and nine points as the Penguins reached the Conference Finals.
T-10. 1974-75 Phil Esposito – 32 Years Old
Stats: 79 GP, 61 G, 66 A, 127 P, 30 Even Strength Goals (EVG), 27 Power Play Goals (PPG), 8 Game-Winning Goals (GWG), 52 Goals Created (GC), 4 Hat Tricks, .77 Goals Per Game (G/G)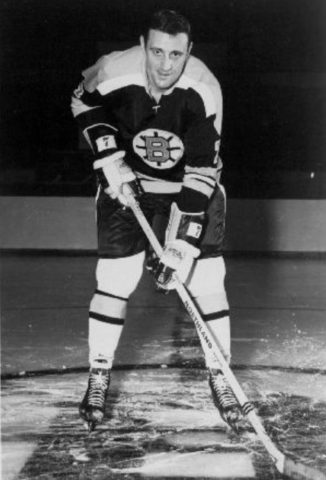 As a late February birthday, Phil Esposito was even closer to turning 33 than Francis was. The 1974-75 season was Esposito's last full one with the Boston Bruins before he was traded to the New York Rangers. It was also the last of his six straight goal scoring titles on a roster that included Bobby Orr and Johnny Bucyk. By scoring 61 goals, he broke his own record for the oldest player to score 60-plus goals in history.
Esposito led the league in goals, power play goals, hat tricks, goals created, and goals per game and was second only to Orr in points. He was also named an all-star for the eighth consecutive year.
He registered a point in 59 of 79 games and had two or more points in 36 games. He had two eight-game point streaks. One between Oct. 17 and Nov. 3 when he had 11 goals and 18 points and another between Dec. 10 and 22 when he accumulated 13 goals and 27 points.
He was especially tough against the eventual Stanley Cup-winning Philadelphia Flyers and the playoff-bound Rangers. In four games versus the Flyers, Esposito had eight points and in three against the Rangers, 11 points. He accomplished all of this while being the second-oldest forward on the Bruins roster behind only Bucyk at 39.
9. 2005-06 Daniel Alfredsson – 33 Years Old
Stats: 77 GP, 43 G, 60 A, 103 P, 22 EVG, 16 PPG, 8 GWG, 5 SHG, 1.34 P/G
The 2005-06 season was Daniel Alfredsson's best and by a sizable margin. His 43 goals broke his career best by three and it was his only time as a 100-point player. It was also his only all-star season and the only in which he finished top-five in MVP voting.
It's fitting that Alfredsson's best season occurred simultaneously with the Ottawa Senators tying for the most points in franchise history. Also on that team were the newly-acquired Dany Heatley and Jason Spezza, both with 90-plus points each and 25 or younger. Alfredsson thrived with Heatley and Spezza even as the third-oldest player on the roster behind Dominik Hasek and Bryan Smolinski.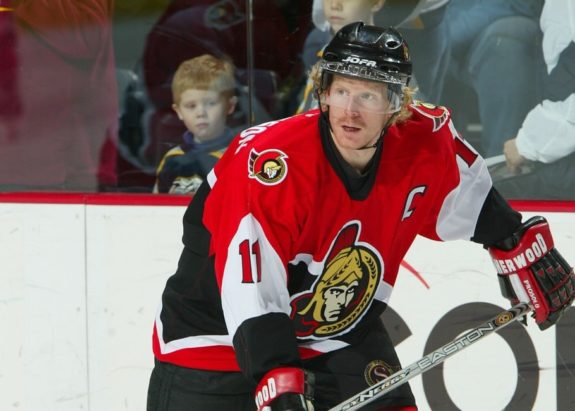 Although he didn't outright lead his team in points, he was top-10 in the league in goals, assists, points, shorthanded goals, and points per game. He tallied a point in 55 games and had the third-most multi-point games with 32. When he had a point, the Senators went 44-6-5 and 6-12-4 when he was kept off the scoresheet. Ottawa's 44 wins when Alfredsson had a point were second-most in the NHL after their 48 when Heatley had a point.
In the Senators' march to a division title, Alfredsson was dominant against quality Eastern Conference teams. He had 14 points in eight games against the Buffalo Sabres, including six in a Nov. 2 game, and 17 points in eight versus the Toronto Maple Leafs. His 14 points were the most against the Sabres by any player that season.
8. 2005-06 Jaromir Jagr – 33 Years Old
Stats: 82 GP, 54 G, 69 A, 123 P, 30 EVG, 24 PPG, 9 GWG, 1.50 P/G
In 2005-06, the consistently age-defying Jaromir Jagr had his fifth and final 100-point campaign and his first in three seasons. It was also his last all-star season and his final occurrence as a Hart Trophy finalist. Although he finished second in Hart voting, he was awarded the Lester B. Pearson Award, the predecessor to the Ted Lindsay Award. His 54 goals were the second-most of his career and, along with his 123 points, remain a Rangers' record for an individual season.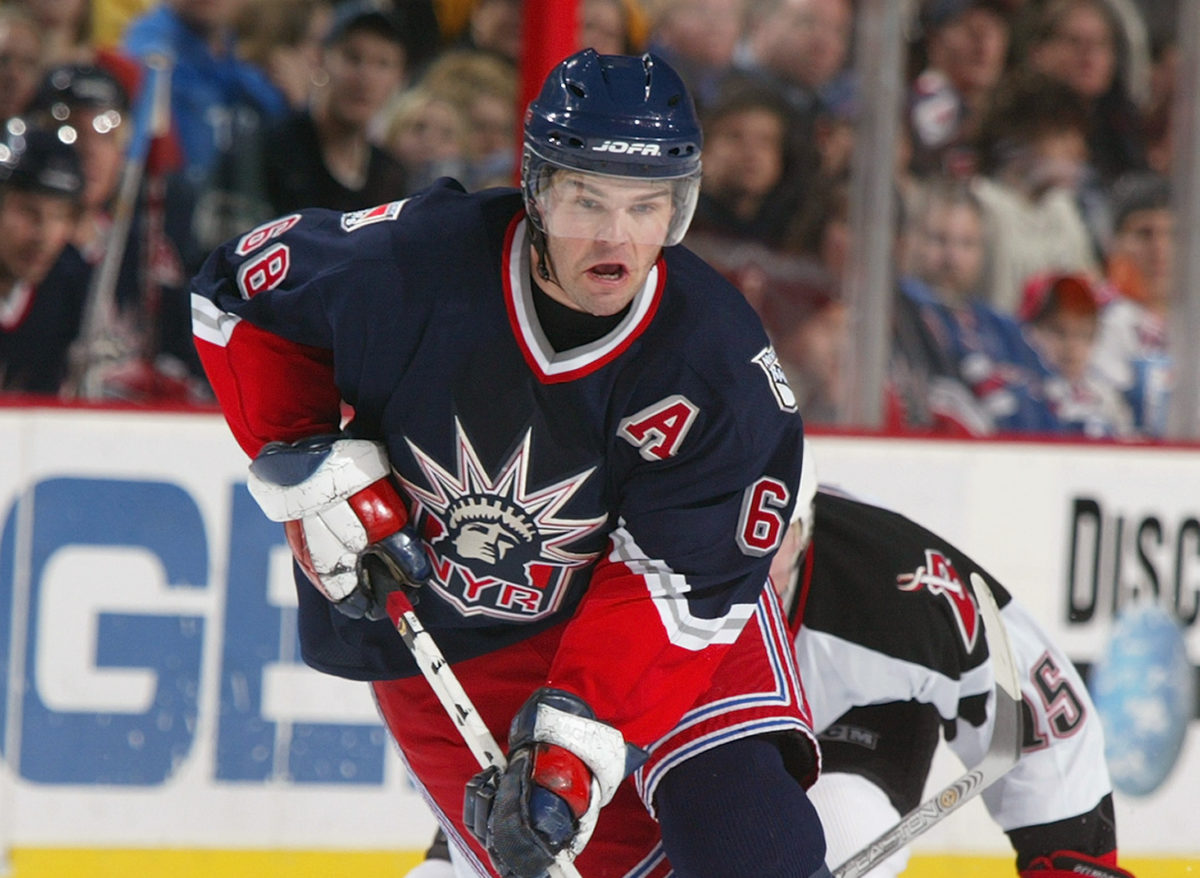 He led the league with .58 goals created per game and 12.1 OPS. He finished second in the league in goals and points, third in assists, and top-five in even strength, power play, and game-winning goals. He also led the Rangers by 24 goals, 13 assists, and 44 points.
His 64 games with a point were third-most in the league while he was first with 37 multi-point games. The Rangers followed Jagr's lead as 38 of the team's 44 wins occurred when he recorded a point.
RELATED: Jaromir Jagr – In Quotations
During the season, he had two 12-game point streaks. The first occurred between Oct. 10 and Nov. 5 when he had 12 goals and 19 points. The second took place between March 12 and April 4 when he had nine goals and 23 points. He went pointless in back-to-back games once in games 60 and 61. In eight games against the Flyers, Jagr had nine goals and 15 points, the most against them that season.
7. 1984-85 Marcel Dionne – 33 Years Old
Stats: 80 GP, 46 G, 80 A, 126 P, 29 EVG, 16 PPG
Marcel Dionne was the league's best goal scorer during the 1970's and 80's. His 14 seasons with at least 30 goals tie for the third-most in history and his 731 goals remain the fifth-highest total. Although he was 33 during the 1984-85 season, his 80 assists were the second most of his career and led the Los Angeles Kings.
RELATED: The Kings' Triple Crown Line
He also led the team in points, power play goals, and point shares and his 46 goals tied for the team lead with Bernie Nicholls, 10 years Dionne's junior. Additionally, he was top-five in the league with 46.4 GC, 1.00 A/G, and 1.58 P/G. He was the only player in the top-five of each category who was 30 or older.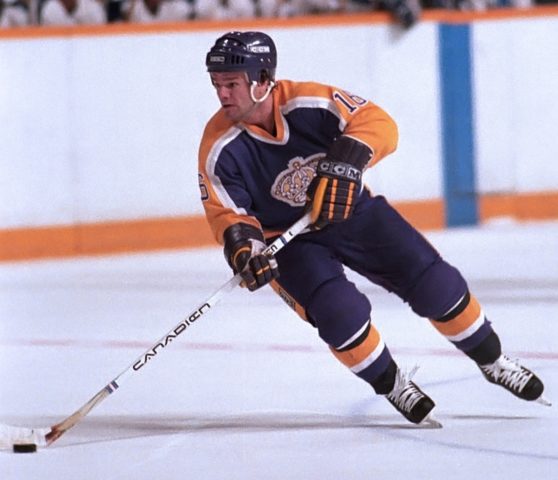 He had 62 games in which he registered a point and 37 with two or more points. Between Dec. 8 and Jan. 7, he had a 14-game point streak during which he netted 11 goals and totaled 24 points. Against the Edmonton Oilers, winners of the 1985 Stanley Cup, Dionne had five goals and 14 points in eight games.
6. 1993-94 Wayne Gretzky – 33 Years Old
Stats: 81 GP, 38 G, 92 A, 130 P, 20 EVG, 20 PPG
Wayne Gretzky's 1993-94 season was a monumental one for him as he tied and passed Gordie Howe on the all-time goals list. But it was also his last with elite production as he won his 10th and final Art Ross Trophy, his fourth Lady Byng Trophy, and was named to the second all-star team. He led the Kings by 44 assists and 44 points and was six goals behind Luc Robitaille for the team lead.
He also led the NHL in assists and points by eight and 10, respectively, as well as assists per game and points per game. He was also top-five with 45.8 GC and 11.0 OPS. He had 60 games with a point and led the league with 41 multi-point games. Playing on a Kings team that only won 27 games, the team had a 25-27-8 record when he had a point. The 27 losses when Gretzky was on the scoresheet were fifth-most in the league by a team when any one player had a point. They went 1-17-3 when he didn't have a point.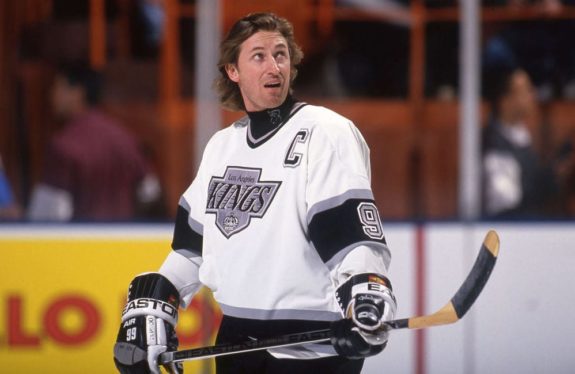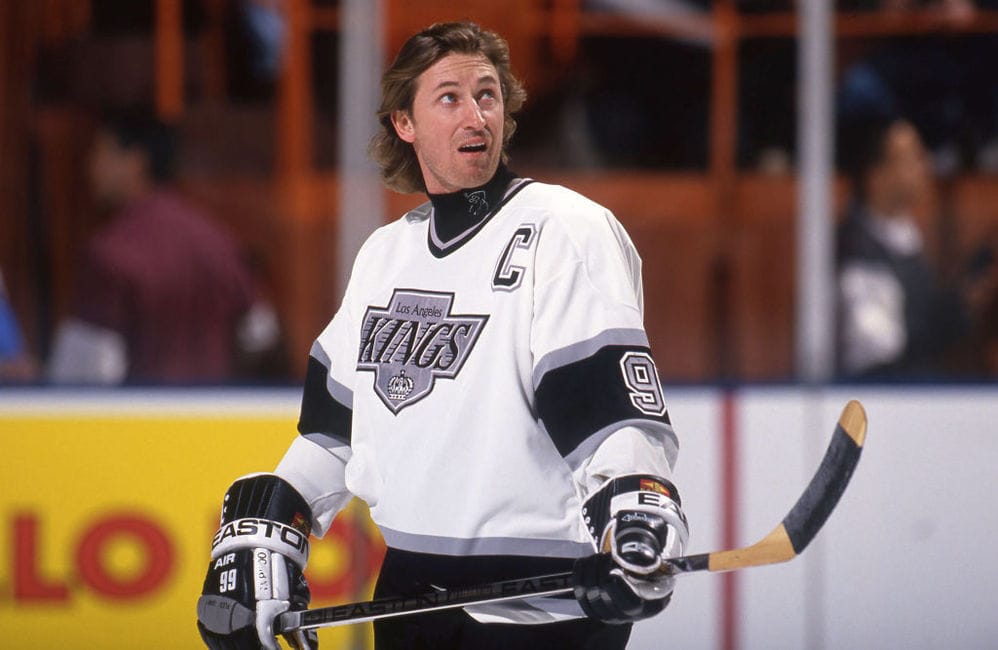 Gretzky's longest point streak was nine games between Jan. 11 and 29 with seven goals and 19 points in that span. He was at his best against both Western Conference division winners, the Detroit Red Wings and Calgary Flames. In four games against the Red Wings, he had two goals and nine points and in five games versus the Flames, he had six goals and 13 points, which were the most against the Flames.
Although his 130 points were the 13th-highest of his career, that season may have been Gretzky's greatest performance given the separation between he and his teammates. In addition to Gretzky and Robitaille, the Kings also had Jari Kurri and Rob Blake on the roster and the team had the sixth-best offense in the league yet they allowed the third-most goals.
5. 1995-96 Wayne Gretzky – 35 Years Old
Stats: 80 GP, 23 G, 79 A, 102 P, 16 EVG, 6 PPG
It's only fitting that The Great One would have two seasons in the list of the oldest players with 100 points. It's also the second time the 1995-96 season appears, an indicator of the league's high scoring rate. Gretzky was traded for the second time in his career that season, this time from the Kings to the St. Louis Blues. (from 'HOCKEY;Finally, Gretzky Is Traded to Blues,' New York Times, 02/28/1996)
That season was one of his worst as his 102 points were his sixth-lowest, his 1.28 P/G were fifth-lowest, and his .29 G/G were fourth-lowest. It was also his 15th and final time eclipsing the century mark for points. Although he only played 62 games with the Kings, his 81 points led the team by 17. He also paced the team with 5.8 OPS.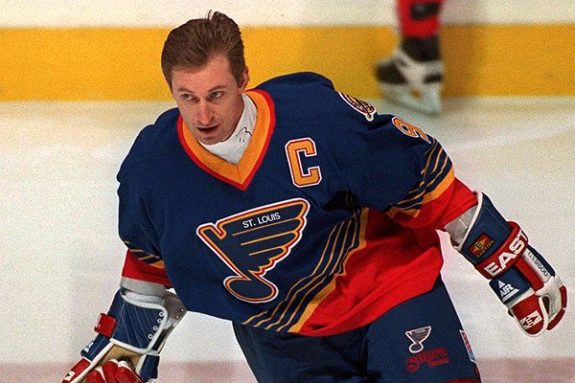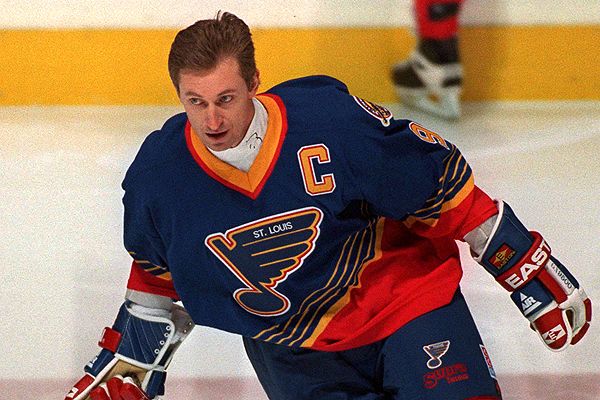 Despite a poor season by his standards, he finished fifth in the league with 79 assists. He also had 53 games with a point and 28 with two or more points. When he had a point, his teams went 22-20-11 and when he was kept off the scoresheet, they had a record of 2-18-7. He also had two eight-game point streaks, one between Nov. 2 and 16 when he had six goals and 19 points and a second between Jan. 3 and 16 when he totaled three goals and 17 points.
His trade to the Blues greatly improved the quality of the surrounding roster. The Blues were a playoff team and won a round with Gretzky having two goals and 16 points in 13 games. By joining the Blues, he became the seventh future Hall-of-Famer on the roster with teammates that included Brett Hull, Al MacInnis, Chris Pronger, and Grant Fuhr.
4. 1975-76 Jean Ratelle – 35 Years Old
Stats: 80 GP, 36 G, 69 A, 105 P, 18 EVG, 17 PPG, 1.31 P/G
I'm embarrassed to admit this, but I knew nothing of Jean Ratelle before researching this article. A future Hall-of-Famer, Ratelle had a great season in 1975-76 when he had 100 points for the second time in his career. Like Gretzky, Ratelle was traded midseason and went from the Rangers to the Bruins in a deal that involved Phil Esposito going to the Rangers.
He became the oldest player to have 100-plus points in a season split between two teams. In 67 games with Boston, he had 90 points to lead the team. He also led the team with eight goals and 16 points in 12 postseason games and helped the team reach the conference finals. Ratelle finished the season top-five in the league in assists and assists per game.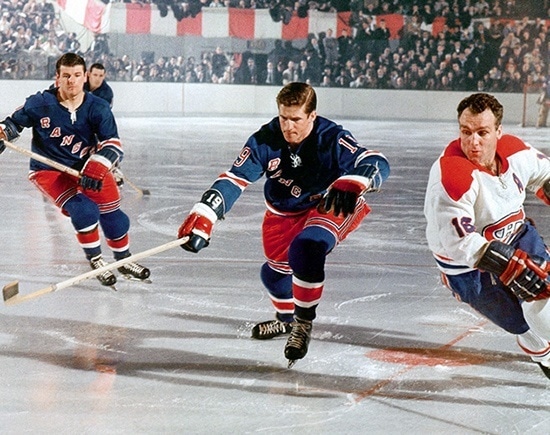 His 69 assists were a career-high while his .86 A/G, 1.31 P/G, and 9.6 OPS were the second-highest of his career. Ratelle won the Lady Byng Trophy that season and finished top-10 in Hart Trophy voting for the second time in his career at 35 years old.
He had points in 56 of 80 games, including 32 with more than one point. His production totals were the result of consistency rather than high peaks as his most points in a game that season was four. His longest streak without a point was two while he had a nine-game point streak between March 11 and 27 when he had seven goals and 20 points. He posted seven goals and 13 points in six games versus the rival Maple Leafs and one goal and nine points in four games against the eventual Stanley Cup-winning Flyers.
3. 1970-71 Johnny Bucyk – 35 Years Old
Stats: 78 GP, 78 GP, 51 G, 65 A, 116 P, 29 EVG, 22 PPG, .65 G/G, 1.49 P/G
Bruin Johnny Bucyk had his best season as a 35-year-old in 1970-71. He hit the 50-goal and 100-point thresholds for the only times in his career and is the oldest player in league history to score 50 goals. That season was the only time he was named to the first all-star team and the first time he won an award when he took home the Lady Byng Trophy for his eight penalty minutes on the year.
Although he had an excellent season with numerous personal bests, he finished second on the team and in the league in goals and third in assists and points, behind Esposito and Orr in all three categories. He did, however, lead the league by shooting 22.7 percent. It was his first of three times doing so.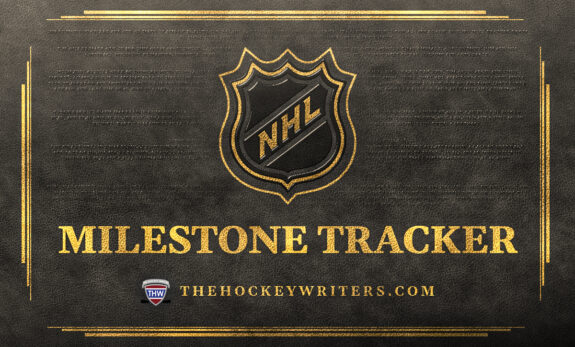 Bucyk was a model of consistency throughout his career and the same holds true for his 1970-71 season as well. He had 59 games with a point, 32 with multiple points, and never went two consecutive games without a point. He also had two six-point games. Between Jan. 28 and Feb. 25, he had a 13-game point streak in which he potted 13 goals and tallied 27 points.
2. 2006-07 Joe Sakic – 37 Years Old
Stats: 82 GP, 36 G, 64 A, 100 P, 20 EVG, 16 PPG, 1.22 P/G
There had been a four-season gap between Joe Sakic's 100-point season in 2006-07 and his previous occurrence in 2000-01. The 2006-07 season was the last 100-point season for the lifelong Quebec Nordiques/Colorado Avalanche who holds nearly every offensive franchise record.
That season, Sakic led the Avalanche in goals, assists, and points, including a 17-point lead over Andrew Brunette despite tying Pierre Turgeon as the oldest player on the roster. Sakic also led Avalanche forwards with 18 minutes and 10 seconds of ice time at 37 years old. He finished top-10 in the league in with 64 assists, 100 points, 36.1 GC, 16 PPG, 1.22 P/G, and 9.1 OPS.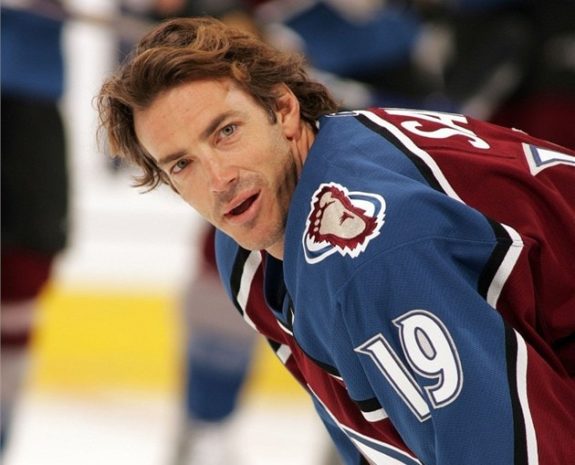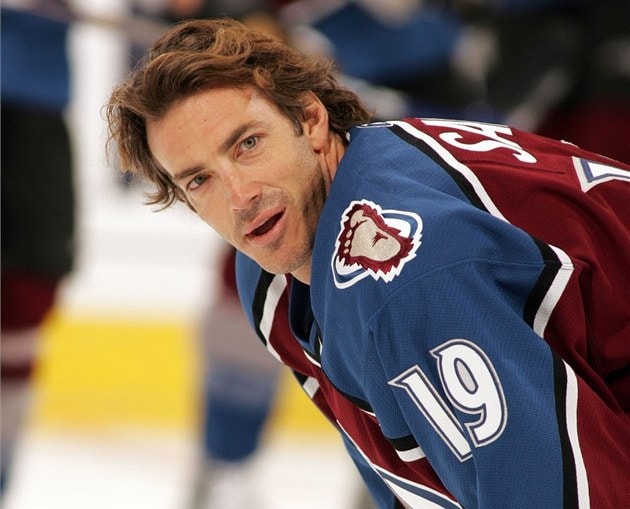 In what was his last full season, Sakic had a point in 58 games, fourth-most in the league, and his 28 games with multiple points tied for sixth. The Avalanche won 34 of his 58 games with a point but just 10 of the 24 games he went pointless in. He had a 12-game point streak between Feb. 3 and 25 and accumulated six goals and 20 point during that span. He also had two six-game streaks and never went back-to-back games without a point.
It's only fitting that Sakic victimized the Flames that season, the team he had the most success against in his career. In eight games against them in 2006-07, he had five goals and 20 points, the most points Calgary yielded to one player by seven. His success against them included a five-point performance on Feb. 15 in which he became the 17th member of the 600-goal club.
1. 1968-69 Gordie Howe – 40 Years Old
Stats: 76 GP, 44 G, 59 A, 103 P, 35 EVG, 1.36 P/G, 12.5 PS
Any list encompassing the "best of" or "most" when it comes to hockey typically includes Gordie Howe at or near the top. In this case, it's no surprise. Mr. Hockey's career spanned five decades. He was 18 when he debuted in 1946 and 52 when his career concluded in 1980. Even on this list, which is filled with some of the game's greats, Howe was older than Sakic by three years and with a March 31 birthday, he played part of the 1968-69 season as a 41-year-old.
Related: Remembering Mr. Hockey
Howe's 103 points that season were a career-high and the only time he reached the century mark in the NHL. He did have two 100-point seasons in the WHA, but those seasons don't count for the purposes of this article. He led the Red Wings by 20 points over fellow elder statesman, Alex Delvecchio and finished third in the league in points behind 26-year-old Phil Esposito and 30-year-old Bobby Hull.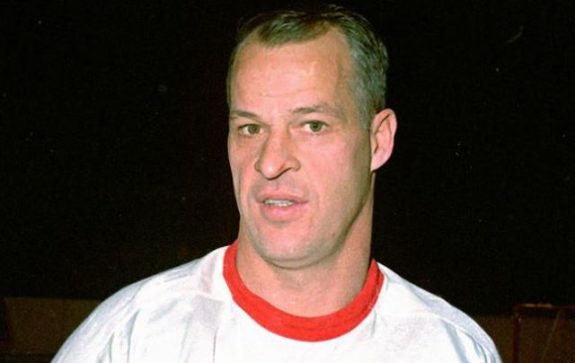 Howe received Hart Trophy votes and was an all-star for the 15th straight season. His 1.36 P/G tied for the second-highest rate of his career and 12.5 PS were the third-most. By comparison, his top-two seasons by point shares occurred when he was 24 and 23.
He had a nine-game point streak between Nov. 23 and Dec. 12 with eight goals and 15 points. His longest pointless streak was two games. In eight games against the Bruins, Howe had three goals and 13 points, the same number of points he had in eight games against the Chicago Black Hawks.
*All stats and information came from Hockey-Reference and NHL.com
My name is Kyle, and I'm the managing editor of The Hockey Writers. I joined THW in Oct. 2017 and am always striving to bring you the best hockey coverage possible. You can email me directly at kyle@thehockeywriters.com.