The 2017-18 season was an incredible season for Russian sniper Alex Ovechkin as he joined not one, but two exclusive clubs. On Mar. 12, he became the 20th member of the 600-goal club and on Jan. 25, the 10th player to join the 13 x 30 club, a group of players who scored 30 goals in at least 13 seasons. Ovechkin also became only the sixth player to have 13 consecutive 30-goal seasons.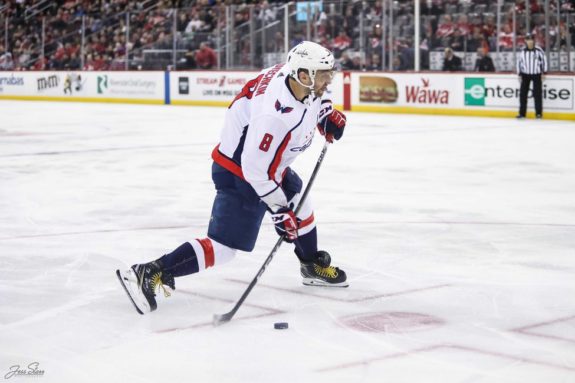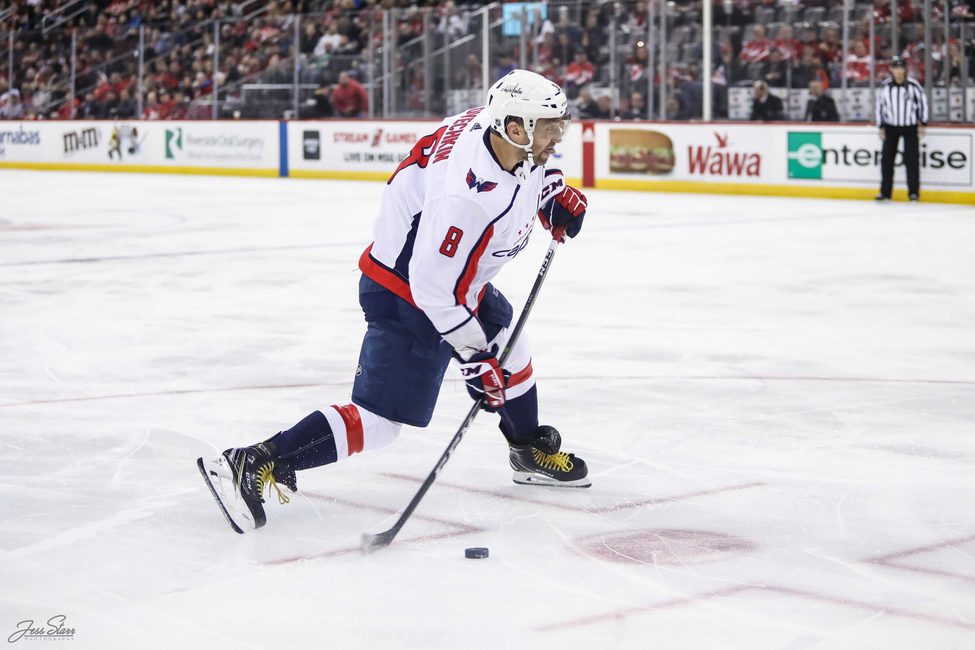 To put in perspective how rare Ovechkin's accomplishment is, he is the only player in the 13 x 30 club to have all 13 of his 30-goal seasons in the 21st century. Jarome Iginla, with 10, has the second-most 30-goal seasons all in this century and before Ovechkin, the last player to join the 13 x 30 club was Mats Sundin during the 2007-08 season.
Many of the others in the club are a who's who of the greatest to ever play the game. Let's look at those Ovechkin will chase as he continues to string together 30-goal seasons.
Mike Gartner – 17 Seasons
Between 1980 and 1997 only Wayne Gretzky had more goals than Mike Gartner's 696. So it should come as no surprise that Gartner tops the NHL's 13 x 30 club with 17 seasons of at least 30 goals, including 15 consecutive seasons of 30 or more between the 1979-80 and 1993-94 seasons.
During that span, he averaged .53 goals per game, tied for fourth-highest for players with at least 750 games played. He also averaged 41.1 goals per season during his streak of 30-goal seasons. Gartner's 17 seasons stretch long enough that he was 20 and in his first NHL season when he first scored 30 goals and 37 and in his penultimate season when he had his last 30-goal season.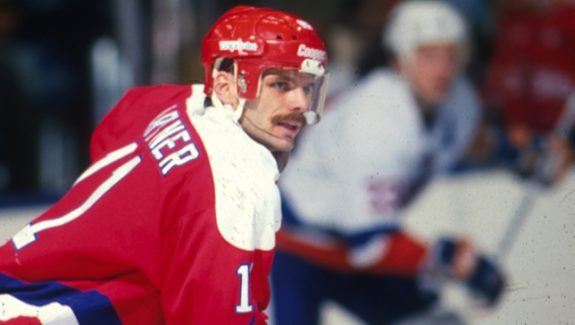 Miraculously, he never led the league in goals but led his team nine different times, including a run of three consecutive seasons between the 1990-91 and 1992-93 seasons when he was a member of the New York Rangers. Gartner's 708 goals are seventh all-time.
Meanwhile, his 397 as a member of the Washington Capitals are third-most in franchise history despite only playing parts of 10 seasons with them. He added 43 goals in 122 playoff games but only reached the Conference Final once in his career.
Jaromir Jagr – 15 Seasons
Jaromir Jagr's 15 seasons with at least 30 goals occurred consecutively, tying him with Gartner for the longest such streak in league history. Between the 1991-92 and 2006-07 seasons, Jagr scored as many as 62 goals and as few as 30 but averaged 39.6 per season, quite the feat considering the 48-game schedule during the lockout-shortened 1994-95 season.
Between 1992 and 2007, Jagr's .53 goals per game tied him with Brett Hull for the highest average among players with at least 750 games while his 594 goals during that span are 54 more than the next highest. During the streak, Jagr never led the league in goals but finished runner-up three times. He also led his team in goals eight times including four consecutive seasons from 1997-98 to 2000-01.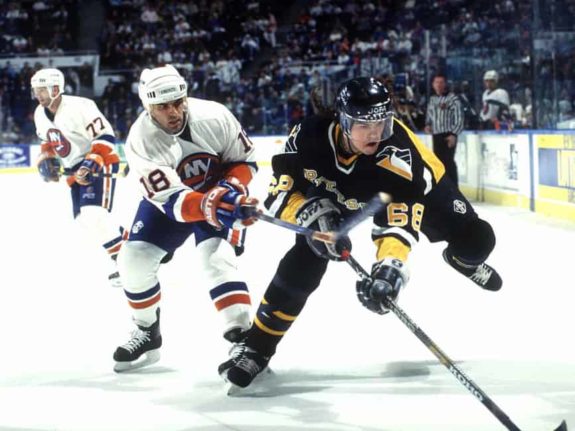 Jagr's career has been one of incredibly high peaks, with two 50-goal seasons and one 60-goal campaign, as well as one of longevity, scoring 20 goals in 19 seasons, tied for third-most in history. That led to 766 career goals, third-most in history, and he is still second in Pittsburgh Penguins franchise history with 439.
In 208 postseason games, Jagr added 78 goals and 201 points. He won two Stanley Cups early in his career with the Penguins and reached the Final with the Boston Bruins in 2013.
Marcel Dionne – 14 Seasons
From 1973 to 1988, there was no better goal scorer than Marcel Dionne. His 696 goals during that span are 103 more than Wayne Gretzky in second place, although Gretzky did play in 537 fewer games than Dionne. In those 16 seasons, Dionne scored at least 30 goals in 14 of them, including a run of 12 straight seasons between 1975 and 1986 when he averaged 47.8 goals per season, largely due to him scoring 50 or more goals in five straight seasons.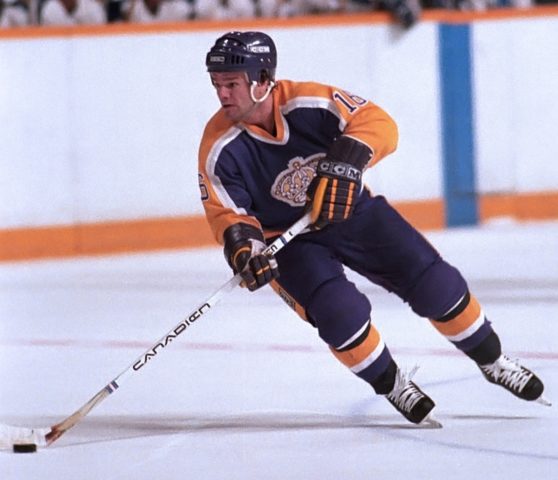 In the period between 1973 and 1988, only Mike Bossy had a higher goals-per-game average than Dionne's .56 among players with at least 750 games. Despite scoring more than 55 goals three times, Dionne never led the league in goals but did lead the Los Angeles Kings in eight of his 11 full seasons with them.
He retired after the 1988-89 season with 731 career goals as the second-highest goal scorer and is now fifth all-time. In only 49 playoff games, Dionne scored 21 goals and he never made it past the second round.
Wayne Gretzky – 14 Seasons
Between Gretzky's rookie season in 1979-80 and 1993-94, he scored 30 or more goals in 13 straight and in 14 of the 15 seasons. If you include his one season in the World Hockey Association (WHA) when he had 46 goals, he would have had 14 consecutive 30-goal seasons and 15 total.
During his run of 13 straight between 1979-80 and 1991-92, he scored 211 goals more than any other player while averaging nearly 57.6 goals per season and .75 per game. Both were the league's highest during the time frame.
He led the league in goals five times including four straight between 1982 and 1985 when he never scored less than 70 in a season. Additionally, he led his team in seven of his nine seasons with the Edmonton Oilers, including six consecutive beginning with his rookie year.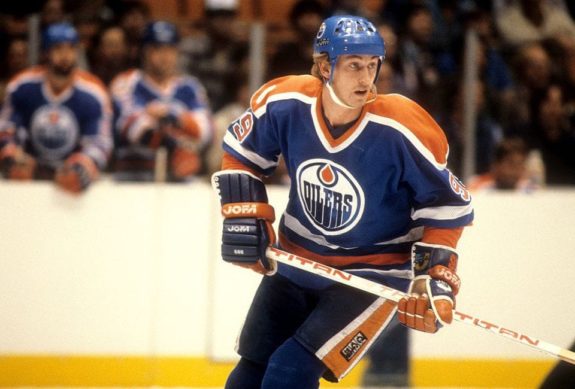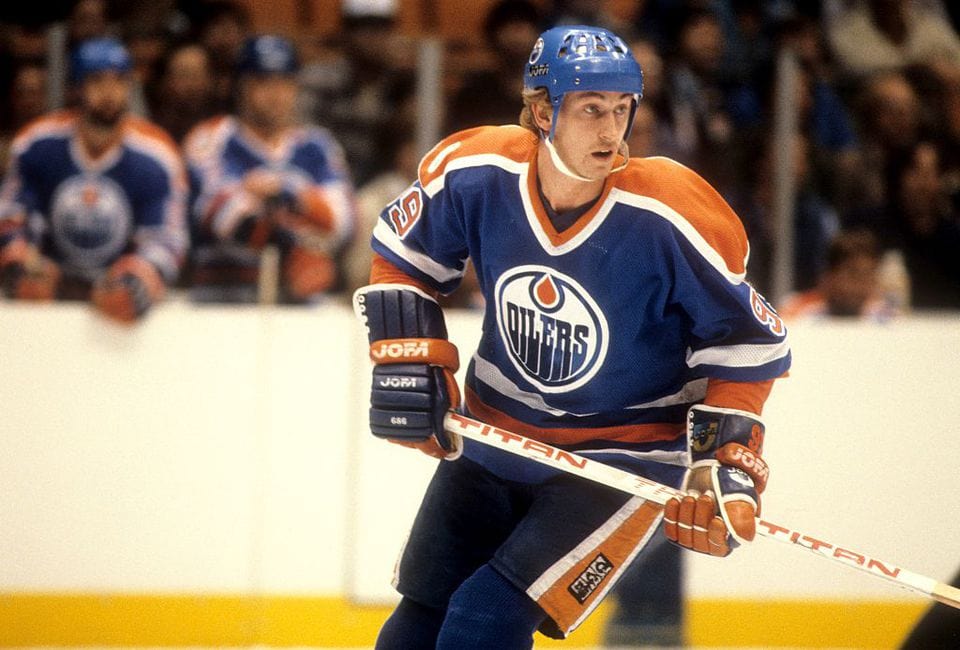 Gretzky retired as the league's all-time goal scorer with 894 goals and remains the leader with a 93 goal lead over second place. He was very good in the playoffs where he scored 122 goals in 208 games and won two Conn Smythe trophies en route to winning four Stanley Cups with the Oilers.
Gordie Howe – 14 Seasons
There are not enough words to describe the longevity and consistency of Gordie Howe's incredible 32-year career as a professional hockey player. Beginning with his third season, he scored less than 25 goals just one time, his final season with the Detroit Red Wings when he was 42 and he still scored 23.
There were 21 seasons between Mr. Hockey's first and last 30-goal seasons, the widest gap for anyone on this list, and he accumulated 14 of them during that span. He also scored 30 or more goals in four of six seasons in the WHA after retiring from the NHL and not playing professional hockey for two seasons.
During the 21 seasons between Howe's first and last 30-goal seasons, he had streaks of four and five seasons of 30 goals with one 29-goal season in between. Howe was the league's top goal scorer five times, three times between ages 22 and 24 while his final time occurred at 34.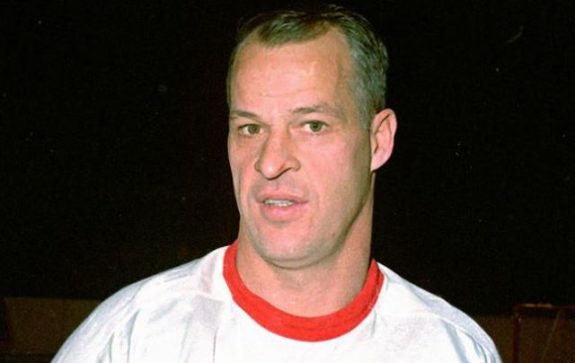 Even more incredible is that he led the Red Wings in goals 15 times, including 11 consecutive from 1950 to 1960. Howe also led the New England Whalers of the WHA with 34 goals during his age-49 season. He retired as the NHL's all-time goal scorer with 801 goals and is now second to Gretzky.
He scored an additional 174 in the WHA to give him a total of 975 professional goals in the regular season. Howe participated in the NHL playoffs 19 times and scored 68 goals in 157 games and helped the Red Wings win four Stanley Cups.
Alex Ovechkin – 15 Seasons
There is already a legitimate case to be made that Alex Ovechkin is that best goal scorer in history despite only being 32. As I mentioned above, he became just the 10th player to ever have 13 or more seasons with at least 30 goals and only the sixth to do so in 13 straight seasons.
But those were during the 2017-18 season. Jump forward to the 2018-19 season, with a Stanley Cup and a seventh Rocket Richard Trophy to his name, and Ovechkin is only continuing his goal-scoring dominance. On Jan. 3, 2019, he scored his 30th goal of the season in a game against the St. Louis Blues. It marked the 14th time in Ovechkin's career that he hit the 30-goal mark, a feat only five others have done. But only Gartner and Jagr scored that many goals in 14 or more consecutive seasons.
The difference between Ovechkin and the others is that he has only been in the league for 15 seasons and has scored 30 or more goals every season. That includes scoring 32 goals in the lockout-shorted 2012-13 season.
Ovechkin has led the league in goals seven times, tying him with Bobby Hull for most times in history. By leading the league in 2017-18, he became the second-oldest player in history to lead the league in goals after Phil Esposito did so during the 1974-75 season.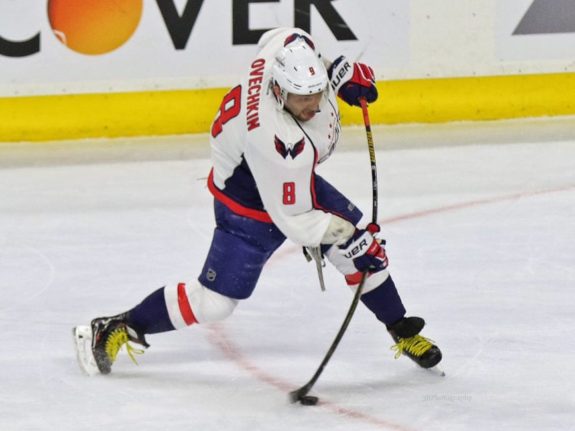 For his career, Ovechkin has averaged 47 goals per season and paces the league with .61 goals-per-game since his rookie season in 2005-06. In addition to winning eight Rocket Richard Trophies, he has led the Capitals in goals every season, a testament to his ability to stay on the ice having never missed more than 10 games in a season.
Phil Esposito – 13 Seasons
While playing for the Chicago Black Hawks (their official name until 1986), Boston Bruins, and New York Rangers across 18 seasons, Esposito scored 30 or more goals in 13 seasons. All 13 occurred consecutively between the 1967-68 and 1979-80 seasons, averaging 48.9 goals per season.
He led the league in goals six straight seasons between 1970 and 1975 as a member of the Bruins and only once did he score less than 50 goals during that streak. His .63 goals-per-game during his streak of 13 seasons with 30 or more goals were .15 more than anyone else among players with at least 750 games.
Esposito led his team in goals 11 times including every full season with Boston. He helped the Bruins win two Stanley Cups and led the playoffs in goals three times. He finished his career with 717 goals, second-most at the time, and now the sixth-highest total all-time.
Bobby Hull – 13 Seasons
Bobby Hull's 13 30-goal seasons was another player whose 30-goal seasons occurred consecutively with his occurring between the 1959-60 and 1971-72 seasons and scored 573 goals in the span. The Golden Jet added five more 30-goal seasons after he signed with the Winnipeg Jets of the WHA at age 34. He led the NHL in goals seven times and the WHA once.
Hull averaged 44.1 goals per season and .64 per game during his 13 season streak of 30 goals, both highest in the league during the span. He led the Black Hawks in goals 12 times and 10 straight between 1960 and 1969 and also led the Jets in goals his first four seasons with the team.
He finished his career with 610 goals in the NHL, 17th all-time and franchise leader for the Black Hawks, and 303 WHA goals, 2nd most in that league's history.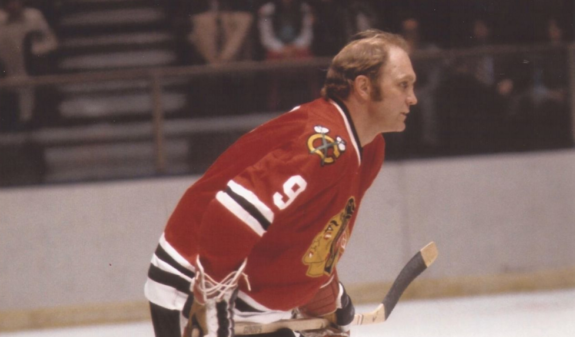 He won the 1961 Stanley Cup with Chicago for his only title and scored 62 goals in 119 NHL playoffs games in his career. He added another 43 goals in 60 playoff games in the WHA.
Brett Hull – 13 Seasons
It is only fitting that a list of goal scorers including Bobby Hull includes his son, Brett. The two combined for 1,351 NHL goals and are the only father-son duo to each score 600 goals. They are also the only duo to each score 1,000 points in the NHL. Brett matched his dad's 13 seasons with 30 or more goals and did so between 1988 and 2003 with seven straight seasons.
He led the league in goals three straight seasons while playing with the Blues, with season totals of 72, 86, and 70 between 1990 and 1992 and had a total of five consecutive seasons with at least 50 goals. Between Hull's first and last 30-goal season, he averaged 37.9 goals per season and .61 per game, the latter which led the league during the time frame.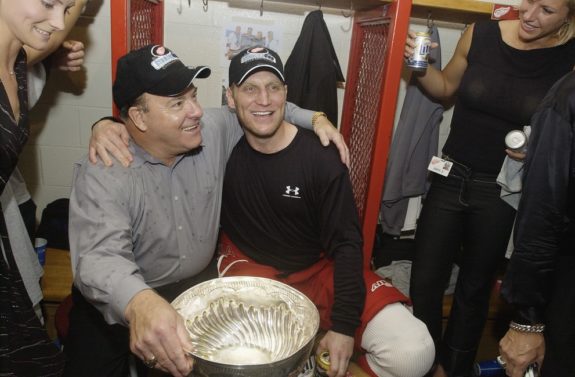 In addition to leading the league three times, he led his team in goals 11 times, including a run of nine straight during the late 1980's and into the 1990's. Brett finished his career with 741 goals, third-most at the time and now the fourth-highest total.
He added 103 postseason goals in 202 games and scored the controversial series winner in the 1999 Stanley Cup Final for the Dallas Stars. He also won the 2002 Stanley Cup with the Red Wings.
Mats Sundin – 13 Seasons
Along with Howe, Swedish-born Mats Sundin is the epitome of consistency. Sundin scored at least 20 goals in all but one season, the outlier being his last season, and only eclipsed the 40-goal plateau three times. He still managed to accumulate 564 goals, 23rd in league history and his 420 as a Toronto Maple Leaf are the most in franchise history. He also remains the highest-scoring Swede in league history, both in goals and points.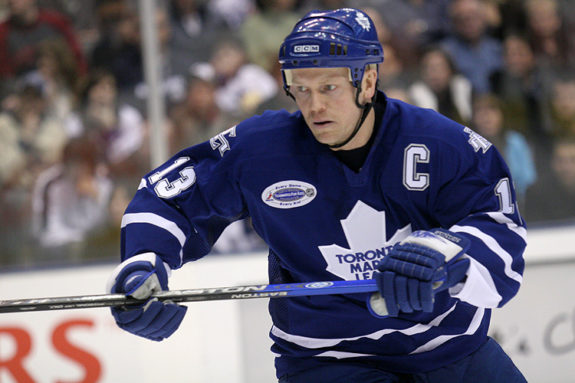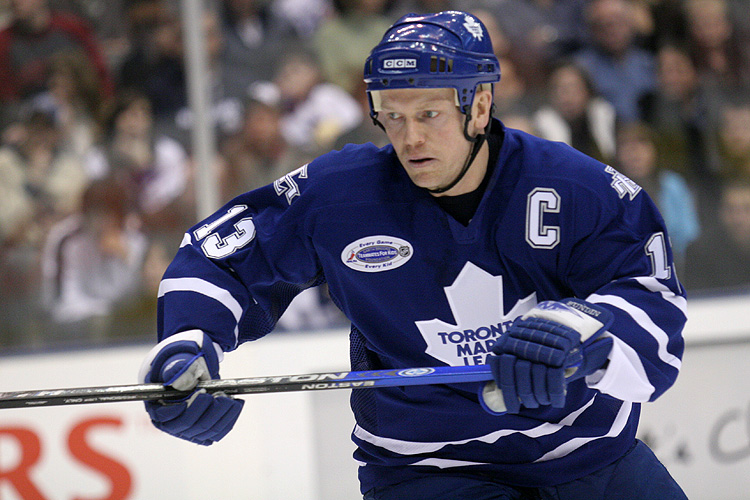 Between the 1991-92 and 2007-08 seasons, Sundin had 13 seasons with at least 30 goals, including streaks of four and five seasons. He averaged 33.3 goals per season during the span and his .43 goals-per-game tied for the 10th highest rate. He never led the league in goals but led the Maple Leafs 10 times and the Quebec Nordiques once. He also did well in the postseason with 38 goals in 91 games while reaching the Conference Finals just once in his career.
Current Players With a Shot at Joining the 13 x 30 Club
After Ovechkin, no other player who has appeared in a game in 2018-19 has more than nine seasons with at least 30 goals. Ilya Kovalchuk has that many, but hasn't hit the 30-goal mark since the 2011-12 season.
Others with at least five seasons of 30-plus goals (most recent season doing so in parentheses) are: Sidney Crosby (2018-19) with nine; Patrick Marleau (2013-14) with seven; Phil Kessel (2017-18), Evgeni Malkin (2017-18), Eric Staal (2017-18), Zach Parise (2014-15) and Corey Perry (2015-16) with six; and Max Pacioretty (2016-17), Jason Spezza (2015-16) and Steven Stamkos (2018-19) with six seasons.
*All stats and information are from Hockey-Reference, originally published in Aug 2018.
---
---