The Winnipeg Jets are enjoying the best start to a season in their franchise's history. Fans and management are finally seeing the progression that years of quality draft picks have provided them.
Mark Scheifele, the team's first selection in 2011, is proving himself as a top-10 NHL centerman. Many believe that the skilled duo of Patrik Laine and Nikolaj Ehlers, drafted second-overall and ninth-overall, respectively, are two of the most exciting players in the game.
One of those excellent first-round picks is often overlooked because of the surplus of high-end skill dressing on a nightly basis. Josh Morrissey is an absolute stud on the backend for the Jets and they continue to see the 22-year-old taking exciting steps forward in his game.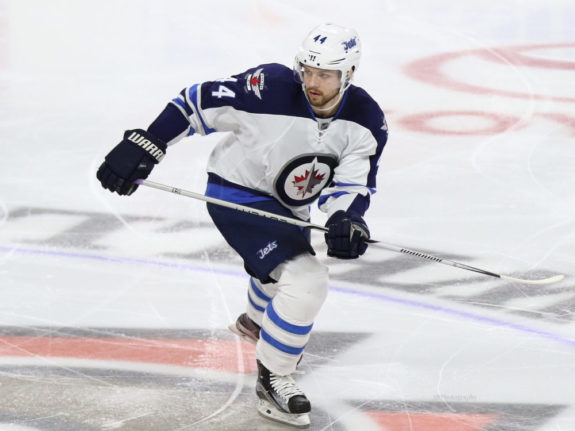 One Step At a Time
After almost 230 games with the Western Hockey League's Prince Albert Raiders, the Calgary native brought his calming presence to the Jets' then-American Hockey League affiliate, St. John's IceCaps, in 2013-14.
Morrissey played only eight regular-season contests that year but became truly impactful dressing in 20 playoff games. Aside from his nine points in those starts, the Jets got a first-hand look at how his game could translate to the pro level. Despite impressing in his limited action, general manager Kevin Cheveldayoff and Jets' brass felt another year in junior could benefit the 2013 first-rounder with cleaning up the finer details in his game.
The Raiders eventually dealt Morrissey to the Kelowna Rockets, who were loaded for a Memorial Cup run including the likes of Leon Draisaitl, Nick Merkley, and Madison Bowey. In 33 regular season and playoff games with the Rockets, Morrissey picked up 31 points.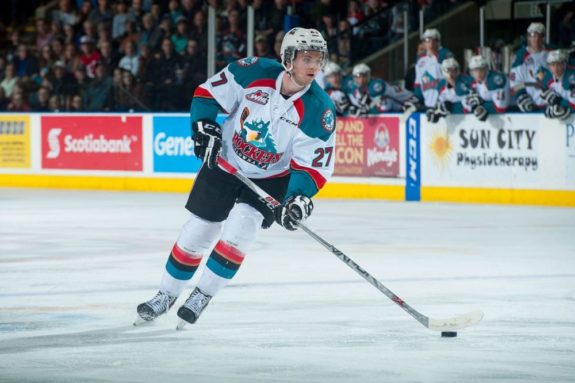 The Calgary Royals alumni graduated from the junior level and turned pro full-time with the Manitoba Moose in 2015-16. Morrissey earned his necessary reps playing in all situations which led to him seeing his first NHL action late in the season for a game against the Montreal Canadiens.
The Morrissey, the More I Like
The 22-year-old only required the single season of AHL experience to make the jump to the big club which was surprising to many, including the Jets' head coach.
"I am surprised, and you never like to admit that because it sounds like you didn't have faith. Watching him play now, he's so much further along in his development that we could possibly have expected," said Paul Maurice.
Dressing in all 82 games, the six-foot defender picked up an honest 20 points. It wasn't a spectacular season offensively by any means, but that isn't Morrissey's game. The offense will likely increase with time but he makes his money by playing a simplistic, consistent game.
With the struggles Jacob Trouba has endured this season paired with the recent Tobias Enstrom injury which will hold him out of action for up to eight weeks, Morrissey's value to the team has skyrocketed but that hasn't changed the big picture.
"At this point in the year, we still have a long ways to go for where we want to get to and the goals we have as a group," said Morrissey.
As a left shot, he compliments the glut of skilled right-handed defenders on the squad including Dustin Byfuglien, Tyler Myers, and the aforementioned Trouba. This combination of lefties and righties may result in Morrissey becoming an even larger part of the Jets core.
With a team-best plus-9, Morrissey continues his steady presence. He is fourth among Jets defencemen in time on ice per game averaging 19:04 and seldom sees time on the power play. He does, however, average 2:18 shorthanded per game and is first on the team with 54 blocked shots.
The 2013 WHL Scholastic Player of the Year ranks third on the team with 51 hits, only nine back of Dustin Byfuglien, who has five inches and 65 pounds on him. His offensive and defensive zone starts are an exactly even split with 128 starts in each zone, showing the coach is far from sheltering him.
With the improvement and success demonstrated at each level he has played at, I don't see why anyone can see a ceiling in sight for Morrissey. While his offense is slow coming, his defensive play has shown every indication that he is on pace to become a top-pairing defender.