Over the last week or so, there have been some whispers that the Boston Bruins and Edmonton Oilers are talking trade. From what's been bantered about online, the talk seems to stem around the B's landing Ryan Nugent-Hopkins from the Oilers. The rumors started when Bruins' beat writer Jimmy Murphy tweeted that the two teams have had exploratory talks. Murphy went on to state that a trusted source confirmed this.
The Oilers are apparently interested in a pair of rookie forwards, Danton Heinen and Peter Cehlarik. The irony in all this is that those two players were selected by none other than Peter Chiarelli. Obviously, Chiarelli's now the general manager in Edmonton, but it's interesting that he's looking at two players he once drafted. Adding more to this weirdness is that Keith Gretzky, now Edmonton's assistant GM, was the director of amateur scouting for the Bruins at that time.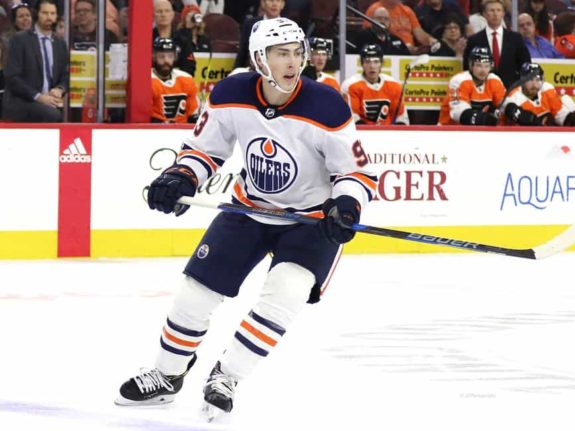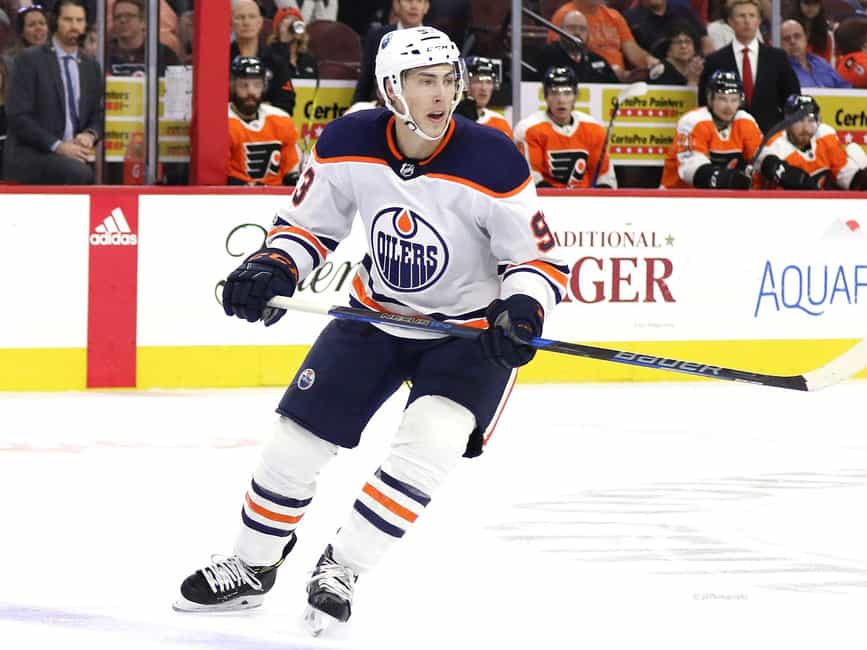 Call it familiarity, but there's some reason and smoke coming from this. The Oilers are looking for some more balance to their struggling offense, and the Bruins looking for another center (apparently). Take it with a grain of salt, because Edmonton's also looking for a defenseman to shore up an underwhelming blue line. Murphy would elaborate on these rumors a few days later.
"Obviously, the Oilers would need more than that for a player, who before they drafted Connor McDavid and Leon Draisaitl, they saw as their potential No. 1 center and superstar for years to come. The Bruins would also need Edmonton to take back more salary to absorb Nugent-Hopkins' $6 million cap hit for the next three seasons they'd inherit. That's why as I said — despite claims by many who changed my words — the trade talks were at best just exploratory at this point." – Jimmy Murphy, Bruins Beat Writer
Danton Heinen & Peter Cehlarik: The Need to Know
First, let's start with who the heck these guys are. Heinen (116th, 2014) and Cehlarik (90th, 2013) were both mid-draft selections for the Bruins a few short years ago. In Heinen's case, every team he played for from 2014-2016 he led in scoring. That was true with the Surrey Eagles (BCHL) and his two years at the University of Denver (NCAA). Believe it or not, his 0.68 points-per-game (P/GP) last year in the AHL was better than 2015 first rounder Jake DeBrusk (0.66).
Heinen, 22, was one of the last cuts for the Bruins this fall. He responded by lighting up the AHL with eight points in four games. Since being recalled to the main club, he's put up 11 points in 18 games. At 6'1″ and 195 pounds, he might not be the biggest guy, but he's highly competitive. He's also able to play all three forward positions, which bodes well for the Oilers (if they acquired him). He's a scoring forward that could one day be a 20-goal guy.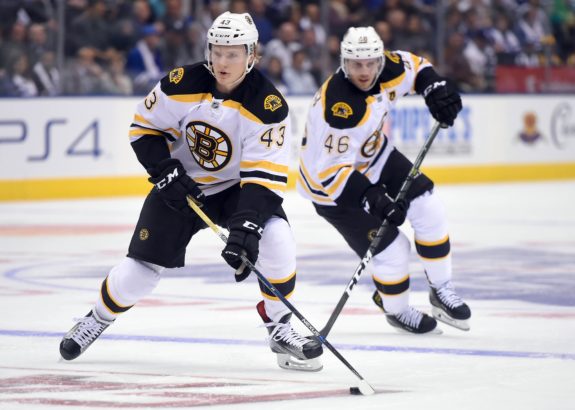 Heinen might be on pace for 17 goals and 47 points this season, but Cehlarik is pretty intriguing in his own right. From the early outlook, Cehlarik looks like the Bruins best pick from that 2014 class. If he played the entire season with the Asploven HC during his draft year he would've been their top scorer. His offense steadily rose while playing parts of three seasons with Lulea HF in Sweden and he then joined the B's last season. In his rookie season in the AHL, he posted a 0.78 P/GP, which would've given him 57 points in 74 games.
For comparison's sake, those numbers, like Heinen's, would've been better than Jake DeBrusk's. Dobber Prospects has a great breakdown of Cehlarik and his NHL ceiling. He's projected as a complementary winger but might need to improve his skating. Are we thinking middle-six? He's 6'2″ and 202 pounds, so isn't a big-bodied winger, but there's scoring potential there. He does play with an edge and isn't afraid to mix it up, so who knows what he'll be like when he adds more strength to his game.
Overall, he thinks the game well. This season, Cehlarik's already put up a point-per-game in the AHL and has two points in five NHL games. He's out with a leg injury right now, but, at 22 years old, he's already proving to be a useful player.
Ryan Nugent-Hopkins: Trade or Keep?
Murphy grabbed another meaningful quote below from Chiarelli regarding all this trade talk. More importantly, if you read between the lines, you might see where all this exploratory talk is coming from. He goes on to add that Frank Vatrano, a frequent healthy scratch, could also be up for grabs. That's someone Edmonton might be able to get in exchange for a draft pick, from what his source told him.
"You have to be obviously vigilant on this kind of stuff but you can't overact in the sense that you can't just blow things up. This doesn't mean that we're not looking at other opportunities for players that are out there. This doesn't mean that we are going to be patient all year with this group. It just means that we are trying to figure it out. We would like to see some traction somewhere and if we don't, then we will have to take a different track. I don't know when that is." – Peter Chiarelli, Oilers GM
The Oilers have also supposedly been talking to the Columbus Blue Jackets about a defenseman. Naturally, that's where the 'David Savard to Edmonton for RNH' talk came from. Point is, Chiarelli's been all over the map looking for ways to improve this club. If he wasn't doing that, he wouldn't be doing his job. He made a minor trade last month, swapping Jussi Jokinen for Mike Cammalleri. So far he has just two assists in seven games, but he's been all up, down, and around the lineup for Edmonton. Both of these teams need help right now, especially with the B's injury woes.
Personally, I wouldn't be moving RNH. The cap crunch is on the horizon thanks to those massive deals Connor McDavid ($100 million over eight years) and Leon Draisaitl ($68 million over eight years) signed. Even then, Boston would have to move out salary to make it happen. Still, if the Oilers want to keep RNH, they'll find a way to make it happen. They don't have their hands tied and don't need to facilitate an RNH trade. He's been one of the Oilers most complete players every night and is on pace for his first-ever 30-goal season.
If you truly want to know RNH's value, think back to a recent win over the Arizona Coyotes. In overtime, RNH put together some stellar shifts. One included setting up Draisaitl on a two-on-one, and then backchecking to break up a Coyotes' odd-man rush the other way. He ended things on a shift where he picked up a bouncing puck in the Edmonton zone and got loose on a breakaway to score the game-winner. You don't trade guys like that, no matter what another team is offering.