The 2016 NHL Draft is coming up in just a few months, a draft which will mark five years since the 2011 Draft.
That is significant because five years is often used as a point of reference in which players have found their permanent role in a lineup, whether that be as a top-six NHL forward, or an AHL grinder.
The 2011 NHL Draft did not necessarily feature a franchise player at the top of the list, nor was it an overly deep one either. Of course, there have been some top-six forwards and top-four defencemen turn out, but overall, it was a relatively lacklustre year.
Of course, when trying to select which 18-year-old will develop into the better player, there will always be some mistakes. Some guys will have already peaked in their performance, while others may still be in the early stages of their development, just scratching the surface of their potential.
That is what is evident when looking back five years after the 2011 draft. Some top picks have not turned into effective NHL players, while others who went in the 7th round are now superstars.
2011 NHL Draft Summary
The New Jersey Devils won the 2011 NHL Draft Lottery, moving them up from the 8th overall selection to 4th overall. At the time, winning the draft lottery allowed moving up a maximum of four spots. Because of that, the Edmonton Oilers were awarded the 1st overall pick.
Among the 211 players picked, 83 were from Canada (39.3%), 59 were from the United States (27.9%), and 28 were from Sweden (13.3%).
Top 10 Today
If the 2011 NHL Draft was re-done today, the top 10 would certainly look much, much different. Many prospects who went in the sixth and seventh rounds have turned into superstars in the NHL today. At the same time, some players who were selected in the top 10 have not turned into the elite players they were expected to be.
This is how the 2011 NHL Draft would have turned out if it were done again today. Actual draft number is in parenthesis.
1st Overall: Edmonton Oilers Select Johnny Gaudreau (104)
55 goals and 143 points in 160 games
Gaudreau spent his NHL draft eligible season in the USHL as a member of the Dubuque Fighting Saints, where he finished fourth in league scoring, with 36 goals and 72 points in 60 games. Unfortunately, because of his 5'9, 157 pound frame, many teams passed on the future superstar, thinking he was too small to find success in the NHL.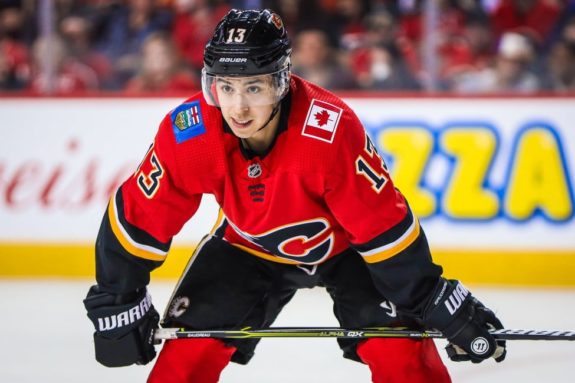 Gaudreau would spend the next three years in the NCAA with Boston College, including a Hobey Baker Award winning season in 2013-14 when he scored 36 goals and 80 points in 40 games.
Gaudreau played his long awaited NHL rookie season in 2014-15, totalling 24 goals and 64 points in 80 games. He would finish third in Calder Trophy voting and was also nominated as an All-Star. This season, he further padded those stats, increasing to 30 goals and 78 points in 79 games, good for sixth in the league.
The Oilers would love to have Gaudreau in their lineup to boost their offensive struggles and perhaps, finally make the turn in their rebuild.
2nd Overall: Colorado Avalanche select Gabriel Landeskog (2)
100 goals and 246 points in 356 games
Landeskog was in the OHL with the Kitchener Rangers during the 2010-11 season, where he captained the team and also chipped in 36 goals and 66 points in 53 games. Landeskog was ranked very highly all year long, valued for his excellent two-way game and incredible leadership abilities.
Landeskog would make the jump directly to the NHL in 2011-12, scoring 22 goals and 52 points, enough to earn him the Calder Trophy as Rookie of the Year.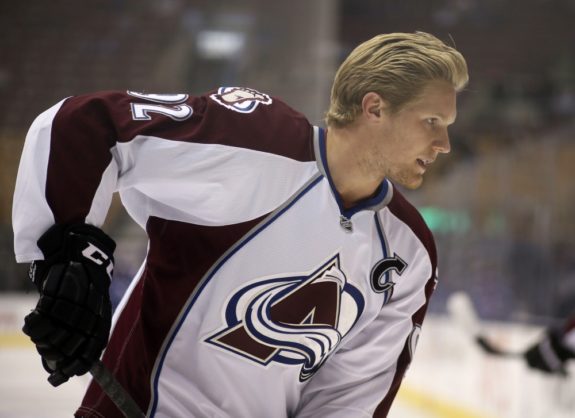 The very next season, just his second in the league, Landeskog was honoured with the captaincy of Colorado. Through five NHL seasons, his career best year came in 2013-14, when he scored 26 goals and 65 points. In all, the 23-year-old has turned into one of the best leaders in the NHL who can make a difference offensively as well.
The Avalanche couldn't be more pleased to have selected Landeskog back in 2011, and would make the same choice again today.
3rd Overall: Florida Panthers select Brandon Saad (43)
83 goals and 179 points in 286 games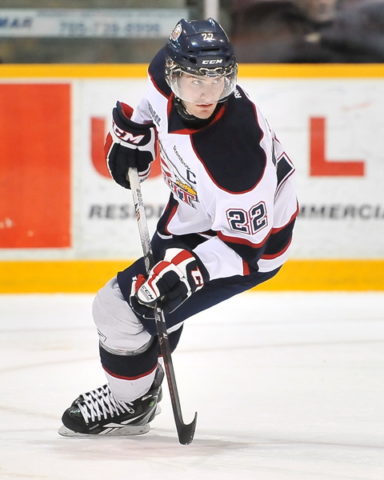 Saad transferred from the USNTDP to the OHL for his NHL draft eligible season, where the Saginaw Spirit held his rights. He made a quick transition to the league, adding 27 goals and 55 points in 59 games. While Saad certainly had obvious talents, his offensive totals were not great enough to warrant a 1st round selection.
For 2011-12, Saad returned to Saginaw where he improved greatly upon his all-around game, while increasing his point total to 76 in just 44 games.
Saad would make play his professional rookie season in 2012-13, splitting time between the NHL and AHL, while continuing to improve his strength and two-way game. Over his first three NHL years, Saad would capture two Stanley Cups while becoming a top-six forwards in a deep Blackhawks lineup.
Saad was traded to the Columbus Blue Jackets and enjoyed his best season this year, with 31 goals and 53 points.
The Panthers would love to add Saad to their lineup if they could, but should be equally happy with Huberdeau in their possession.
4th Overall: New Jersey Devils select Nikita Kucherov (58)
68 goals and 149 points in 211 games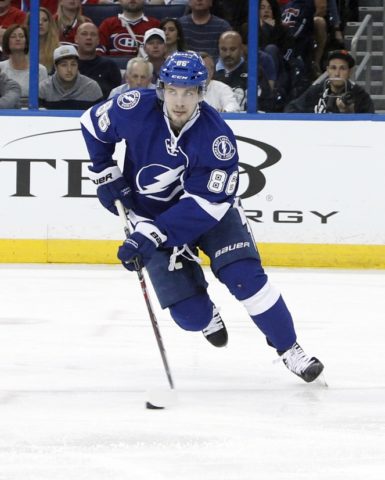 Kucherov was home in Russia during his draft season, playing for Krasnaya Armiya Moskva in the MHL. He scored 27 goals and 58 points in 41 games, which was enough to earn him a high ranking among European players.
The next season, Kucherov put up nearly two points per game, including 24 goals in just 23 games. He would then transition into North America for 2012-13, reporting to the Quebec Remparts in the QMJHL. He would be traded quickly, but ultimately had an outstanding year, with 29 goals and 63 points in just 33 games.
Kucherov is now three years into his NHL career, and has become one of the Lightning's top forwards. After breaking out for 29 goals and 65 points in his sophomore season, Kucherov made further improvements in 2015-16, putting up 30 goals and 66 points, proving his long-term value in the NHL.
The Devils could certainly use some offensive help, and Kucherov likely would've gone a long way to pushing them towards a playoff spot in 2016.
5th Overall: New York Islanders select Ryan Nugent-Hopkins (1)
77 goals and 222 points in 313 games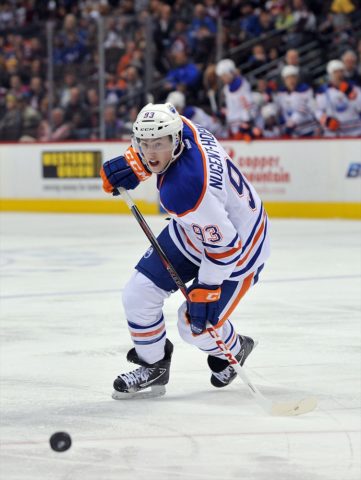 Nugent-Hopkins was with the Red Deer Rebels during 2010-11, who drafted him 1st overall in the 2008 WHL Bantam Draft, where he scored 31 goals and 106 points in 69 games. That total along with tremendous hockey sense and vision earned him the 1st overall selection in 2011.
Nugent-Hopkinds jumped straight to the NHL in 2011-12, adding 18 goals and 52 points in 62 games, finishing second in Calder Trophy voting.
In the following seasons, Nugent-Hopkins faced some injury troubles, which not only took away his laying time, but also seemed to hinder his development. Today, he remains a key part in the Oilers struggles, totalling just 12 goals and 34 points in 55 games this season. While his potential remains very high, it would seem that there is still plenty to be desired in his game.
The Islanders would be ecstatic to have selected Nugent-Hopkins at 5th overall in 2011, who would be a significant upgrade over Ryan Strome.
6th Overall: Ottawa Senators select John Gibson (39)
2.22 GAA and .920 SV% in 66 games
7th Overall: Winnipeg Jets select Jonathan Huberdeau (3)
58 goals and 172 points in 272 games
8th Overall: Philadelphia Flyers select Dougie Hamilton (9)
36 goals and 126 points in 260 games
9th Overall: Boston Bruins select Ondrej Palat (208)
57 goals and 166 points in 232 games
10th Overall: Minnesota Wild select Mark Scheifele (7)
58 goals and 145 points in 227 games
11th Overall: Colorado Avalanche select Boone Jenner (37)
55 goals and 95 points in 185 games
12th Overall: Carolina Hurricanes select Adam Larsson (4)
9 goals and 69 points in 274 games
13th Overall: Calgary Flames select Vincent Trocheck (64)
37 goals and 83 points in 146 games
14th Overall: Dallas Stars select Sean Couturier (8)
56 goals and 157 points in 350 games
15th Overall: New York Rangers select Victor Rask (42)
32 goals and 81 points in 160 games
Who do you think would be the 1st overall pick from the 2011 NHL Draft?
Contributor for the Toronto Maple Leafs and Prospects. Scout with the Oakville Blades of the OJHL. For questions, concerns, or comments, contact me at devinslawson123@hotmail.com or on twitter @SlawsonTHW.