The United States look to retain their gold medal victory from last year. If they are to do so, it will be done on home soil. Only seven potential returnees from 2017 have been selected to the USA's preliminary roster. The good problem to have is that the other 21 prelim players provide a tremendous amount of talent to choose from. Team USA General Manager Jim Johansson and Head Coach Bob Motzko may very well have some sleepless nights while trying to determine the keenest mixture of talent for their squad.
With the #USAWJC preliminary roster announced this week, #TBT to the excitement from last year's #TeamUSA🇺🇸 that won 🥇 at the 2017 World Juniors, led by coach Bob Motzko and #NCHCHockey players Joey Anderson, Jack Ahcan and Troy Terry pic.twitter.com/LNDPgHpBjE

— The NCHC (@TheNCHC) December 7, 2017
So much is being made over the outdoor game on December 29th between the USA and Canada. The first game of its kind for the World Juniors, it is indeed unique. But ice is ice, and the fact that the game will be outdoors has little to do with the meat and potatoes of Team USA. In a grouping that has their biggest rival—Canada—the USA cannot get distracted in trying to walk out of Group A. Especially considering the fact that Finland, Denmark, and Slovakia are in the same group, you have yourself a trio of dark horses.
THW takes an in-depth look at the USA's preliminary roster and offers its prediction as to who makes the final squad.
Goaltending
Goaltending might be the easiest determination to make for the USA's coaches and management. Two of the three goaltenders invited were members of the 2017 squad. If they can bring home the gold once, then they can do it again. Joseph Woll and Jake Oettinger are those two main options – look for one of them to take over the starting goaltending duties in the USA goal crease, replacing Tyler Parsons.
Woll played two games in last year's tournament and was brilliant – he turned aside Slovakia 5-2 and made 18 saves in the process. More noteworthy, Woll defeated the Canadians 3-1. In total, he garnered a 1.50 goals-against average and a .935 save percentage in 2017. A 2016 third round selection of the Toronto Maple Leafs, Woll could be called upon to be the starter in Buffalo.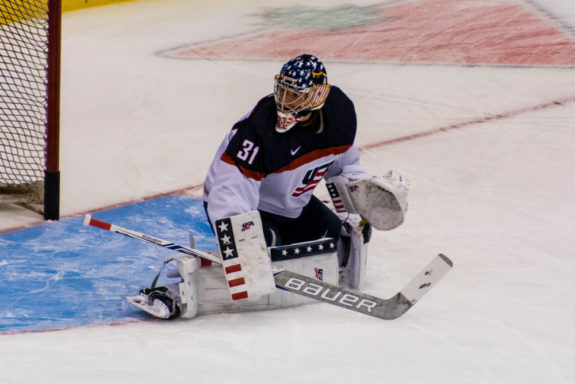 Jake Oettinger is the other likely choice for Team USA's goalies. Despite Woll's heroics, Oettinger could actually be considered the favorite. At 6-foot-4 and 212 pounds, he has some immense size to him. Obviously, the Dallas Stars thought highly enough of him to select him in the opening round of the 2017 NHL draft. Oettinger did not see any playing time during the 2017 World Juniors, but it could be very worthwhile to see what he can do at the 2018 tournament. Oettinger has been an absolute wall for Boston University. In 2016-17 he posted a .927 SV% and a 2.11 GAA in 35 games for the Terriers, while in 2017-18, he's posted a 2.89 GAA and a .905 SV% in 15 games.
The Boston Bruins' fourth-round choice in 2017 – Jeremy Swayman – is the third possibility in net. What makes Swayman an interesting choice is that he has played superbly for the Maine Black Bears. In 10 games thus far in 2017-18, Swayman has gone 5-3-1. He's also posted a .925 SV% and a 2.38 GAA.
Defense
Ten defenders have the chance of making it. Two of them did once before – Adam Fox (Calgary Flames) and Ryan Lindgren (Boston Bruins) were members of the 2017 squad. Fox had a brilliant season with the Harvard Crimson during his 2016-17 freshman campaign. He nearly had an assist per game with 34 of them in 35 games. Fox also potted six goals, was a plus-19, and recorded four assists from the backend in last year's WJC tournament.
Lindgren played in all seven tournament games as well last year. The USA can thrive with Lindgren's physical play. Though not remarkably big at 6-feet and just under the 200-pound mark, Lindgren led the University of Minnesota in penalty minutes in 2016-17 and is currently leading the Golden Gophers in the same category this season.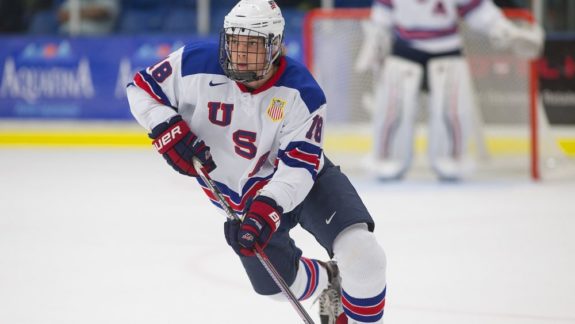 New Jersey Devils' prospect Reilly Walsh is having solid season thus far with the Harvard Crimson. Three goals and five assists in 10 games may be enough to garner him a nod for the final roster. Selected in the third round of the 2017 draft, Walsh's invite was surprising to some, but not after seeing what he is doing in college. Walsh is also a USHL Clark Cup champion.
Should The "D" Be About Size?
If the United States plans to add more size in addition to Lindgren, they might very well go with Philip Kemp. The Yale freshman stands 6-feet-3-inches and is over 200-pounds. He has picked up a goal and two assists in seven games so far for the Bulldogs. Kemp was a seventh-round selection of the Edmonton Oilers this past summer and is probably a long shot to make the final cut. It all depends on what style Motzko and Johansson want to go with. Columbus Blue Jackets' selection Andrew Peeke could also fit that role, with similar size and attributes to Kemp.
The other possible defenseman choices are: Mikey Anderson (Los Angeles Kings), Quinn Hughes, Cole Hults (Los Angeles Kings), Scott Perunovich, and Dylan Samberg (Winnipeg Jets)
Forwards
The Buffalo Sabres first-round (8th overall) draft pick in the 2017 NHL draft Casey Mittelstadt is whom the Buffalo hometown faithful will most closely be watching of any player in their tournament. This young man has worked hard at adding some size to his frame. His hockey sense is felt to be out of this world too. With five goals and 10 assists in 17 games this season for the University of Minnesota, Mittelstadt has put the effort in to make this roster.
The shoo-in for Team USA is easily Kailer Yamamoto. The Edmonton Oilers' first-round selection (22nd overall) this past summer already played nine games with the big club this NHL season. Although he picked up three assists with the Oilers, he was sent back to his junior team in early November for further development. Yamamoto plays for the Western Hockey League's Spokane Chiefs, his hometown club. He exploded during the 2016-17 WHL season with 42 goals and 57 assists for 99 points in just 65 games. Diminutive as he might be at 5'8″ and around the 150-pound mark, this kid can play and can produce.
Tkachuk and Bellows
One could cry sacrilege if Brady Tkachuk does not make the final roster. Father and NHL great Keith Tkachuk, along with Calgary Flame brother Matt both represented the USA at World Juniors Championships. Brady would be the only one to do so on home soil should he make the cut. He plays just as physically and as robust as his older brother and dad. Playing as a freshman at Boston University, the younger Tkachuk has two goals and 10 assists in 17 games. Additionally, he has 18 penalty minutes and leads all Terriers in plus/minus.
Joey Anderson (New Jersey Devils), Patrick Harper (Nashville Predators) and of course, Kieffer Bellows (New York Islanders), are the other forwards invited from last year's gold medal team. There should be no question that all three make the 2018 team. Bellows is arguably the most dangerous of any forward for Team USA. Everything about him is envy-inducing to other teams. Physicality, scoring prowess, sheer speed, ability to finish – you name it, Bellows has it. He also scored two goals in the 2017 gold medal victory over Canada, and was a vital cog in USA capturing the medal.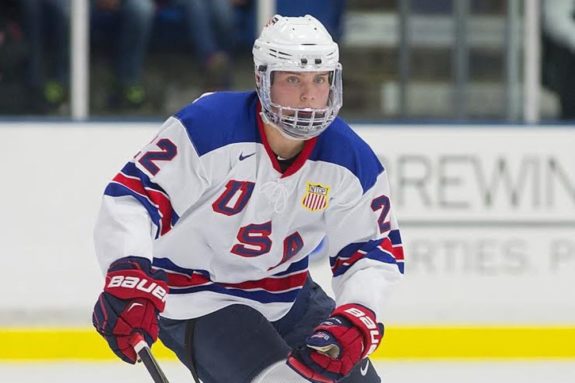 The other possible forwards are: Jack Badini (Anaheim Ducks), Hugh McGing, Ryan Poehling (Montreal Canadiens), Riley Tufte (Dallas Stars), Will Lockwood (Vancouver Canucks), Logan Brown (Ottawa Senators), Trent Frederic (Boston Bruins), Max Jones (Anaheim Ducks) and Josh Norris (San Jose Sharks)
The Bottom Line
The USA has a vast array of talent, but is it enough to repeat with a gold medal? No team has gone back-to-back with WJC gold since 2009, when Canada won the last of five straight gold medals. But in the eight tournaments to have taken place since then, the United States has won the most gold. They have done so in 2010, 2013, and 2017. If the USA does pull a string of at least two in a row, this is the year for it to happen. Certainly, there's no better way to do it than on American ice.
2017 World Juniors: Islanders Kieffer Bellows scores twice as Team USA… #Islanders https://t.co/D9Y3hzXmdx pic.twitter.com/6NYceKJk19

— Islanders Report (@islanders_fanly) January 6, 2017
Here is THW's prediction as to who makes the final roster of 23 for the United States:
Goaltenders: Joseph Woll, Jake Oettinger
Defense: Ryan Lindgren, Adam Fox, Mikey Anderson, Reilly Walsh, Dylan Samberg, Philip Kemp, Cole Hults
Forwards: Kailer Yamamoto, Patrick Harper, Brady Tkachuk, Casey Mittelstadt, Joey Anderson, Kieffer Bellows, Logan Brown, Max Jones, Riley Tufte, Trent Frederic, Josh Norris, Ryan Poehling, Will Lockwood, Jack Badini.
---
All the 2018 World Junior Championship Team Information:
Czech Republic — Team Preview — Roster
USA — Team Preview — Roster
Russia — Team Preview — Roster
Belarus — Team Preview — Roster
Canada — Team Preview — Roster
Denmark — Team Preview — Roster
Finland — Team Preview — Roster
Switzerland — Team Preview — Roster
Slovakia — Team Preview — Roster
Sweden — Team Preview — Roster
General Manager of the Buffalo Beauts (NWHL). Hockey history writer "The Hockey Writers". Credentialed media for the NHL Combine and 2018 IIHF World Junior Championships in Buffalo, NY, USA. Born and raised in Buffalo, NY. Lifelong hockey fan for over 40 years. Proponent of the women's game.