Who doesn't love an underdog, right? Well, Team Belarus may not be as much of an underdog as one might think. They have made their way into Buffalo for the 2018 tournament by taking gold last December in the 2017 Division I tournament which was held in Bremerhaven, Germany. Belarus won four of their five games in the process, and the only one that they lost was a shootout decision to the Germans. They put forth 20 goals in the five games, and only allowed 10.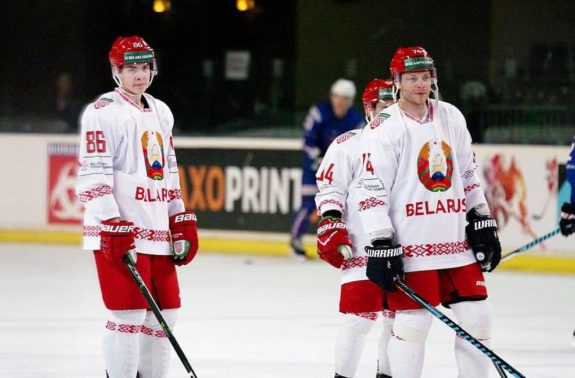 Buffalo will certainly see the Belarusians put into deeper waters. They are in Group A, which consists of the Czech Republic, Russia, Switzerland and Sweden as well. One thing about Belarus though is that they are feisty. After being knocked out of the top tournament in 2016 when they finished last in Helsinki, Finland, they have clawed their way back to be in the big games here in 2018.
Goaltending
At 6-foot-6 and and 214-pounds, 17-year-old Nikita Tolopilo is an absolute giant in net for Belarus. Of any player on Belarus' preliminary roster, Tolopilo is by far the largest. In two games of U20 competition leading up to the World Juniors, Tolopilo has posted a 2.91 goals against and a .926 save percentage. From sheer size alone and youthful enthusiasm, Tolopilo might be the way to go. But he is young.
The other two possible netminders are 18-year-old Andrei Grischenko and 19-year-old Dmitri Rodik. Grischenko will actually turn 19 in February, meaning both goaltenders have a bit more experience. Rodik's numbers from U20 for Belarus experience are a bit rough. In 11 games this year leading up the Buffalo, Rodik has 11 appearances, and 3.61 goals against to go with a .884 save percentage. His 2016-17 experience with the U20 team was even tougher with a 4.02 and a .846 in only two games.
While none of the three goalies on Belarus' preliminary roster have had World Juniors experience, the best bet might be the young Tolopilo. He has size and solid numbers leading up to the tournament. Grischenko and Rodik are older and have the experience, but Tolopilo is looking sharper right now.
Defense
Vladislav Martynyuk is smallish, but he is one of the defensemen that has gotten Belarus to Buffalo. In last year's Division I World Juniors, Martynyuk had a goal and three assists in five games. He is only 5-foot-10 and 172 pounds, but he moves the puck well and can generate plays from the backend. In the MHL, Russia's junior hockey league, Martynyuk has two goals and 16 assists in 39 games this year for the Kunlun Red Star junior team in China.
In October, Sergei Sapego was traded from the Tri-City Americans to the Prince Albert Raiders. He is out indefinitely with an upper body injury, which makes his status for the World Juniors somewhat questionable. Sapego would certainly be a nice addition to the Belarus roster. In 23 WHL games this year between Tri-City and Prince Albert, he has a goal and eight assists.
Unquestionably, Vladislav Yeryomenko is the best defenseman for Belarus. His offensive production from the blueline is topnotch. At 6-foot and 176 pounds, Yeryomenko is sleek and lithe as a puck mover. A superb defenseman for the WHL's Calgary Hitmen, he has 12 goals and 37 assists for 49 points in 91 career games. More importantly, six goals and 18 assists have come in only 29 games this current season, making him nearly a point-per-game player.
BREAKING: #WHLHitmen defenceman Vladislav Yeryomenko has been named to Team Belarus for the 2018 IIHF World Junior Hockey Championship! ➡️ https://t.co/EPpheiaV8t pic.twitter.com/lEojc0DL45

— Calgary Hitmen (@WHLHitmen) December 8, 2017
The other D-men up for consideration are Dmitri Burovtsev, Dmitri Deryabin, Vladislav Gabrus, Andrei Gostev, Maxim Magaletsky, Dmitri Savritsky, Vladislav Sokolovsky, and Nikita Zuyev.
Forwards
At 19 years of age, Yegor Sharangovich is in his third and final World Juniors for Belarus. Sharangovich is the only player on the preliminary roster for Belarus that is a professional. He plays in the KHL for Dinamo Minsk. In 39 games this season for Dinamo Sharangovich has scored four goals and six assists. At the 2016 World Juniors in Finland he scored a goal in six games; a tally in a 5-3 loss to the Czech Republic. Sharangovich is also one of the players to get Belarus back into the top tournament. In 2017's Division I tournament, he had a pair of assists in the five games where Belarus took gold. He will be one of the team's most integral players in Buffalo.
Big Artyom Baltruk provides size and versatility to the Belarus squad. Able to player either center or wing, Baltruk stands at 6-foot-4 and around the 200-pound mark. He also has some experience with the North American style of play — 2016-17 was his first year in the Western Hockey League for the Edmonton Oil Kings. In 60 games he potted three goals and two assists. So far during this current 2017-2018 season he has a lone assist in 19 games for the Oil Kings.
WHL & OHL Belarusians Can Be Difference Makers
Another one of a handful of WHLers on Belarus is Vladislav Mikhalchuk. The 6-foot-2 winger has scored seven goals and 10 assists in 27 games for the Prince George Cougars. Mikhalchuk will definitely need to be a source that Belarus can divine goals from.
Maksim Sushko is the only player on the Belarus preliminary roster from the OHL. Right here is your most vital cog for Belarus' offense. Sushko is a fourth round selection of the Philadelphia Flyers from this past summer. In two seasons with the Owen Sound Attack, he has scored 32 goals and 24 assists for 56 points in 80 games.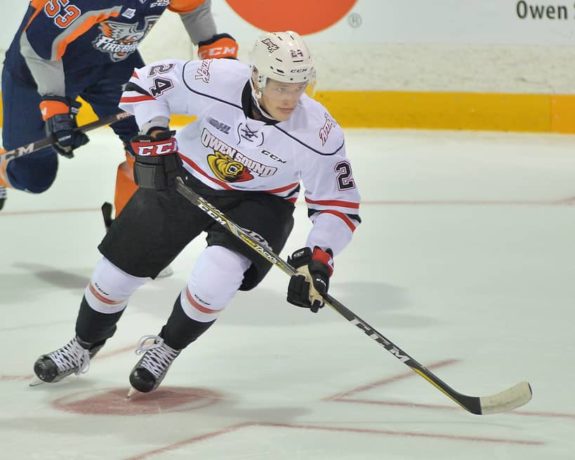 The other Belarusian forwards currently listed on the preliminary roster include Nazar Anisimov, Arseni Astashevich, Viktor Bovbel, Ivan Drozdov, Vasili Filyayev, Dmitri Grinkevich, Leonid Ivanovsky, Ilya Litvinov, Alexander Lukashevich, Gennadi Malashchenko, Igor Martynov, Kirill Nikolayev, Sergei Pischuk and Vladislav Ryadchenko.
The Bottom Line
While Team Belarus may not have the same level of talent as some of the powerhouse teams at 2018 tournament, they have enough to pull off an upset here and there. At the very least, they will give teams a run for their money and a pain in their backside. Yeryomenko and Martynyuk are the top defenders on this team. After that though, it is slim pickings on Belarus' blueline. Look for both of those D-men to log a lot of ice time.
The collection of forwards for Belarus might be their strongest positive. Sushko, Baltruk, Sharangovich and Mikhalchuk will need to finish any opportunity that comes their way. They have the capability of doing so. Belarus' secondary and tertiary scoring by their standards is decent too.
NEWS: @vlad_mikh named to Team Belarus 🇧🇾 roster for 2018 @iihf_wjc in Buffalo.

➡️ https://t.co/4bc6UXTt9N#WHL #WJHC pic.twitter.com/HluPYwLwCc

— PG Cougars (@PGCougars) November 28, 2017
Here is THW's prediction as to who makes the final 23-man roster for Belarus:
Goaltenders: Nikita Tolopilo, Dmitri Rodik, Andrei Grischenko.
Defense: Vladislav Yeryomenko, Vladislav Martynyuk, Dmitri Deryabin, Sergei Sapego, Dmitri Burovtsev, Maxim Magaletsky, Vladislav Sokolovsky.
Forwards: Artyom Baltruk, Maksim Sushko, Vladislav Mikhalchuk, Alexander Lukashevich, Yegor Sharangovich, Nazar Anisimov, Arseni Astashevich, Dmitri Grinkevich, Gennadi Malashchenko, Igor Martynov, Sergei Pischuk, Vladislav Ryadchenko, Ivan Drozdov.
---
All the 2018 World Junior Championship Team Information:
Czech Republic — Team Preview — Roster
USA — Team Preview — Roster
Russia — Team Preview — Roster
Belarus — Team Preview — Roster
Canada — Team Preview — Roster
Denmark — Team Preview — Roster
Finland — Team Preview — Roster
Switzerland — Team Preview — Roster
Slovakia — Team Preview — Roster
Sweden — Team Preview — Roster