For young hockey players, there's no joy greater than being selected in the National Hockey League entry draft and no larger disappointment than not being selected at that event. That said, in recent years it's become apparent that often the NHL Draft isn't the be-all, end-all for a player's development. Players are often passed over in their first year of draft eligibility for all sorts of reasons, but they can still manage to get a shot at the NHL – either via free agency or by selection in a subsequent draft.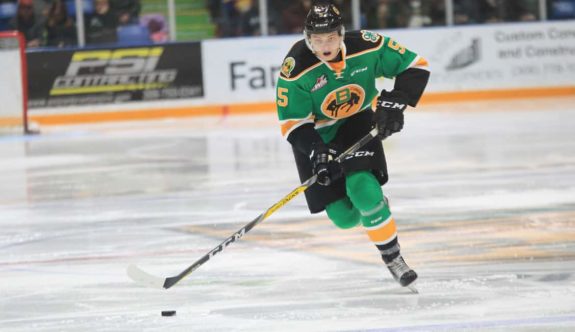 Three Western Hockey League prospects that were ranked by the NHL's Central Scouting Service for the 2017 Draft but not selected have already landed entry-level contracts: Parker Kelly with Ottawa, Dylan Coghlan with Vegas and Jordan Bellerive with Pittsburgh. Here are five players in their second season of draft eligibility making strong cases for a second chance at the 2018 NHL Draft.
Artyom Minulin
A big-bodied defender ranked 58th among North American skaters by Central Scouting, Minulin came to the Swift Current Broncos in 2015-16 by way of the annual CHL Import Draft for his 17-year-old year. After a strong rookie season with 33 points, Minulin was superb during his draft year with 50 points in 70 games. His combination of size and offensive ability made him seem like a natural draft pick, but he wasn't taken – possibly due to his uneven defensive play. He attended Minnesota's rookie camp in Traverse City but was cut prior to main camp. He's already off to a strong offensive start with nine points in 12 games with the Broncos.
Ryan Peckford
A rangey winger ranked 86th among North American skaters a year ago, Peckford had already spent a full season in the WHL with the Victoria Royals before he hit his draft year. The good news is he was more productive, upping his production per game from 0.18 points to 0.76 points. The bad news is he missed a big chunk of the season due to injury, which probably contributed to him not being drafted. He has 17 points in the first 17 games of the 2017-18 season, suggesting his injuries didn't slow down his progression very much.
Vladislav Yeryomenko
A product of Mishutki, Belarus, Yeryomenko came to the Calgary Hitmen in the 2016 Import Draft. A mobile puck-moving defender, he struggled at times with the pace and physicality of the WHL in his first season and posted 25 points in 62 games. With the departure of Brady Reagan and Micheal Zipp heading into this season, Yeryomenko has graduated to the top pairing alongside Jake Bean and has been up to the challenge. He's already emerged as an offensive force in his expanded role this season and he already has produced five multi-point games after having just six in 2016-17.
Isaac Johnson
Invitee LW Isaac Johnson (2018/1999) moved from USHL to WHL's Tri-City Americans. Big winger from MN with wicked shot, solid puck skills https://t.co/BevymI2f8J

— The Draft Analyst (@TheDraftAnalyst) August 28, 2017
A big-bodied winger from Minnesota, the State of Hockey, Johnson spent 2016-17 with the USHL's Des Moines Buccaneers after making the jump from high school hockey. He posted good but not overwhelming numbers in the USHL, but he opted to make the jump to the WHL over the summer by signing with the Tri-City Americans (as well as attending Detroit's prospect camp). He's taken advantage of the opportunity, posting 11 points over his first 15 games in the Dub – and figuring out ways to stay out of the penalty box, something that held him back in the USHL as an 18-year-old.
Sami Moilanen
This Finnish import was already established as a productive junior player from his time with Jokerit in Finland's Jr. SM-Liiga. He joined the Seattle Thunderbirds via the 2016 Import Draft and was immediately a key part of their WHL Championship team, posting 43 points in 70 games as a rookie. While not huge at 5'9″ and 180 pounds, Moilanen was a useful, versatile player as a rookie. He's already posted 16 points in the first 13 games of the 2017-18 season and attended Colorado's rookie camp, so he's decidedly on the NHL radar.
Ryan Pike has covered the Calgary Flames and the NHL Draft extensively since 2010 as a Senior Writer for The Hockey Writers and Senior Contributing Editor of FlamesNation.ca. A member of the Professional Hockey Writers Association, he lives in Calgary.