Dylan Coghlan
2016-17 Team: Tri-City Americans (#10)
Date of Birth: February 19, 1998
Place of Birth: Duncan, British Columbia
Ht: 6'2″ Wt: 190 lbs
Shoots: Right
Position: Defenseman
NHL Draft Eligibility: 2017 second-year eligible
Twitter: @dylancoghlan15

Rankings
THW (Pike's Picks): not ranked (final)
Future Considerations: 118th (final)
ISS: not ranked (May)
Bob McKenzie: not ranked (Mid-season)
Craig Button: not ranked (final)
The Hockey News: not ranked (final)
Tri-City Americans blueliner Dylan Coghlan is one of many impressive second-year eligibles in the 2017 draft class. After being ranked 155th among North American skaters last season and being passed over in the 2016 NHL Draft, Coghlan's had a strong season and has improved his draft stature dramatically. He's the 77th ranked North American skater this season and seems a safe bet to be drafted at some point during this year's draft.
Coghlan's arguably a picture-perfect example of a late-blooming defender. He's been a big-bodied, defensively-minded blueliner since he arrived in the WHL three seasons ago. However, he's quietly worked his way up the Americans' depth chart over the past few seasons and, as he has, his offensive totals (and offensive awareness) has crept up as well. His point totals have gone from 5 to 24 to 53, while his goal totals have improved from 2 to 4 to 15. As his ice-time and responsibilities have grown, arguably the most impressive aspect of Coghlan's game is his lack of penalties. He had just 26 penalty minutes this past season, despite the fact that he played a ton; this likely indicates that he spent a lot of time in the offensive zone (he did), but also that he didn't get caught on his heels by opposition forwards too often.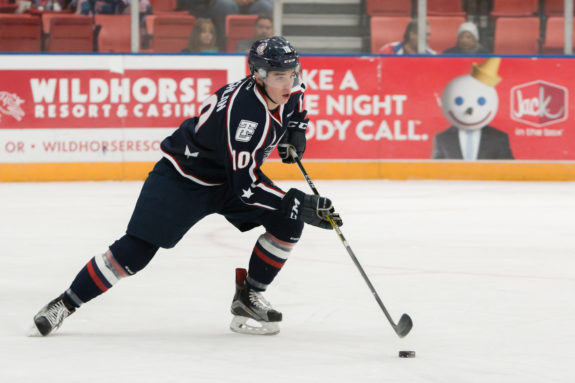 If there are concerns about Coghlan, they may be related to his mobility as a bigger defender against super-fast pro forwards and whether his drastic offensive boost this season came as a result of playing a lot with New York Islanders prospect Parker Wotherspoon. Both are probably fair concerns. That said, Coghlan's a hard worker and plays a very smart, measured and simple "meat and potatoes" style of game. He doesn't take a lot of risks and is a very responsible defensive player. It may limit his progression at the pro level, as he's not likely to light up scoreboards, but those qualities are also the ones most likely to get him to the higher levels of hockey.
NHL Draft Projection
Coghlan seems like he should likely go in the fourth or fifth round of the draft.
Quotables
"After going undrafted last year, Dylan Coghlan spent the entire season proving scouts wrong and putting himself right back in the draft picture with his play this past season. Stepping up his role with the team as a solid #3 defenceman behind Parker Wotherspoon and fellow draft eligible Jusso Valimaki, Coghlan plays a mature, quiet and patient game on the back end. He keeps his game simple and doesn't rush the play. Makes a good first pass right on the tape and is shooting much more this season, already surpassing last season's goal and point totals while seeing a regular shift on the power play where he likes to shoot. He wins puck races, eludes the forecheck and anticipates well in his own end. A real fluid skater who is also a physical presence on the back end using his big frame to thwart the offensive attack. One of the most underrated defencemen for a second straight year." – Hockey Now.
"Dylan has continued to improve and he has taken a big step this year. His consistency has come a long way. He is there every night defensively and adding some offense. They complement each other well. They have created chemistry and feed off each other. I think Spoons has been good for him, being able to pass the knowledge and experience and that always helps when you are able to gain that." – Mike Williamson, Tri-City Americans head coach.
Statistics
Strengths
Good passer
Strong positional defender
Plays a very smart, low-event game
Under Construction (Improvements to Make)
Could take more chances offensively
Could add some meanness to his physical game
Could improve his skating, in terms of his first couple steps (to counter incoming offensive forwards)
NHL Potential
Third pairing defender with offensive upside.
Risk-Reward Analysis
Risk – 1/5, Reward – 3/5
Fantasy Hockey Potential
Offense 7/10, Defense 8/10
Awards/Achievements
Coghlan has yet to win any major awards or to play in any major international tournaments.
Interview/Profile Links