*NOTE: This article has been updated with new information after it was originally published.  
There are no need for any reminders. The hockey world is quite familiar with Russia's exploits the last time they competed in this tournament amidst the friendly confines of Buffalo. The Russians turned powerhouses like Canada and the United States onto their ears and took the gold back home to Moscow. Their comeback against Canada in the gold medal game was one of the finest storybook endings that this tournament has ever witnessed.
Of the 10 nations who will play the 2018 tournament in Buffalo, eight of them were there in 2011. Canada, USA, Sweden, Switzerland, Finland, Slovakia and the Czech Republic came up short to Russia back then. The Spanish philosopher George Santayana once said, "Those who do not remember the past are condemned to repeat their mistakes." Those seven teams plus two new ones will need to be mindful of the Russians here in 2018 and not underestimate them.
But no team should be underestimated. That goes for any team in this tournament. And 2011 will have been seven years ago. This is a much different team Russia, and at least on paper, their radiance is somewhat lackluster.
THW takes a look at Team Russia's preliminary roster.
Goaltending
Three of the four goaltenders named to the preliminary roster for Russia are all approximately the same size. 6-foot, give or take, and around the 190-pound mark. One, Mikhail Berdin is slightly taller at 6-foot-2, but lighter at approximately 163 pounds. Two of the four have KHL experience. One without was actually part of Russia's 2017 World Juniors team. That particular squad captured a bronze medal.
Vladislav Sukhachyov appeared in one game for Russia in 2017. Manning the nets against Latvia at the Air Canada Centre, he backstopped Russia to a 9-1 win. In the process, Sukhachyov turned aside 25 of 26 shots and came away with a .962 save percentage. This season, he has been playing for Chelmet Chelyabinsk of the VHL, which is one step below the KHL in Russia. Sukhachyov has a 2.27 and a .930 in 20 games for Chelmet.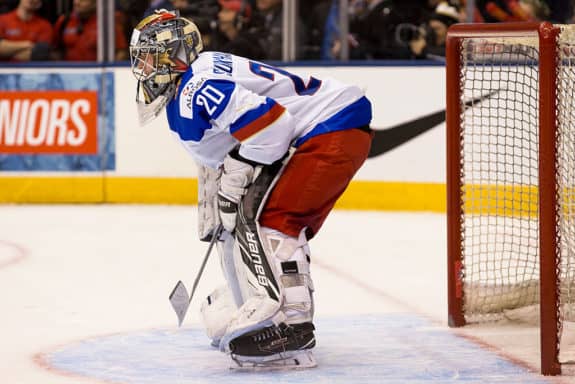 Ilya Konovalov has gotten into four games with the KHL's Lokomotiv Yaroslavl this year. He has been excellent in those four appearances. Konovalov has posted a 1.76 goals-against average and a .935 save percentage.
Which Four Will Make the Buffalo Roster?
The third possibility to be Russia's starter in Buffalo is Alexei Melnichuk. He has played a pair of games here in 2017-18 for SKA St. Petersburg. He hasn't quite put up the numbers that Konovalov has in the KHL, but still has a decent statline – a 2.68 GAA and a flat .900 SV%.
The fourth and perhaps most promising goaltender is Berdin. A sixth round draft choice of the Winnipeg Jets in 2016, Berdin has been playing in the USHL for the Sioux Falls Stampede. In 18 games this season he has a 2.63 GAA and a very solid .930 SV%.
All four goaltenders are 19 years of age. Look for Berdin and Sukhachyov to split the duties in Buffalo, with maybe some opportunity afforded to Konovalov too.
Defense
The Russian defense has a nice mixture of both KHL talent and Canadian junior hockey experience. Unfortunately for Russia, there really is not a star defender that stands out at this year's tournament (Swift Current Broncos'Artyom Minulin could be that guy). This is tough, because most of the powerhouse teams seem to have that pinnacle D-man. This is not really the case with this particular collection of Russian talent but someone could step to the forefront. Maybe it will be Minulin, who had 42 assists in 70 games last year for the Broncos. He has the potential of being a quarterback.
Kazakhstan-born defenseman Anatoli Yelizarov likely has some of most North American experience out of any Russian blueliners – he spent 2015-16 and 2016-17 with the WHL's Edmonton Oil Kings. In 124 games for Edmonton, Yelizarov had only nine goals and 12 assists. He did, however, total 110 penalty minutes. This year he has gotten into 14 KHL games with Salavat Yulaev Ufa, recording a lone assist.
NHL Flavor on Defense
Yegor Zaitsev is one of only two defenders for Russia to have been drafted by an NHL team. The 5-foot-11, 185-pound Zaitsev was selected by the New Jersey Devils in the seventh round at this past summer's NHL draft. He is currently playing for Dynamo Moscow, and played there last season as well. In 44 KHL games, Zaitsev has three assists and is a plus-two.
If there is a Russian bear on this particular team, it has got to be Vladislav Syomin. At 6-foot-3 and over 200 pounds, he is the largest of any of Russia's blueliners. Playing for Russia's junior league, the MHL, Syomin had an astounding 156 penalty minutes in 55 games last 2016-17 season. His physicality will be a huge plus for Russia on a somewhat smaller defense.
The other possible defenders to make the Russian squad are Alexander Kalinin, Alexander Alexeyev, Dmitri Alexeyev, Alexander Shepelev, Artyom Maltsev, Dmitry Samorukov, Nikita Makeyev, and Nikolai Knyzhov.
Forward
St. Louis Blues' highly touted prospect Klim Kostin may be Russia's best forward. The Blues drafted him 31st overall in the opening round of 2017 draft. This season, Kostin has played for the Blues' AHL affiliate, the San Antonio Rampage. In 24 games there, he has two goals and nine assists. His 33 penalty minutes presently rank second overall on the team. Kostin also captained U17 and U18 teams for Russia. Look for him to be the team's leader, likely even the captain, when Russia comes to Buffalo.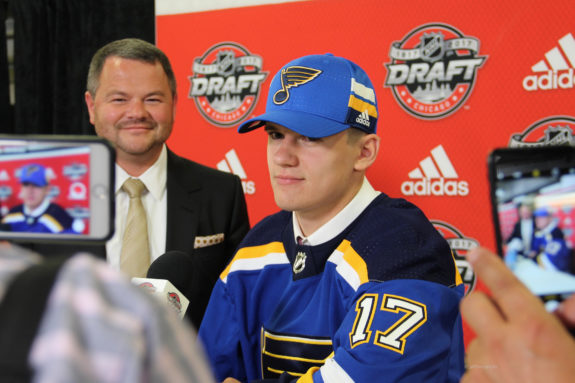 Russia also has the possibility of selecting two Chicago Blackhawks prospects to their final roster for the tournament. Artur Kayumov (2nd round, 2016) and Andrei Altybarmakyan (3rd round, 2017) were both drafted by Chicago, maybe with the thought that one of them could be another Artemi Panarin (before he was shipped to the Blue Jackets). Kayumov has played in the KHL this year with Lokomotiv Yaroslavl, and has scored a goal and an assist. Altybarmakyan has gone pointless in 13 games for SKA St. Petersburg.
Artyom Manukyan could be Russia's dark horse. Maybe even as much as an ace in the hole. While he has only a goal and an assist in 24 KHL games Avangard Omsk, he completely set the score sheets on fire in junior. Playing for the MHL's Omskie Yastreby in 2016-17, he managed 105 points in 60 games. With 66 assists to his credit, he was good to set up at least a goal every game.
The following forwards are also in consideration to make the team: Damir Rakhimullin, Ivan Romanov, Pavel Shen, Marsel Sholokhov, Danil Veryayev, Nikita O. Popugayev, Alexei Polodyan, Danila Moiseyev, Georgi Ivanov, Vitali Kravtsov, Vitaly Abramov, Alexei Lipanov, Andrei Svechnikov, German Rubtsov, Dmitry Sokolov and Mikhail Maltsev.
The Bottom Line
There is no indication that this will be another 2011. There is no Panarin, Vladimir Tarasenko, Evgeny Kuznetsov, or Dmitry Orlov like there was in 2011. 2018 in Buffalo has all appearances of being a challenging tournament for the Russians, at least in terms of garnering a medal.
18 y.o. Artyom Manukyan has recorded 105 points in 60 games – more than enough to set new Junior hockey league all-time record. #KHLAwards pic.twitter.com/3MmiupAkpc

— KHL (@khl_eng) May 24, 2017
Being in the same Group B as Sweden, Switzerland, the Czech Republic, and even Belarus could prove problematic for the Russians. Maybe, just maybe, there is still some magic lingering around in Buffalo. A magic that once scared the living daylights out of Finland, Sweden, and then finally Canada as the Russians fought their way through the medal rounds back 2011. Do not count on that being the case here in '18, but do not forget the past either. Anything is possible, especially if Kostin has something to say about it.
Here is THW's prediction as to who makes the final 23-man roster for Russia:
Goaltenders: Vladislav Sukhachyov, Ilya Konovalov, Mikhail Berdin. 
Defense: Yegor Zaitsev, Vladislav Syomin, Anatoli Yelizarov, Nikolai Knyzhov, Artyom Minulin, Alexander Alexeyev, Dmitri Samorukov. 
Forwards: Artyom Manukyan, Andrei Altybarmakyan, Klim Kostin, Artur Kayumov, Mikhail Maltsev, Alexei Lipanov, Dmitry Sokolov, Pavel Shen, Andrei Svechnikov, Vitaly Abramov, Alexei Polodyan, Vitali Kravtsov, German Rubtsov.
---
All the 2018 World Junior Championship Team Information:
Czech Republic — Team Preview — Roster
USA — Team Preview — Roster
Russia — Team Preview — Roster
Belarus — Team Preview — Roster
Canada — Team Preview — Roster
Denmark — Team Preview — Roster
Finland — Team Preview — Roster
Switzerland — Team Preview — Roster
Slovakia — Team Preview — Roster
Sweden — Team Preview — Roster