No team has as much pressure on them every year quite like Canada does. Despite the fact that they fell just short of a gold medal win last year, the 2017 tournament can be seen as nothing short of disappointing. It might seem harsh, but as many Canadians will attest, the tournament has a gold-medal-or-bust vibe to it every year. This isn't to say that other countries don't feel the same way as the goal should always be to win gold, but Canada has made a name for itself as a hockey powerhouse and as such, the expectations are always as high as can be.
GAME DAY! Let's do this thing. #WorldJuniors

🇨🇦 vs. 🇫🇮 at 4 p.m. ET
📺 @TSN_Sports
📻 https://t.co/omPaNuTkA7
➡️ https://t.co/gxtgjxrjiD pic.twitter.com/3J86HLsIwL

— #WorldJuniors (@HC_WJC) December 26, 2017
For Canada, the 2018 tournament won't be an easy one. With the other countries in the tournament putting together a set of tremendously talented rosters, the potential gold-medal game is almost impossible to predict. Whether it's Canada, the United States, Russia, Finland, Sweden or a surprising team making it father than expected, the World Junior Championships have always been unpredictable. This year, however, the outcome could be harder to predict than ever before.
Still, Canada has done their best to compile the best roster possible with an emphasis on versatility and chemistry and not necessarily skill and draft status.
Team Canada Goaltenders
Carter Hart (Everett), Colton Point (Colgate University)
Canada's net belongs to Carter Hart. One of the most dominant players in all of major-junior hockey in 2017, Hart has proven to be an elite force in net who can impact a game in a way that continues to drop jaws and turn heads. His season has been one for the ages and there should be no reason to expect Hart to be anything excellent in the crease for Canada. Heading into the tournament, Hart has a 1.32 goals against average and a .961 save percentage with a 13-3-1 record in Everett of the WHL. Those numbers speak for themselves.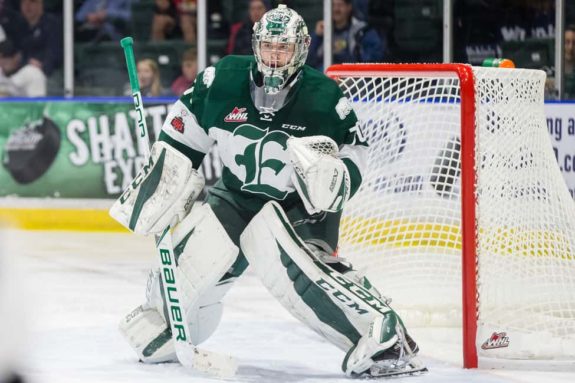 To his credit, Colton Point has proven to be an excellent find for the Dallas Stars in the fifth-round in 2016. With an impressive 1.90 goals against average and a .938 save percentage, Point has made a name for himself as a star with Colgate University. His large 6-foot-4, 219-pound frame can't be understated and he will provide excellent depth for Canada this year behind Hart. It wouldn't be surprising to see Point man the crease as a starter for Canada one day as he looks like he could be an NHL starter one day with his poise and smart decision-making at the collegiate level.
Defensemen
Jake Bean (Calgary), Kale Clague (Brandon), Dante Fabbro (Boston University), Cal Foote (Kelowna), Cale Makar (UMASS), Victor Mete (Montreal Canadiens), Conor Timmins (Sault Ste. Marie)
Canada's strongest suit is undoubtedly their blue-line. The biggest addition to the team was Montreal Canadiens' defender Victor Mete who was loaned to Canada for this tournament. Expected to play on the second-pairing alongside Conor Timmins to start the tournament, Mete will look to re-find his game after such a strong start in the NHL to start the year.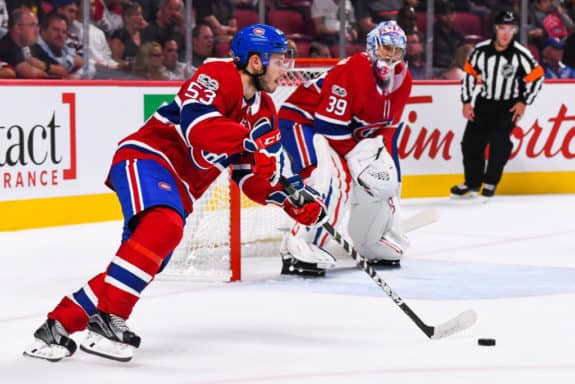 Canada will have a nice mobile blue-line that features some of the very best tournament-eligible players in the tournament. The team's top unit will likely be made up of Kale Clague and Cale Makar. Clague has high expectations for himself on this team as he intends on being the best defenseman on the roster when all is said and done. Makar, on the other hand, was taken with the fourth-overall pick in 2017 by the Colorado Avalanche and has proven to be an elite talent in all three-zone and should be Canada's most well-rounded blue-liner this tournament.
With a third-pairing featuring Jake Bean and Cal Foote, Canada's mobile blue-line continues throughout their entire roster. As the current trend in the NHL might suggest, a defender that can move the puck with his skating and with his passing can be an invaluable part of a team. It's for that reason that Bean and Foote are far from your every-day third-pairing players. Both taken in the first-round of the NHL Entry Draft, Bean in 2016 and Foote in 2017, the high-end skill and ability to play an accountable game has earned them a spot with Canada on a team that will likely operate through their defense.
UPDATE | @17Fabbro has been cleared to play at @HC_WJC. Our sincerest thanks to @joshmahura for stepping up in the interim. #WorldJuniors

— Hockey Canada (@HockeyCanada) December 26, 2017
Dante Fabbro might be starting the tournament recovering from an injury but he should be a crucial part of Canada's game plan once he's fully healthy and ready to go. Cleared to play, we don't yet know how fast Fabbro will be able to make an impact, but as soon as he finds his stride, there's no telling what he can do for Canada. A steal for the Nashville Predators at 17th overall in 2016, Fabbro will add to a stacked blue-line in Nashville sooner than later. In the meantime, he'll continue to dominate at Boston University and hopefully help Canada win a gold medal this year.
Forwards
Drake Batherson (Cape Breton), Maxime Comtois (Victoriaville), Dillon Dube (Kelowna), Alex Formenton (London), Jonah Gadjovich (Owen Sound), Brett Howden (Moose Jaw), Boris Katchouk (Sault Ste. Marie), Jordan Kyrou (Sarnia), Michael McLeod (Mississauga), Taylor Raddysh (Erie), Sam Steel (Regina), Tyler Steenbergen (Swift Current), Robert Thomas (London)
Unlike some of the other teams at the World Juniors, Canada's team is built in a more well-rounded model than a top-heavy model. Cutting a few players who were taken in the first-round of the NHL Entry Draft in the last few years, Canada's roster is built to give the team the best chance at winning, even at the expense of some of the biggest tournament-eligible names such as Cody Glass, Logan Stanley and Kole Lind. A player like Glass, as mentioned by Bob McKenzie, probably couldn't offer Canada the versatility they need in the lineup – that's just one example of what type of decision-making that went into the process of deciding the final roster.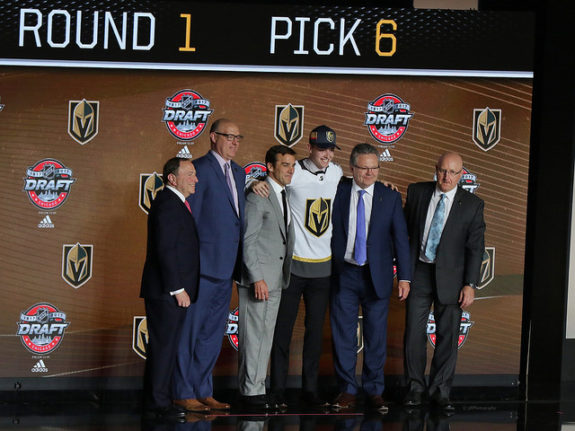 When evaluating talent, Canada clearly didn't look at draft position for deciding who to cut and who to keep on the roster. A player like Drake Batherson is a good example of that as a fourth-round pick in 2017 out of the QMJHL. Scoring a career-high 22 goals and 58 points in 61 games in his draft year, Batherson is tearing it up this season with 17 goals and 39 points in only 24 games to date. His elite speed and tremendous playmaking ability make him a potential steal for the Ottawa Senators and have earned him a spot with Canada this year.
Tyler Steenbergen is another example of a diamond-in-the-rough, taken in the fifth-round of the 2017 draft by the Arizona Coyotes. A right-handed center who can play on the wing, Steenbergen's offensive production speaks for itself. His ability to create space for himself and everyone around him is noticeable and it's culminated in 35 goals and 61 points in just 27 games for the 19-year-old after scoring a career-high 51 goals and 90 points in 72 games last season in his draft year. At 5 foot 10 and 188 pounds, Steenbergen isn't the biggest forward, but that hasn't stopped him from making a big impact in the WHL nonetheless.
Canada Using Second-Round Talent
While Canada may not necessarily look at draft position for determining who makes their roster, there's certainly a plethora of second-round talent on the club this year. Seven of Canada's 13 forwards were selected in the second-round of the 2016 or 2017 NHL Entry Drafts including captain Dillon Dube, Alex Formenton, Jonah Gadjovich, Boris Katchouk, Taylor Raddysh and Jordan Kyrou.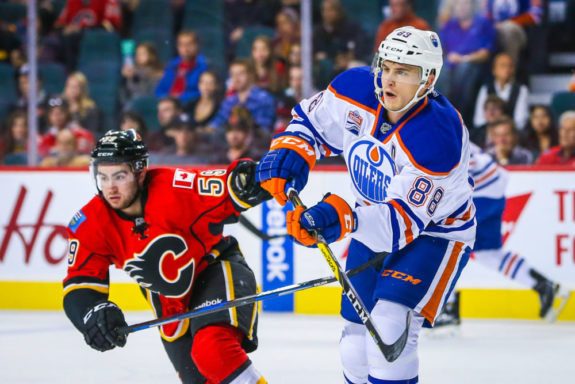 While scouts may not have seen these players as first-round talents, they've made a case for themselves to represent Canada on the highest level for their age group and they're spots on the team are far from an accident.
Dube has proven to be an excellent go-to player for offense and leadership; Formenton brings tenacity and an elite-shot while also being fearless on the ice; Gadjovich has a tendency to go to the front of the net and record a bevy of shots on net each game; Comtois is versatile and can play all three forward positions and isn't afraid to get physical when necessary while chipping in points in the process; Katchouk and Raddysh are both Tampa Bay Lightning prospects who play key roles in their respective offenses in Sault Ste. Marie and Erie of the OHL and Jordan Kyrou has proven he can score at an elite pace and has earned his spot on Canada's roster as such.
Four First-Round Forwards on Team Canada
Rounding out the 13 forwards on Canada's WJC roster are Brett Howden, Sam Steel, Robert Thomas and Michael McLeod. Throughout the draft process, Howden was drawing first-round grades, similarly to his brother Quinton who was a first-round pick of the Florida Panthers in 2010. It isn't surprising either given his size and 200-foot ability at such a young age. He could see some time on Canada's penalty kill and could be a big minutes-eater if Canada needs someone they can rely upon to be on the ice in crunch time.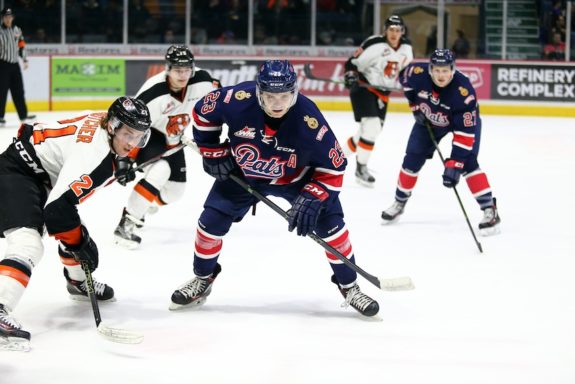 Steel, a second-round pick of the Anaheim Ducks, is also a capable player in all three-zones but sets himself apart with his skill. His high hockey-IQ and tremendous vision, passing and quick shots have earned him a spot among the Ducks top-four prospects. While Steel doesn't necessarily play a very physical game, his skillset more than makes up for it and should make him likely for a middle-six spot on Canada's roster.
An elite scorer in Mississauga, the 2017-18 season has been a rough one so far for Devils' prospect Michael McCleod. Playing in only 11 games so far this year due to a knee injury that sidelined him for over a month, McLeod is ready to prove that he has totally recovered from the arthroscopic surgery that repaired his torn meniscus in his left knee. McCleod should be a big part of Canada's game plan and it'll be interesting to see where he slots into their lineup as the tournament progresses.
If Robert Thomas was already considered a first-round talent in 2017 when he was drafted 20th overall by the St. Louis Blues, then his improvements already this season should only prove to bolster that. To put it in perspective, Thomas scored 16 goals and 66 points in 66 games last season with the London Knights in his draft year. This year he's already scored 20 goals and 46 points in only 27 games. A highly-skilled player with great 200-foot instincts, Thomas is only getting better as he continues to develop.
The Bottom Line
While the Canadians lack some of the high-end, elite talent that other teams in this tournament have, the well-rounded roster and deep defensive core could be the difference maker. Falling just short of winning the gold medal for the second time in three years in 2017, Canada will undoubtedly be giving it their all this tournament to reclaim their spot on top of the hockey world. Unfortunately for them, however, the rest of the world has been producing elite level hockey talent at a remarkable pace and the competition will be steep.
Proving they can be competitive in just about any year, there's no reason to believe that Canada won't be a force once again this year. They'll have their work cut out for them, however, and this tournament is known for breaking hearts of many young hockey players and the nation they represent. The Canadians have a chance to bring joy rather than heartbreak to their country, but as is always the case, anything can happen in the World Junior Hockey Championships.
---
All the 2018 World Junior Championship Team Information:
Czech Republic — Team Preview — Roster
USA — Team Preview — Roster
Russia — Team Preview — Roster
Belarus — Team Preview — Roster
Canada — Team Preview — Roster
Denmark — Team Preview — Roster
Finland — Team Preview — Roster
Switzerland — Team Preview — Roster
Slovakia — Team Preview — Roster
Sweden — Team Preview — Roster