For many Montreal Canadiens fans, the second Michel Therrien era was not a good one. It seems like for every Therrien supporter, there are at least ten detractors. When he was fired, the hope was that bringing in Claude Julien would solve a lot of the team's problems.
However, since the Julien took over, the Habs have been incredibly inconsistent. They played well enough when he took over to get back on top of the Atlantic Division. However, the continued lack of scoring got them bounced in the first round of the playoffs.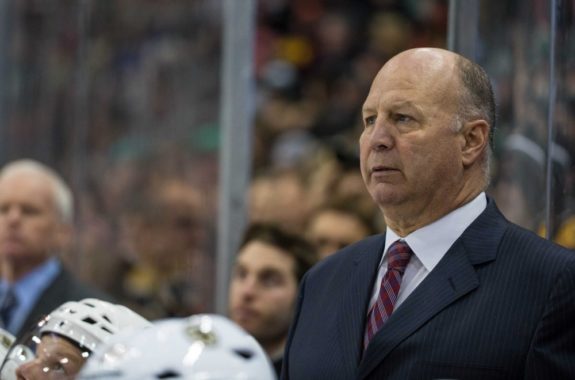 Fourth Line Fascination
One of the biggest complaints about Therrien was his preference for relying on "character guys who grind and work hard." From using Dale Weise and Brian Flynn over players with more skill, it was a tendency that drove some fans crazy; and then there was the endless need to use David Desharnais.
Under Julien, it's been the same habit. In fairness to Nicolas Deslauriers and Daniel Carr, they have been very effective in their roles. Deslauriers has brought a lot of energy and a little bit of offense while Carr, in particular, has been excellent since being called up, producing over a point per game with limited minutes.
[Related – Montreal Canadiens: Year-End Round Table]
It's the overuse of Byron Froese that's the issue. Froese is the prototypical replacement player. A scorer in the AHL and only adequate in the NHL, Froese has no standout skill that warrants him staying in the lineup. He sees far too many minutes for someone of this calibre, and it's puzzling why Julien insists on giving him ice time. 
Quote from #Habs coach Claude Julien at morning skate today about his team's compete level — or lack of it #HabsIO: pic.twitter.com/sQKM2LySJI

— Stu Cowan (@StuCowan1) December 15, 2017
It was especially troubling to note during the outdoor game vs. the Ottawa Senators that Froese received more ice time than the team's top players. When a team struggles to score goals, there is no reason for a player like him to play more than Brendan Gallagher, Jonathan Drouin and Alex Galchenyuk.
Julien vs. Therrien
Looking at the past six years, some stats really jump out when comparing this season under Julien to the ones coached by Therrien. Since 2012-2013, 2017 has had the worst penalty kill percentage at just 77.1%. The power play is third-best in that time at 18.9%, however, it ranks an unimpressive 19th overall in the league. The team is averaging over three goals-against per game and allows over 31 shots, which is worse than in 2015-16 when the team lost goaltender Carey Price for the season. 
#Habs Alex Galchenyuk has 10 points in his last 9 games (3 G, 7 A).

— Sportsnet Stats (@SNstats) December 16, 2017
To be fair, Julien hasn't had the benefit of seeing Price at his best in his first full season behind the bench (since being rehired). Captain Max Pacioretty is uncharacteristically having a down year. The team also lost Andrei Markov and Alexander Radulov in the offseason.
Another way Julien is similar to Therrien is in the continued controversy over Alex Galchenyuk's development. They have used the tough love approach by making him earn his minutes and always wanting more effort from him. Both coaches have also hesitated to play him at centre. Could both coaches have shown more patience with him? Yes. As for Galchenyuk, six years in the league is enough time to be responsible for his own play. Despite the criticism though, he has quietly produced this season. 
Julien has given the team's younger players more space compared to Therrien. Charles Hudon is a full-time NHLer for the first time, while Artturi Lehkonen continues to play a bigger role. Victor Mete is currently with Team Canada at the World Juniors but it speaks volumes that he was given an opportunity with the big club as a teenager.
[Related – Montreal Canadiens: How to Find a Number One Centre]
Claude Julien: Better or Worse?
The team has arguably taken a step backwards under Julien. There are times when his coaching hasn't been up to par and his defense-first style is out of date for the speed and skill-oriented NHL. For example, he has a need to go with the safest option, such as starting a player like Tomas Plekanec in overtime ahead of others who are more likely to score. Considering what Bergevin has given Julien to work with, it's not surprising. With the Bruins, he had the luxury of Patrice Bergeron and David Krejci down the middle. In Montreal? It's Jonathan Drouin and Phillip Danault.
Playing a defensive style with a heavy reliance on the goaltender has been the go-to style under both Therrien and Julien. So far under Julien, it has resulted in inconsistent hockey, especially with Price not up to his usual standards. They have a chance to move up in a weak Atlantic Division but the Habs need to find their stride in 2018 to avoid another disappointing season.