For the Montreal Canadiens, looking for that number one centre has been like searching for an elusive unicorn. It seems like every other team in the league has that special player down the middle. In Montreal? The last several years have been particularly painful. From overplaying David Desharnais and Phillip Danault, to management's indecision with Alex Galchenyuk, and to their current attempts converting a winger in Jonathan Drouin into a first line centre. To say it has been a struggle would be an understatement. How have the other teams in the NHL found that their number one centre? The answer is shockingly obvious.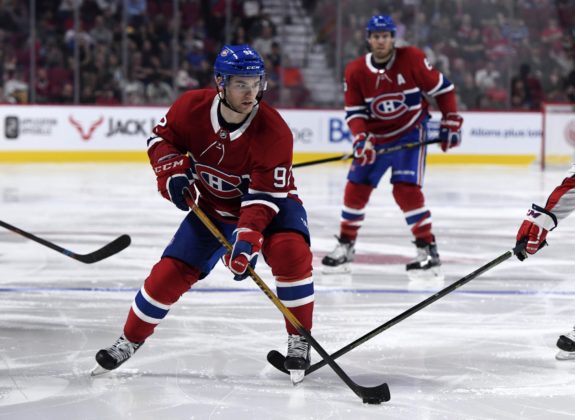 Part One: The NHL Draft
For the other NHL teams, most of the number one centres in the league have come from the first round of the draft. However, the overwhelming majority came from the top five of their respective draft class. That list of 19 includes Jack Eichel, Jordan Staal, Jonathan Toews, Nathan MacKinnon, Pierre-Luc Dubois, Tyler Seguin, Connor McDavid, Aleksander Barkov, Ryan Johansen, Nico Hischier, John Tavares, Matt Duchene, Sidney Crosby, Joe Thornton, Brayden Schenn, Steven Stamkos, Auston Matthews and Nicklas Backstrom.
The other top ten picks that went between six and ten were Sean Monahan, Mikko Koivu, Mika Zibanejad, Sean Couturier, Bo Horvat and Mark Scheifele. The other centres that went in the first round were Anze Kopitar and Ryan Getzlaf. Only three came from the second round in the form of Patrice Bergeron, Derek Stepan, and William Karlsson. The only outlier was Henrik Zetterberg, who was a seventh-rounder in 1999.
Part Two: The Trade Market
On the flip side of it, acquiring top centres aren't impossible. Several of these players have been traded, with many of them on their second or third teams. Thornton, Staal, Seguin, and Johansen were all involved in high profile trades when they moved. Duchene recently became an Ottawa Senator after years with Colorado. Schenn is on his third team in St. Louis and flourishing. Ottawa moving Zibanejad was a bit of a surprise. Stepan and Karlsson have both landed in the desert playing for Arizona and Vegas respectively. 
The Johansen trade is the most interesting one. He was traded to Nashville straight up for defenceman Seth Jones. Nashville was dealing from a position of strength so they could afford to trade Jones but still manage to maintain an excellent defence corps. The Predators were a team in particular that struggled to find their number one centre for years. Acquiring Johansen changed the complexion of their team and losing him in last year's Stanley Cup Final was a huge blow to Nashville. 
Not all number one centres are created equal so there are some on this list who are better off as number twos in some cases. When it comes to trades, many times the team that acquires the best player in the deal wins the trade. The Seguin, Thornton and Schenn trades were no doubt wins. Acquiring Zibanejad for Derick Brassard trade looks a lot better today for New York. The Duchene trade is too soon to call while the Staal and Stepan ones are toss-ups. Karlsson so far looks one of the best pickups for Vegas.
In the Habs System
For some fans, trading top defence prospect Mikhail Sergachev was bad enough, but to trade him for a player who, as talented as Drouin is, is not a natural proven top line centre. Galchenyuk was drafted expected to be a top centre and as a top three pick, the potential and promise were there. Now, six years into his NHL career, that answer is even more unclear as the Habs seem set on Galchenyuk being a winger, despite some analytics numbers suggesting he might be better off down the middle.
The most promising centre prospect in Montreal's pipeline is Ryan Poehling. He has taken a big step forward this season and earned a spot on Team USA for the World Juniors. The odds are he maxes out as a second line centre at the NHL level but it's not impossible that he could ascend higher. However, relying on him solely to solve Montreal's woes at centre is unwise.
Montreal Canadiens prospect report presented by @SonnetInsurance.

Could Ryan Poehling be the big, skilled centre the Canadiens have been waiting for? (@EricEngels)https://t.co/bAudHA6TyE pic.twitter.com/VzTkIvequL

— Sportsnet (@Sportsnet) December 7, 2017
Trades are hard as teams aren't just going to gift wrap you a number one centres for peanuts. However, acquiring one isn't impossible and the trades outlined above show it doesn't mean giving up everything to get them. Just because a team drafts a player in the top five, doesn't mean he is set to be with that team for life. Circumstances constantly changes and players who weren't available a month ago could suddenly be on the market.
Legacy Correction
If Montreal was to hypothetically tank the rest of the season or find themselves at the top end of the draft lottery, 2018 is unlikely the year that will land them that coveted top centre. For the 2018 NHL draft, the top-end prospects are primarily defencemen and wingers with names like Rasmus Dahlin and Andrei Svechnikov as the standouts. Drouin possesses an elite level skill set but his game is better off on the wing while Galchenyuk seems to be off the table at centre. Marc Bergevin's legacy as it stands is the general manager who traded P.K. Subban away and the one who hasn't acquired a number one centre. It's not too late to fix one of those things.