The narrative that Montreal doesn't have enough high-end centres is well-documented. General manager Marc Bergevin failing to get a top centre in his six years with the Habs is one of the biggest blemishes on his tenure so far. However, if the team prefers to look internally for their solution, they have two prospect centres playing in the NCAA and dominating the competition.
Ryan Poehling and Jake Evans are ripping up college hockey and are improving their stock at a dramatic rate. Could they have a place in the Habs' lineup in the not-too-distant future?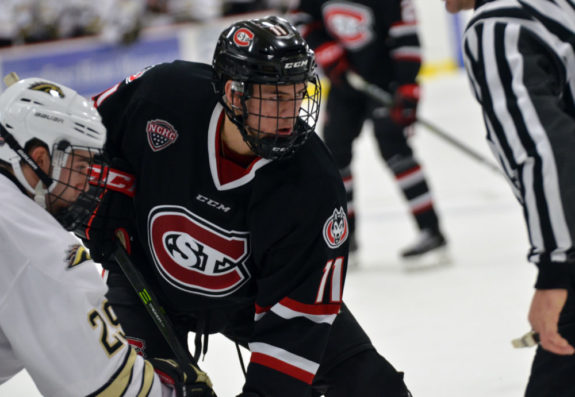 First Round Hope
Poehling was Montreal's 2017 first-round pick. He played NCAA hockey a year early at age 17 and it likely showed in his offensive totals with just 13 points in 35 games. This year has been a completely different story, though, as he already has 13 points in just 11 games. What was promising during his draft year was the rest of his game — defensively, his game was solid, and he was more than able to keep up with players who were several years older than him. 
Related – 2017 NHL Draft: Canadiens Pick Ryan Poehling #25 Overall
The two questions that remain are projection and when he will be NHL ready. At the draft, his upside looked to be a second or third-line centre at the NHL level. However, with his offence kicking in and dominating college at age 18, is there more to him than initially thought? He is virtually a lock for Team USA at the World Juniors and likely will spend another year or two in college to mature and develop.
Montreal could use a big talented centre in their lineup ASAP, as the centre-ice unit of Jonathan Drouin, Phillip Danault, Tomas Plekanec, and Jacob de la Rose doesn't scare opposing teams. Though in fairness to Drouin, he is elite but his skill set would be better served on the wing.  
From Seventh Round to NHL?
At the opposite end of the spectrum is Evans. A seventh-rounder in 2014, he is shaping up to be a steal. He has quietly gotten better since draft day and has 22 points in 15 games so far for Notre Dame. Evans is a free agent at the end of the season, so it is important that Montreal signs him before the August 15 deadline.
In recent years, certain top prospects have used this loophole to sign as free agents elsewhere (Jimmy Vesey, Kevin Hayes and Will Butcher, among others). With Evans, he fills an organizational need and will come out of four years of college as a mature prospect. He could very well see some NHL games when his season ends.
Jake Evans tallied 3 points last night, giving him an NCAA-best 18 on the year. 3rd in P/GP. He has a point on 53% of ND's goals. #Habs pic.twitter.com/VVsvz7ZvlU

— Mitch Brown (@MitchLBrown) November 5, 2017
Related: Waiting for the Future: Canadiens' Defence Prospects
Estimated Arrival Time
There is no guarantee they will sign with Montreal but there is no indication they plan to go elsewhere. As a first rounder, there is more pressure on Poehling to become the big centre this team is craving. With him showing a lot of potential and promise, he could be called upon sooner rather than later.
As for Evans, the fact he has developed this far is a bonus for the seventh rounder. At this point, Montreal needs as many talented centres as they can get and if these two pan out, it will go a long way in addressing their issues down the middle.